In October 2012, my group mates and I were given a great opportunity to visit one of the most beautiful places in the state of Selangor, known as Sungai Besar, to prepare a travelogue as part of an assignment. Gastronomy was initially our theme, but we dropped the idea and eventually went for
homestay
instead, which we were glad that we did. After going through several group discussions, we finally made up our mind to select Homestay Haji Dorani as our destination.
Sungai Besar is a coastal town located approximately 120 kilometers north of Kuala Lumpur, which is basically a one to two hour drive away with smooth traffic. Yet, it took us four freaking hours to finally arrive at the destination, with bad traffic along the way due to Hari Raya Haji. It could have been longer, but Waze kindly brought us for a detour to skip the queue a little. I was totally exhausted for my very first long journey drive, I would say!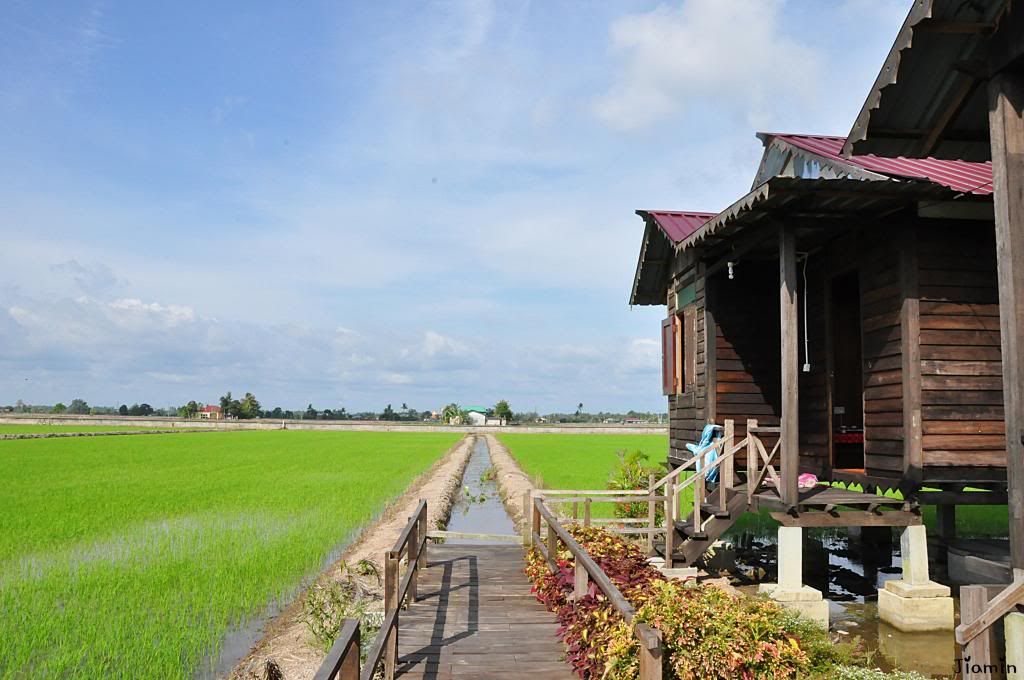 To experience the sights, sounds and wonders of Malaysian life, check out the homestay program at Kampung Sungai Haji Dorani (Sungai Haji Dorani Village), which exposes visitors to the culture, traditions and Malaysian way of life.
Located in Selangor, a journey from Kuala Lumpur to
Sungai Haji Dorani Village
takes about one hour. The homestay program is a special holiday package where you have the opportunity to stay with farmers and the villagers and gain the experience pertaining to their unique daily activities such as paddy planting and batik painting.
As fishing is one of the main activities in this area, one can try their skill by fishing by the paddy fields in its traditional way. Other main attractions for tourists include firefly observation and crab hunting at the mangrove swamps that are abound in the village vicinity. For those wanting to savor the laid back life of the villagers, relax and unwind while feasting the eyes at the beauty of mother nature. – Go2Homestay

Arriving at 4.00pm at the village, Pak Rahman, the coordinator of Homestay Haji Dorani, met and greeted us before we were led to an activity center. Prior to that moment, we failed to figure out the right way to the place and eventually, we got lost in the village until Pak Rahman rescued us. In order for us to escape from the scorching sun, we were given quite a few hours to take a good rest before dinner was ready to be served.
Trust me when I say that I almost didn't want to leave this place before we departed back to where we belong. Staying at a place surrounded by paddy fields on all sides was more than just awesome and enjoyable. We didn't mind the chalet that was equipped with the simplest facilities and two double bedrooms. We never complaint about being chilled only by fans and the wind that came naturally. Instead, we thought it was perfect for us to observe and learn the local lifestyle.



While the Malaysians slacked around and tried to keep everyone updated on social networks, the Maldivians spent their time wisely by filling up stomach and capturing the breathtaking views around our chalet.



Darn! I wish I could return to the same place again, soon.
By the way, the details of our package are stated at the end of this post, excluding itinerary as it should be given personally to anyone who is really keen on
homestay
programs. Please do not hesitate to drop me an email at
min92min@hotmail.com
if you want it.
Stay tuned to my upcoming posts about the activities we had done during our trip!
Homestay Haji Dorani
Pusat Aktiviti Homestay,
Jalan Parit Dua, Sungai Haji Dorani,
Sungai Besar,
45300 Sabak Bernam,
Selangor.
Tel: +6013-6077025 (Mr. Abd. Rahman Daud), +603-3210846
Package Rate: MYR 250.00 per person, with a minimum of 5 person per group
This package included accommodation at foster family's home with breakfast, lunch and dinner, traditional rice processing activities, traditional making of Malay delicacies, batik painting, kite flying, fishing at the paddy field, a night village tour through the paddy fields, visitation to the local food factories and mango orchard, and firefly observation. More details should be provided as I go through these activities later on.
x.