Ever since I moved back home from my apartment after Semester 3, my nights were often well spent with my family and Badman. Just recently, however, it has to be made a difference for my aunt's current situation, which it should not be revealed anyhow, until things are completely over. Since then, Badman and I have to struggle with decisions for places to eat until our daily routine is back on track again.
Last night, we decided to stick to our previously ruined original plan to visit Onepot in Kepong, where it is known for its paper grill steamboat, only to realize that it no longer exists. Therefore, we searched for Ssikkek Korean Grill BBQ Buffet to give it a try, and tadaaa, we got ourselves settled and ready for the amount of meats.
P/S: The photos posted are taken by my iPhone 4S, which explains the defective quality.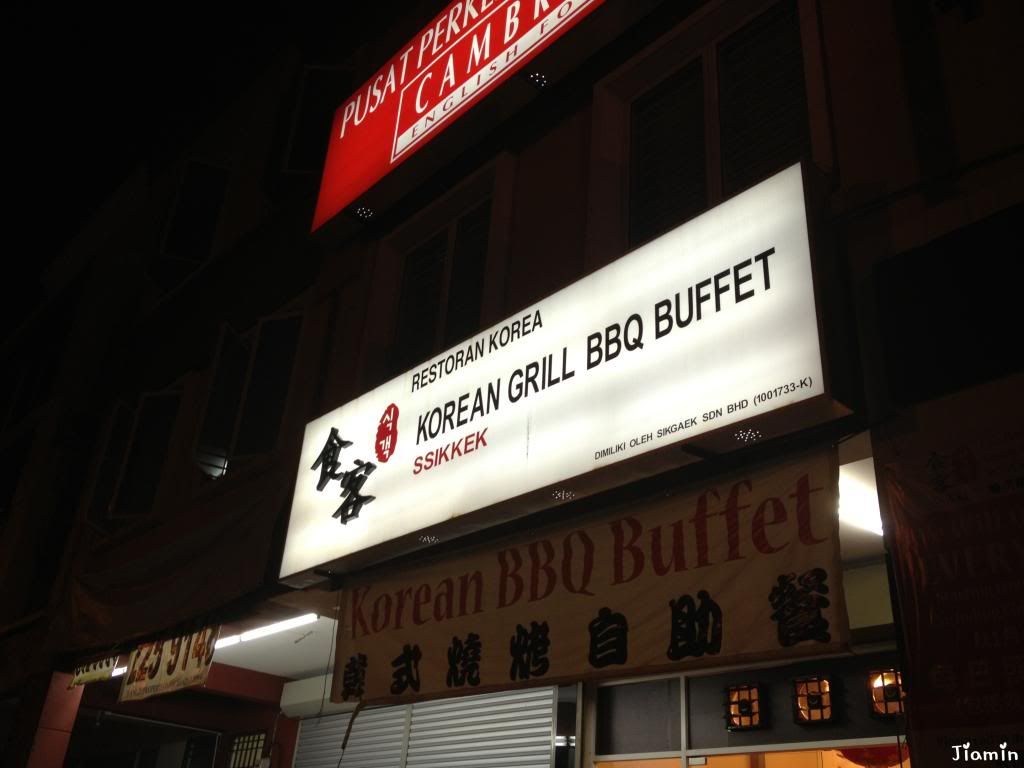 Started its operation by a Korean on 14th of July 2012, the name of the restaurant, Ssikkek Korean Grill BBQ Buffet, has stated the obvious. It is an air-conditioned barbecue buffet restaurant with casual atmosphere, serving some of which could be found in any other Korean barbecue restaurants of a certain level, such as Daorae Korean BBQ Restaurant. If you were to question about the price difference between lunch and dinner, it is related to the food selection available.
During lunch time, they only serve Sesame Beef, Soya Beef, Soya Chicken, Spicy Chicken, Soya Pork, Spicy Pork, Korean Pancake, Korean Glass Noodles, Kimchi (lettuce), Kimchi (radish), Kimchi (cucumber), Fish Cake, Crab Stick, Chicken Sausage, drinks, and desserts. Whereas during dinner time, they serve everything they have to offer during lunch time, and Wine Pork Belly, Pork Belly, Pork Shoulder, Pork Ribs, Beef Ribs, Seafood (prawns, clams, squids, octopuses), Rice Cake with Spicy Sauce, and Korean Sushi.
What is a Korean restaurant without their typical Korean alcoholic beverages? Definitely, they have Soju at RM16 per bottle, Makgeoli (contains 7% alcohol) at RM16 per bottle, Hite Beer at RM10 per can, and soft drinks at RM3.50 per can. With the prices stated, an additional amount should be paid if you order any of these. Unfortunately, they do not offer Shik Hae, a traditional Korean sweet rice drink.
We were greeted with a smile by a waitress before entering the restaurant. As soon as Badman and I were seated, the staffs immediately prepared all the necessary materials, including a non-stick grill pan, cooking tongs, scissors for the meats, dishes, and utensils. Here at Ssikkek Korean Grill BBQ Buffet, oil is never needed, because the pork could easily provide you with more than enough oil. Seeing that we did not know how to start off, the waitress approached us and voluntarily cooked for us a piece of Pork Belly as a demonstration. When we attempted to cook some Spicy Pork and Soya Chicken, the boss snatched away my cooking tong and showed us the correct way to cook them. Being violent is the key!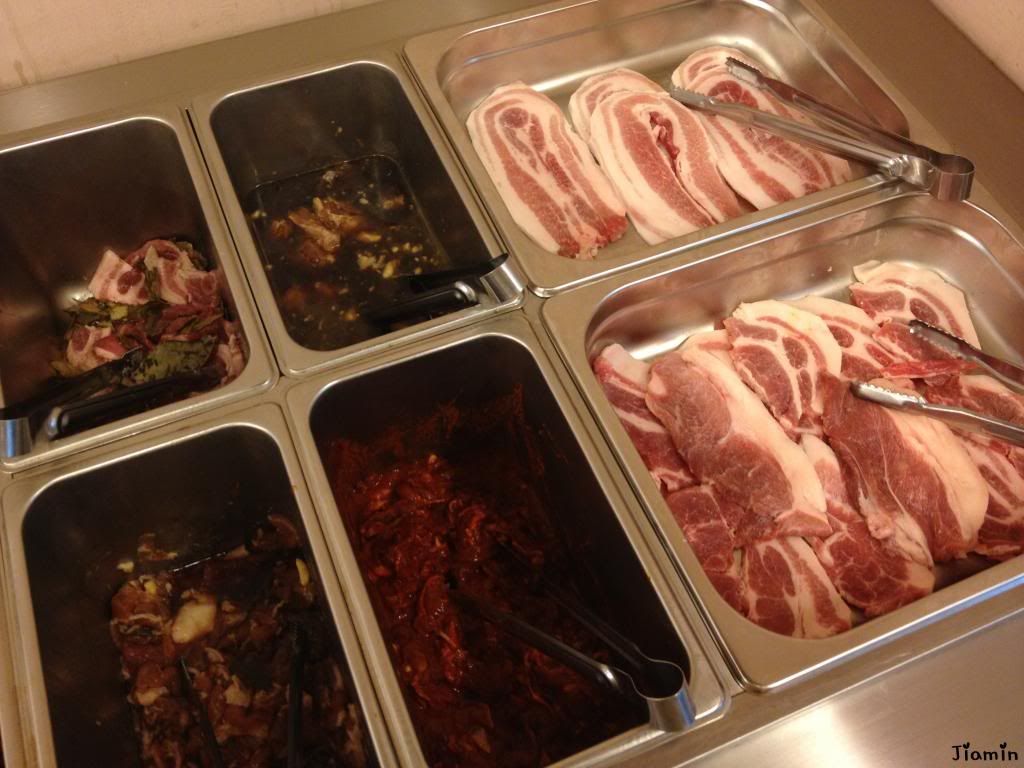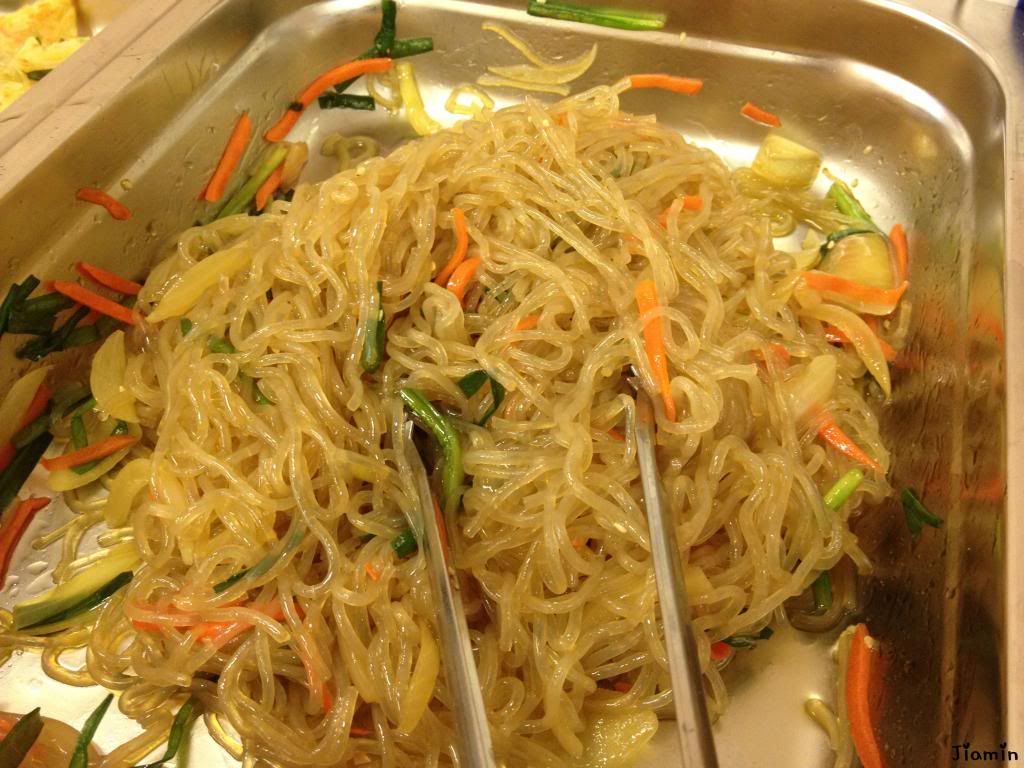 Cooked and uncooked foods were both served during our visit last night, and they are served every single day and night. Unfortunately, although it was merely a few minutes past 8pm, the Korean Rice Cake was left with merely two pieces and a small piece of Korean Fish Cake. I guess they were mostly taken by the working adults who came earlier than us. Darn!
By the way, most of the cooked foods were cold. I didn't mind that. I believe some of you do not mind consuming cold food. Still, I think it is my responsibility to warn you in advance, as I review the restaurant.
Badman loved the Marinated Beef Ribs so much that he could not stop getting more of them until his stomach was bloated. According to him (I don't eat beef, for your information), he overcooked the Sesame Beef and Soya Beef so he didn't quite like them. Ahah!
I felt exactly like a chef as I grilled my Pork Belly and fried the meat. Surprisingly, they were all perfectly done! I loved how tender and juicy the outcomes were, but the amount of fat was also directly proportional to them.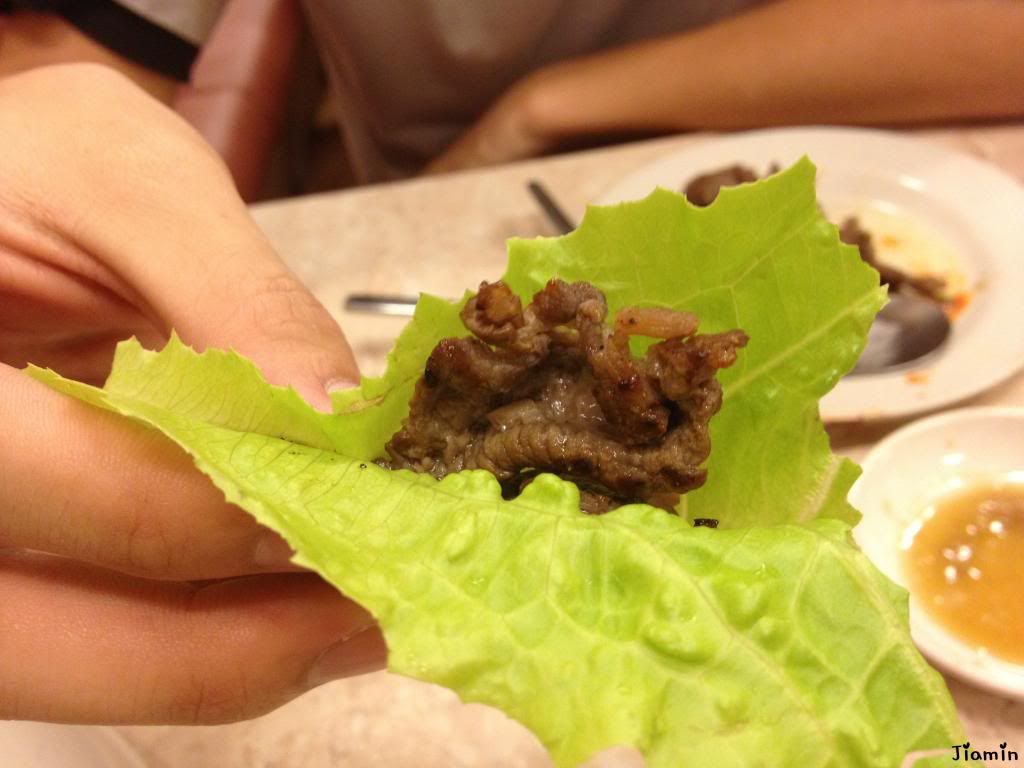 Just like what we do when we dine in at a Korean barbecue restaurant, once the meat is grilled, wrap it with a piece of lettuce, add some spicy sauce and sesame oil, and stuff it into your big mouth. We did. It was heavenly great. Yuuummmmmmm!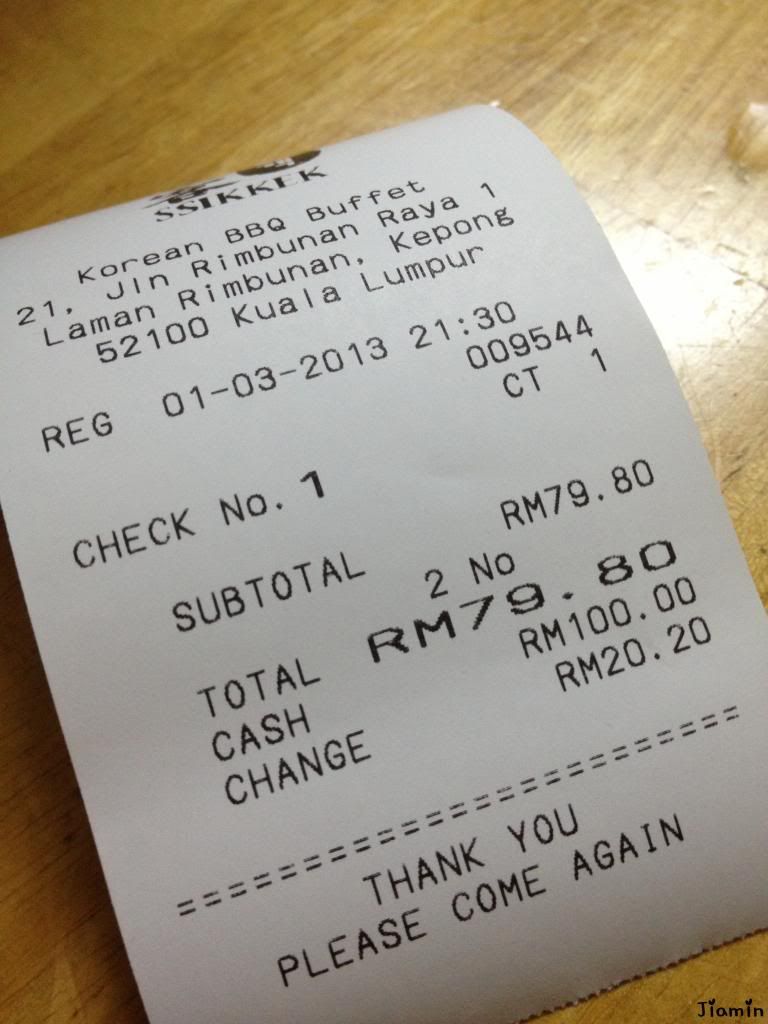 The food selection may seem to be limited; in my personal opinion, it is very affordable if you are a meat eater for the tagline "EAT ALL YOU CAN". It would be a heaven to you. Definitely, it could be a waste if you aren't. When I looked through the bill, I was pretty surprised by the fact that no tax was charged at all. It is worth a try, I would say!
Nevertheless, I guess I would visit only once every few months. I felt sinful. :|
Ssikkek Korean Grill BBQ Buffet
21, Jalan Rimbunan Raya 1,
Laman Rimbunan,
52100 Kepong,
Kuala Lumpur.
Tel: +603-62421572
Business Hours: 11.30pm to 3.00pm (lunch), 6.00pm to 11.00pm (dinner), daily
Price per Adult: RM 19.90 nett (lunch), RM 39.90 nett (dinner)
Price per Child: RM 14.90 nett (lunch), RM 24.90 nett (dinner)
x.