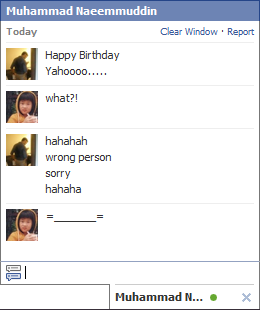 Indeed, there is no reason for me to not love every single person from DT37 because we share most of the laughter together and we are always there for each other. I have never in my life seen such awesome people that no matter what happens, there's always at least one person to stay by your side just to simply cheer you up to bits with whatever they can do. Despite being called as a bunch of monkeys by the lecturer who likes rapping to lullabies, everyone is still as crazy as they use to be and in fact, they are still who they are.
This smart person changed his contact name on my phone by trying every single thing to check out where to edit his name because my phone is completely in Chinese except for the contact names while he is Malay who couldn't read Chinese, and this person's name is obviously Fahmi.
They do whatever crazy stuffs they feel like doing, as long as there's nothing harmful to anyone or anything. I always enjoy being together with most of them because they could simply make me laugh with just a simple action, to be frank. I'm happy about the fact that after approximately 8 months of being a classmate of each other, I'm gaining more and more closer friends which I find I wouldn't hide too much during those moments when they're around for only God knows why. I have no reason to ask for more because they're already the most awesomely awesome people I have ever met in my life so far. Tell me, what can I do to prove that I don't love this people, which I doubt if there's anything I can really do?
Oh my, I really love DT37! :D
x.