Part 1:
Breakfast at Kedai Kopi Sin Yoon Loong, Ipoh.
Obtaining 3.84 for Grade Point Average (GPA) and Cumulative Grade Point Average (CGPA) on the very first semester of the course was considerably excellent. Yes, it was, until dad said, "No money no talk," the moment he saw my text message. I know it shouldn't be taken so seriously for how he loves to fool around with anything that has to do with money, still, I got depressed while forcing a smile. My Monday of the week was literally ruined despite the entire delighted afternoon I'd had.
Oh well. I'm always satisfied with such result. I'll be fine. :)
The second day of my Ipoh trip was started off by waking up at 8.30am. As the title suggests, we made sure to be at Ming Court Hong Kong Tim Sum, a well-known dim sum restaurant in town other than
Foh San Restaurant
, at approximately 9.30am, to avoid being late for our next activity. As funny as it may sound, being such strong competitors of each other in Ipoh, both restaurants are merely less than a minute walk away, bringing slightly heavier traffic along the street during peak hours. Looking for a parking space is never an easy job around the area; I've warned you!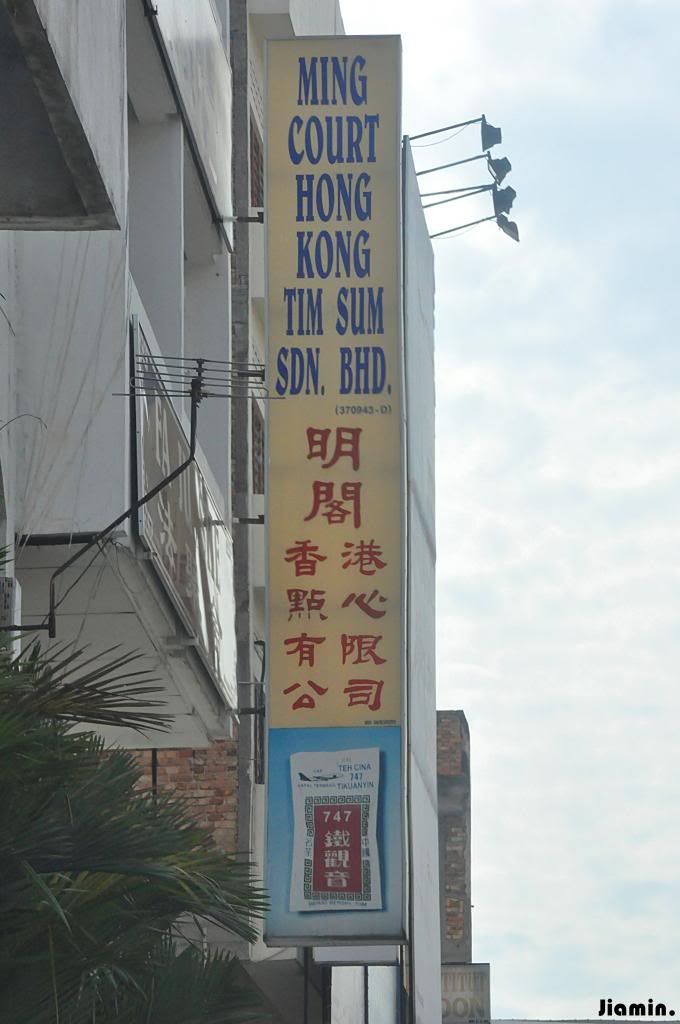 We finally found a parking space after going through rounds! Jom pergi makan! :D
Fortunately, we chose to travel on weekdays to avoid the crowd, or we would have to queue a little as many have said. The restaurant was almost full when we arrived, but we were seated by one of the waitresses almost immediately as we entered the restaurant. Soon, the other waiters and waitresses came one by one speedily to serve us, to the extent that we forgot to reject some of their offers for a while.
I hope you don't drool!
Honestly, I did not quite fancy their Egg Tarts as the skins were a tad too thick for my liking. The taste was so-so.
I found their Spring Rolls pretty fine, except they were as oily as they seemed.
Prawn Dumplings! Most of the people who know me well should be sure to know my favourite type of seafood. Prawns! Prawns! And prawns! They must be fresh, of course.
Prawn Siew Mai, which is literally Siew Mai made of prawns instead of the usual pork or chicken. A photo of ordinary Siew Mai will be shown later on.
Such a huge Fish Ball mixed with some other ingredients was one of which we forgot to reject when a middle-aged waitress offered us, and she actually pleased us to have it.
We didn't like it.
Fried Prawn Dumplings! I don't think elaboration is ever needed. :P
Oily Fried Prawn Rolls!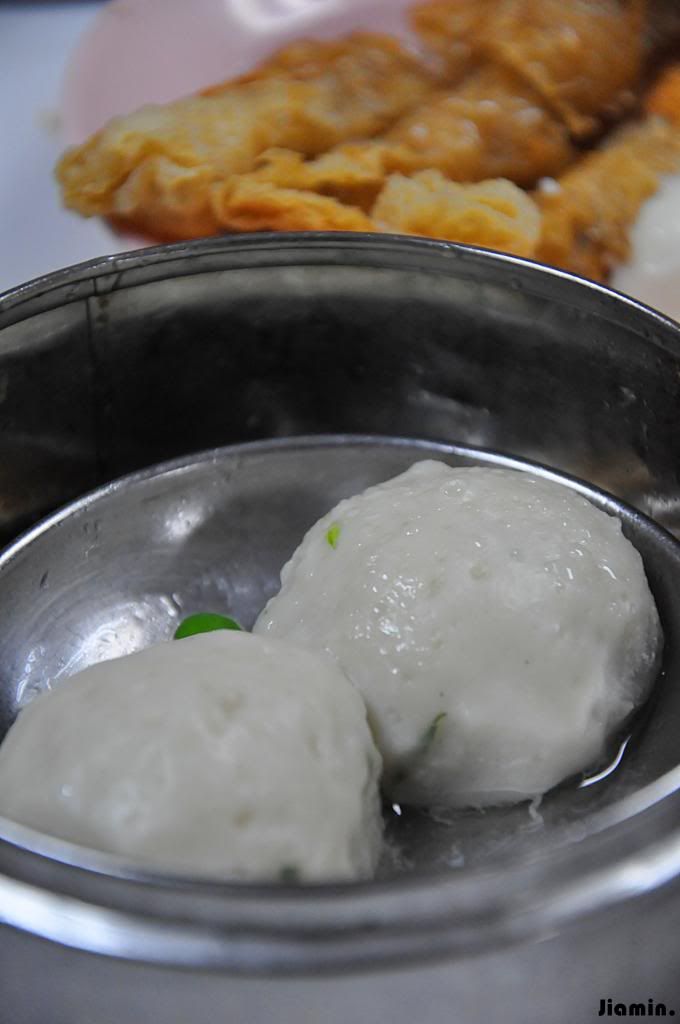 Steamed Fish Balls. These were acceptable, but better ones could be easily found near my house.
Steamed Chicken and Glutinous Rice, usually known as Lo Mai Kai; it could have been better if its oiliness was reduced.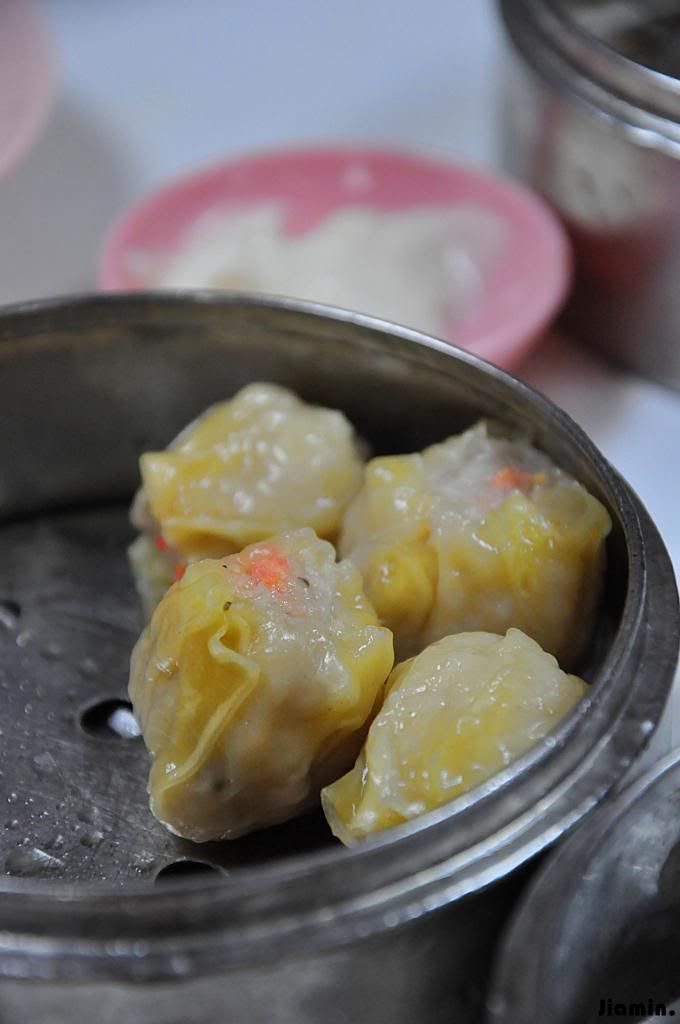 Siew Mai is one of the most common dim sum usually made of pork. Nevertheless, halal dim sum restaurants often use chicken as the main ingredient to make Siew Mai.
Fried Dumplings filled with pork.

Our breakfast was then ended with a bowl of Tau Fu Fah to waste a few more ringgits. Heh!

Just in case you would like to know, dim sum involves very huge amount of meat and perhaps oil, which explains why people, Chinese especially, tend to eat with a pot of Chinese Tea; it helps to reduce greasiness, more or less. RM38.10 was spent in total for our breakfast. It was still reasonable and within our price range, but it could be more worthy if such amount of money were to be spent at the dim sum restaurant located near my house. Our overall experience with Ming Court Hong Kong Tim Sum was good, and I would like to go with a 6.5/10.

And my stomach is now grumbling. :|

Ming Court Hong Kong Tim Sum Sdn. Bhd.
32, 34, 36, Jalan Leong Sin Nam,
30300 Ipoh,
Perak.
Tel: +605-2557134
Business Hours: 6.00am to 12.00pm (closes on every Thursday)


x.