I swear I have been desiring to blog every once in a while, whatever I do, wherever I go, whenever I wish to, but things seemed to have always been against me all the while. Throughout the months, nothing was smooth until I finished my Semester 3 in December 2012. It felt as though I was living in hell. My plan to travel, my hope for study week, my thought of getting enough sleep; everything came to nothing eventually. Ample time, reasonable considerations, students' favours; nothing was granted by any part of the university, even upon request or promise. These days, I've been quietly searching for available jobs online, from Malaysia to New Zealand. I may not apply for any of them, but I am still hoping to quit from such a lousy university, if by any chance my parents finally see my depression and great disappointment towards the overrated place.
Anyway, I will still be blogging about my trip to Ipoh in August 2012, until I get it completed. I hereby apologize for the ultimate delay and I hope that I still have readers supporting such a dead blog. :(
As promised when I blogged about the
disappointing ABC at Dessert Street (Tong Sui Kai)
previously, we brought home a packet of delicacy that we thought it was of worth recommending to my fellow readers, known as the Take Away Uncle Chee Cheong Fun, or Take Away Chee Cheong Fun; whichever you prefer to name it as. This was indeed seen on a piece of newspaper's cutout hanging at the uncle's motorcycle, although such news was nowhere to be seen online. Located right at the opposite of Dessert Street, you can often see cars stopping by to take away a few packets for dinner or supper, especially youngsters. Apparently, it's warning you not to miss it!
However, terms and conditions apply if you intend to buy. You should be sure that you are not the customers of certain stalls along the Dessert Street. Well, jealousy applies too. Correct me if I'm wrong; there was an incident that the lady boss of one of the stalls shouted at a man for purchasing food from the uncle instead of her, when he was initially the customer of the lady boss. To be honest, I was rejected on my first attempt, and it was not until I had my second attempt with the Badman that the uncle finally revealed the truth apologetically.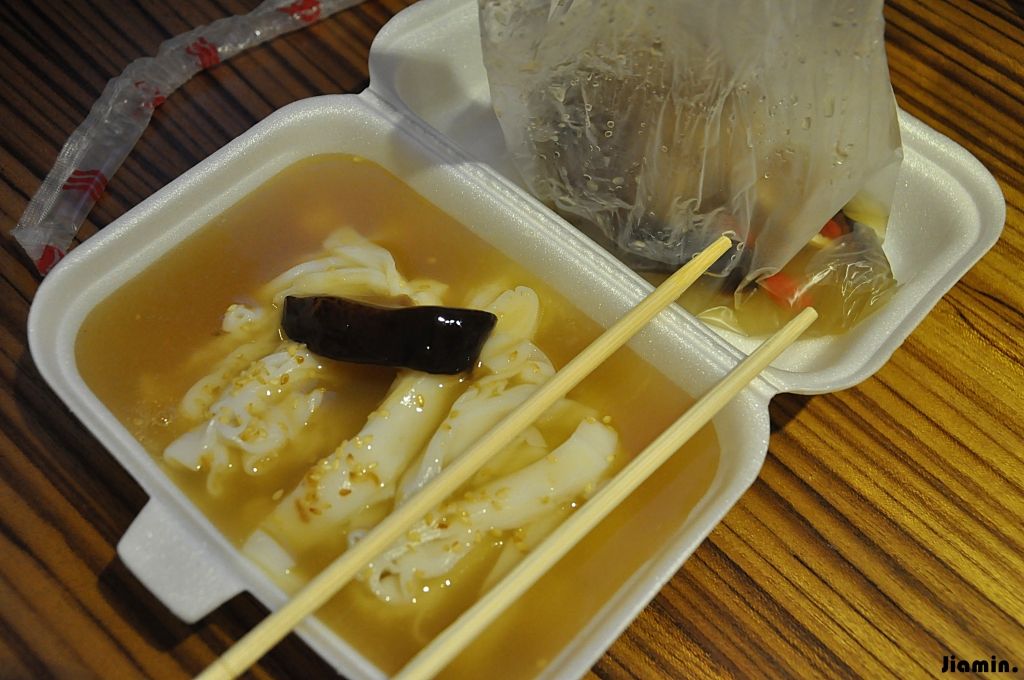 A picture says it all; never in my life have I ever seen such kind of Chee Cheong Fun, which it is usually mixed with curry, some special paste in brown or red, or soy sauce, depending on your location within the country. The sauce, or rather soup, contained Chinese wolf-berries that caused it to be slightly sweeter, chicken, and mushrooms. Despite its coldness (we bought it before we had our dinner at
Maysin Restaurant
), we gulped down most of what we had to the extent that our stomachs were bloated.
We definitely had a good sleep on that very night, with fat growing silently. The itinerary for the second day wasn't well planned, but the memories we had created together were what we truly treasured. Stay tuned for my upcoming posts!
Take Away Uncle Chee Cheong Fun / Take Away Chee Cheong Fun
Opposite Dessert Street (Tong Sui Kai),
In front of SRJKC Sam Tet,
Off Jalan Sultan Idris.