Part 1:
Breakfast at Kedai Kopi Sin Yoon Loong, Ipoh.
HAPPY CHINESE NEW YEAR! Xin Nian Kuai Le! San Nin Fai Lok! Selamat Tahun Baru Cina! Knowing clearly that I will not be able to blog since this coming Saturday, here are my early wishes to all of you who are celebrating it. I'm getting excited for the fact that a long awaited family trip is happening in a few days, and that I will be away from work for almost a week.
Yay
! :D For those who are required to work, I wish you nothing but the best; for those who are just like me, I hope you treasure your holiday; for those who have taken a week off from work or school, I'm showing you my monkey face. No, really.
As soon as we're done with our breakfast at
Ming Court Hong Kong Tim Sum
, we headed back to
French Hotel
, packed, checked out, and proceeded to Lost World Hotel at 10.30am without wasting time. We were hoping, praying, and wishing to have ample time to enjoy ourselves later on at the Lost World of Tambun; that's our main purpose of travelling to Ipoh. Thanks to Mayflower for the great offer during MATTA Fair 2012!
Lost World Hotel is located in the North-South corridor of Malaysia, in the historic town of Ipoh, Perak. It is a 2 hour drive from the bustling city of Kuala Lumpur and on a mere 1.5 hours drive from Penang. It is set in natural landscapes and surrounded by exquisitely breathtaking 400 million years old limestone features.
The Lost World Hotel consists of 174 rooms where guests can choose to stay at a selection of room categories which come inclusive of two breakfast and two tickets to Lost World Hot Springs & Spa by Night. Complimentary WIFI access is also available. The ultimate draw to stay at the Lost World Hotel would definitely be the access to the spectacular Lost World Hot Springs & Spa by Night – a unique majestic sanctuary for guests to experience rejuvenating magical moments in the mineral-rich natural bio-thermal hot springs pool.
Slip into the soothing warm water and feel your worries wash away as you rest and revive. The hotel is adjacent to Lost World of Tambun theme park where fun and excitement can be experienced at our seven unique attractions. Corporate entities that are interested to conduct their team building or meetings can do so at any of the hotel's seven function rooms with a capacity ranging from 10 to 260 people.
Directions
From Airport – Take the North-South Expressway and head for Ipoh, Perak. Take the exit Lost World of Tambun and follow signboards for 5 minutes to Lost World of Tambun. The Lost World of Tambun is located on the right just after passing Giant Hypermarket.
– Copied and edited from
Lost World of Tambun
There we were, checking in to our room almost immediately upon arrival with good services despite being there way earlier than the usual check-in time, which I thought it was great for its good efficiency. It was a low season and a weekday. Less than 20 human beings could indeed be seen on the same day in and around the area.
By the way, this package cost us less than RM250 only for two, including 1 night stay at Exotic Room with breakfast, and 2 entrance tickets to Lost World of Tambun and Night Hotspring.
The room offered was definitely more than just spacious. As you can see, it was awesomely clean and comfortable. It could have been fabulous if they were to have the door fixed to lessen the noise and friction whenever it was closed. Still, we were both instantly delighted.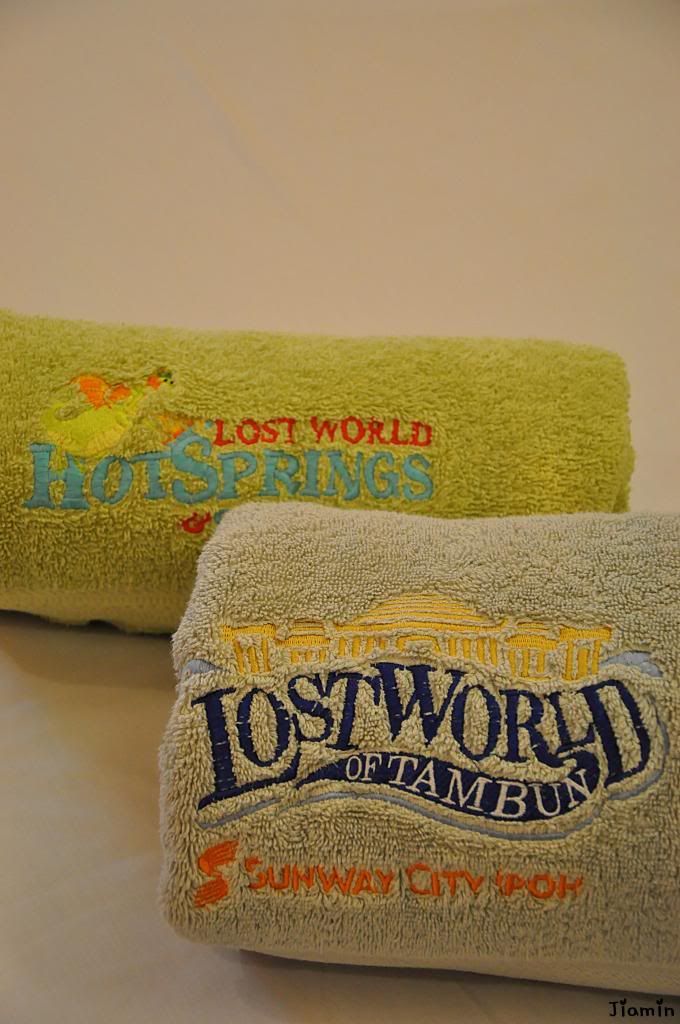 The common reason people choose to stay at Lost World Hotel is supposedly for the theme park, because there is basically nothing else you could find around the area other than that, unless you get to Ipoh town. Thick and heavy towels were provided by nicely folded and placed on the bed for your conveniences. Honestly, we did not expect these at all.
Thinking that this hotel was beyond perfect, I was slightly disappointed by the huge toilet. The black spots remained on the mirror were rather disgusting, somehow. What do you think?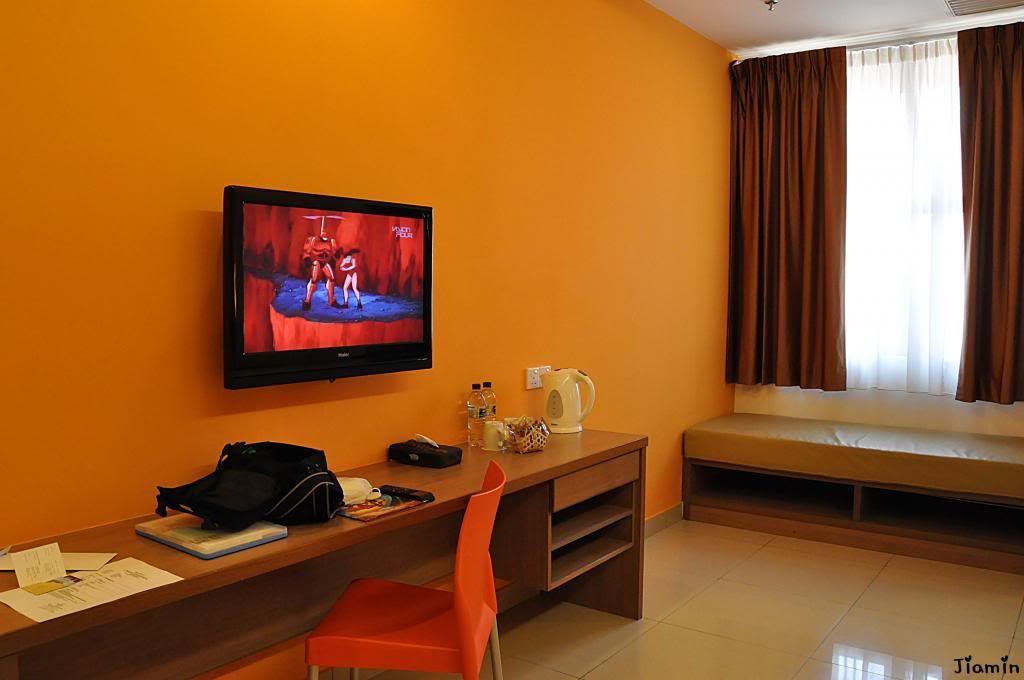 There wasn't anything fascinating about the view from our room, however, as all we could ever see were some windows of the opposite rooms and some dirty roofs in red. Oh well! We did not travel all the way to Ipoh just for the view.
Our overall experience with Lost World Hotel was almost excellent, with certain rooms for improvements. We may have been too strict on the criticisms, this hotel is still strongly recommended for its excellence in terms of services and in-room facilities. Nevertheless, if you're having high hopes on the breakfast provided, please don't, or you would be greatly disappointed. It's a warning! Don't believe me? I'll show you soon.
Stay tuned on my blog!
Lost World Hotel
No. 2, Persiaran Lagun 1,
Sunway City Ipoh,
31150 Ipoh,
Perak.
Tel: +605-5408888
Fax: +605-5408899