Again, Happy Chinese New Year! Recently, I've been receiving a lot of red packets from my extended family, bosses, and colleagues, making my days more delightful than they were. Still, it is regrettable that I missed the chance to join my primary schoolmates for house visitations yesterday, as I was not really eligible for yet another day off. That's probably the only bad thing about working during this awesome festivity.
You may think that travelling to a water theme park on a weekday would be much better compared to weekend for the lesser crowds; that only applies to Sunway Lagoon, I suppose, or it does not apply to Lost World of Tambun. We paid our visit on Monday, 27th of August 2012. Honestly, it seemed like a dead town with happy teens and children running around the park. The games were not played by visitors nor managed by the staffs. I mean, the day was great for the memories we had created together, it would've been much better and enjoyable if more people were to join the fun on such a day.
P/S: Due to inconvenience, I did not bring my DSLR along, which explains the photos shown. They were captured on the next morning after we finished our breakfast.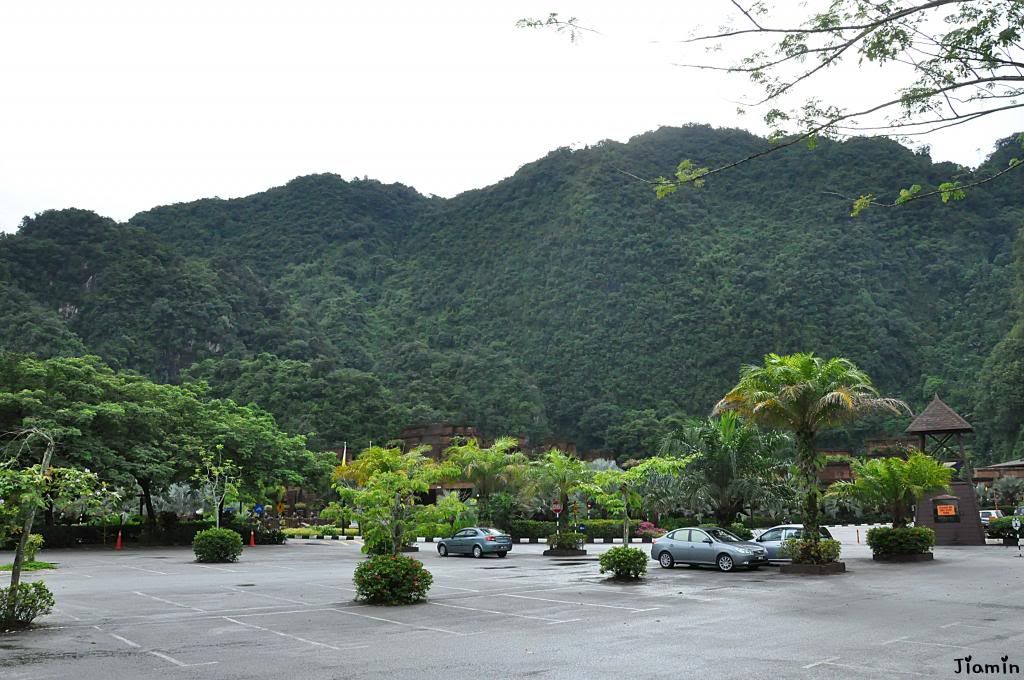 Like I said, this place was almost entirely dead. The staffs were too free that they could chit chat and joke all the time. They could even walk all the way to the hotel to collect something that the receptionist did not pass to us, even though it was merely a walking distance of 5 minutes. Can you visualize the entire situation?
By the way, they are closed every Tuesday. I repeat. The Lost World of Tambun is closed every Tuesday, except Malaysian school holidays and public holidays. The business hours will be stated at the end of this blog post for your convenience.
Here's the main entrance to the water theme park. Since it's operated by Sunway Group, the structures are expected to be similar as Sunway Lagoon, including the pools available and slides, except it has lesser games than the latter.
Water Park
Within the dense heat of our ancient rainforests, lies our wonderful water park where you can cool off with endless wet and wild fun! There are thrills and spills for one and all, young and old.
Pools available: Jungle Wave Pool, Sandy Bay, Adventure River, Cliff Racer, Tube Raiders, Kid's Explorabay
Amusement Park
If you prefer to be on dry land, head off to our amusement park! But remember, you may be dry but you may not always be on land. Come soar and fly. Get that speedy rush on our thrilling rides. There's fun to be had by one and all!
Rides available: Adventure Express,
Giddy Galeon, Dragon Flight, Perak Parade, Storm Rider
Tiger Valley
Get up close and personal with our very own Siberian Tigers. Be amazed by their agility and strength and be awed by our brave tiger rangers!
Tiger Feeding Show: 3.00pm and 4.00pm on weekdays, weekends, school holidays, and public holidays
Lost World Petting Zoo
Welcome to our haven of 4,000 animals from 55 species. It'll be an adventurous and educational experience for the whole family!
Animals and activities available: Ruby & Friends, Rabbit Wonderland, Bird Paradise, Serpentarium, Tortoise Kingdom, Marmoset Tree House, Rainforest Trail, Rock Canopy
Daily Petting Zoo Shows: Raccoon Feeding Show at 12.00pm, Tortoise Feeding Show at 2.00pm, Wild Feeding Show at 3.30pm
Lost World Hot Springs and Spa
Rest. Relax. Rejuvenate. Just immerse yourself in our 100% natural mineral hot springs. The concentrated minerals in our hot springs will refresh you after a long day of exhausting fun!
Hot springs and spa available: Crystal Pool, Infinity Pool, Top of the World Pool, The Geyser of Tambun, Lost World Steam Cave, Foot Spa, Saphira's Lair, Saphira's Baby Pool, Crystal Spa
Tin Valley
The mining is one of the oldest industries in Malaya and Ipoh "The City that Tin Built", became the meeting point of all the commercial centers of the Kinta Valley.
Lost World Tin Valley aims to educate today's generation in the rich heritage of tin mining in Ipoh. Hence the latest attraction in the form of a Tin Mining area which is equipped with a life-sized palung (sluice box), an original gravel pump monitor and a large area for young visitors to experience "Dulang Washing"(Tin Ore Panning) just like the good old days. Visitors can also learn about the history of tin mining and see real artifacts from the past at our Galleria.
Attractions available: Dulang Washing, Tin History Walk, Tin Trail, The Tin Bearers
Recreation
You can find everything from relaxing fun to adrenaline-filled activities here in the Lost World of Tambun. Let the kids feed the fish in the pond. Or take them out on a paddle-boat ride. Lay back and take in the fresh air on our River Cruise. Then cycle through our scenic route. End the night camping out under the stars. For those who seek more thrills, you can go jungle-trekking, rock-climbing and caving. We've so much to offer!
– Copied and edited from
Sunway Lost World of Tambun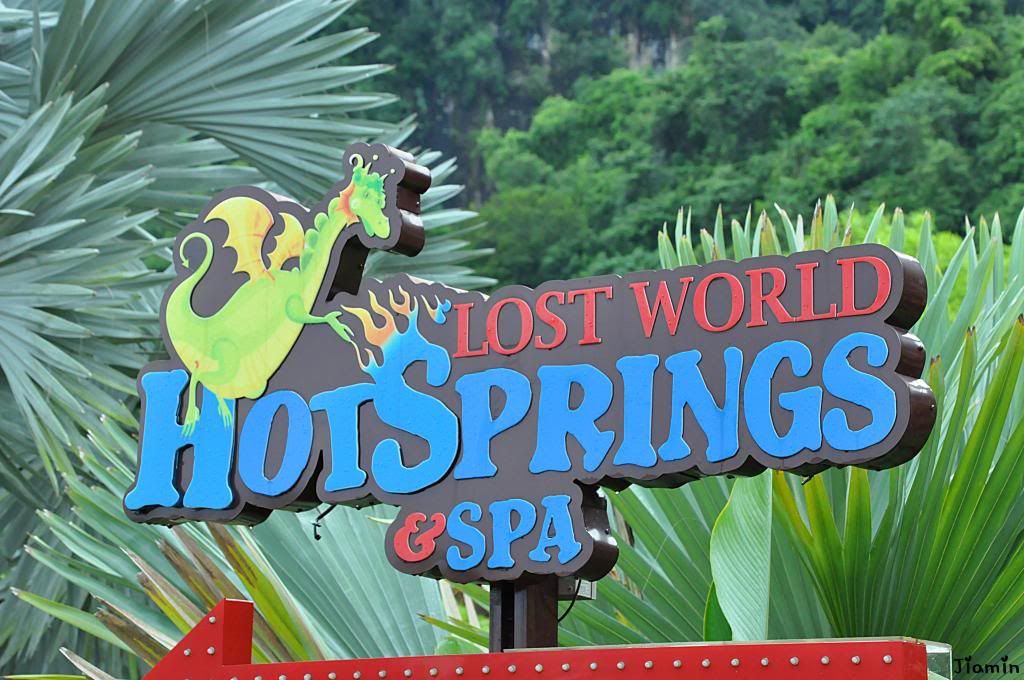 This was where I especially loved during my visit. Although it was clearly mentioned that it operates from 6.00pm to 10.00pm, it is only applicable to those who are only interested in visiting the Lost World Hot Springs and Spa by Night. If you purchase the entrance ticket for the whole park, you can always enjoy the heat at any time of the day, only if you are not afraid of getting heatstroke or fainting when you're in the pool.
Over here, we had fun dipping ourselves in the Infinity Pool of 40°C albeit noisy, and watching the Geyser of Tambun shooting 40 feet of water into the air like a volcano.
In brief:
At Waves Restaurant, we ordered Egg Waffle for RM 4.50, Honey Waffle for RM 4.00, and a cup of White Coffee for RM 3.00 as our light lunch, and they tasted just so-so.
Our light dinner was done at Italia Mia. RM 12.00 for a piece of Roasted Chicken Pineapple Pizza was definitely too much.
There wasn't many choices for food and beverages during our visit. Funnily, their Hawker Stall was closed!
A bunch of Malay kids were eating by the hot springs with adults looking after them, yet they left the rubbish in the pool. How uneducated!
Even though the park was almost empty, no activities and demo was done, and the shows were not performed.
A goat left its cage and wandered around when we were visiting the Lost World Petting Zoo, and I literally ran for my life while Badman laughed at me.
Electronic lockers were available in the water theme park. It's so convenient; keys are not needed, but you merely need to remember your password for your locker. Pay RM 10.00 and you can always open unlimitedly. I definitely loved it!
I should've brought my phone along to take photos in the park, since the lockers were so convenient. Darn it anyway.
We rented a Double Tube, paid RM 12.00 and RM 10.00 as deposit, and returned after a while because of inconvenience. What a waste! By the way, it's stated that the tubes must be returned by 5.45pm.
I loved the fact that they did not close the pools while it was raining. Although we were clear that it would be dangerous, we still dipped ourselves in the pool and enjoyed the rain. Dangerously romantic! :P
Giddy Galeon at Amusement Park was fun when my body was wet. I was hoping to play Dragon Flight, but no one was playing it, so we just left with disappointment.
I extremely loved the Foot Spa and Infinity Pool!
These literally sum up my experience in Lost World of Tambun. Yes, basically there's nothing much to talk about, since we were purely getting ourselves relaxed at a peaceful area away from the main city. I bet it will be fun, provided that you travel with the right person at the right time. I, on the other hand, came with the right person, but at the wrong time. Argh!
Lost World of Tambun
No. 1, Persiaran Lagun Sunway 1,
Sunway City Ipoh,
31150 Ipoh,
Perak.
Tel: +605-5428888
Fax: +605-5428899
Business Hours (Monday, Wednesday to Friday): 11.00am to 6.00pm (closes on Tuesday, except Malaysian school and public holidays)
Business Hours (Saturday, Sunday, School Holidays, Public Holidays): 10.00am to 6.00pm
Park Rate: RM 45.00 per adult
Lost World Hot Springs and Spa by Night
No. 1, Persiaran Lagun Sunway 1,
Sunway City Ipoh,
31150 Ipoh,
Perak.
Business Hours: 6.00pm till 10.00pm daily
Park Rate: RM 15.00 per person
x.