Good day peeps! It's another morning and like finally, I get to sleep pretty well from last night until today's morning without being bothered by bloody assessments and assignments. I don't mean that's all for my assignments but it's just that I was free from them for a while. That's the reason why I love Thursday so much; our class starts at 2pm and it's just about visitations and presentations. Tell me, how can you not love a day like this?
Teeheee
! :P
Yesterday has been one busy and tiring yet fun day to me and to all of us who participated, I suppose. From preparing to the happening, most of the scenes were taken down via my camera to keep as memories. Even though I have been staying awake for almost one whole night on the night before yesterday but I was filled with excitements for the day instead. The main character was so pitiful to be taken in and she wasn't allowed to go back home until they sort of had an argument in the class.
Haha
! Let's just proceed to the photos. ;)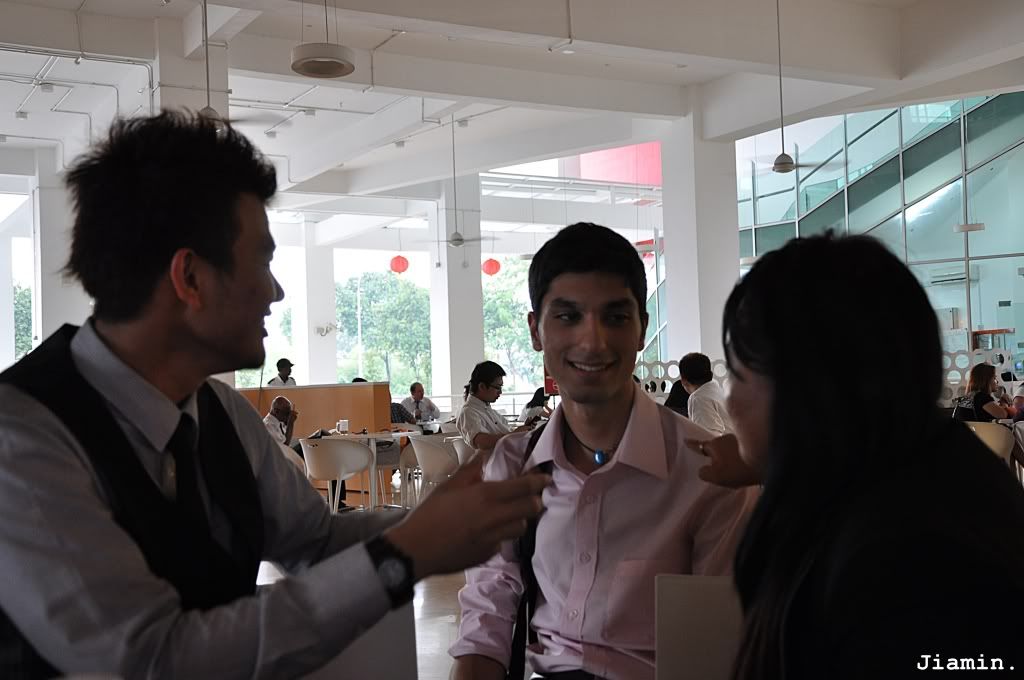 The planning was still in progress yesterday at around 6pm. The one sitting on the left was the planner, Helmy, and the one in the middle is the boyfriend of the main character, Mahrad.
Oh, did I tell you that my oh-so-awesome
Badman
surprised me by appearing in the campus without informing me at all in advance? I mean, I knew the surprise is going to happen within this week but never did I expect it would happen right on yesterday. I swear I never did! He even lied to me that he would try to take a cab to the McDonald's in SS15 to meet us at night once he's done everything in his college which he was actually driving without telling me a single word! He called me and said, "Look at your right hand side, but please don't cry," but I still didn't realize he's standing there looking at me until I finally saw him.
AAAHHHHHHH
! That moment was just so unexplainable and to be honest, I freaking loved that part. :D
♥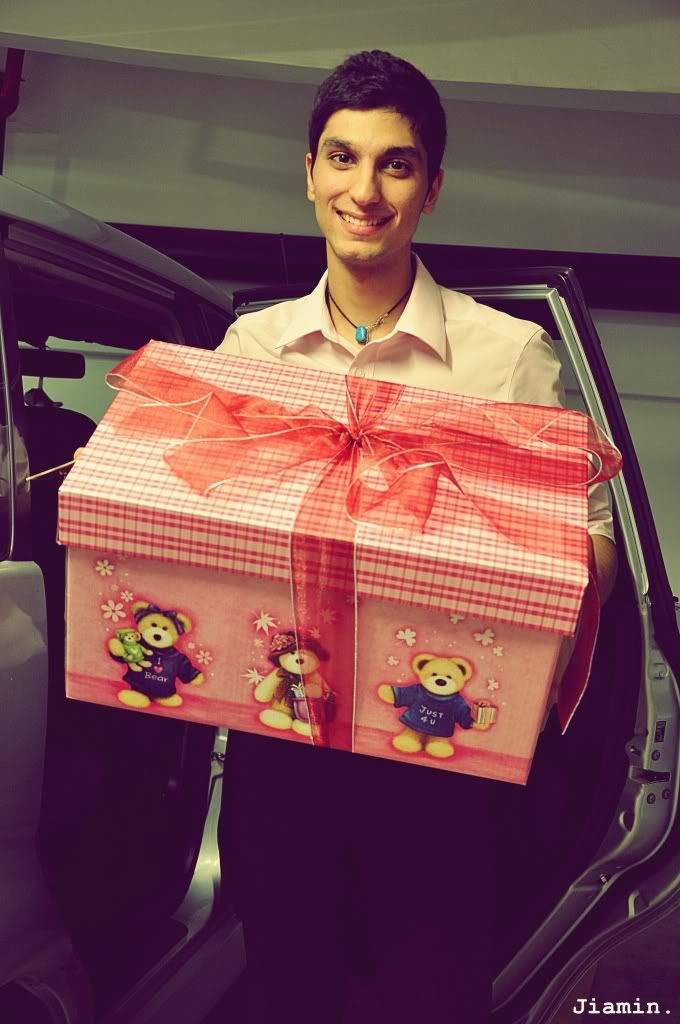 Guess what's in the big, big box. The present was prepared by
Mahrad
to fool her girlfriend by putting only a watch from
Swatch
being simply wrapped in a random gift paper in such a big box. I hope it doesn't disappoint her that she might think the present was huge.
We departed from Taylor's University to the McDonald's beside a Shell petrol station in SS15, which was where the celebration happened.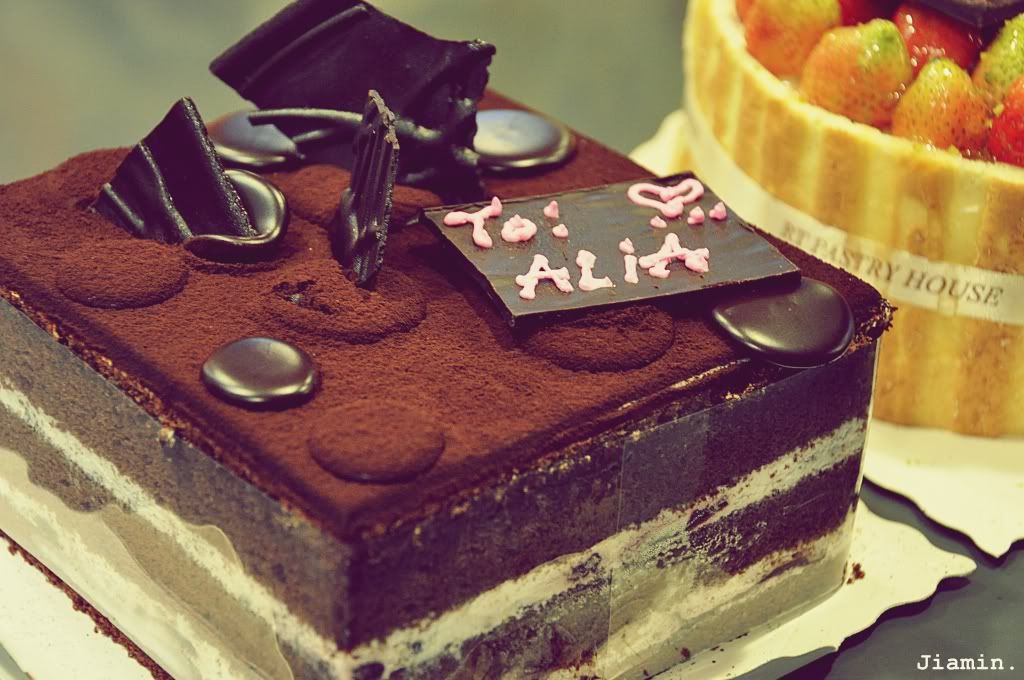 The cakes were bought by the other ladies from
RT Pastry House
which everyone said the cakes they sell are heavenly awesome. Once I put the chocolate cake into my mouth, it melted immediately as it was so soft and not overly sweet. I didn't try the strawberry cake, though, but it didn't seem to go down well with us.
Here comes one of the liars, Mahrad, who lied his girlfriend with all the messages that you can see soon.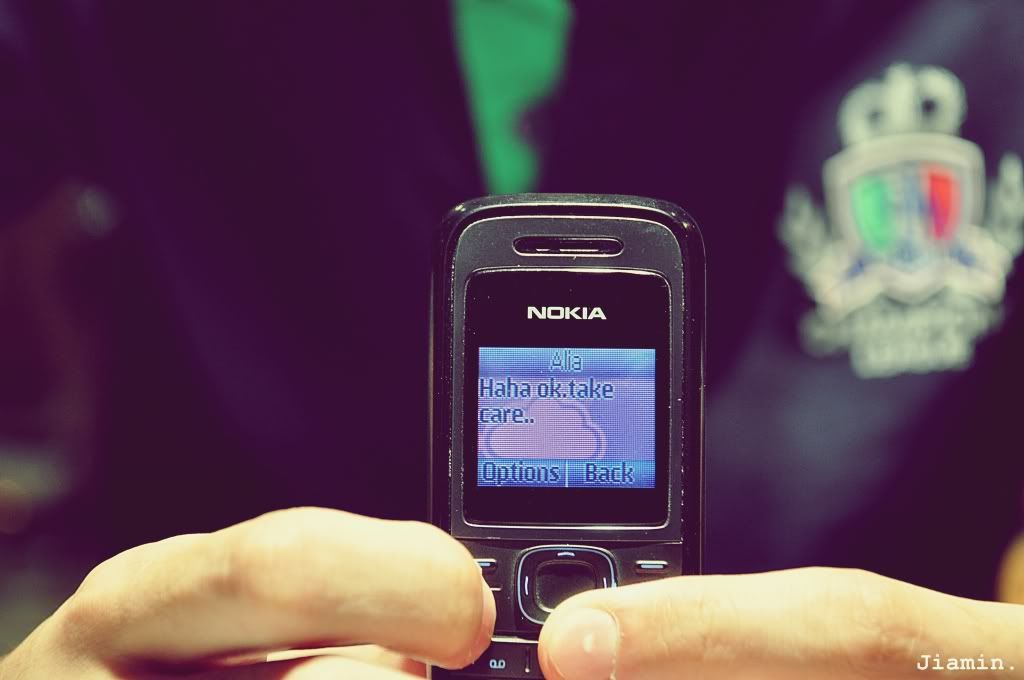 He told her that his car was broken down and so, he went out to somewhere else with Helmy for a purpose that I have forgotten. She asked him where he was and he replied that he was waiting for Helmy to buy something. Soon after that, he sent her a message again and said, "OMG! Alia! Helmy is driving so fast. I'm so scared." Please note that it's not exactly as same as what he sent but it's similarly like this. :P Surprisingly, she replied this. All of us laughed madly for how uncaring she was. LOL!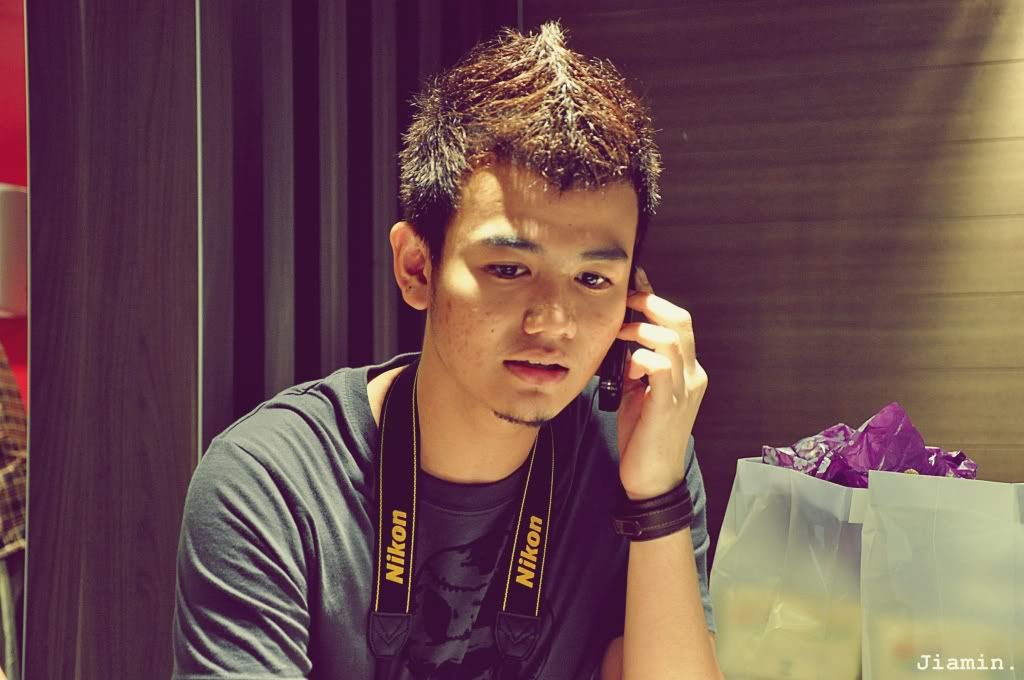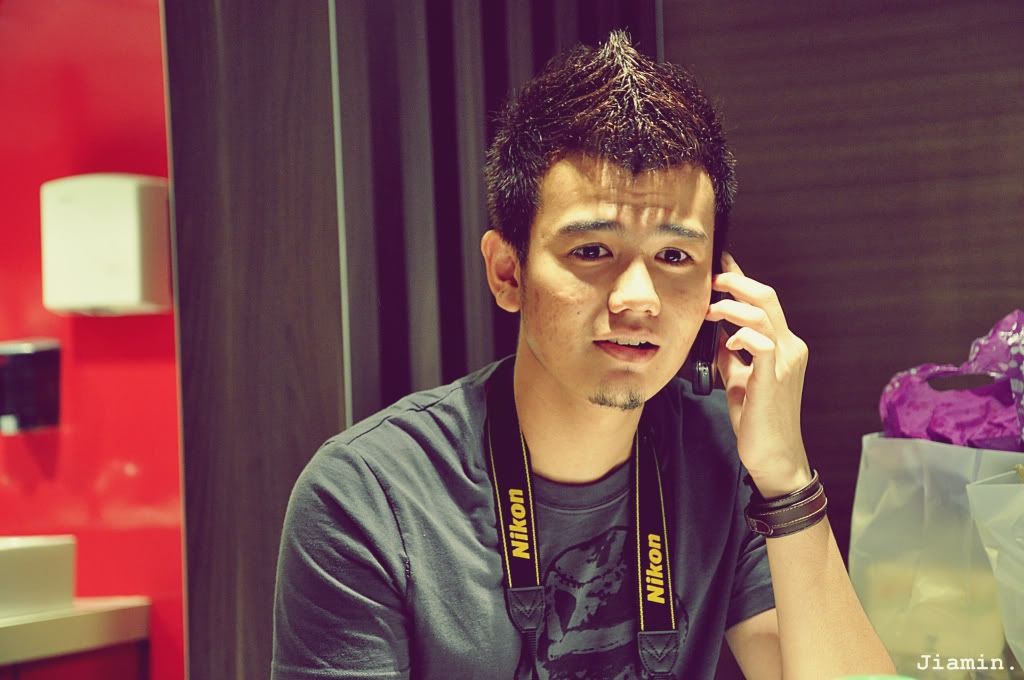 What kind of face expressions Helmy was showing? I felt like punching him at the moments when he was acting so seriously like a professional, on the phone with another professional, Fahmi. The part was so hilarious if you were to be there to listen to their conversations. Damn, he kept on saying how weak he was in acting but the outcome was totally different.
Five sprays were bought from a shop in the campus named Telegift when the main character was still there in her hostel.
Before they arrived, we placed the strawberry cake into Helmy's car as planned and double signal lights were on as well. The girls, my Badman and I hid ourselves down a dark alley with the chocolate cake on Shannie's hands.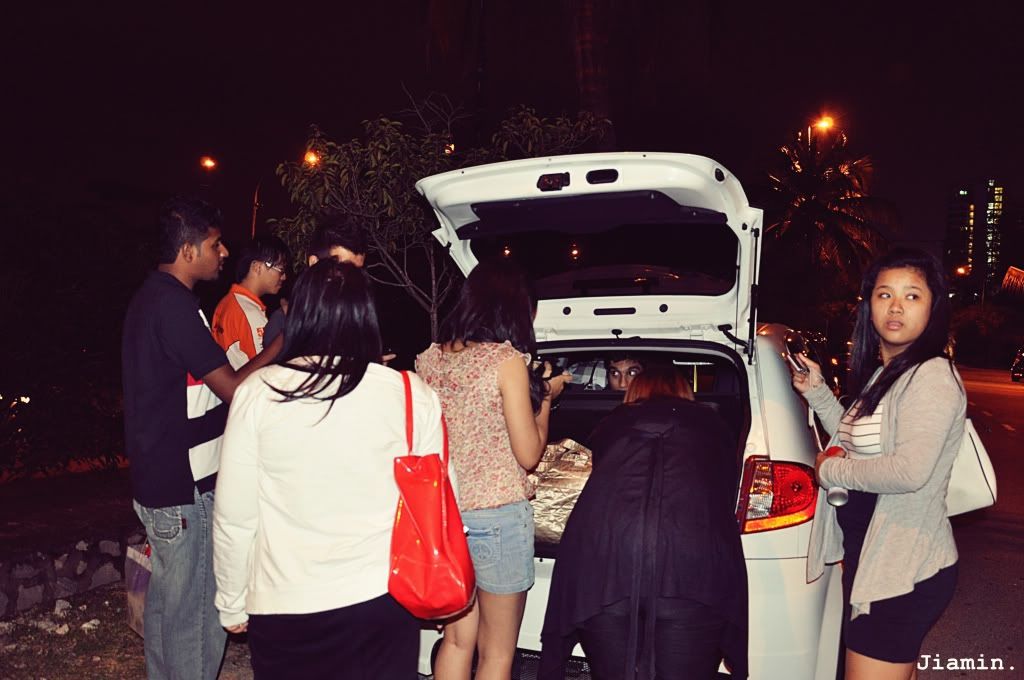 After this, it was when the climax of the day happened – the policemen.
A police car was there going around and around the residence to ensure the safety, I supposed. It stopped off at somewhere near Helmy's car and a policeman came out to ask what they were doing while we were still hiding in the alley. At that very moment, the main character arrived! In case you have forgotten, we faked the accident before that with our location provided and when Alia arrived, according to her, she was pretty afraid to see the policeman because Mahrad's passport was with some officer (he's not allowed to hold his passport). And, SURPRISE! :D All of us who were hiding inside the alley rushed to her and shouted with the chocolate cake. She was totally trapped! Haha!
Before I continue, the girl in the photo above is Alia. Happy 22nd birthday! :D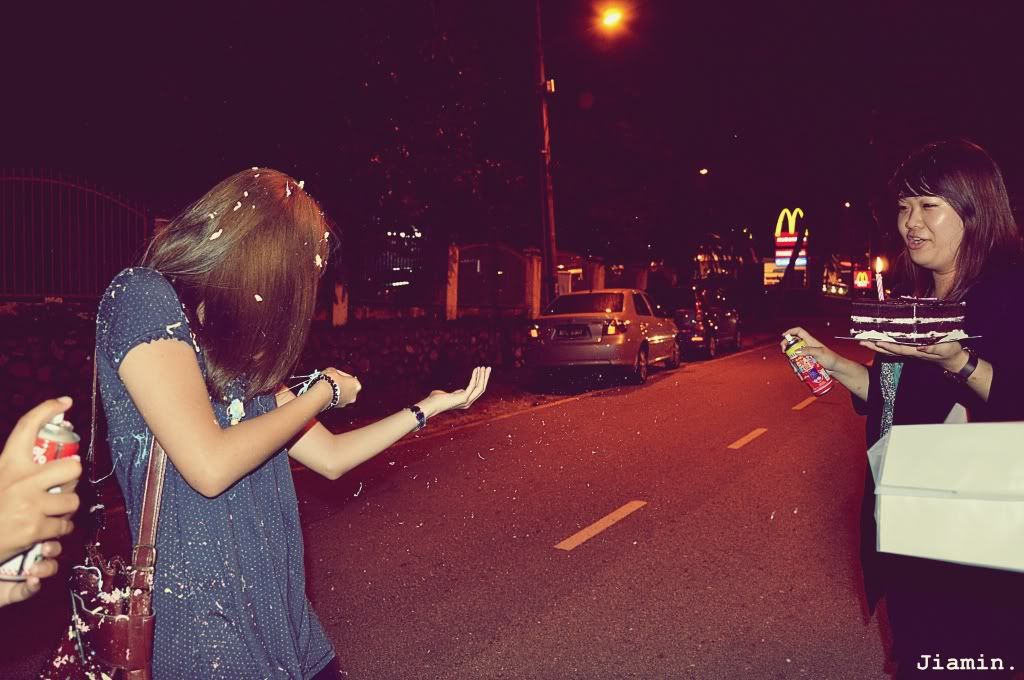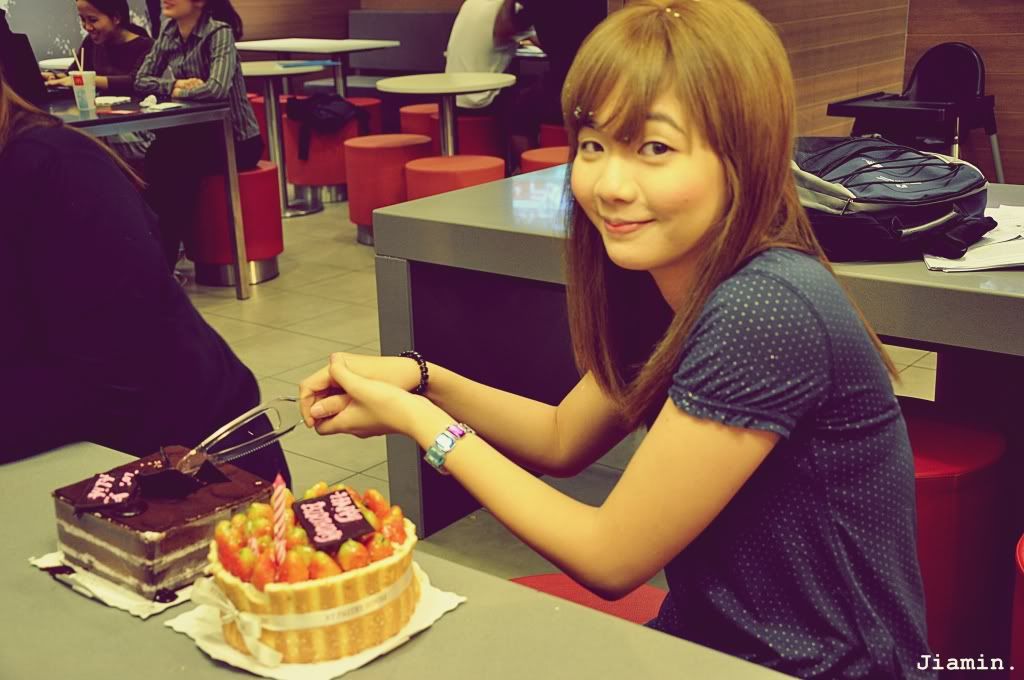 She's like some famous people with so many paparazzi around while cutting the cake.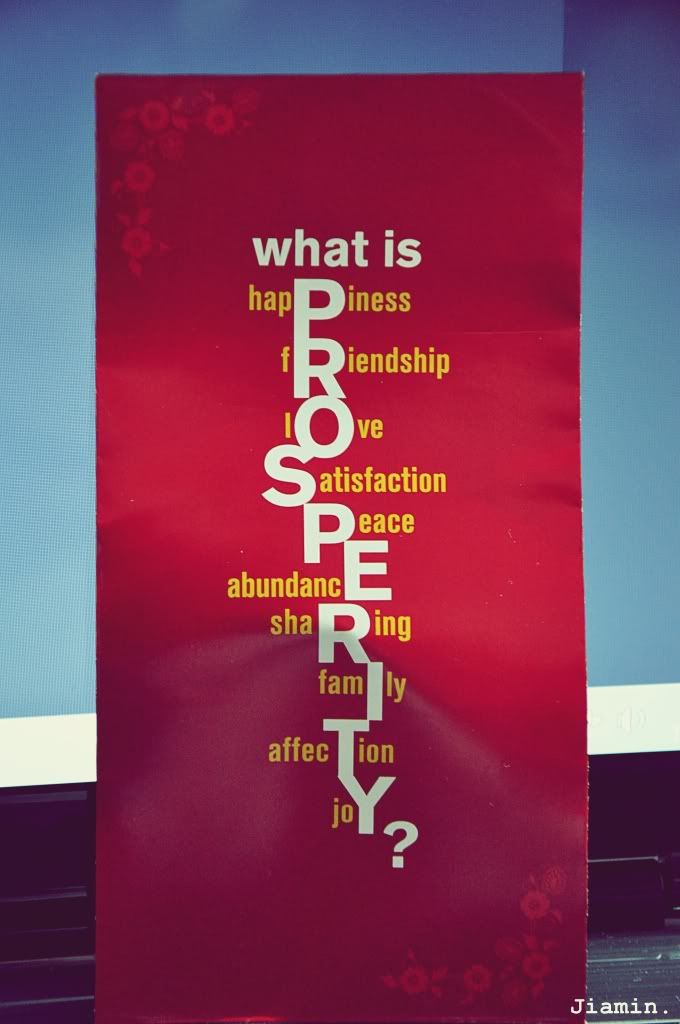 Since it was still Chinese New Year, angpaus were given to each and every one of us by McDonald's and apparently, we were so excited to get one but it was such a disappointment. A voucher for free French fries with any purchase only!
Before we left, balloons filled with water were thrown towards Alia at the entrance of McDonald's but unfortunately, we became the victims at the end. Thanks to Helmy, my DSLR nearly becomes one of the victims as well. My butt was wet, my legs were totally wet, and my slippers were so uncomfortably sandy. Argh! :\ It's fun, though, and the sleepiness was gone since sometime that I didn't realize.
It was overall a totally successful surprise because she didn't know we were planning for the night at all until the time she arrived at where it happened. Helmy was the one who came out with so many naughty ideas after he was fooled by Alia in October 2010. Thanks to the participants for their cooperation to keep everything as secrets so, so well without revealing anything. We weren't afraid when Mahrad said she sounded kind of mad because we were so sure that she would be happy then. I miss the night; not to forget the Badman's kisses in the car park before he left. :D
Happy 22nd birthday, Alia! ;)
x.