Before I start babbling, there is this one tradition in my big, big family that we, from kids to teenagers, would organize a mini performance to entertain the others, especially the grandparents, back in Mentakab during Chinese New Year. It is usually held at night on the day that most of us can be around as attendees and sometimes participants. Without exception, as similar as previously, this year's was held on the first day of Chinese New Year 2011, which was Thursday night before some of my cousins,
Wei Syn
,
Wei Qing
, and
Wei Hong
left to Johor Bahru to visit the relatives of their mum's side.
Upon the ending of the mini performance, someone suggested to take group photos of the 12 symbolic animals used to mark our birth years as prescribed in Chinese Lunar calendar. Just in case you don't know what the animals are, according to the arrangement, there are mouse, cow, tiger, rabbit, dragon, snake, horse, goat, monkey, chicken, dog, and pig. This session has seemed to be the funniest part among all because of how many of them posed while taking photos.
There you go! ;D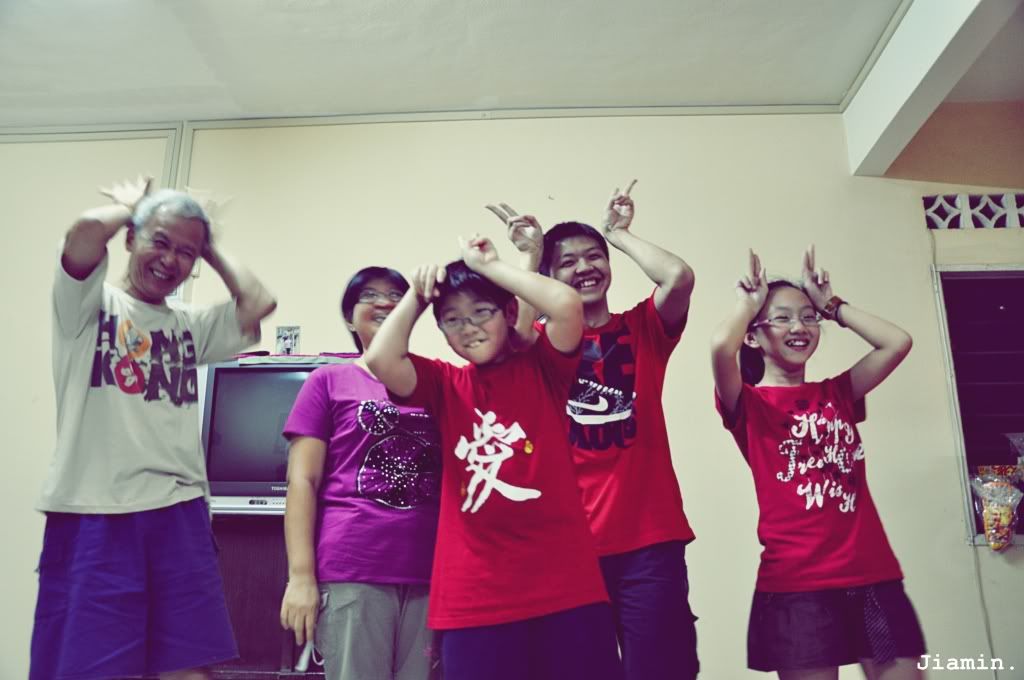 The rabbits aged between 12 and 60, I supposed.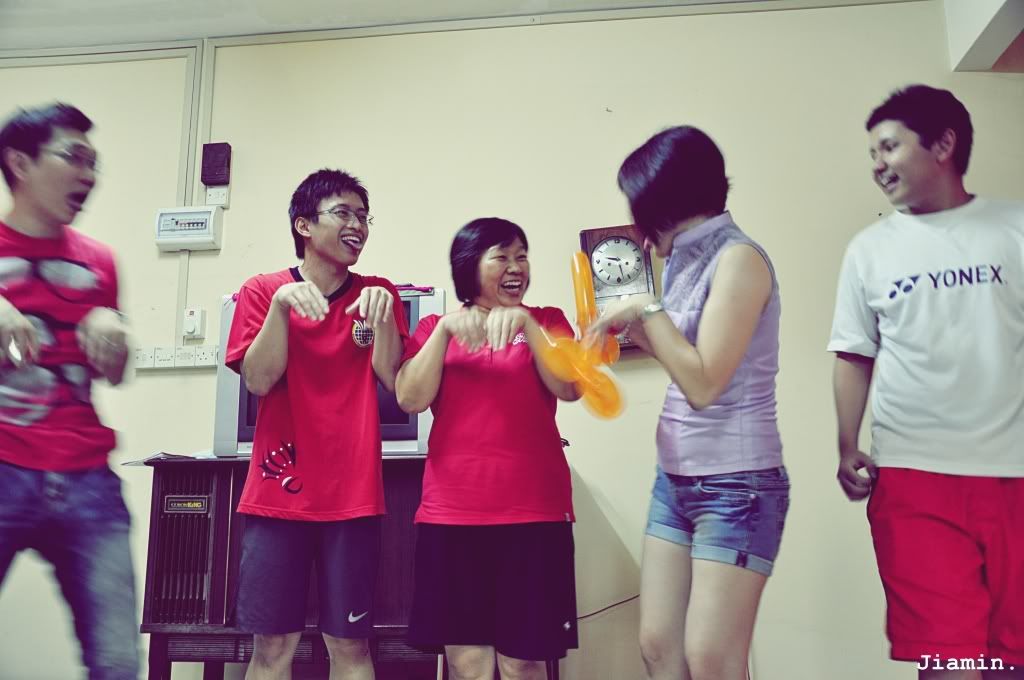 You should have known what they are through their poses. It's weird to say so but still, the dogs aged between 17 and 53.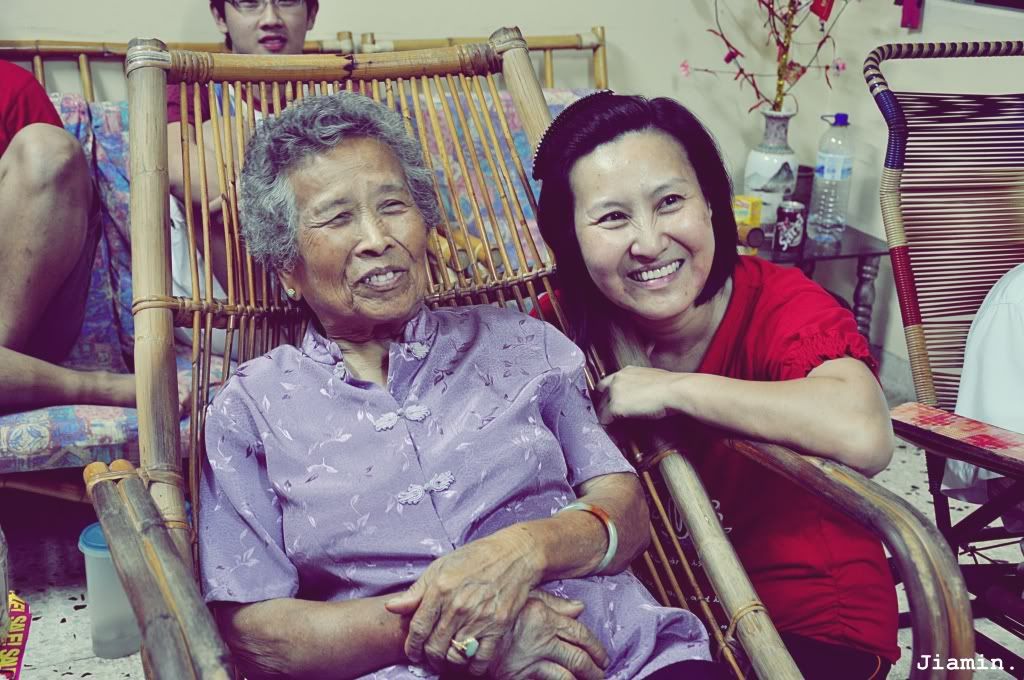 The tigers! They are 49 and 85 years old respectively if I'm not mistaken.
Then, it's my turn! :D We are the monkeys aged between 19 and 55 but we don't really look like ones, right? :P Unfortunately, daddy was gambling in Genting Highland so he wasn't in the photo, and mummy sort of blamed him for not being there with us during those important moments. Well done, mummy! :P
How do you usually pose like a monkey? We couldn't stop laughing because of what my eighth aunt, the second one from left, was doing. XD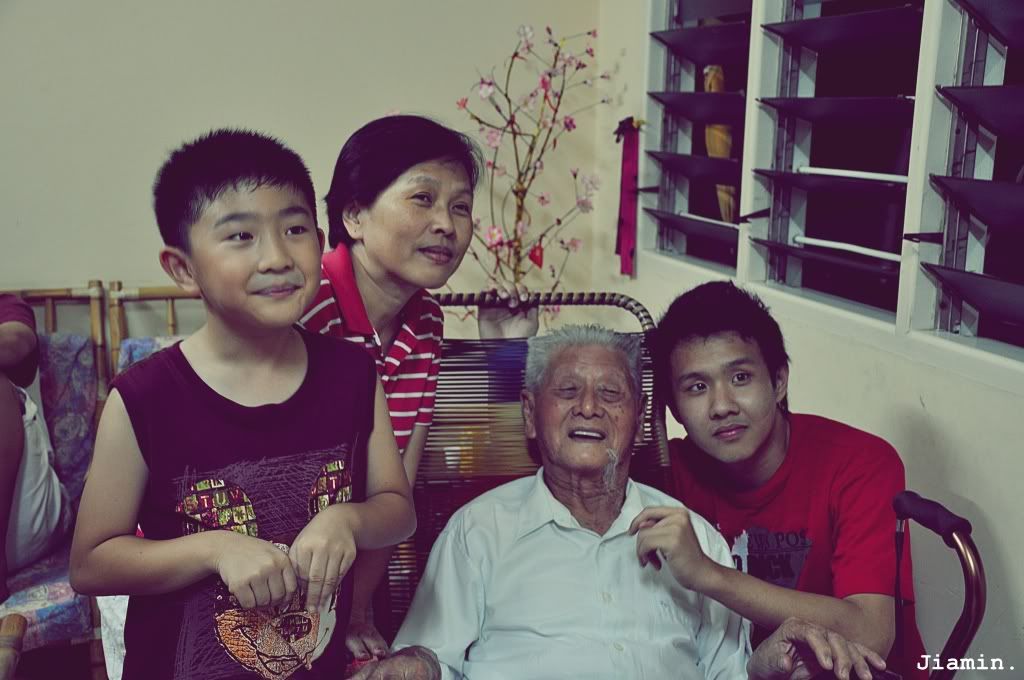 They are the goats aged between 8 and 92. Truth to be told, I'm always so proud of my grandpa for being such a healthy person and he's going to be on this earth for almost one whole century. Even though as compared to previously, he's not anymore as active as those time but still, like what people say, old people can be like a baby. At times, my grandpa can be a very cute old man with a serious face. ;D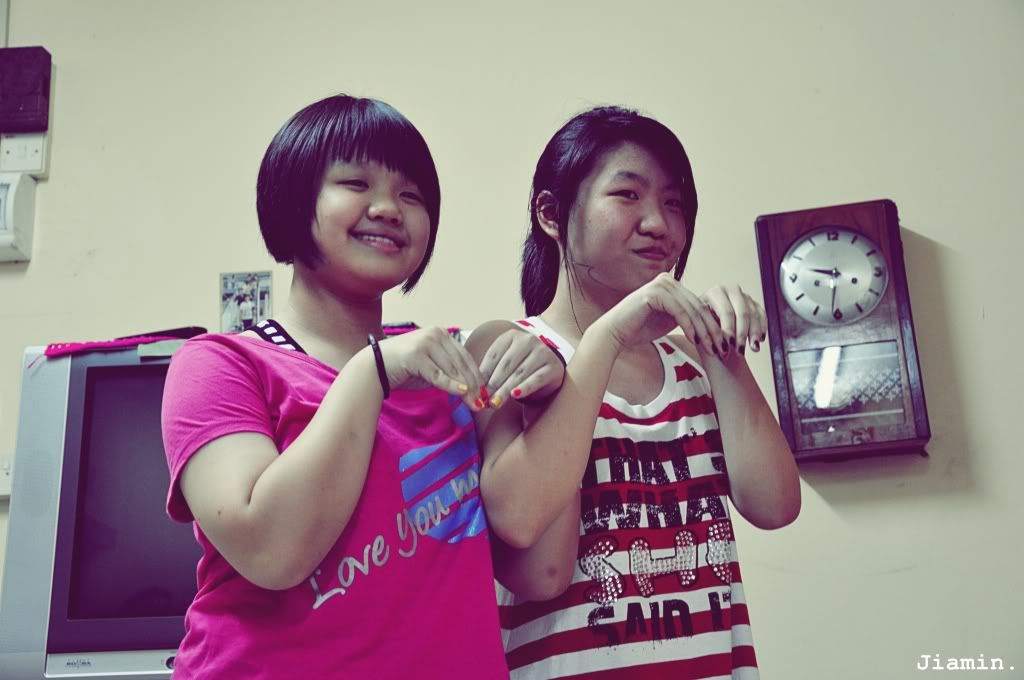 Calling them rats sounds better or mice? :O The both of them are like sisters and they are of the same age, 15 years old.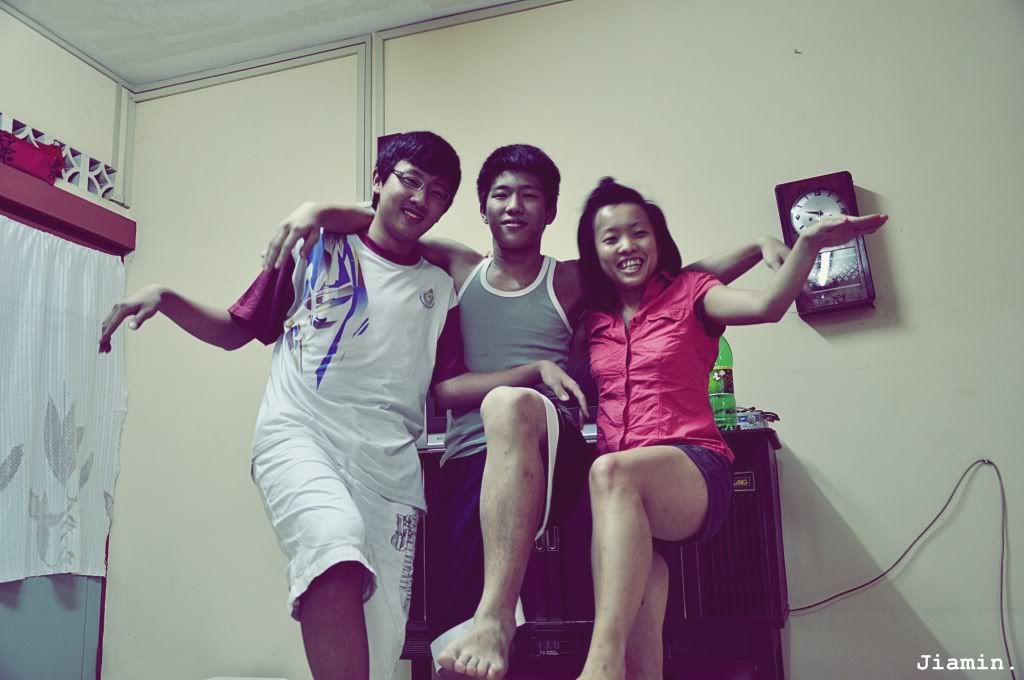 Again, it's weird to say this but they are chickens. Don't make me laugh! XD The three of them are aged between 17 and 30. Believe it or not, my cousin sister on the right is already 30 years old.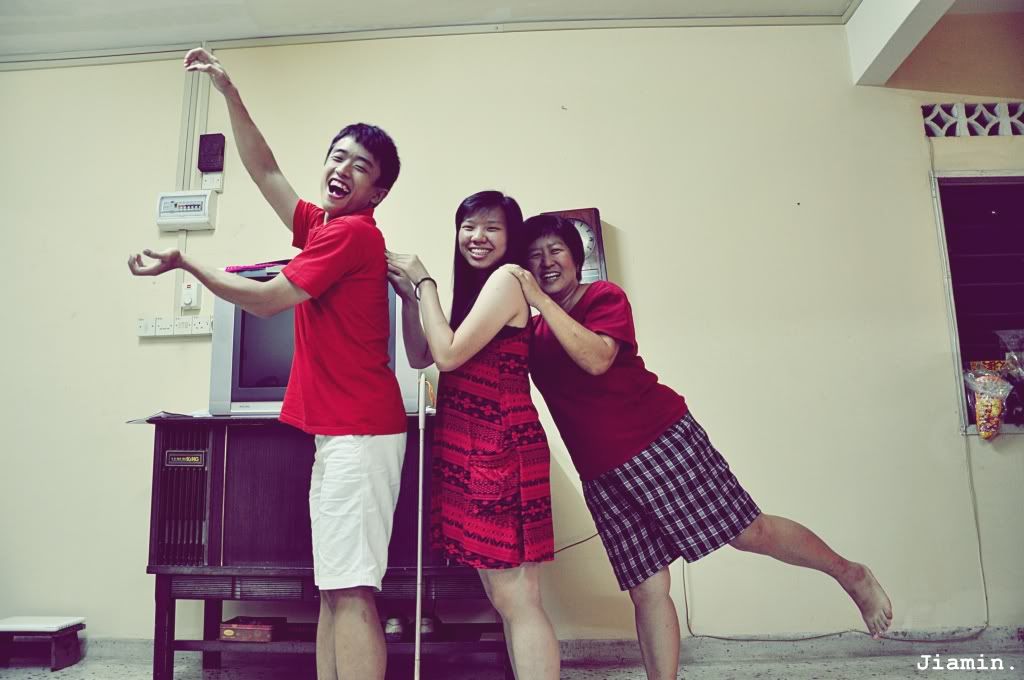 Can you guess what they are through their funny poses? Beyond doubt, they are the dragons aged between 23 and 47. Oh, the one posing as a tail is my mummy! Damn cute laaah! :D
They are the snakes of 10 and 22 years old respectively. The old snake is my oh-so-cute eldest brother yo!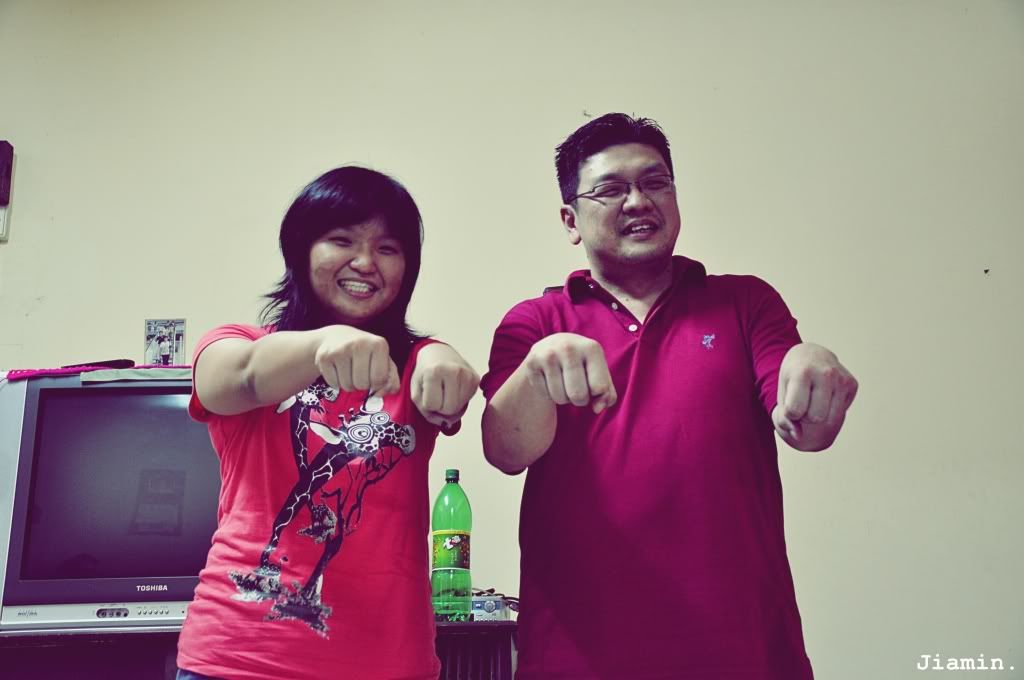 The very first thing I think of whenever I see this photo is that they look more like motorcyclists rather than horses. Hahaha! :P Their ages are 21 and 45 respectively. For your information, the uncle is my grandparents' one and the only own son amongst his siblings.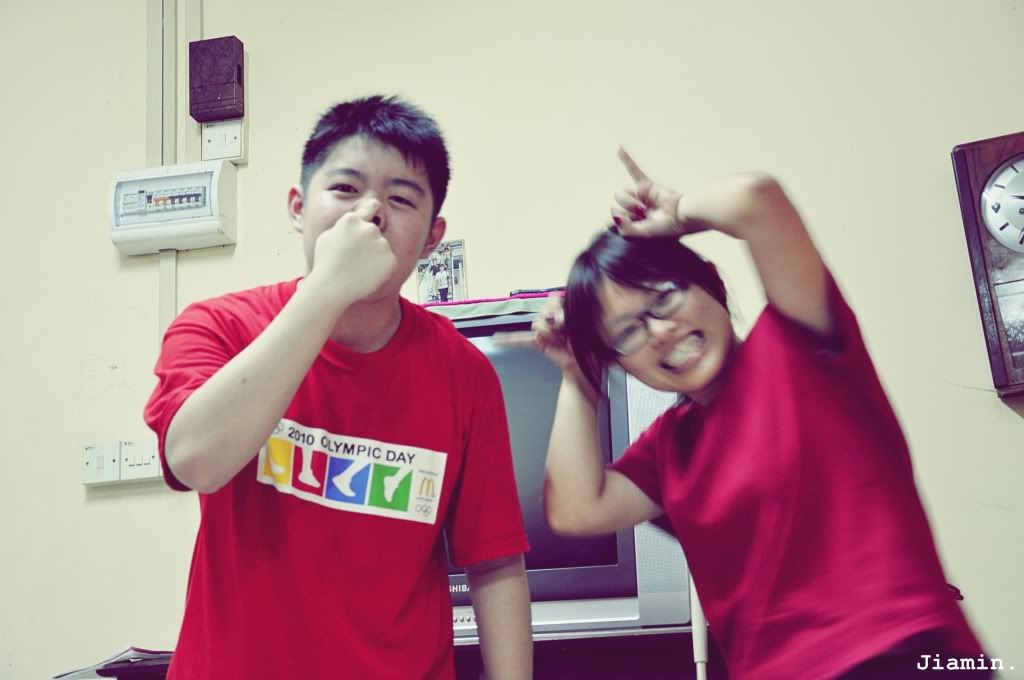 Do you have any idea why their poses weren't related? It's simply because there's only a pig and a cow so far, and to not let them posing alone, everyone came out with a good idea. ;) The guy on the left is my beloved youngest brother of 16 years old but for me and my eldest brother, he is a big baby. :P I will leave the age of my cousin sister on the right to you if you understand the so-called concept of these 12 symbolic animals thingy.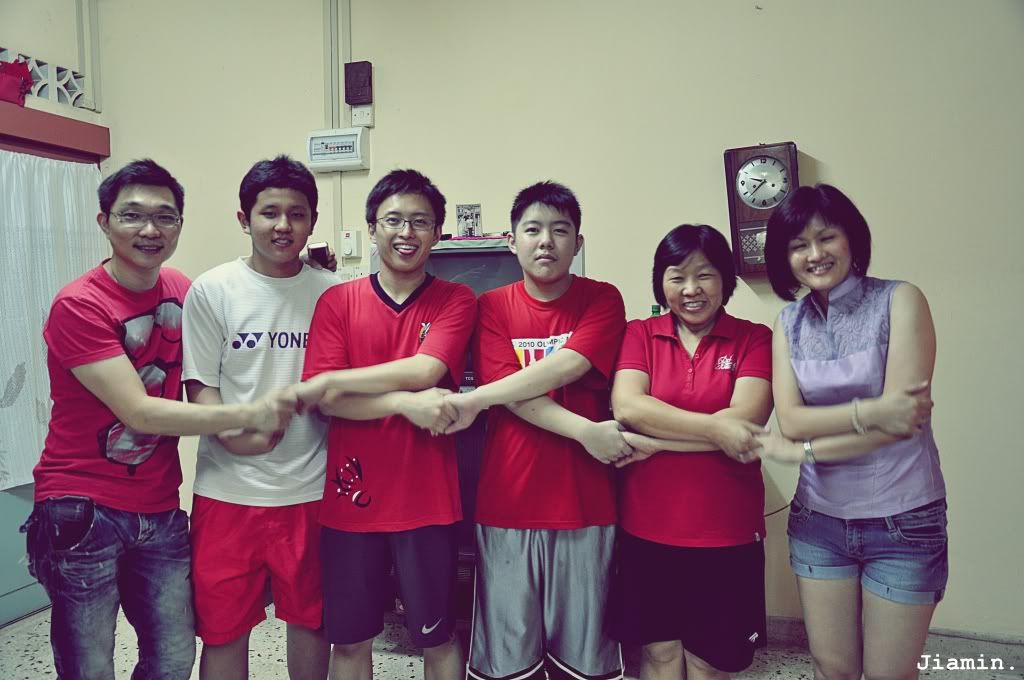 Last but not least, the combination of dogs and a pig can form several idioms in Chinese but this group of people was forming only one. Try to guess it if you are interested in it and leave me a comment. :D I'm not sure about the other languages but that of in Chinese is what I know. :)
This section was a sudden suggestion and it was very well done by each and every one of us accompanied by all the laughter from the people who were watching. Back to the mini performance that I mentioned earlier, several videos were recorded but to protect their images, I wouldn't post any one of them on my blog. They were all uploaded only on a private group of our family that has just been created a few days ago.
I miss the night. :)
x.