As promised, I'm here to share some short reviews about the movies I had watched just recently together with the
Badman
before I forget the stories. I am that forgetful, for your information. :P To be exact, two reviews will be shared both together in this post instead of posting them separately to make things easy. As what one of my friends likes to say, I am a very busy girl but not woman; in fact, I hate it whenever people consider me as a woman because I personally think it sounds old even though the people never mean that. I know, saying this makes me sound like a fool. :3
Let's get started with the first one, No Strings Attached, which was what we watched right after the
dinner in T-Bowl Concept Restaurant
. According to a few bloggers, this movie is sort of highly recommended and I have read several blogs saying that this movie is funny, hilarious, recommended for couples and all so we decided to give it a try.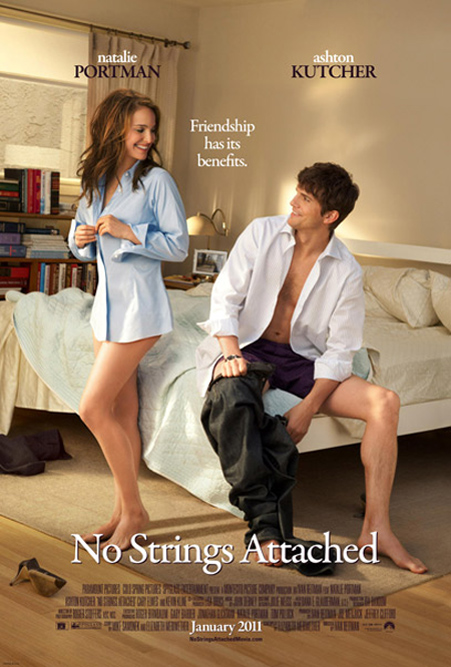 We actually missed the tiny little part in the beginning because the Badman's daddy called all of a sudden to look for Keith (the Badman's one and the only brother) before we entered the movie theater but oh well, at least I could still understand the storyline. :) This romantic comedy is basically about a girl and a guy who have that kind of sex-only relationship yet they both agree to maintain their friendship instead of being in a relationship with each other. However, once they start having sex, everything seems to be ruined and the story ends up with the both of them become a couple.
Personally, I think this movie is recommendable because of how hilarious it is for most of the scenes until the audiences went "Hahahahahahaha!" but since it is a romantic comedy, something that makes people go "Awwwwwww!" is never a thing that can be lack of. I enjoyed watching this movie together with the guy whom I love the most other than my beloved family, in his embrace comfortably. :D
Obviously, the second movie that I had watched in this year is what is shown above, Shaolin, a movie about wars, histories, and most importantly moralities that we have to learn. It shows the importance of friendship, family, and also one's personal loyalty to anyone around especially those who have given you helping hands in your life. It is definitely a must to watch, peeps! ;)
Before I forget, my eldest brother is right; movies with
Andy Lau
are always that interesting and attractive.
Rate:
★
★
★
★
★
Please take note that what are said above are based on what I think but not what is found on any related websites. My opinion might not be as same as yours because we do not own a same brain.
Hehe
! I hope you enjoy the movies if you are watching them sooner or later, and if you don't mind, let me know what you think as well. :)
x.