Typed, deleted, typed, deleted, typed, deleted, and these steps repeated since yesterday afternoon when I was trying to figure out what to blog as an opening speech of this post or else, this post would turn out to be pretty weird. Well, my current life has been pretty busy with assignments and assessments yet I have no idea why I always get to stay on-line until the time I go to bed. As a person who seldom naps like me, I had it two days continuously right after I arrived at my hostel after all the classes for God's sake. I don't get why I feel tired easily even though I go to bed on time every night to make sure I have enough sleep. Oh well, I hope this would just remain for a while so that I could have enough time to prepare for the coming examinations.
Ignore about the weird situations I'm having, let's talk about food. ;) If you have heard of
Madam Kwan's
, you might as well have known about what it is mainly famous for, services and foods. At least to my mind, they serve truly Malaysian cuisine with very efficient service that you don't even get to starve yourself. This was my second time dining in the same restaurant after the
last day of July 2010
, which it is located in Midvalley Megamall if you are still lazy to click on the provided link to check out the previous one, together with the same person. For your information, it was as well the day we watched the movie Shaolin if you haven't read
this entry
. :) Huge variety of foods was there to be chosen on the menu but we ended up ordering two plates of
Nasi Lemak
instead of him racking his brains thinking which one is the best choice.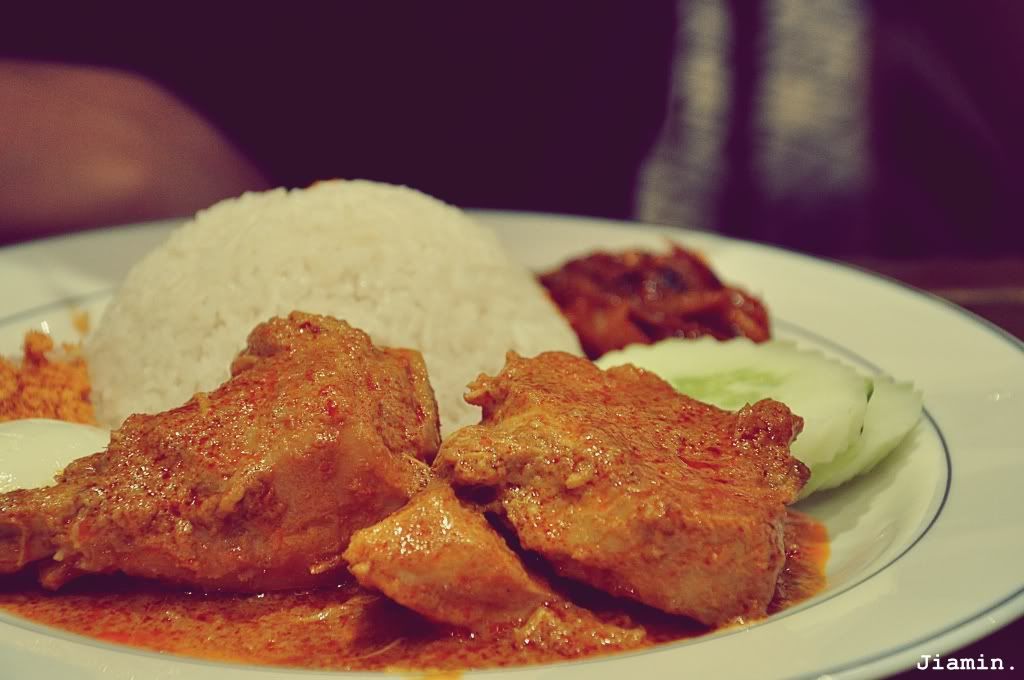 Some people might say this is the best Nasi Lemak in town; yes it is, considering where Midvalley Megamall is located at but if you're to say it is the best Nasi Lemak ever, personally, I think the best one goes to the one in PJ Uptown if you know which one I mean. If you don't get it, I would try my best to blog about it if I get to take photo of the Nasi Lemak next time when I pay them a visit again. :)
As for the one above, there are actually two types of Nasi Lemak stated in the menu and I nearly order the wrong one. One is way simpler and cheaper which I guess it doesn't consist of chicken but the one we ordered was the more expensive Nasi Lemak which as you can see, there're chicken rendang, sambal, some spicy chicken floss, half of a boiled egg, and not to mention two pieces of cucumber. In case you have read the post about my previous visit to Madam Kwan's, you should have known that I actually ordered the same thing again because I didn't feel like trying something new at that moment. Heee! By the way, two plates of Nasi Lemak were served within 5 to 10 minutes right after we placed our orders.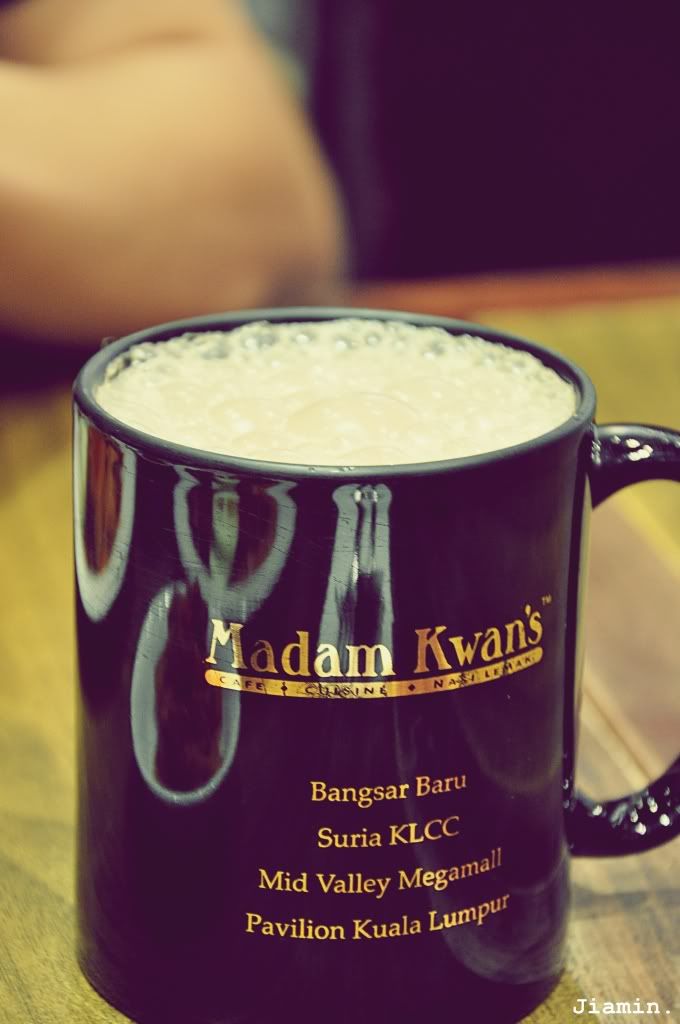 Again, I ordered the same drink as well to share with the Badman. Apart from the one in PJ Uptown that I mentioned above, I personally think that Madam Kwan's also serves one of the very few best Teh Tarik I have ever tried. Yummm! :D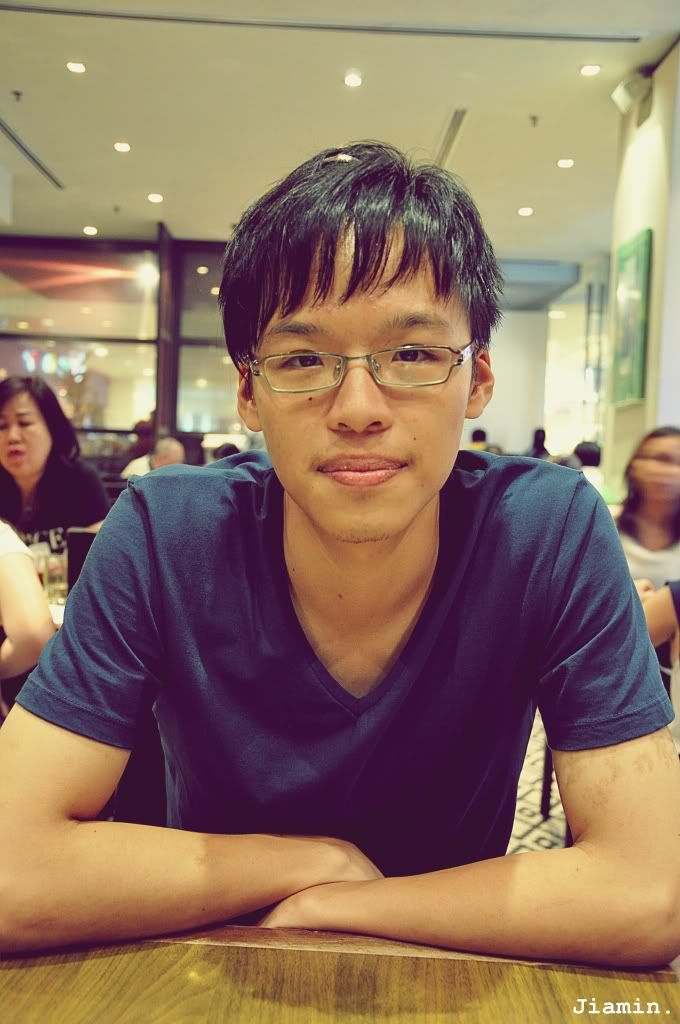 This is certainly the guy that I used to mention, my beloved awesome Badman. He has just got a new nickname created by me, 肥木材, fat wood in Chinese, because I simply get jealous of him at times of how he always remains as thin as a wood. Creating nicknames for this guy has seems to be one of my hobbies since someday that I didn't realize, eh? Hahaha! :P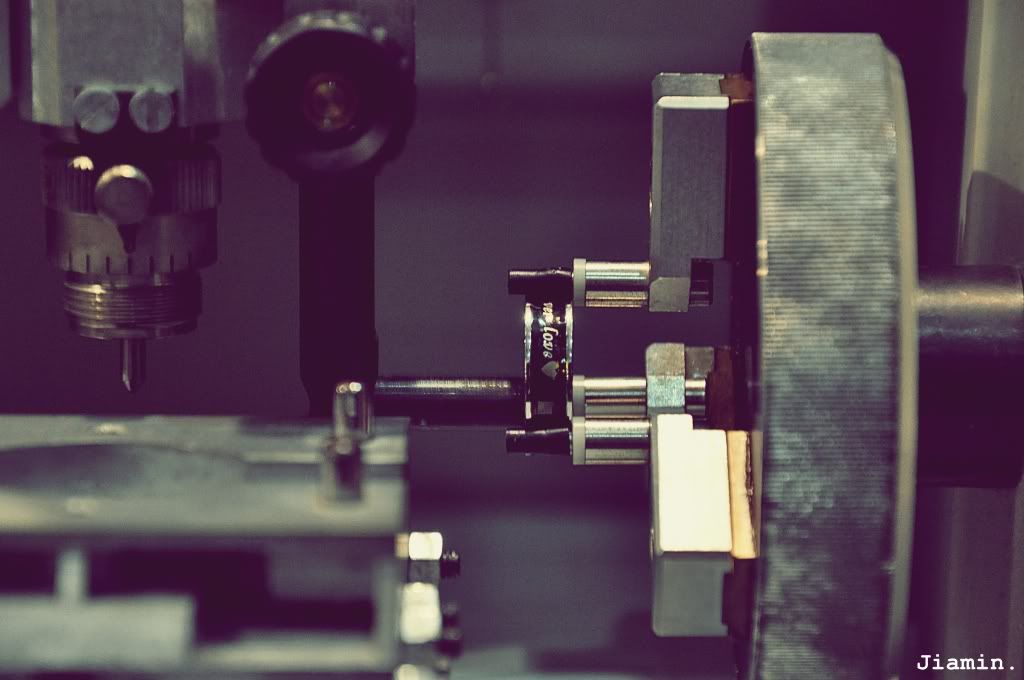 Spot the thing in black and silver and guess what it is. Right on that day after the movie, we have finally got a pair of official couple rings even though they're pretty expensive that each cost us RM35 but carving is included in the price. Beyond doubt, we required to carve our names on the rings, "Donald & Jiamin", to make the rings even more special. ;D On the day when I wore my ring to class, Farah said the same thing as what she said previously, "Jiamin is engaged."
Phew! Fortunately I still get to complete this post before I blog my incoming visitation to Orang Asli Museum in Gombak. :P Hey peeps, don't forget to check out this restaurant regardless of your nationalities, because it helps to know more about Malaysian cuisines. Told you right; I am a tourism student. Hahaha! To know where it is, you can travel all the way to Midvalley Megamall and their directories would answer your question.
I should go now. Tata! :)
x.