In a wink, I'm finally done with diploma! Surprisingly, I've gotten a higher mention that I thought I wouldn't achieve, yet the overall average was oppositely disappointing. However, what's done is done; I know I wouldn't be easily defeated. Anyway, it is said that our convocation would be held on the 3rd of November but I haven't received any confirmation so far. People have been frequently asking, "How are you going to spend your long holiday?" Anything but work, I would say. Working or travelling overseas, however, is one of which would never come across my mind unnecessarily for some reason. For your information, degree is beginning in approximately three month's time; I would rather gain what I've missed throughout the two years of being almost away from home.
By the way, before I continue with my Bali trip, I would like to talk about the Announcement of Results Ceremony held especially for the Batch 37 of Diploma in Tourism and Hospitality Management and Culinary Arts, on the 22nd of June. Before the ceremony was held at 2pm, there was a Pass List being published on the portal at 11am, which allowed us to know if we passed the exam and that if we had to attend the ceremony. Funnily, some of us woke up after every one hour since the night before to check if the results were out, while some of us woke up a few hours prior to the said time to start staying on the webpage frequently, just like me. We were freaking nervous! Some of them cried as they called back home to inform their parents about the good news as soon as the list was out. :)
P/S: The photos are mostly taken by my phone, and they're all zoomed in to not capture the heads right in front of me, which pretty much explains the blurriness.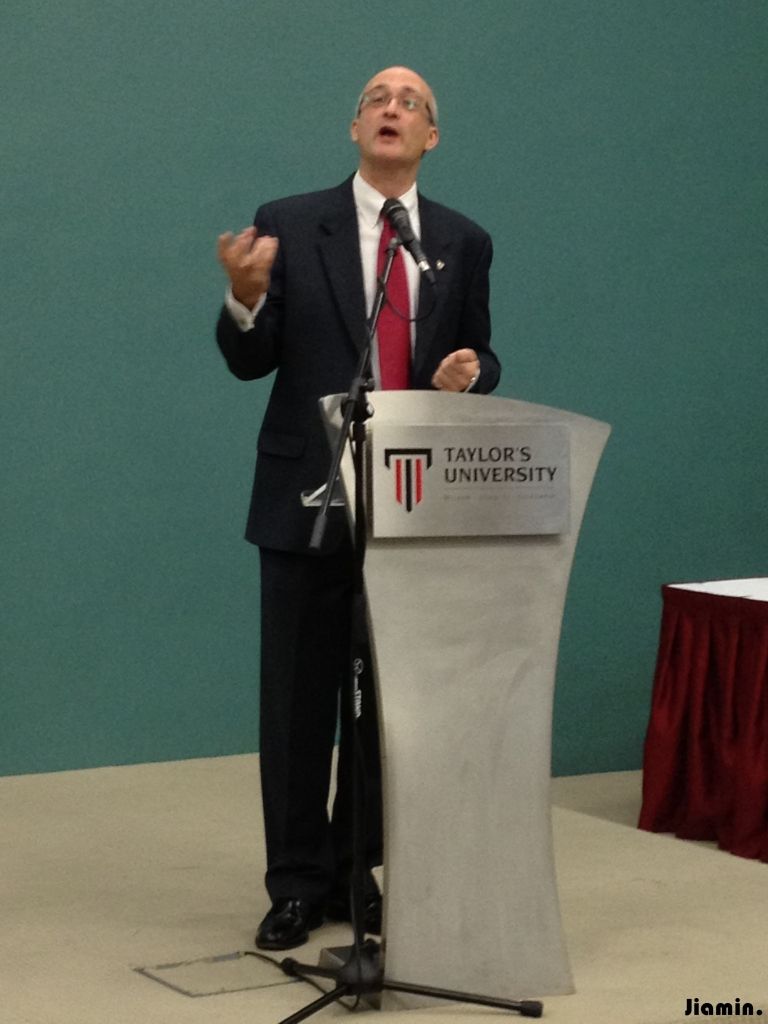 With the Master of Ceremony of the day, Mr. Adrian Yao who happens to be really famous among the hospitality students for his joyfulness, starting off the entire event with a lecture theater full of laughter, it was then followed by the speeches of some of the representatives, including Mr. Neethia, the dean of School of Hospitality, Tourism and Culinary Arts.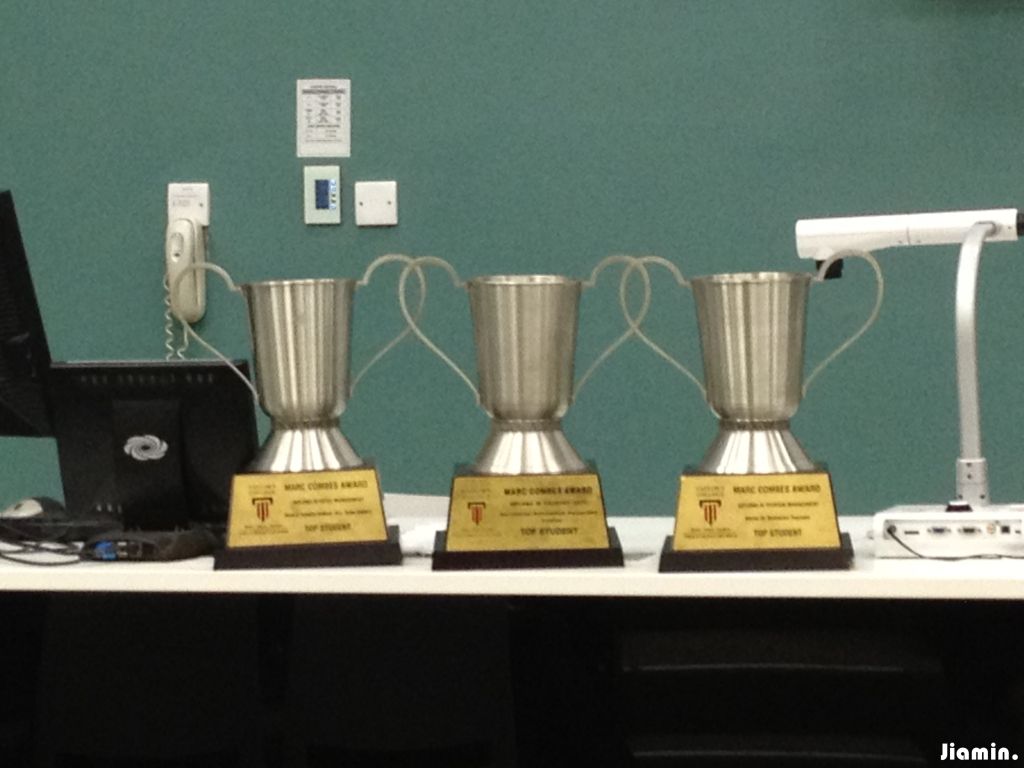 These are the trophies for the Top Students of each course. Unfortunately, the Top Students were repeatedly reminded by Mr. Adrian that these trophies must be returned before 6pm on that day itself and no one should be allowed to bring them away from the campus. It was said that their names would be carved somewhere around the respective trophies, although those of after the year 2005 were nowhere to be found.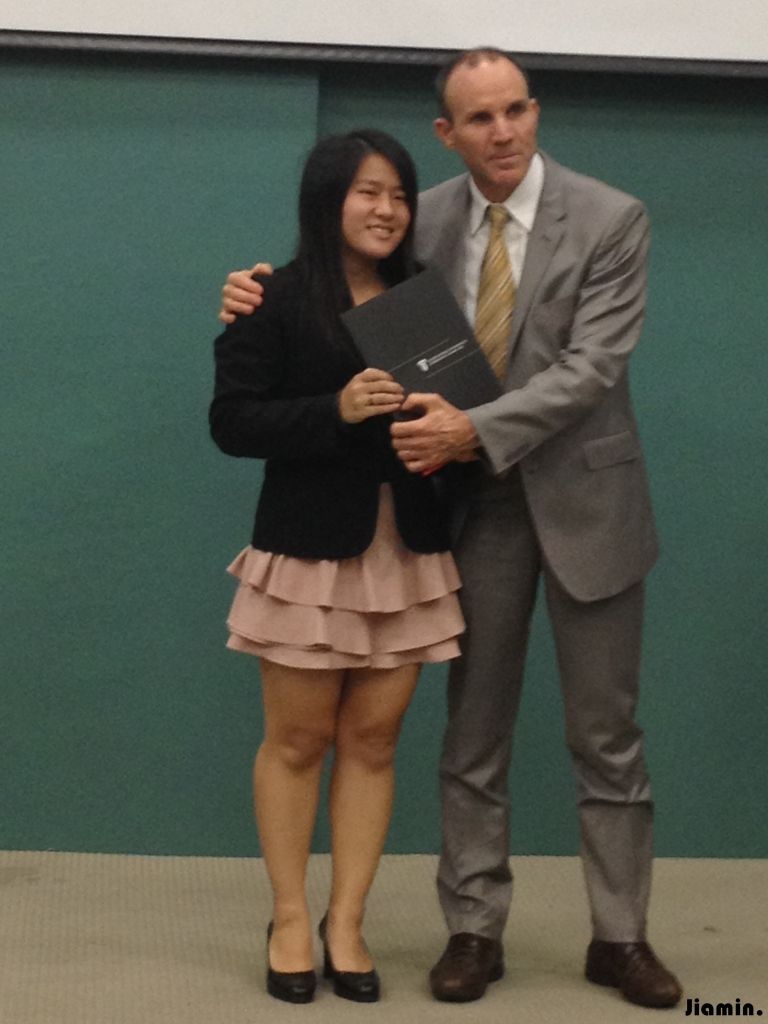 After the speeches, the event went ahead with the long awaited moment; starting from the hundreds of students of Diploma in Culinary Arts and Diploma in Hospitality Management, the results of the very last 22 students of Diploma in Tourism Management were the last ones to be announced. I hereby accuse them for the torture we had gone through. Heh! He said to me as he presented me my certificate, "Bonjour!" Being on the stage for less than five times in my life, I was too nervous to answer him properly. Out of nowhere, I thanked him since the moment I approached him until I left.
Passing my diploma with Very Honourable Pass was what I thought I should be happy before my overall average partially destroyed it. Oh well, I blamed myself for not working extraordinary hard than I did.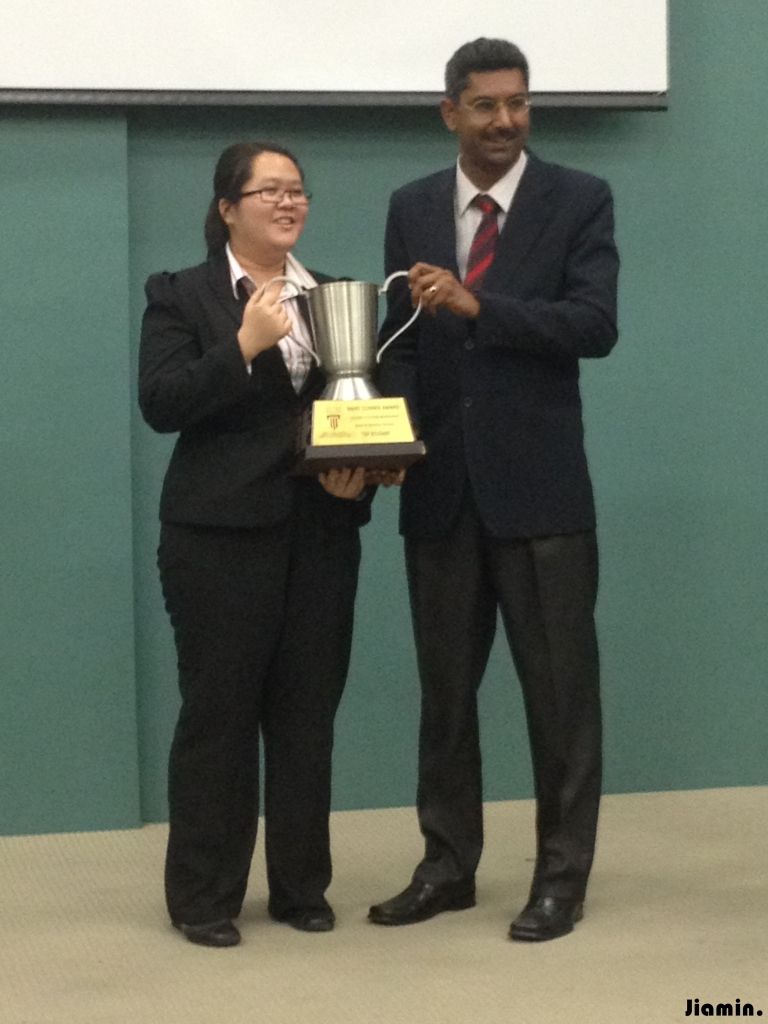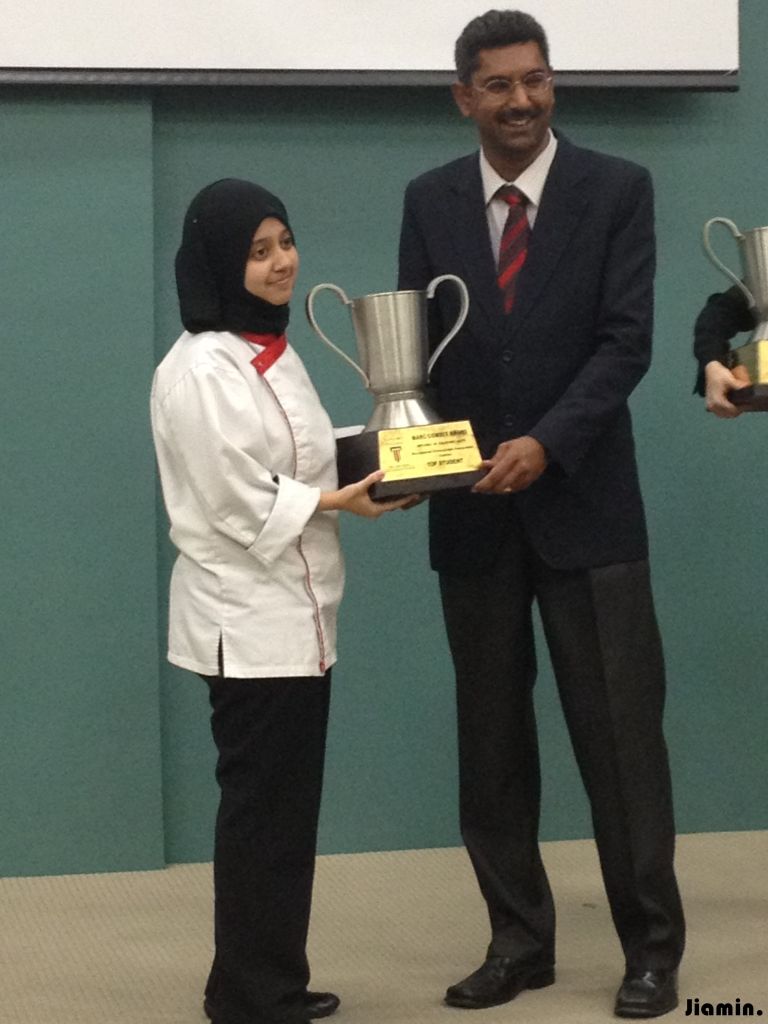 As you can see, these are the Top Students from Diploma in Tourism Management, Diploma in Culinary Arts and Diploma in Hospitality Management respectively, arranging from top to bottom. Congratulations!
Oh, just so you know, being as smart as I always am, I managed to share the same trophy with
Farah
too.
Shut up.
The entire ceremony was rather simple. We then spent some time mingling with people whom we treasure, outside the lecture theater while some of them were enjoying some good food.
After some group photos with the classmates, Ms. Cindy and Ms. Madelyn, we went to have a short gathering session at Recezz Food Court. We laughed all the way until Farah, Maliewann and I decided to leave that Shannie started crying really, really badly for the fact that it could be the last time we see each other. I cried when Robert was about to cry, and I started to cry like how Shannie did as I hugged Revy, Wei Wei, Farah, and Maliewann. Beyond doubt, the moment was, indeed, heartbreaking, but the cleaners just wouldn't understand, judging from the strange looks they gave us. All good things must come to an end. Eventually, we all moved separately, hoping to gather again sooner or later.
I regret to say that Theeban was the only person who did not manage to pass his diploma. It was unbelievable, and I really miss him a lot, as a friend.
Anyway, the day ended with countless tears and laughter. From then on, as crazy as it may sound, for a person who never studies as hard as how the top scorers do, I have set for myself some impossible goals to be achieved in degree. Nothing is impossible; this is what that encourages me to move forward. I know I will make it, and I know I can. :D
x.