Initially, I intended to blog about a café,
Kaya-kaya Café
, only to realize that I do not have enough information and photos of food and its interior for a complete blog post. I guess that it has to be temporarily set aside until things are ready. Here is a throwback instead; a long-awaited date with Don when I went back to Kuala Lumpur for Kenneth's farewell.
Apart from spending a great day with Don after being in a long distance relationship for more than a month, one of the main purposes of this date was to hunt for a good pair of shoes for my three-month fitness program, followed by a little gathering with Darren and Mandy for the amazing "Fast and Furious 7". We arrived at Mid Valley Megamall since approximately 11.00am, settled our breakfast, walked from one store to another and finally decided on a pair of Adipure 360.2 Prima Shoes right before I felt the need for something sweet and icy. Nana's Green Tea we went!
It's been quite a while since the last time Don's face appeared on my blog. Looking older and slowly growing wider now.
Our Matcha Shiratama Parfait, an artisan dessert starting with a layer of Kanten jelly and matcha syrup, topped with soft serve vanilla ice-cream and generous layer of corn flakes, and garnished with matcha ice-cream, red bean paste, mochi, whipped cream and a drizzle of matcha syrup.
It's so, so, so freaking heavenly good! Not too sweet, not too bitter nor greasy for any of the matcha stuff in the glass, just right for a person who is afraid of overly sweet food and overly strong matcha taste. For each bite taken, I fell in love again and again. Mixed the red bean paste together with the Matcha ice-cream, the combination was beyond perfection.
Damn, do I have to do this to myself when I am actually on a serious diet for the three-month fitness program?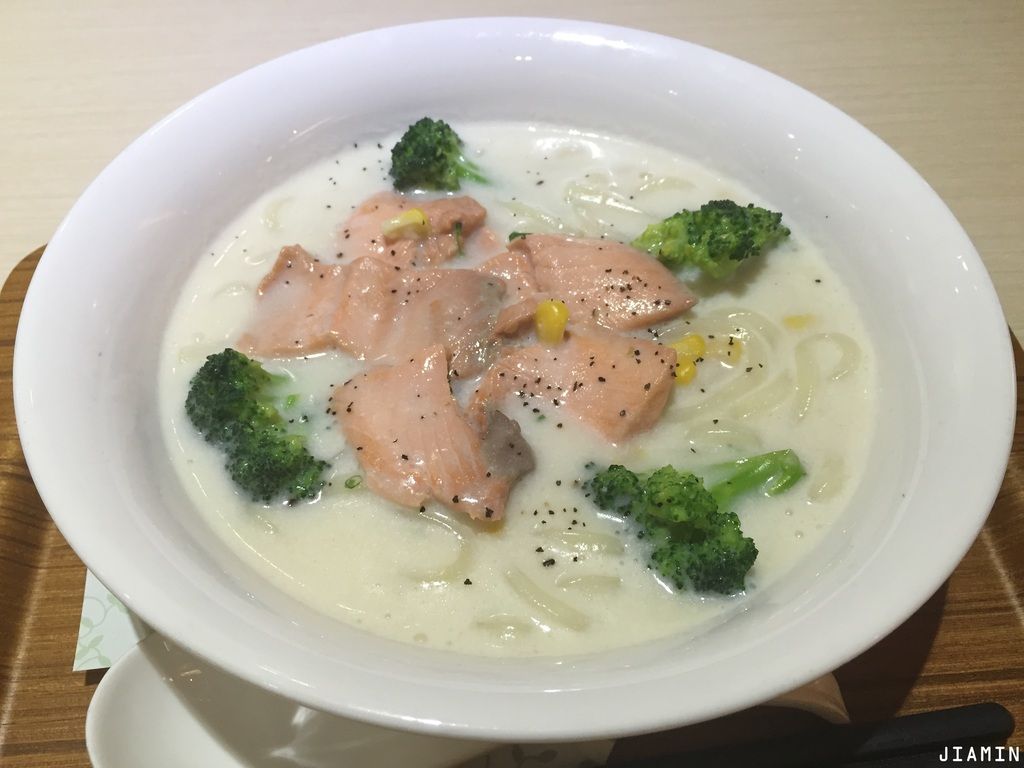 Don wanted something solid that was enough to last us until dinner, so he added a bowl of Salmon Udon with Cream Sauce. It was a pretty simple dish with salmon, broccoli, corns, sesame and udon noodles cooked in cream sauce.
Don liked it and was quite happy to have ordered this, but I thought it was just okay; not too special and quite bland for a bowl of creamy noodles. When I eat something creamy, I expect it to be something heavier than usual. Still, I must add that the several pieces of salmon were quite thick, so it was worth the money spent.
Price wise, it was rather overpriced but expected. Each of them cost us RM 18.80, which made it almost RM 40.00 for a dessert and a staple before any service charges were added. No worries, extra happiness is guaranteed! :D
The only disappointment about this particular outlet was the services. The waiters and waitresses came to our table for countless times throughout the session to clear our table. It may be part of their standard operating procedure; it would not hurt to ask us beforehand if we would like our emptied dishes to be cleared immediately or left until we left the place. For me, it was extremely annoying. It would also be great if the staff could make an effort to put a smile on their sad faces. Perhaps they should try a good cup of Matcha Shiratama Parfait before work for a slight upward curve of their lips.
I'm definitely looking forward to having my second visit, hopefully with better services!
Nana
'
s Green Tea
Lot 231A, LG Floor,
The Gardens Mall,
Mid Valley City,
Lingkaran Syed Putra,
59200 Kuala Lumpur.
Tel:
03 2386 6036
Email:
info@nanasgreentea.com.my
Facebook:
Nana's Green Tea Malaysia
Business Hours:
10.00am to 10.00pm, daily
x.