Apparently, it is not as easy as it seems to be for a part-time blogger to constantly keep his / her blog updated at least twice a month. Here, I am talking about quality contents that are created based on one's own opinions and experiences; those that require plenty of brain juice. During the past few months, I have drafted some posts spontaneously about different topics that flashed through my mind but most of them were often left unfinished, and eventually deleted. That's probably how my passion for blogging begins to fade slowly. Such feeling sucks.
For your information, I have started my very first permanent job at
Layang Layang Guest House
in Malacca since 11 January 2015, after the submission of my final Industrial Training Report. After being in this food paradise for more than six months, including those days as an intern, I sure have come across certain good places nearby that are not popularly known or recommended on many travel sites. While I wished to introduce my fellow readers to all of these places, I think I ought to stop when I find myself being biased, because of it being one of the main responsibilities of any bloggers out there. This sucks, too.
Argh! ;(
---------------------------------------------------------------------------------------------------------------------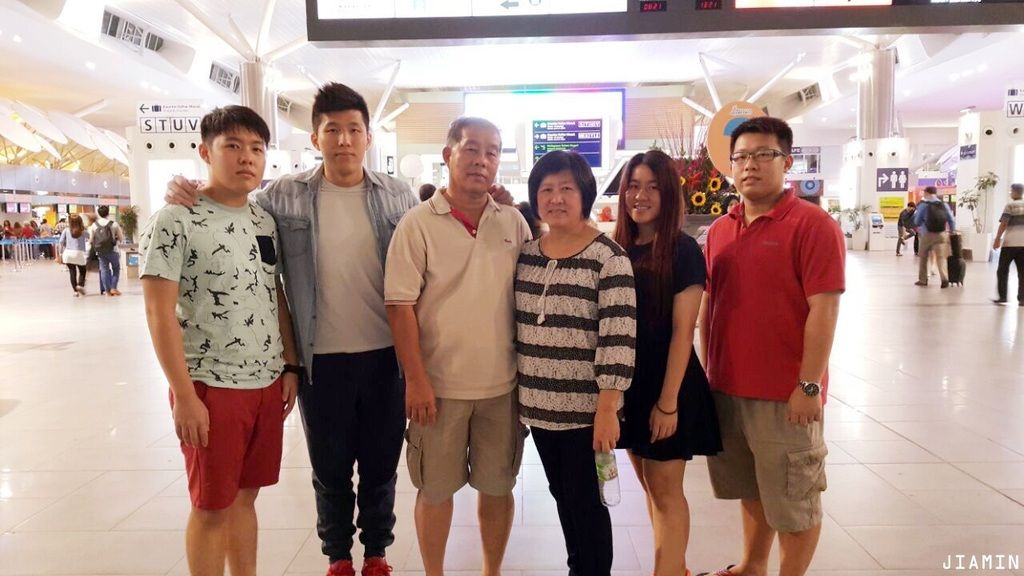 Our latest family portrait taken at Kuala Lumpur International Airport 2 (KLIA2) before Kenneth left for further studies in Australia.
It's that time of the year again, when all lovely mums deserve a day off from all sorts of household duties and fully enjoy being showered with unconditional love. I am supposed to be at home, having endless conversations with my family members over a great dinner. Yet, here I am, sitting on my big bed in a tiny room all by myself albeit extremely comfortable, and being emotional.
I miss my family, too much. It always sucks to be homesick.
I return home only once a month on average. I work seven days a week and I accumulate my off days (once a week) and holidays to return home for my family. Even though we constantly share our stories and experiences to keep everyone updated via WhatsApp from different places including Australia, Kuala Lumpur, Johor Bahru and Malacca, it will never feel the same to have them by my side, listening to my boring words and knowing that everyone is still growing well horizontally
wtf
.
Indeed, my family is my everything. Right now, I just want to go back home, spend a day or so with them, and return back to reality again. Homesickness is definitely a killer.
Something about Malacca and food next time, perhaps?
x.