Like finally, I'm officially done with my term one final assessments of Diploma in Tourism Management. And yea, I'm heading to my second term right after a one-week term break. :) This will be a wordy post that is specially made to sum up the whole term that took me approximately three months to complete it.
Life has totally changed ever since I started my college life back on the 21st of July, 2010. I have met a bunch of new friends that to be frank, make my life colourful. Some of them are foreigners; some of them are of different religions; however, by combining altogether, we formed One Malaysia. I'm not making jokes, seriously, I'm feeling proud to have them all around whenever I need, to support me, to listen to me, to accompany me, to help me out, and many others that fit the word "friendship". They might have disappointed me but, I have no need to be too particular about such trifles. I have told that I wanted to
hypocritically express my willingness to be good to him or her
, yet, I failed. He or she has been in my buddy list to a certain extent; in fact, I could never delete his or her name psychologically. Oh well, having more friends is never a bad thing, isn't it? What I can do is to beware, and to avoid from falling into a trap that will never be visible until it happens.
Let me list the names of most of my classmates or all:
Kah Mun, Farah, Kelly, Diana, Xiao Wei, Ixny, Cheng Nee, Maliewann, Andy, Taemin, Gyubin (he quitted and switched to another course at some other place a few weeks ago), Chris, You Jun, Chi Kei, Saravanan, Naeem, Teeban (I hope I spell it correctly), Aissa, Wei Wei, Mona, Pei Ly, Shannie, Alia, Helmy, Fahmi, Krissie, Si Pei, Epol, Aminah, (a new student from Maldives but I don't know her name at all), Ryan, Roger, Steven, Dylan, Haidi
In conclusion, I'm such a failure to not being able to recall all of their names. Ish! By the way, even though it's just a term break, and it takes only one week time, I have the complicated feelings of how-if-I-couldn't-meet-the-classmates-anymore-when-term-two-starts. :\ It wouldn't be, would it?
So far, I have met a total of 5 lecturers, which are Mr. Patrick, Ms. Ng Siew Cheng, Ms. Lee Ker Hui, Mr. Mathieu Lemaitre, and Mr. Harith. Basically, they're all very nice and friendly to all of us. They brought us the knowledge of what we're supposed to learn, and they're mostly in detail.
Mr. Patrick was responsible for the subject, Tourism and Travel Operations, and somehow I felt as if he was our so-called form teacher. We spent most of the time together with him as compared to the other lecturers throughout the term, which was six hours a week. I had been so damn mad of him due to
some reason
; nonetheless, as I said, I have no need to be too particular about such a trifle. At least, perhaps he has forgotten, and he even said I did well during the role play. Wtf! I stunned for a few seconds before I nodded my head when he said, "We don't need to go through the step one, two and three because you have done very well during our role play, am I right?" during the examination. LOL! Apart from that, I've got 25 over 30 for the role play practical examination. I personally think I don't deserve it; he's so damn kind to offer me such a high mark. :O What more can I complain about him? After all, he's considered as a pretty awesome lecturer who would never want us to fail our examinations; he gave us tips and even told us the answers directly or indirectly. What more negative points about him can I complain?
By the way, he might be promoted as a lecturer of bachelor courses. If it happens, we might not be able to meet him anymore until we take degree course. :(
Mr. Mathieu is obviously not a local lecturer. He is a handsome 28-year-old French that is now taking master course in Malaysia. Many of us actually wonder why he takes this course in Malaysia instead of France. No one dares to ask, and I bet he is not going to answer us. He even rejected each and every one of us on Facebook! By the way, he was in charge of the Travel Geography in South East Asia, which was the most difficult course among all. The notes he prepared for us are the thickest ones and certainly, the heaviest ones. D: Well, he's as well a very nice person who's willing to spend more time with us to improve our knowledge. Seriously, most of us failed during a test that we had earlier. Most of my classmates and I streamed in to his office right after the very last assessment to ask him about our results. I've got 35 over 50. I did it! ;) That's one of the reasons why I'm feeling so excited until now. Woohooo!
Ms. Ng Siew Cheng, a lady who always shows her stressed-looking face no matter where she goes, was responsible for our Professional Activities 1, which were the four visitations that I went. She is actually a friendly person, but it would be better if she smiles more like how Mr. Patrick did to us. We used to make fun of her, saying that she always liked to show that kind of face. We even said her scary when she smiled at us the other day, right in front of the divisional office. Look! We considered her as a scary person when she smiled, but we considered her as a normal person when she showed us the face. Sigh! I know we're not going to meet her for the next term, but I sincerely wish to see her smile from the bottom of her heart.
I've just gotten my new timetable a few hours ago. Our new lecturer for Professional Activities 2 is Mr. Boey Tuck Sai. I was trying to give my momma the what-the-hell look when I read the name, but ended up we couldn't stop laughing, including the youngest brother who was having his dinner. Hokkiens should have known what I mean. Hell, hopefully I wouldn't repeat the same thing when I meet the lecturer. XDDD
Ms. Lee Ker Hui is a young, pretty lecturer who taught us Business of Tourism and Hospitality. We learned this subject together with the hospitality students of the same batch but, it's as if we always separated, and we never combined. Since it was such a huge class, we never have any assignments at all. ;D We had our classes at Lecture Theatre 1; the chairs were always as comfortable as those in the cinemas. I used to fall asleep during her lecture whenever I felt tired. Oops! I'm sorry. Hopefully I can manage to pass her assessment as that was the one I am pretty confident of.
Last but not least, it's the lecturer that we spent least of the time among all, Mr. Harith, a lecturer who's in charge of our Computer Studies. Yet, I loved his class the most. It's boring to learn Microsoft Office FrontPage, Microsoft Office PowerPoint, and Microsoft Office Publisher, but Facebook always brought us joys. HAHAHA! Hell yea, if I were to stand behind of the computer lab, surely I would see Facebook appeared in most of the computers. XD How unrespectable! :X Still, we had a good time being with this oh-so-damn-damn-damn-kind lecturer who never wanted to say anything about it, as long as we did well during the group assessment, as well as the assignments that he gave.
Phew! Do away with formalities; all in all, I enjoyed being in this class, together with the lecturers and the classmates throughout the whole term, to be honest. How I wish we could get to organize a trip for this term break, to improve our friendship, and to get to know more about each other. Oh well, I sincerely hope everything goes better for the following term.
I miss Mr. Patrick's "Am I right?"
I miss Mr. Mathieu's "Tututu, tututu," and not to mention, the way he pronounced some words such as moon-taen instead of mountain, aaab instead of hub, want-tit instead of wanted, and et cetera.
I miss Ms. Lee's sweet voice.
I miss Mr. Harith's "Good morning!" (I said "Shit!" when he greeted us that day)
That's all I want to say, I guess. Enjoy your holiday and see you then! :)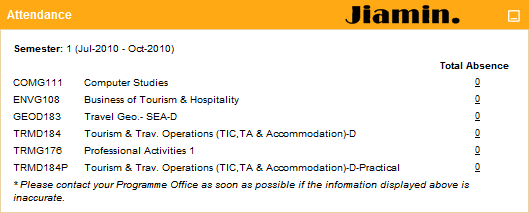 I'm just trying to show you I'm a good girl. :P
x.