If you are following my
Twitter
, you might have known that I went jogging together with the badman yesterday morning. Well, it's not really in the morning. Due to the distance of where we're both staying, we had brunch instead of breakfast.
He came to my house at around 10.45am, and there we started our journey to Bandar Menjalara from my house in Kepong, by feet. I thought it would take us half an hour to arrive; nonetheless, we took about 15 to 20 minutes to arrive at the restaurant that sells
dim sums
– about 5 minutes farther than the park where we jogged. After experiencing by myself, I realized that every destination we had been is just within walking distance. It's just that you have to either cross several main roads with heavy traffic, or walk on several slopes that might consume your energy before you start jogging. Everything went pretty perfect with the badman around chitchatting with me.
I enjoyed the journey of walking towards the place, to be frank. It has been a very long time ever since I stopped exercising.
I had the idea of having
dim sum
as our breakfast or brunch near the park because I never had a chance to bring him for a good try in the restaurant due to transportation problem. Yea, transportation problem is always the thing that annoyed me the most whenever thing comes to travelling, including a short trip to somewhere else. The
dim sums
didn't disappoint him, I supposed, even though the sluggish external-workers rarely came to us with the food steamers. Their services suck to the max, to be honest, but their foods are recommendable. If I get to pay a visit again with my camera, I would probably blog about it then.
I never knew the journey was so damn short from the restaurant to the park, until I experienced it that day. It meant everything in my stomach couldn't get to totally "drop" before I wanted to start exercising. Thus, a pretty short distance of running resulted in stomachache. Wtf! Yet, I tried to ignore; it recovered pretty fast. ;) Oh well, as long as I did really exercise; I didn't make empty promises.
Before I start talking about the exercises I had done at the park, let's view some photos about the park. The photos were mostly taken when the badman was in the toilet doing some business.
Yes, the park was Taman Tasik Menjalara, but we used to call it Menjalara's Park.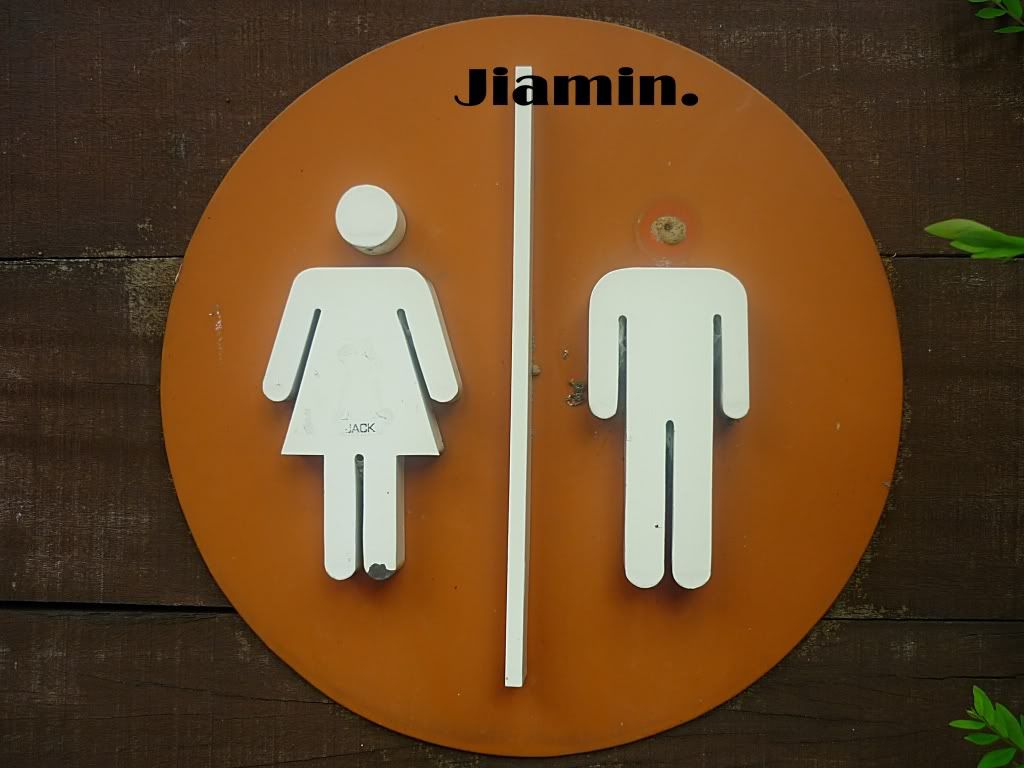 A headless man was trying to show you that the park is not well-maintained.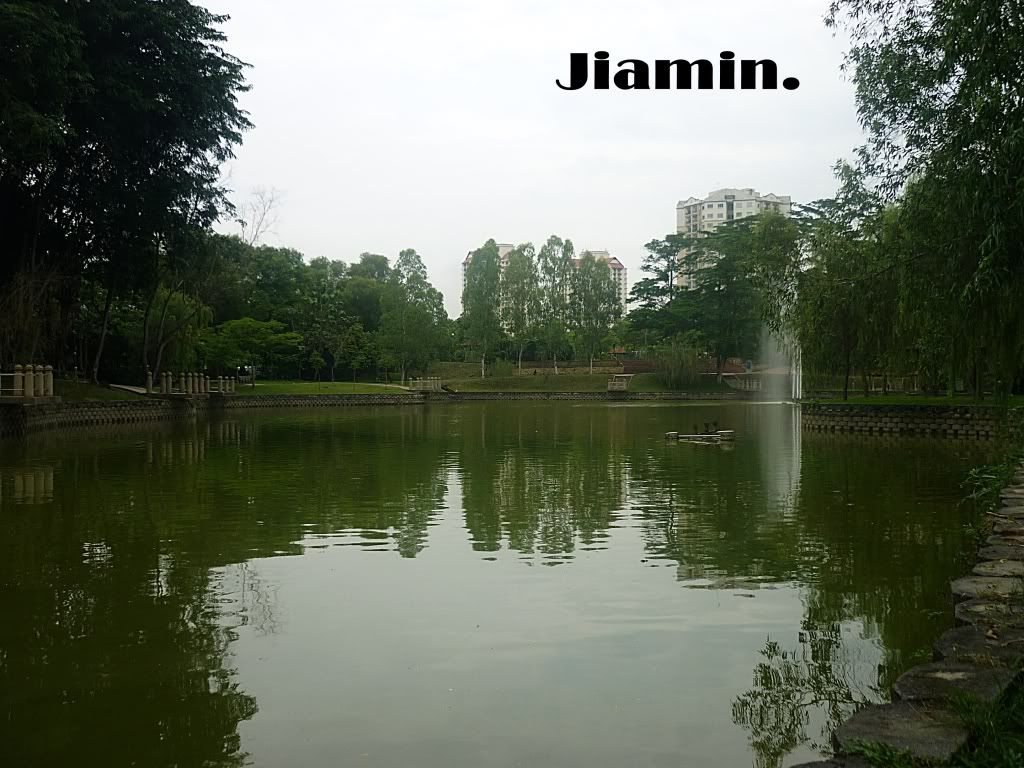 The view of the lake; it's not as beautiful as you can see in this photo, though.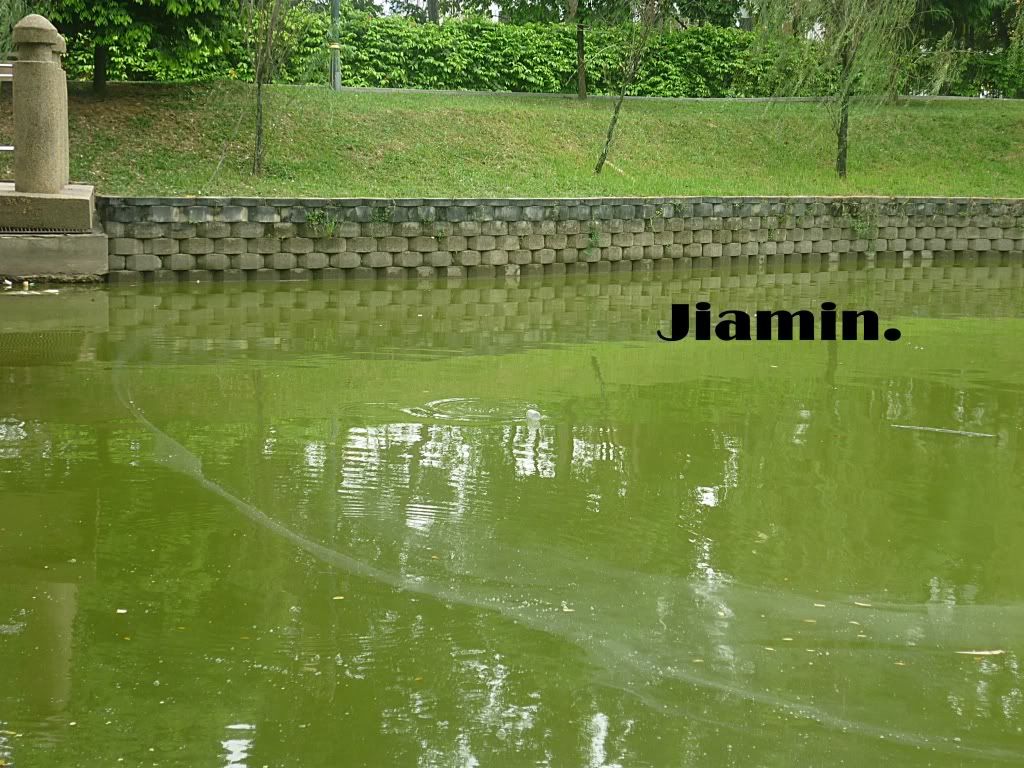 As you can see, there's oil floating on the lake surface. There're actually bottles, broken branches, and et cetera that made the lake looked so dirty. One thing that's worth gratifying was that the lake wasn't stinky at all. I could smell nothing even when I was just standing right beside the lake.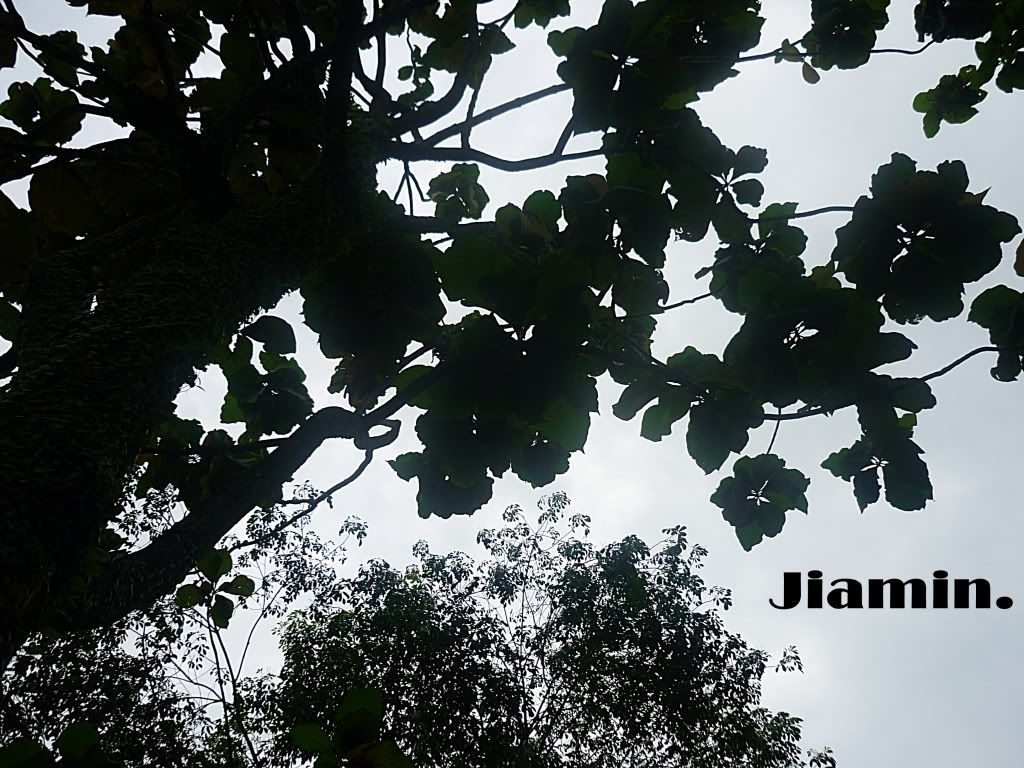 The sky was so clear. :)
After he finished his business, we started walking for a while, and jogged after that. I couldn't run continuously for more than one minute; a distance within three wooden benches was considered as enough, or somehow too much. Ish! I miss the olden days back in my high school when I could actually run for at least 10 minutes non-stop. Unlike yesterday, I was so damn disappointed of me myself. I told myself I have to improve at least a little bit within this week, by going out for a jog every single morning. Well, hopefully it wouldn't be any more a mere high-sounding talk.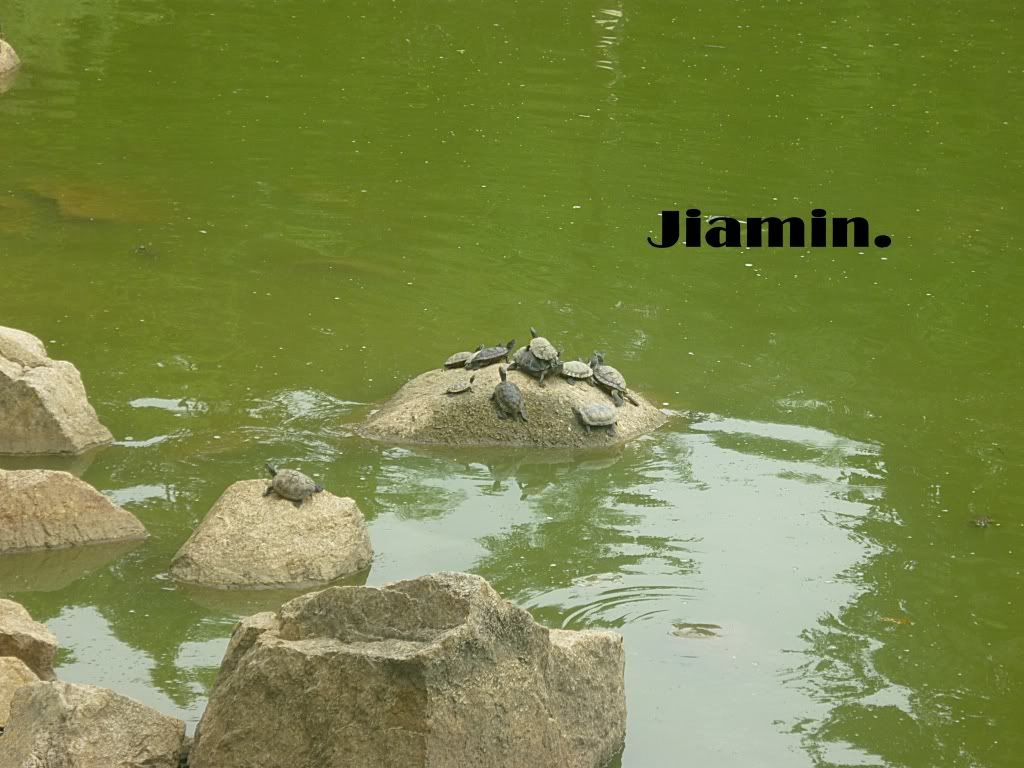 Every time when I went to the park, I always saw tortoises on the rocks. Babe said, "Their shells look as if they're either too old, or exposed under the sun for too long."
They have this board to show you the directions. You wouldn't get lost as well even if this board doesn't exist, unless if you fall into the lake.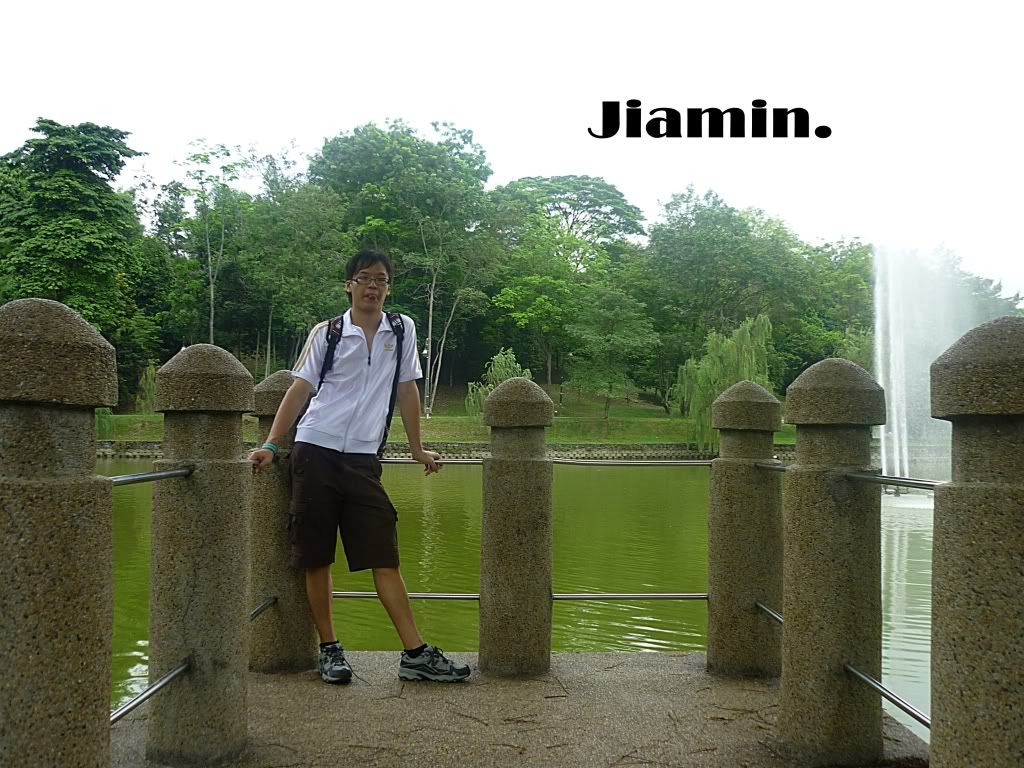 He just simply loved to be naughty. Badman! :\
Yay! I finally got to snap a better one. ;D
Running at the same track again and again is never a fun thing. Therefore, we decided to have fun at the playground.
I tried to do some sit-up; I failed. I could do at least 50 times at one go when I was still in CHSJ; yesterday, 10 times without a break was a little too much for me. I couldn't even reach the target that I asked him to set for me. Ish! Never mind, I promised myself to do it at home, or even in the hostel. Again, hopefully it wouldn't be any more a mere lip service.
I'm not going to talk too much about what we played at the playground since you know; we people usually love to be naughty at this age, at somewhere where we used to go when we were still young – play whatever they have just for the sake of laughter.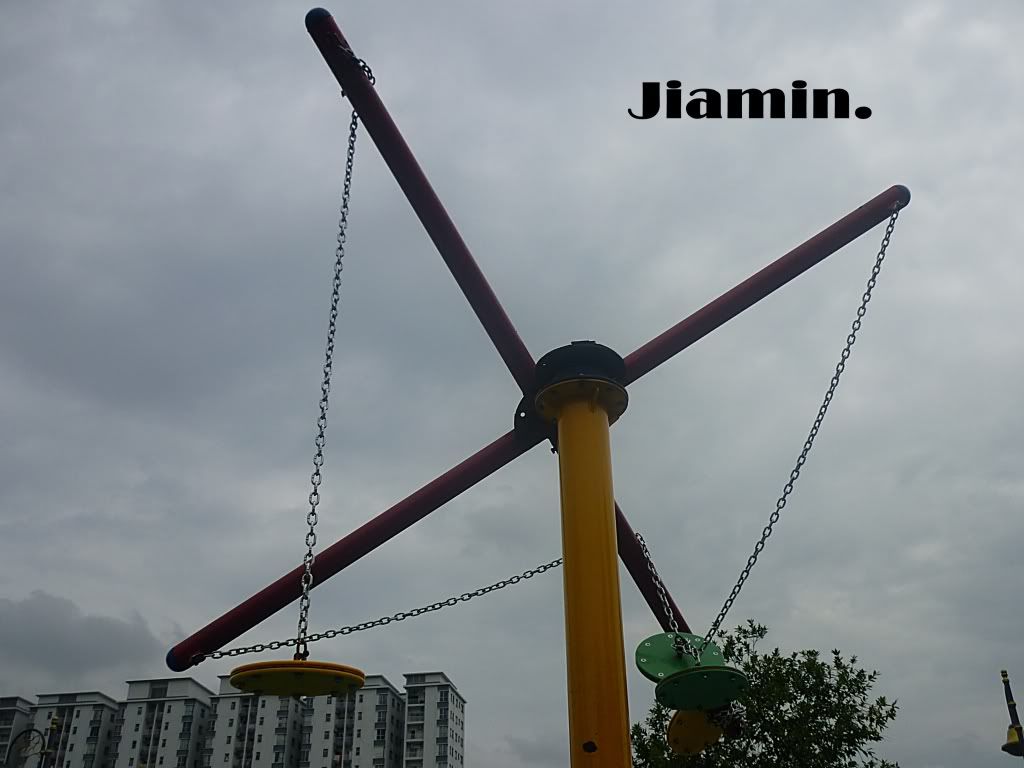 One more photo to show you that the park wasn't really well-managed. Oh am geee! D:
We were then expelled by the thunder and the dark clouds that covered the sky. It was already around 1.30pm at that time. We walked back with refreshing feelings and not to mention, sweet, smiling faces. :D A shower and a nap for the entire afternoon made me feeling even awesome.
I love exercising! Hopefully it wouldn't be the only day we spent our time at a park. I wish to go jogging again together with the badman! ;D I know the day would come.
x.