I was supposed to have a morning class today but since the lecturer,
Mr. Nantha
, wasn't available, I only had one class for this whole day at 2pm. It was a visitation to Low Cost Carrier Terminal (LCCT) in Sepang, near our Kuala Lumpur International Airport (KLIA). Believe it or not, it was my very first time stepping into this building; the first time I went was when poppa came back from India – before he went Hong Kong.
In case you don't know why we're visiting LCCT, we're focusing on transportations in this second term, but the only places we're visiting are those related to airplanes, trains, buses, and taxis. I have no idea why sea transportations are not included; they're not transportations perhaps? :P Oh well, ask the divisional office if you're interested in the actual answer.
As usual, some of us were being hyperactive in the bus throughout the journey whereas the rests were sleeping soundly. What more you can do other than singing, shouting, chitchatting, and walking up and down the bus? It's none other than taking photos of ourselves or the others.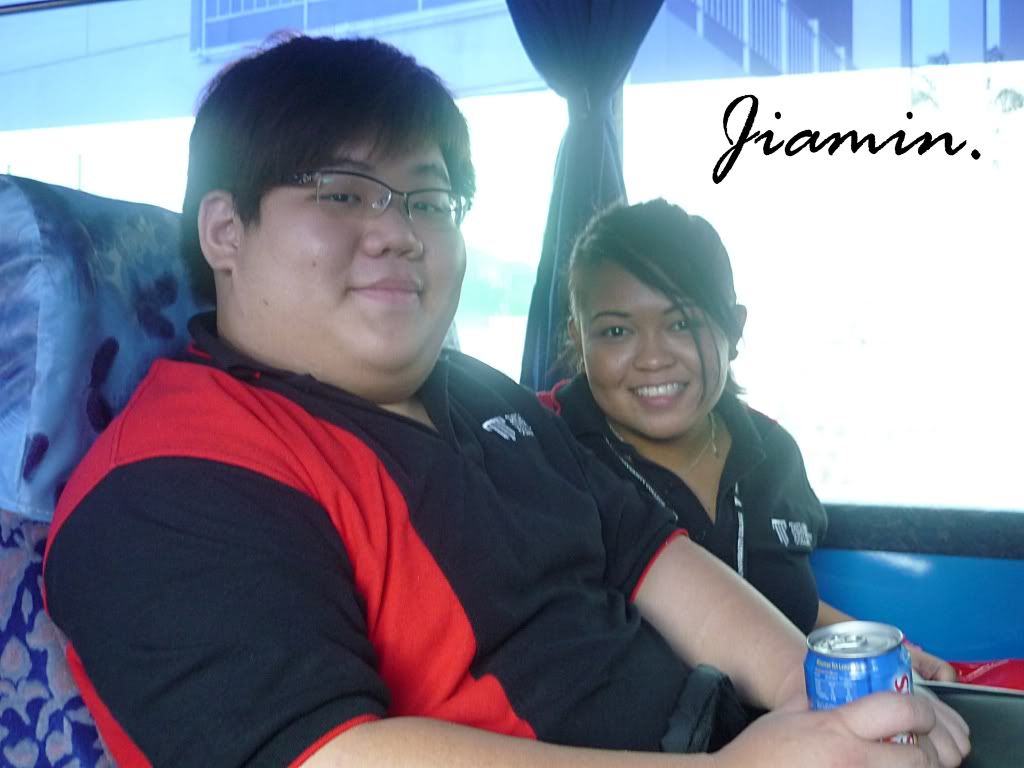 It's Farah and Steven, the one who Farah likes to annoy him with questions.
Kelly was busy counting the total of papers that we have signed. For your information, before departing to any destination, we have to sign a simple form with our name and IC number on it to prove something you should have known. It's also a good way for the lecturer to mark our attendances.
Diana was still busy talking on the phone with either her so-called brother or her boyfriend. It always happens. :|
Sorry for the blurriness of the photo as the bus was moving and shaking. He is
Raja Helmy
, and you know the word "
Raja
" cannot be named wantonly; only people of the imperial lineage have the rights to own a name like this. Get it?
Farah and Helmy.
It's raining when we're about to depart from Taylor's, and it's still raining when we departed from LCCT.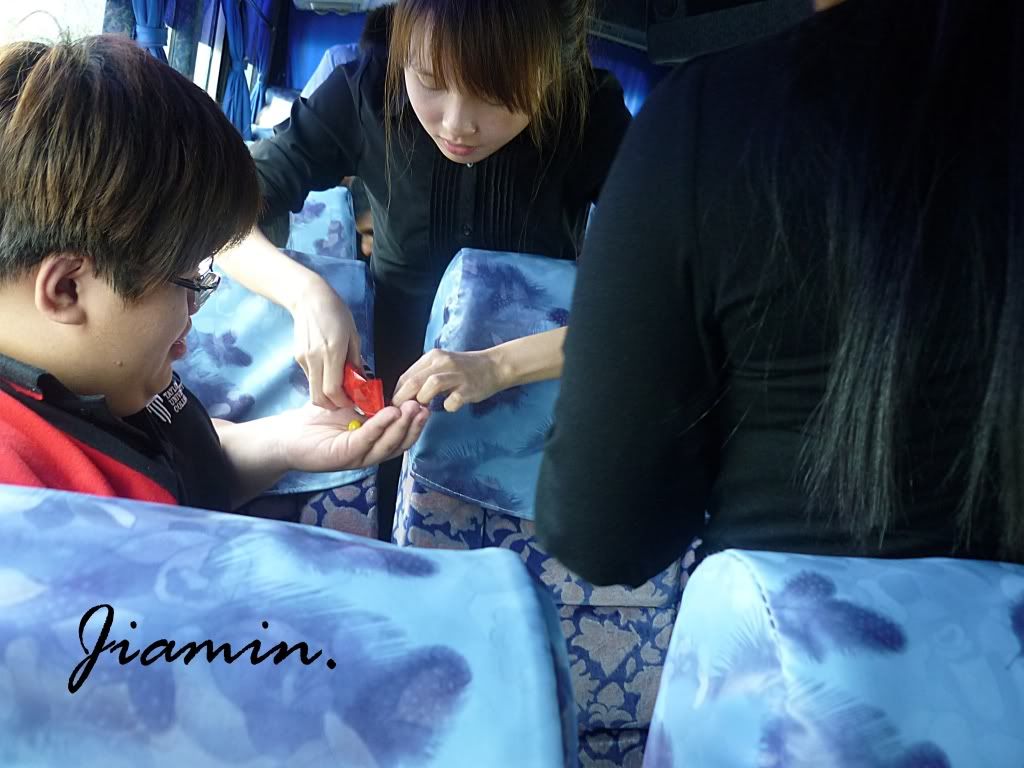 This photo was randomly taken without me seeing what photo I was taking. It's fun to do so when I have nothing better to do. And oops, it's Si Pei and Steven sharing some nipples NIPS chocolate coated peanut.
He knew I was taking photo that he would be included yet he didn't mean to stop doing what he's doing. When we're on our journey back from LCCT to Taylor's, he even claimed loudly that he's the grass of the campus most attractive guy in the campus without feeling shameful. Wtf!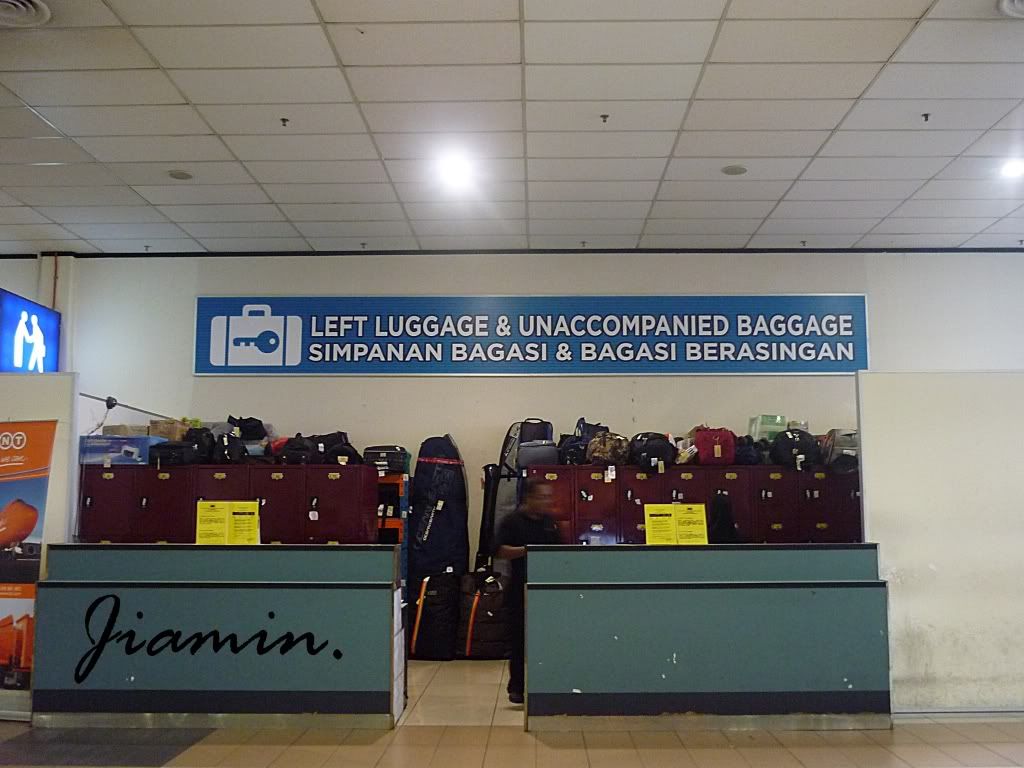 I didn't know they have such service in LCCT until today. It's generally safe to leave the luggage there, right?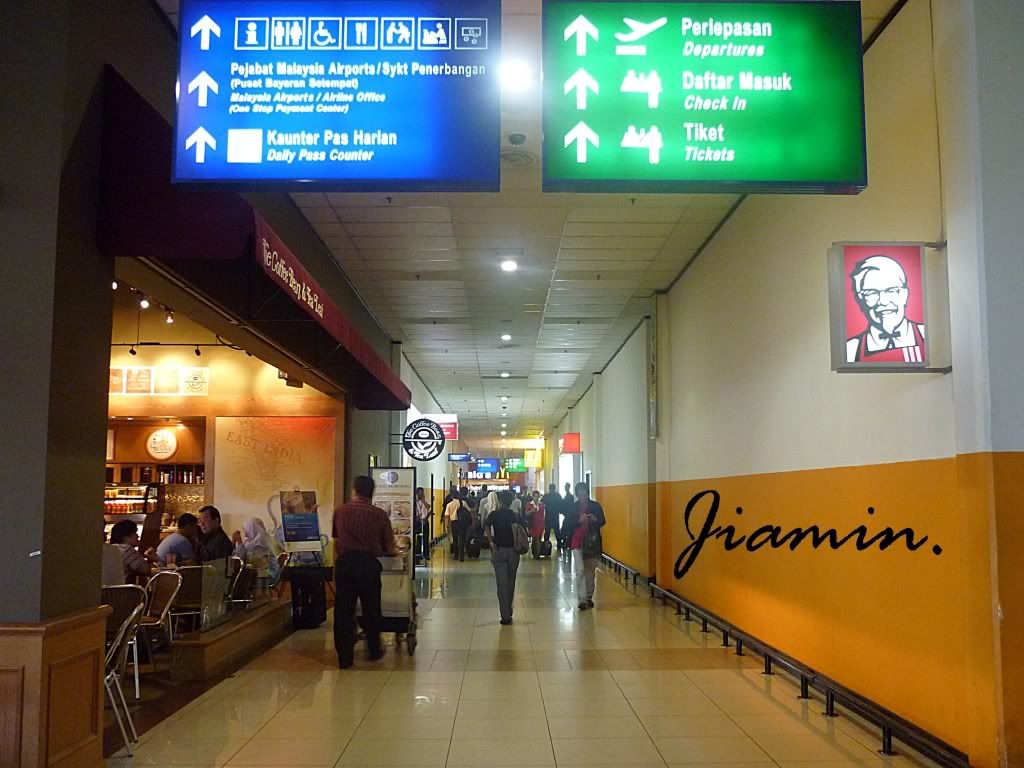 You wouldn't have to worry about your stomach, because there're varieties of food for you to choose, from Asian food to Western food. It wouldn't be any problem if you have enough cash in your pocket. ;)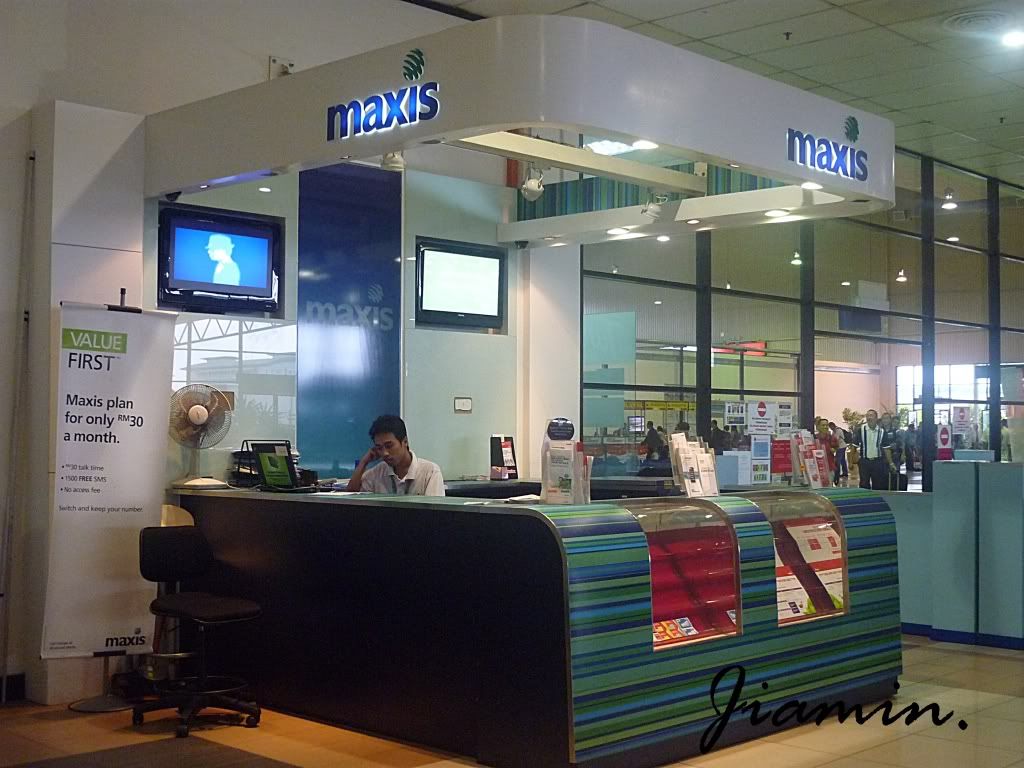 There's even a Maxis counter!
Aha! It's just a random shot for
Kelly
, my partner for this visitation.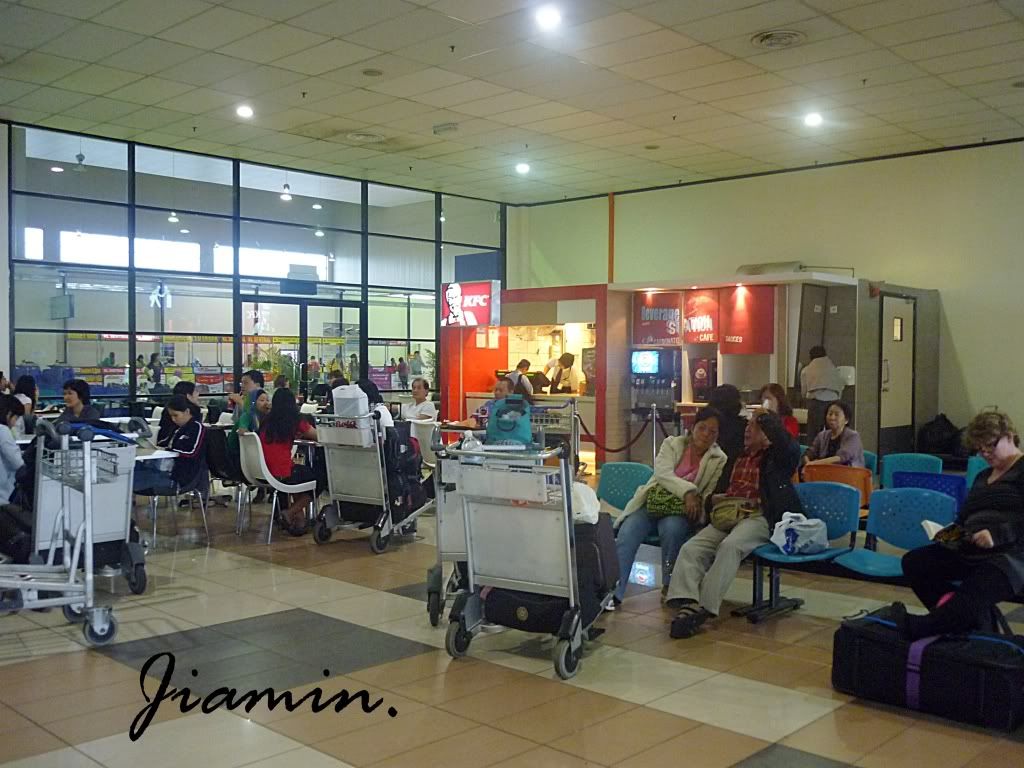 I spotted a tiny little KFC counter at the corner, but I have no idea how they actually operate. Perhaps there's another entrance for the customers at the place where we're not allowed to go into it?
Alright, the photos are still being uploaded slowly due to the oh-so-turtle-like speed of the WiFi service in this campus. Oh well, I wouldn't want to talk too much about this stupid thingy that costs us so much yet we got nothing in the end. I will be updating again later when the photos are uploaded.
Stay tuned people! :DDD
x.