Admittedly, kids nowadays are sort of early-maturing even though they're just around 10 to 12 years old. They used a series of dirty words like nobody's business even though we, their so-called trainers were just around; they're being so damn offensive to their own teammates as if they're the best ones; they refused to do as they're told, such as asking them to stand at somewhere shady and cool. Wtf! They ignored when we're being kind yet they complained when we increased a teeny weeny bit of our volume. Controlling the kids or taking care of them was so much difficult than taking care of the kids in Bao Bei Reading Wonderland. Seriously, everyone especially we Rover Scouts were mostly exhausted on the first day; the second day was even worse as we had used up all our strength throughout the entire first day just for an activity.
Unlike how we usually did back in the high school days, we couldn't scold them at will; all we could do was advising, advising, and advising whenever they did something wrong because they're still kids. That made the entire situation worse with their unbridled behaviors until none of us could control. Nonetheless, that's all we could do to the kids.
As usual, the camp started off with a flag-raising ceremony upon their arrivals. When it was supposed to be serious, I heard laughter from the kids' side; perhaps that was their first time doing so. Still, I have totally no idea what so funny about the drilling and the saluting. Oh well! I'm so sick of the kids right now; luckily it took only two days instead of the bloody three days.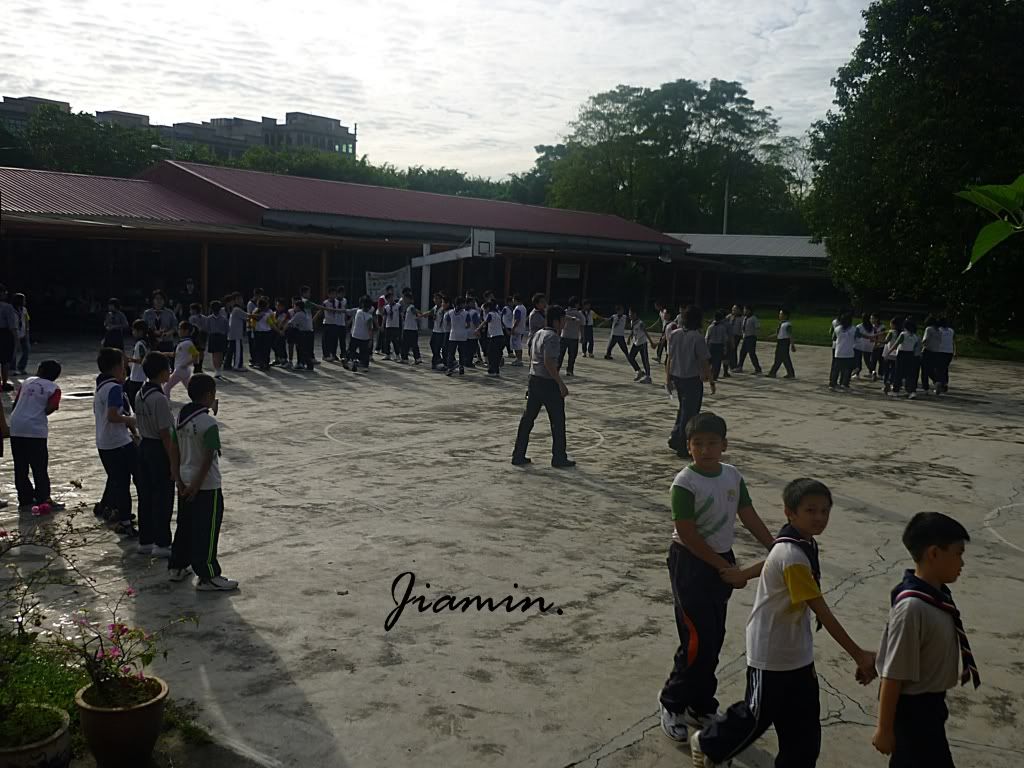 The next activity after the flag-raising ceremony was none other than the so-called ice-breaking games that is used to get everyone closer and closer before everything officially starts. Worse was, the situation had lost control of the kids' behaviors when they're told to encircle the basketball court.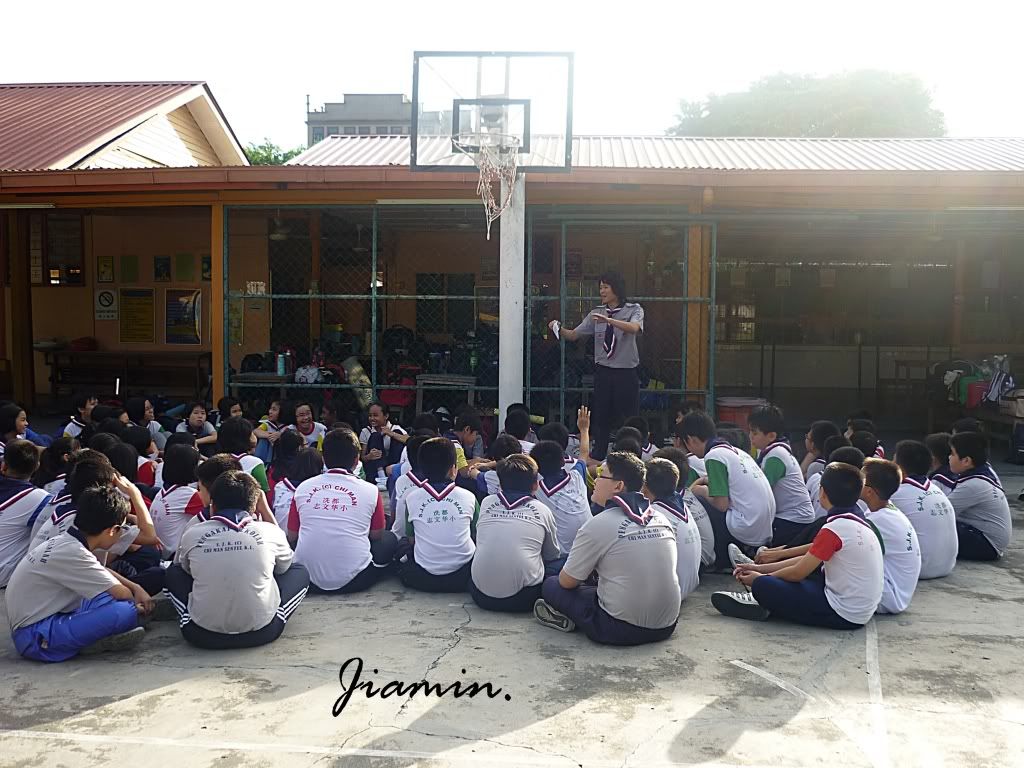 They ended up being separated into two groups; one was led by
Max
whilst the other one was led by
Andy
,
Andrea
, and
SH
.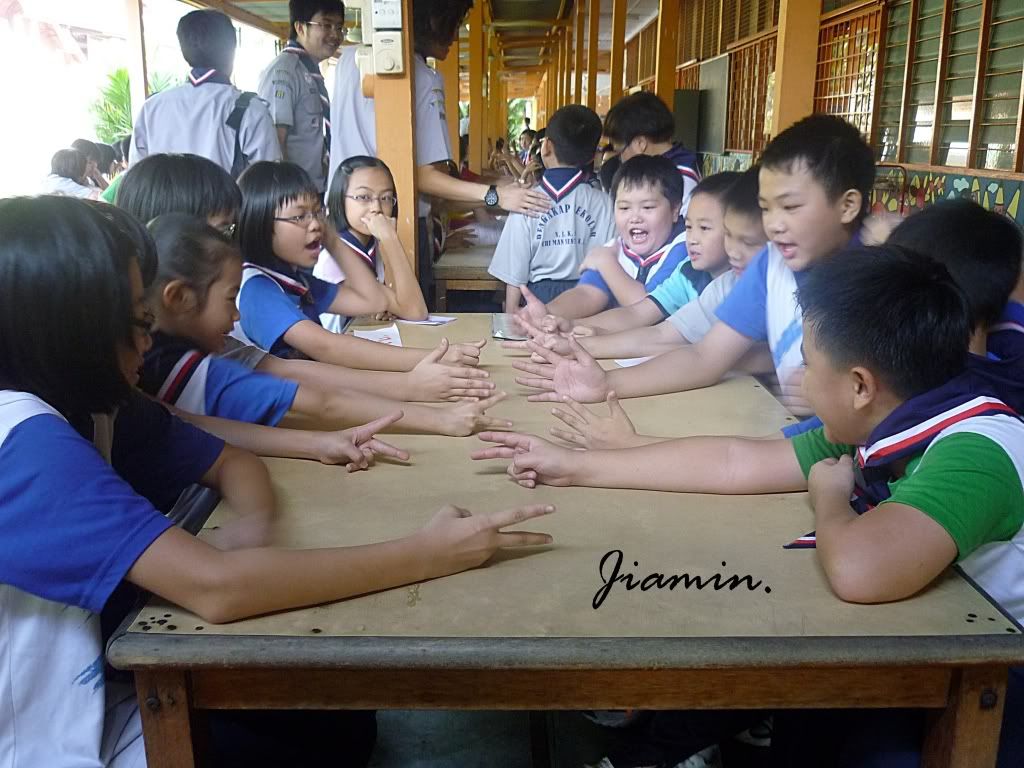 All the situations of the recreational activities were not that bad after all, because the eating sessions were the worst ones as compared to the games. By referring to this photo, what do you think? They couldn't just sit down quietly and wait until they're told to start eating; they just had to play something or knock the table for God's sake.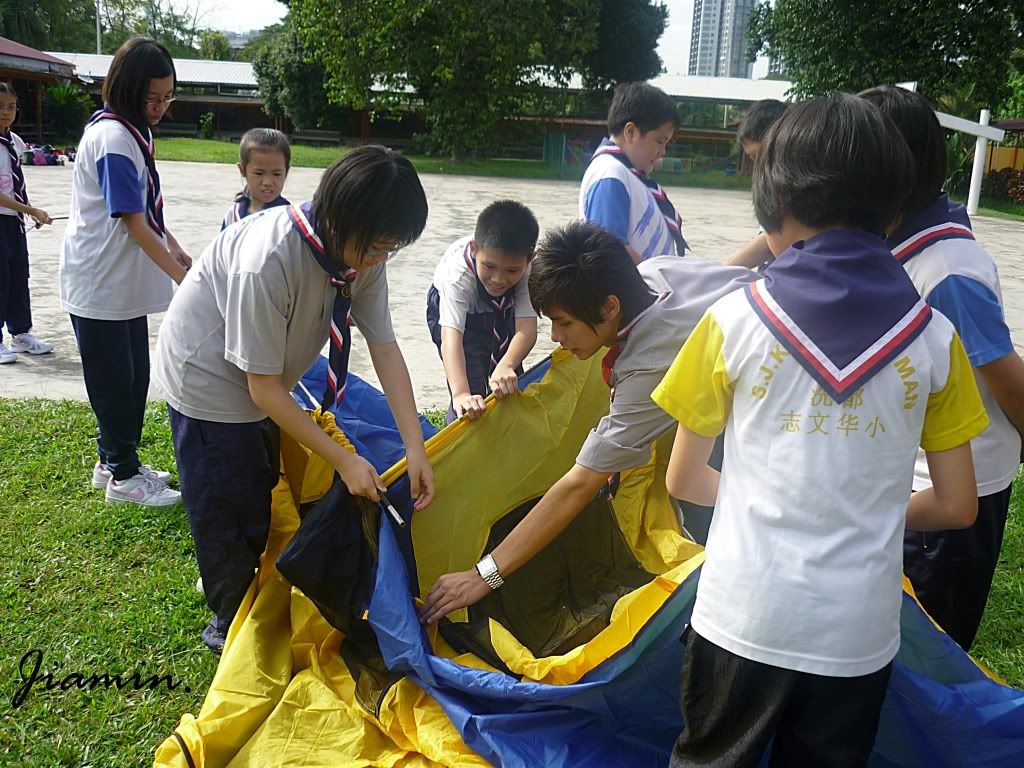 The kids were so damn excited when it came to a tent-pitching session. You know what; they preferred sleeping inside the tent instead of the tables provided in the classrooms.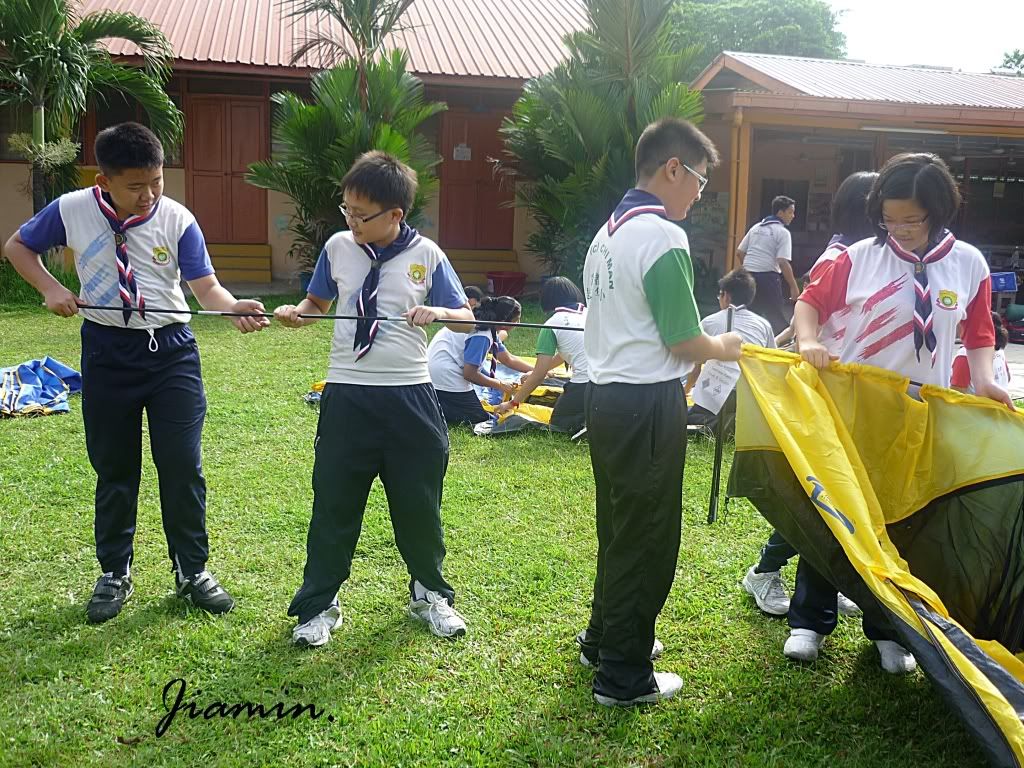 Didn't they look overexcited? :P
He's the only person who worked hard to make the tent stable, whereas the others went away to somewhere else.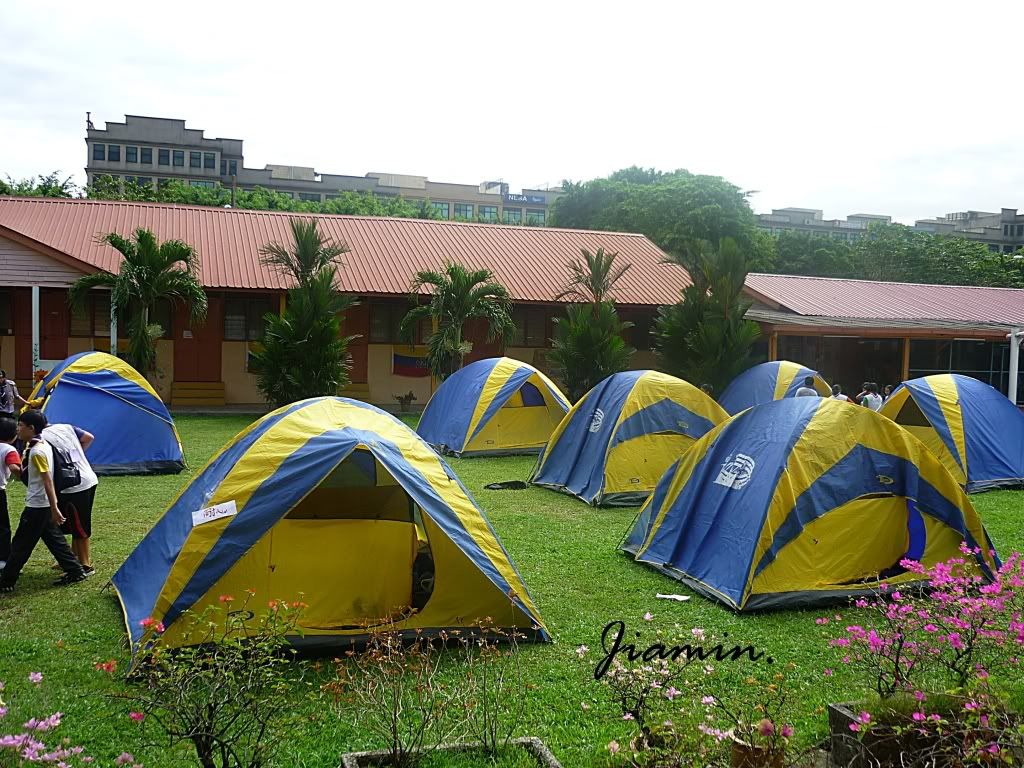 These were the good outcomes with the cooperation of the kids and the helpers, with their group names sticking on each tent.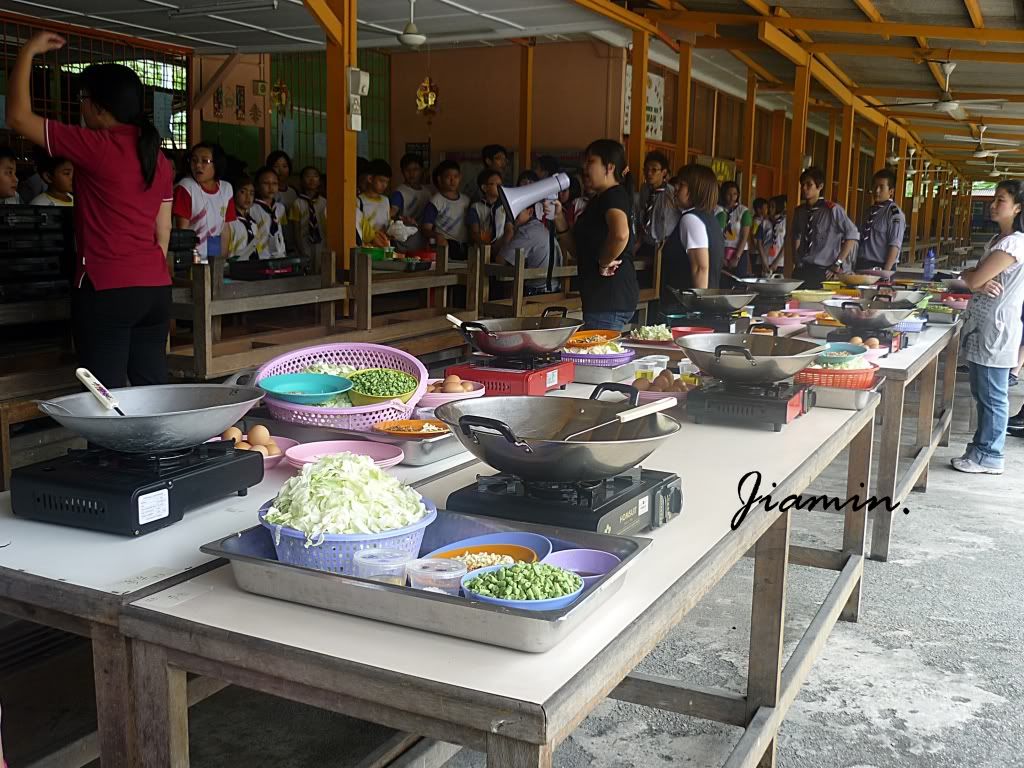 The kids gathered at the canteen to watch a demonstration of the teachers cooking something, which I doubted that they didn't really know how to cook; this teacher stood damn far away from the pan as if she's so afraid of the oil spouting over her body.
During the period of the kids cooking their lunch, two of them accidentally touched the pan and burned their thumbs yet none of the adults knew the actual treatment or else, it wouldn't have formed such a huge blister on one of the kids' thumb.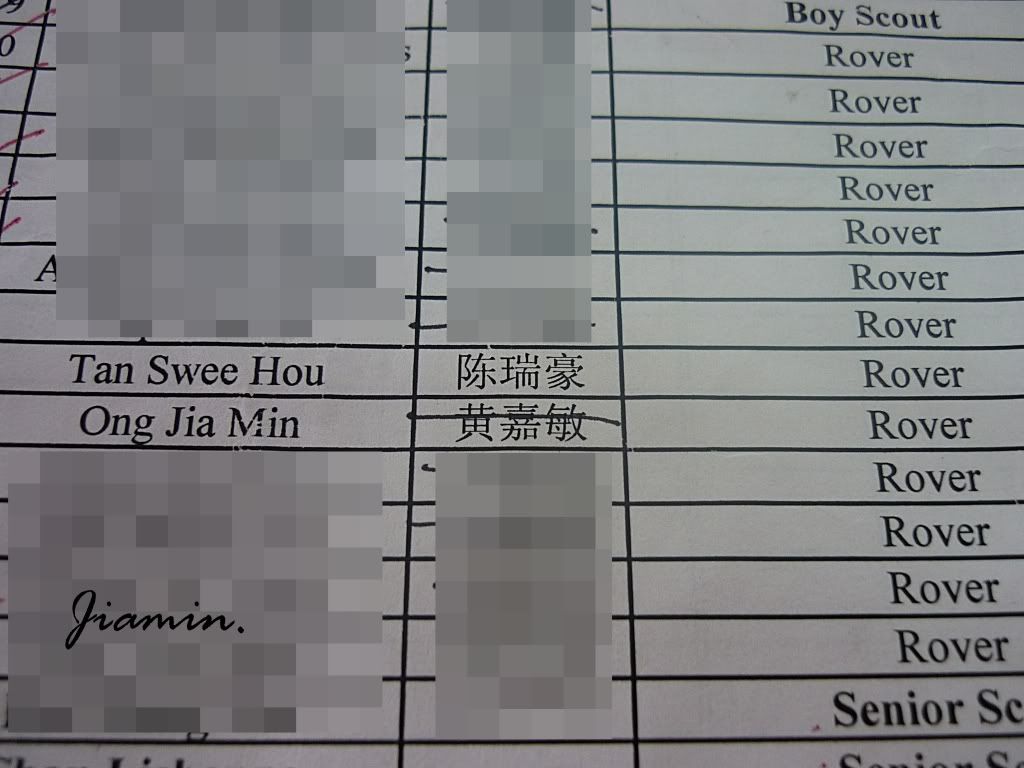 When I was looking through this name list of the helpers, I saw the word "Rover" as my position, and then only I realized that I am already a registered Rover of Sea Scout, as well as the
Badman
. :)
P/S: My Chinese name was typed wrongly. Stupid
Louis
! :P
It's me teaching them some much-basic-than-the-basics first aid group by group since they had to participate in different courses turn by turn, including some other courses that they will sit for the examinations after that. After shouting again and again for the same thing at different time, my throat was a little bit damaged but fortunately, it didn't cause sore throat. Same went to the others; their throats were all fine after this activity. ;) However, it's still pretty tiring by controlling the kids during the lectures because they just simply liked to interrupt me no matter how, as if they knew more than me.
I stopped taking photos after the teaching session as I was too exhausted; I spent most of my time sleeping in a classroom where we originally placed our luggage, unless if there's anything happened that needed our help. I even missed the campfire party that was supposed to be the highlight of the day because I was having headache and I have totally worn out after so many days of going to bed in the late midnight continuously. I blamed myself for not participating in the party; I was supposed to hold on consistently and persistently no matter how I was to make the camp even more memorable. :( It's too late to regret, though.
At night, the kids were allowed to choose whether they preferred sleeping in the tents or the straw mat provided in the hall, individually. I expected that they would prefer sleeping in the hall yet most of them wanted to sleep in the tents instead. I was pretty surprised but, I know many kids loved to choose something challenging. They're the ones. ;)
In case you wish to know how my night was, to be frank, it's not as good as I thought it would be. The Badman kept on wanted to keep watch for the entire night no matter how I objected to his thought; nonetheless, he didn't allow me to do so because he said I didn't have a good sleep on the previous nights. He wanted me to rest well throughout the night instead of keeping watch the kids. It ended up I woke suddenly with a start whenever he left even though I didn't touch him.
Truth to be told, there was this once I went to where he was and sat at the staircase alone. Andy said I was night-walking. Ish! After a little argument with the Badman, I went back to where I was sleeping and cried alone. I was found crying when he came to me a few minutes after. I told him in his embrace about what I was thinking with tears all over my face in the meantime of wiping the tears. He then promised to stay by my side until I fell asleep and he said he would come back to me often when he was keeping watch of the kids as well as the entire scope of activities. I felt the kiss on the lips before I fell asleep again.
I wouldn't be like that if I wasn't as exhausted as how I was on that day; I have no idea how many times had I been crying for the overtired-ness, during the camp and after the camp.
By the way, I truly loved the way he cared about me throughout the night that whenever I woke up and looked for him, he would always accompany me back to the classroom – the place where we slept, and sat or lied beside me until I fell asleep. Apart from that, he's always the one who came to me whenever I hadn't been smiling for quite some time, or whenever I didn't look fine. He's always the first one whom my eldest brother (he joined us too) questioned about what's going on with me when I didn't seem to be alright.
Before I end up this post about the first day of the camp, I would like invite you guys to answer me a question. What do you think if a teacher says, "If I don't look at you like this, what else kind of expression in my eyes I shall show?" in the meantime of staring at someone unpleasantly even when he or she is the one who has done the mistake?
x.