Like I said in the previous post, I'm separating all the activities into several blog posts to not make my blog flood with photos because, seriously, I actually have taken more than 200 photos throughout the days in Pulau Pangkor.
Teeheee
!
We planned to depart from Taylor's University at 6am on Monday, but ended up me, the
Badman
,
Fahmi
, and
Shannie
waited at the food court for approximately one whole hour until
Alia
and
Farah
got them ready wtf. Oh man, can't we just be a little bit more punctual? D: We met
Helmy
in Lumut and after all the rests, waits, breakfast, and some procrastinations, we left Lumut to Pulau Pangkor at around 1.15pm by ferry. Each and every one of us got pretty excited, even in the taxi when we arrived at Pulau Pangkor, when the taxi driver speeded all the way from jetty to our resort in Teluk Nipah. It's fun and thrilling!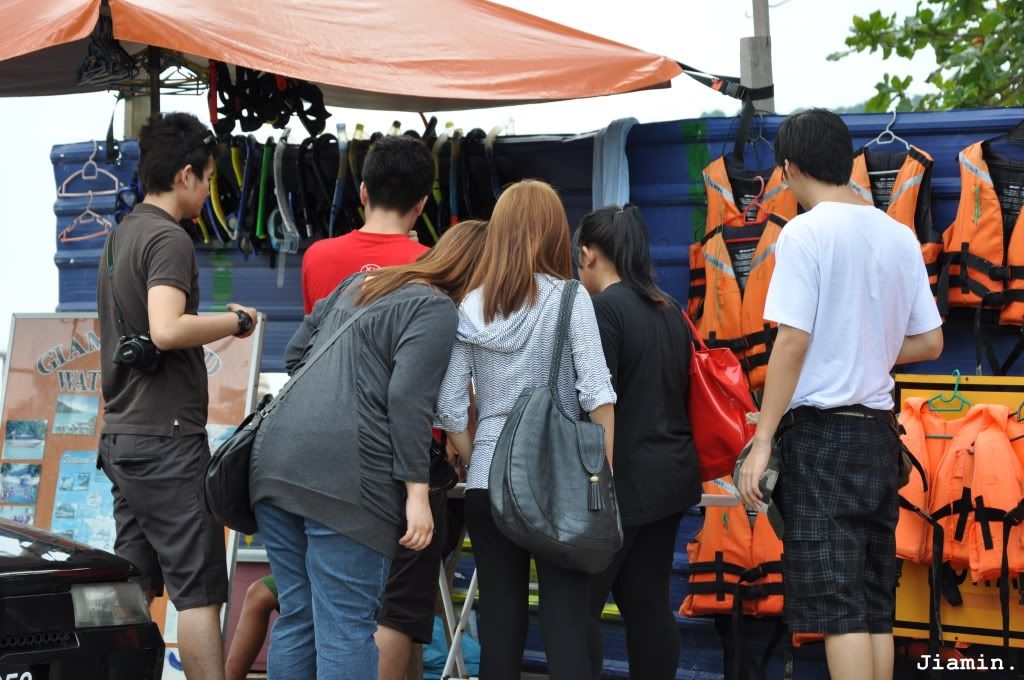 They went to slash the prices for banana boat once we filled up our stomachs, whilst I was busy taking photos or to be exact, playing with my new toy. I didn't join them because I was afraid of being in the abysmal sea. I cannot swim, for your information, even though we would be given life jackets. I was a wallets-phones-keys-bag holder plus a photographer when they're enjoying on the banana boat. I had a pretty grave responsibility indeed, until I was so afraid if someone robs me wtf.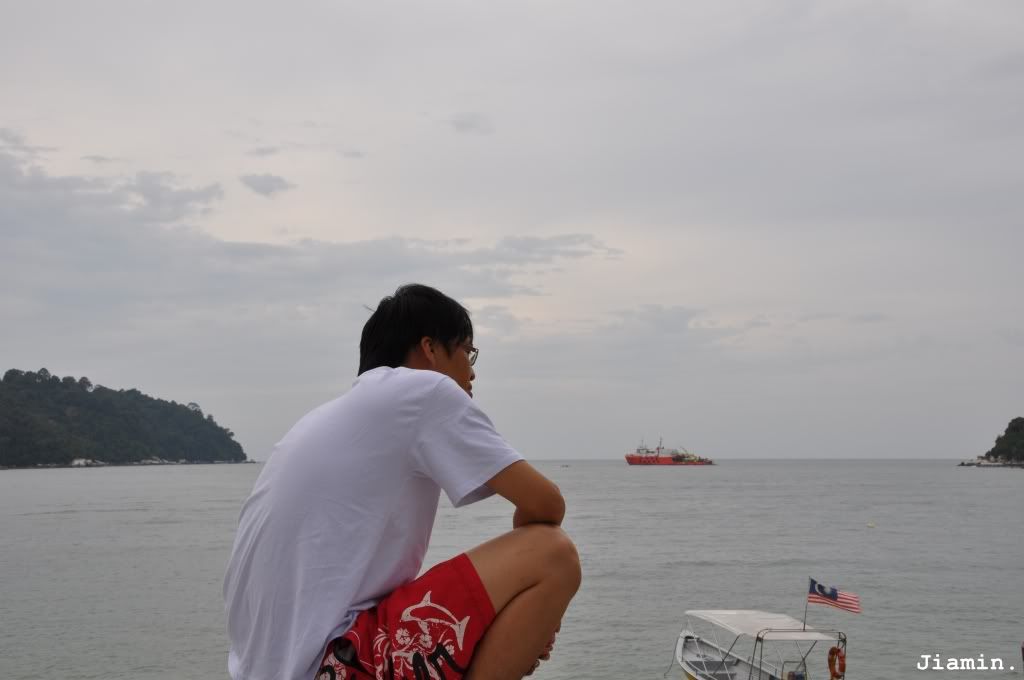 While everyone was changing, the
Badman
and I went for a walk near the seaside to kill some time. It's just nice to hang around with my other half by the beach, to enjoy all the relaxing moments comfortably. :)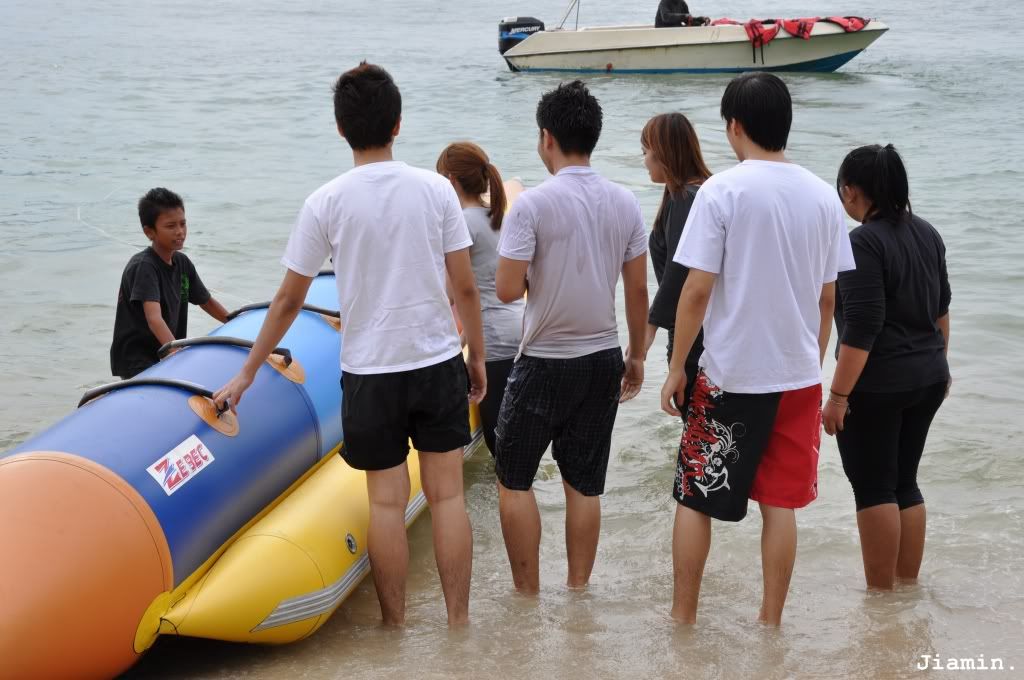 All the excited people were ready to go on a short trip with the banana boat, except for me.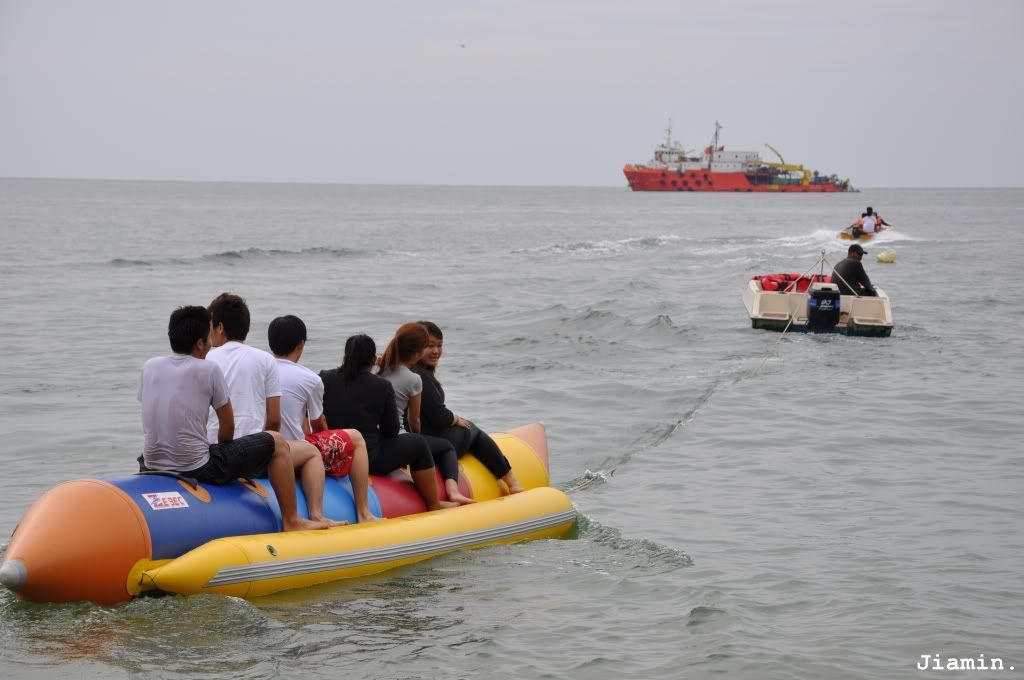 They were brought away from the beach before the life jackets were given, which right now, I'm still wondering why they did so. Instructions were as well given when they're putting on the life jackets. Anyone knows why?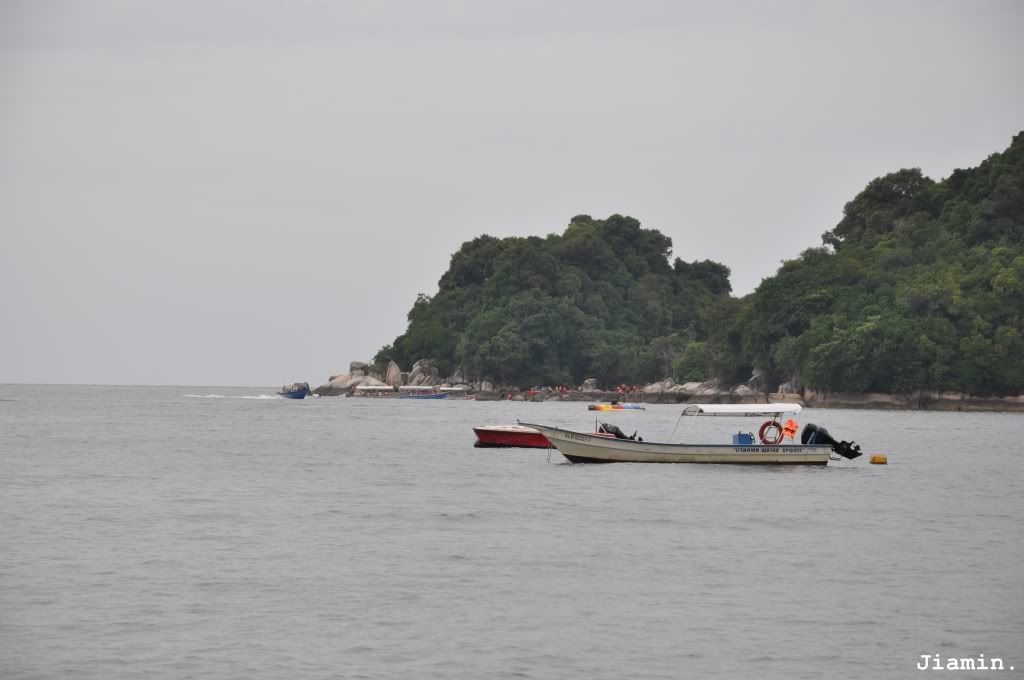 My camera didn't allow me to zoom too far. Can you spot the banana boat? It was when the six of them were poured into the sea for the first time.
I guess you can see how happy they were, before they were poured into the sea again.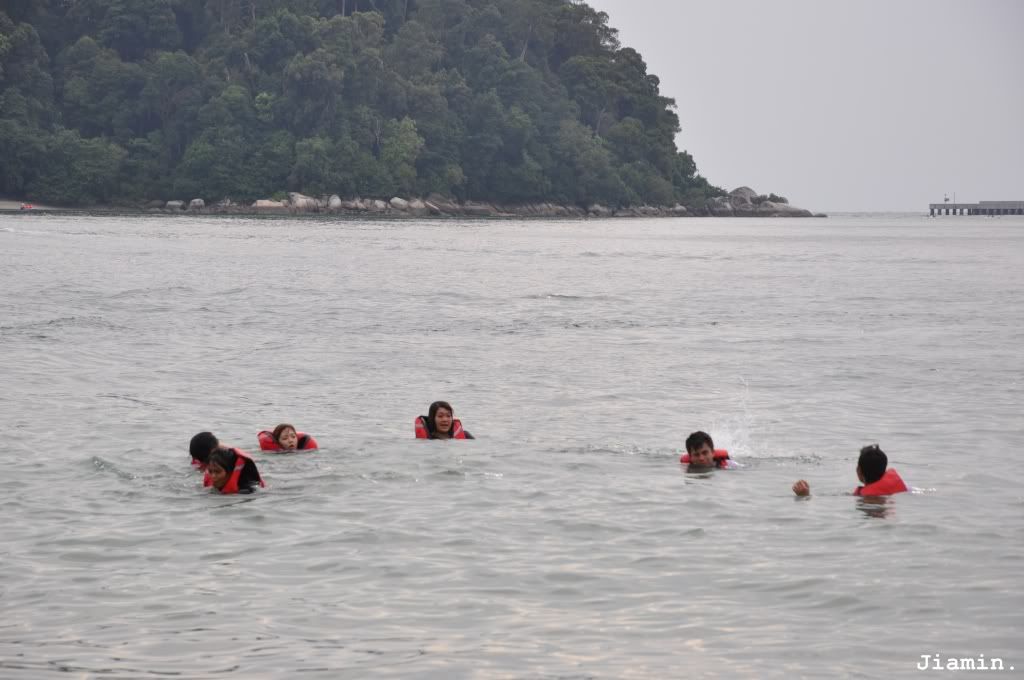 Taadaaa! After the second time, that's the end of their life with the banana boat wtf.
To be honest, I was kind of worried of them when they were so far away from me, for God's sake, not to mention the Badman. It's as if something would happen before they got onto the banana boat again. Anyone, please slap me to stop me from making blind and disorderly conjectures.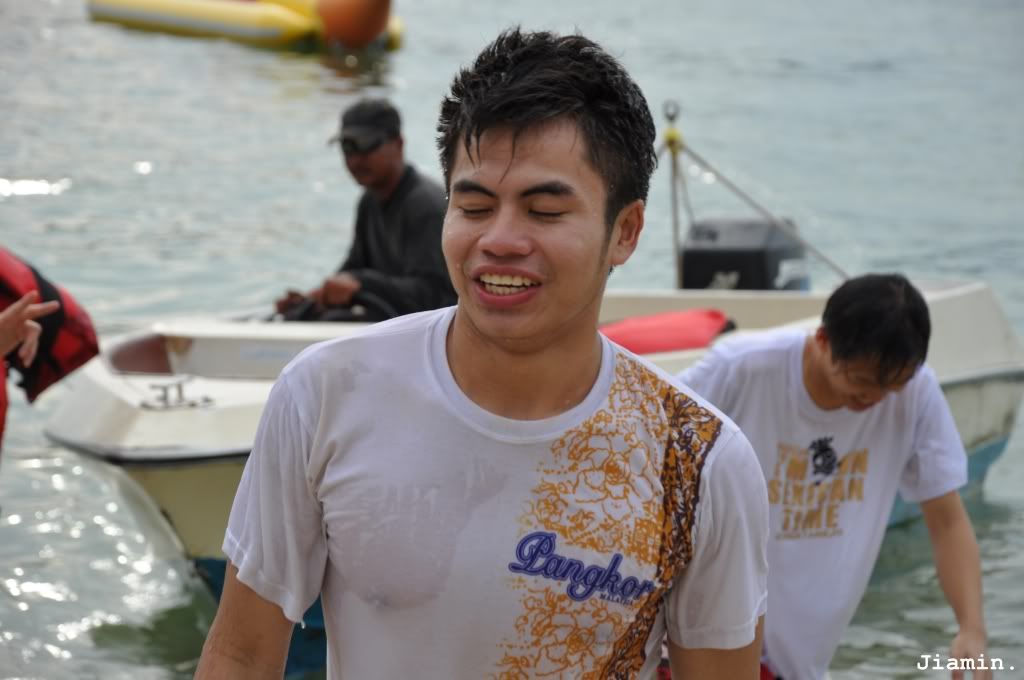 Fahmi's face told me how fun it was. :P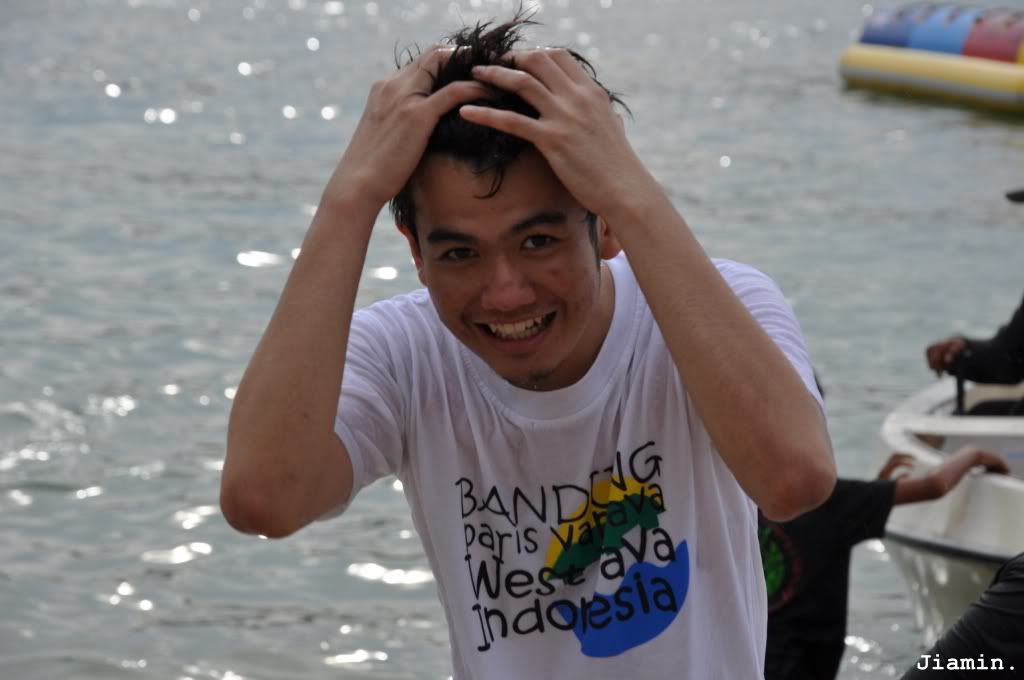 Helmy was like telling me how crazy it was. LOL! XD I'm just kidding.
I tend to love seeing the people being poured from a banana boat into the sea because it seems to be so fun, but if you want me to join, I would rather run away. If you happen to experience it, don't even count me in, but don't forget to invite me along as well to just see. Teeheee! :D
x.