Good day peeps. How's your weekend? I'm still in the process of recovering from my sickness which today is already the third day since the day I started having fever. But, right now, I'm feeling so much better as compared to last night that I was so wanted to cry for the suffering yet I couldn't due to the flu I have. I felt a chill creep over me throughout the two days; my nose was stuck and I can't seem to get rid of the cold until now; I coughed while I was having sore throat, which you might have known how suffering that could be. After a very long time of leaving my stomach empty, I had a big bowl of porridge cooked by mummy as a combination of Friday's dinner, yesterday's breakfast and lunch, fed by the Badman bit by bit patiently at the food court in the afternoon.
Despite the sickness, I didn't break my promise to dine with
Alia
,
Farah
, and
Shannie
at Truffles Restaurant, a fine dining restaurant staffed by hospitality students with their lecturers as supervisors, on account of
Mahrad
's invitation which I only had to pay RM10 for everything from appetizer to tea. I didn't expect too much of the deliciousness of the foods served on that day since they're all students including the chefs. Nonetheless, they provided good services even though I could sense their nervousness, as well as nice food that I rated all of them 7 out of 10.
The appetizer of the day was some vegetables with a little bit of pasta. Truth to be told, I never like to eat green and red peppers but the one they served on that day tasted good without the weird taste of what the both of them usually have. Oh yes, to me, they have weird taste. :P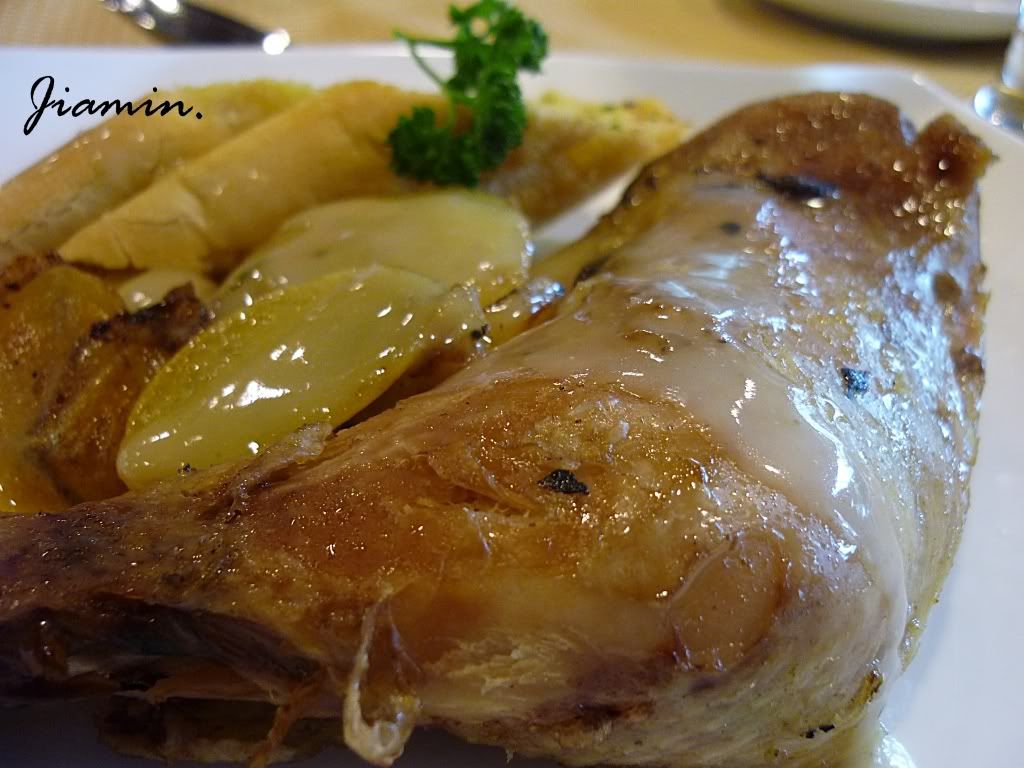 Here comes the main course! There're one huge drumstick, some sliced potatoes, and a hard garlic bread that pretty much hurt our teeth wtf. When we're eating the drumstick, we kept on repeating, "How I wish I could eat like how I usually eat at those restaurants right now."
Before the dessert was served, this waitress took one of our glasses filled with tea (they assumed it as wine but the restaurant never allows them to serve wine because there're Muslims in the campus) and when she was taking the second glass after placing the first one on the tray, the first glass fell and the tea splashed on the table. Just because of the dessert they hadn't served us, we're told to switch to another table. LOL! The waitress got even more nervous and she didn't stop apologizing.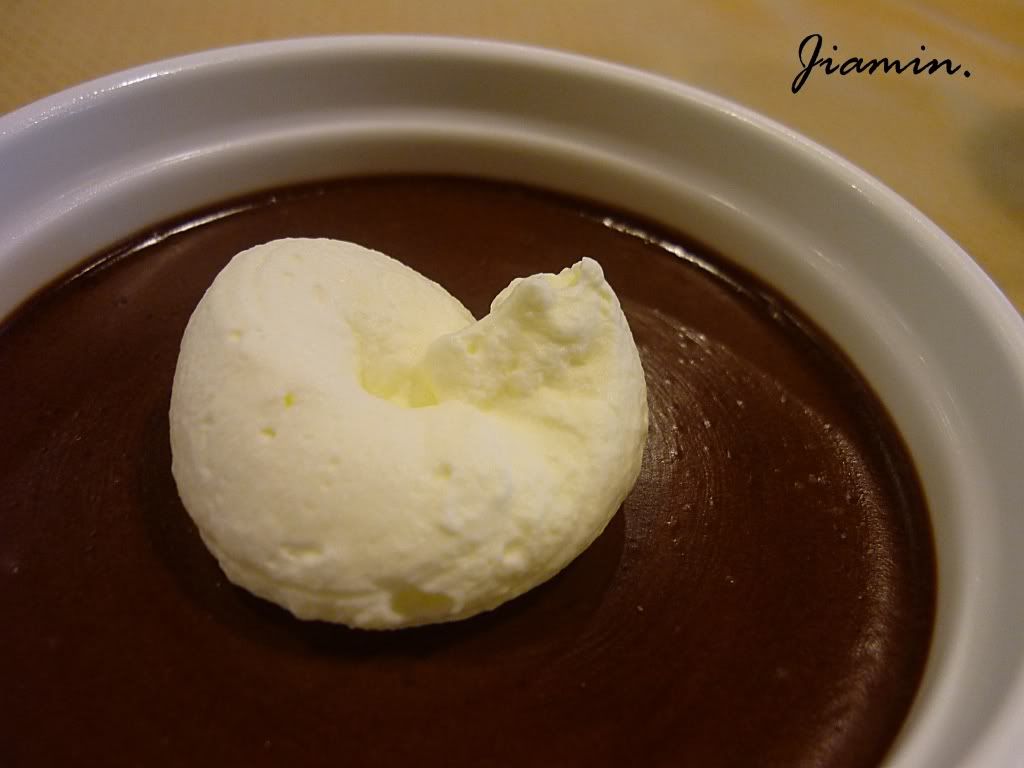 The dessert was chocolate mousse with some tasteless cream on top which then, they're the perfect combination. I didn't finish my dessert because I was about to vomit due to my sickness. Sickness could kill!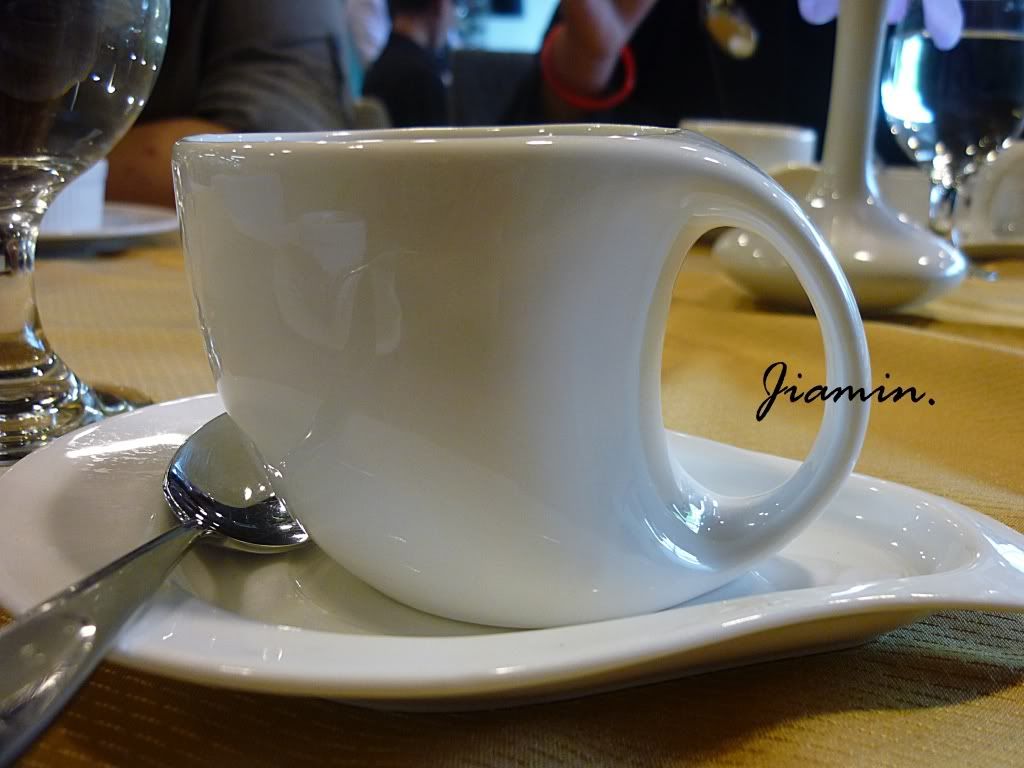 Last but not least, we're asked to choose whether we wanted a cup of coffee or tea or neither. I chose to drink tea to make myself feel better. I personally thought that their cup was just simply nice, special, and cute.
Teeheee
!
I would really love to have another try next time, since
Mahrad
said he would be serving on January 2011.
On Saturday morning, despite the sickness I was still having, I woke up pretty early to attend a carnival celebrating 100th anniversary of the scout of Bangsar district in Victoria Institution. They're having a
Camporee
as well. Their event page on Facebook stated that the carnival would be starting from 8.30am to 10pm but by the time we left, which was around 1pm, all we saw were some dances and some speeches given by the high-ups followed by some souvenirs given out to them with us VIP's sitting on the chairs doing nothing. Even my eldest brother,
Max
,
Kent
,
Louis
, and the
Badman
said it was boring. :\ We went back right after taking a short break at somewhere near Petaling Street, where I ended up sleeping when they're chitchatting.
Damn! I never thought I could be such a kind person to even attend whatever I have promised earlier despite the sickness that made me couldn't walk well. Tell me I'm just that kind please! :P
x.