It's me again, and I hope you wouldn't be bored seeing me updating my blog that frequently because, blogging is undoubtedly one of my top hobbies apart from photographing. :D Blogging, photographing, reading and writing (depends on my mood wtf), making friends, and anything that I always do would probably be listed as my hobbies. Anyway, I have nice photos to share with you in this post to mark down my very first experience dining in Tangerine Restaurant in Taylor's University with all the staffs presented by students from batch 37 of French Diploma in Culinary Arts. The photos are to prove that more and more and more improvements in photographing are still yet to be done by me by using manual functions instead of auto.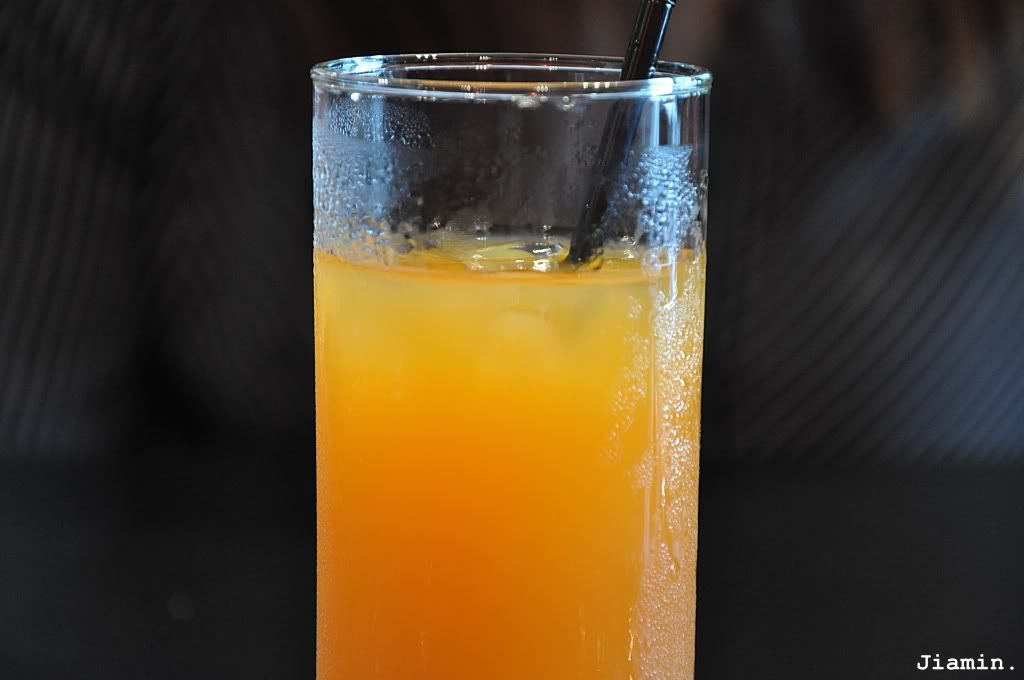 This is some kind of mixed mocktail but I couldn't hear what the waitress was trying to tell because of how soft her voice was, as if she was talking to herself. She didn't even catch our attentions when she was asking for order. How can you treat the customers in this way, in such a fine dining restaurant? Oh well, they're not from hospitality course, I know.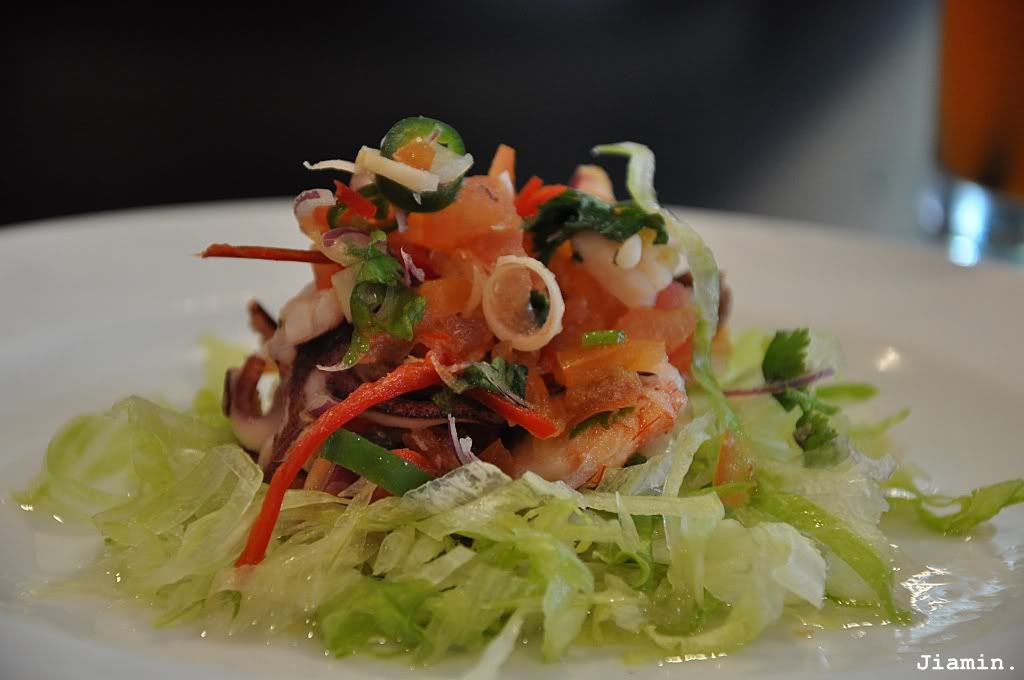 This is seafood kerabu, which is basically a lot of lettuce and onions with prawns and squids on top, topped with tomatoes and some other vegetables that I never like. They didn't serve the seafood accurately because I had only one prawn whilst Revi had 4 prawns (I helped her to finish them because she didn't like). Shannie and Alia both had 2 prawns. Ish! Truth is, none of us actually finished the vegetables until the waiters and waitresses took our plates away. LOL!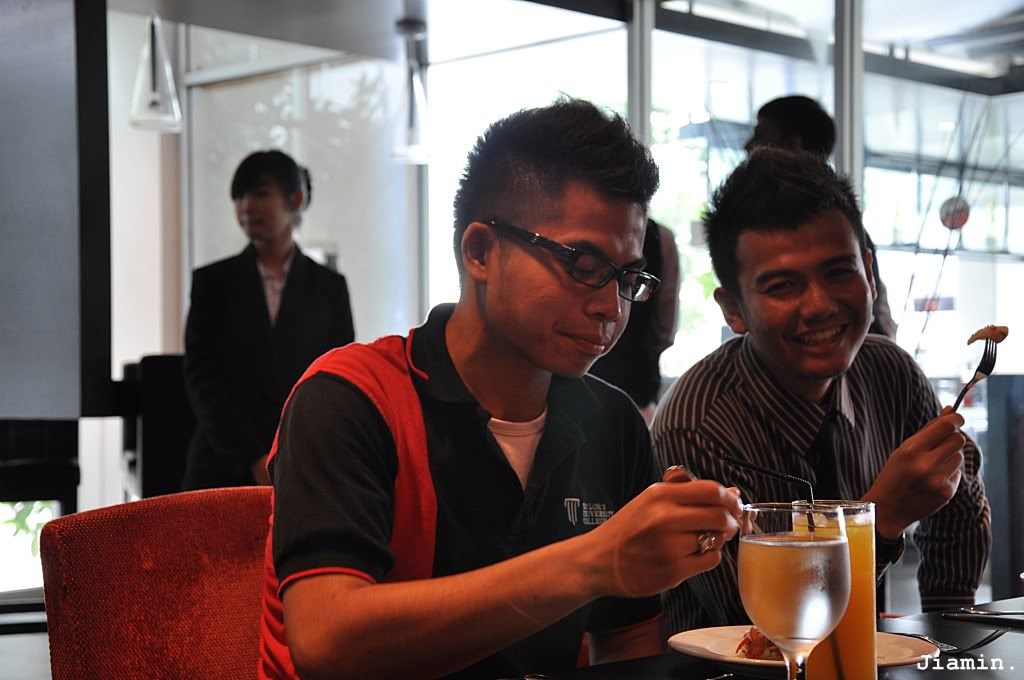 Helmy required me to take a photo of them but this fellow didn't want to be a little bit more cooperative. Do you know who I mean, Fahmi? :P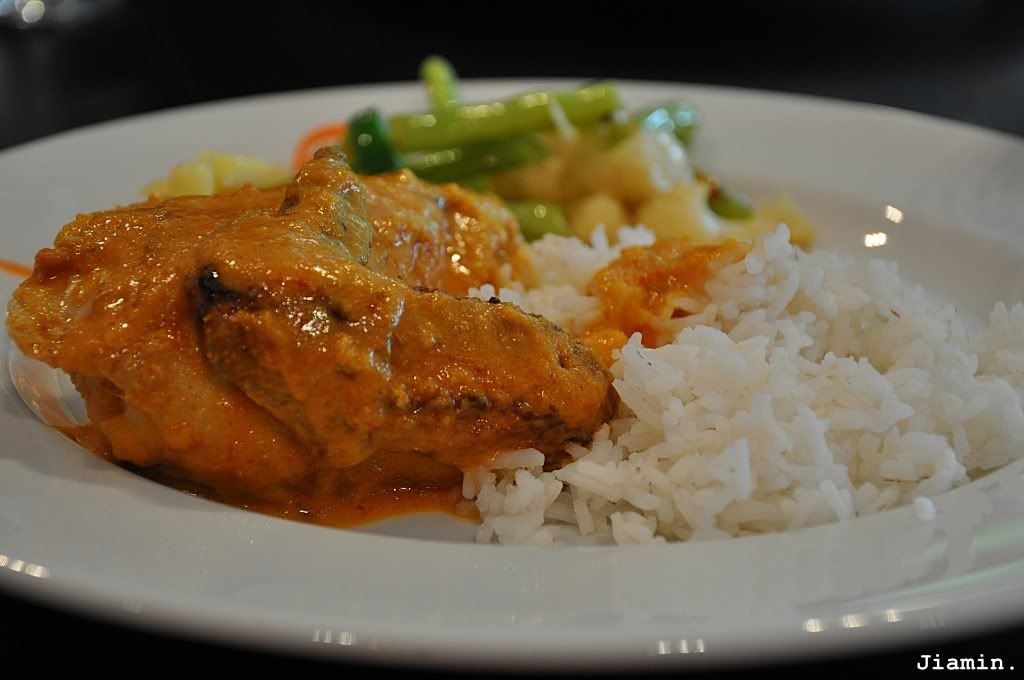 We had something called ayam percik with rice as our main course of the day, which made me wonder why they chose this since they're French course. Why was it so Malaysian? LOL! :P Well, I personally think that the ayam percik tasted yummy, but it could be yummier if I was served with a huge drumstick instead of a chicken wing with a little bit of chicken breast. Vegetables that were cooked in two different ways were served as well, but I only liked the fried ones.

Truth to be told, I was the one who cleaned almost every part of the chicken but the others left it aside because it's too difficult to be eaten. Shannie said it's always so nice to see me eating because of the way I eat and clean everything. I went wtf of course. X)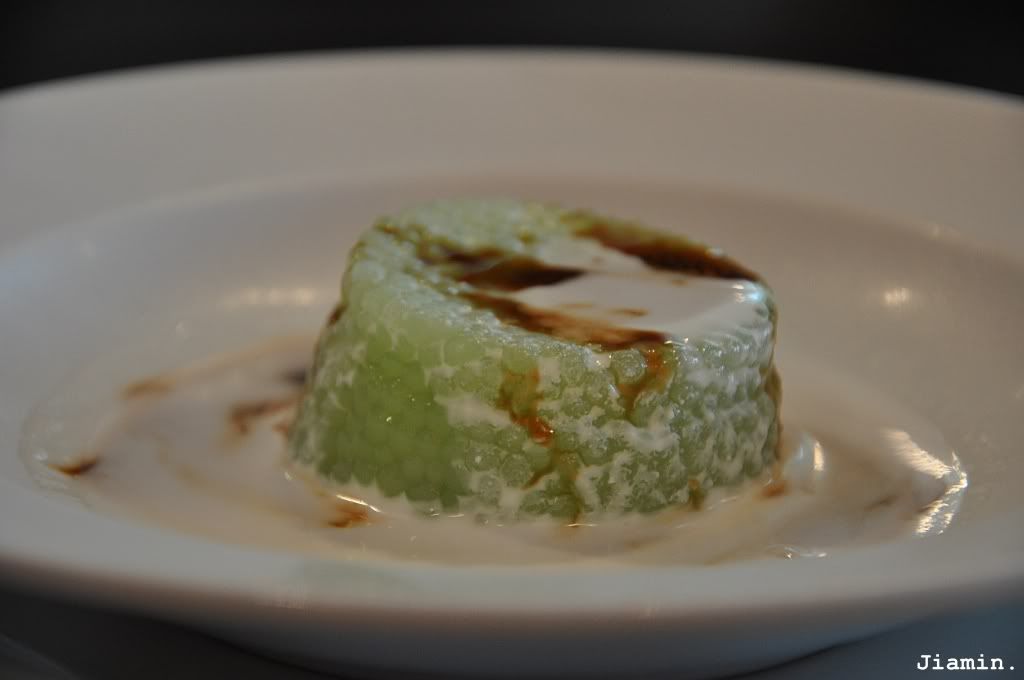 Last but not least, it's their oh-so-yummy sago pudding served with milk and melted brown sugar to make it perfect. The sweetness of it was just nice neither too sweet nor tasteless. The sago pudding itself was pretty chewy as well. It's like the best dessert I have ever eaten after crème caramel. Can I try it again next time when I get to go again?
Hehehe
!
Are the foods looking tempting? I suppose they are, yet there are still a lot more of improvements to go. Somehow I really wish to try the foods prepare by those seniors to do some comparison with the juniors' since I'm a food lover. Oh well, as I said in the previous post, we should be grateful that we get to dine in a fine dining restaurant, right? If there is a chance, for sure that I would give it a good try, as long as I save money before and after that wtf unless if you are willing to sponsor me someday. :P
Before I finish my post, dear peeps, I'm heading to Batu Caves very soon tomorrow in the afternoon since it is one of the places we are visiting for the sake of our Professional Activities 3. Stay tuned for the post about my very first experience to Batu Caves, if and only if I get to climb to the highest place to get some photos about the cave, and if we are all given enough time to climb. I'm kind of afraid because of how high it is, but I'm completely excited! :D Till then!
x.