Good evening readers! How was your day before heading to another weekend? I'm feeling rather down because the laundry lost one of my T-shirts that represents me as one of the ex-classmates of 6 S Ren. :( If they accidentally placed it into a wrong plastic bag and if the person who got it returns later, I'm getting it back, otherwise that's the end of my life with the T-shirt. Oh fuck! :'(
Right now, I'm not sure about my luck but anyway, as I promised earlier, a post about my first visitation in term three to Batu Caves is coming up, right here. My mood shouldn't be ruined by the idiots who always lost the customers' clothes, right? Ahhh! I'm depressed and I feel extremely disappointed yet that's the only laundry in this campus. D: Oh fuck! Alright, that's enough of my rant or else, you would probably stop reading and leave.
So yes, right after
Farah
and I filled up our tummies with prawns, prawns, and prawns in
De Templer Restaurant
, we continued our journey to Batu Caves without using anything helpful such as GPS. Why do I say so? We didn't know the routes to Batu Caves at all, to be frank, and we actually missed the right junction for us to do a U-turn to the entrance of Batu Caves. It took us quite some time to arrive but still, as long as we arrived safely. ;)
This is a golden statue of Murugan, a Hindu deity, and is known as the world's tallest statue of Murugan standing at 42.7 meters high outside of Batu Caves. That was indeed my very first time staying so near to this statue as I had never been to Batu Caves before until yesterday.
This is one of the main attractions of Batu Caves – a steep flight of 272 steps from the ground. I thought it would take quite some time for me to arrive at the top but I was wrong; instead, I took less than 10 minutes to arrive. The process was rather tiring and somehow scary because I am quite afraid of height. :)
In case you're wondering, I didn't climb the staircase with my bunch of classmates but I went up only with
Farah
. By the time we arrived, most of our classmates were still hanging around the campus and some of them just departed from the campus by their own cars. We decided to climb while waiting for them to arrive since we believed that they would be taking a very long time to arrive, as usual.
Let's start climbing!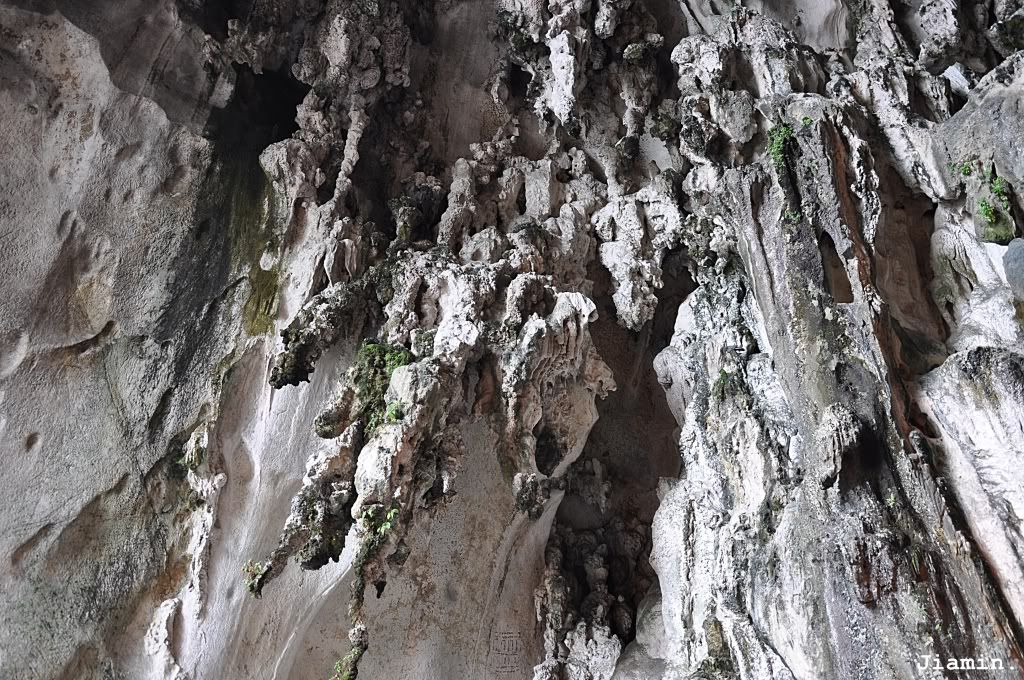 Stalactites, meaning long pointed pieces of rocks hanging down from the roof formed over a long period of time as water containing lime runs of the roof, of different sizes and shapes, can be seen everywhere in the cave, on top of us. Water was dripping everywhere from the stalactites as well.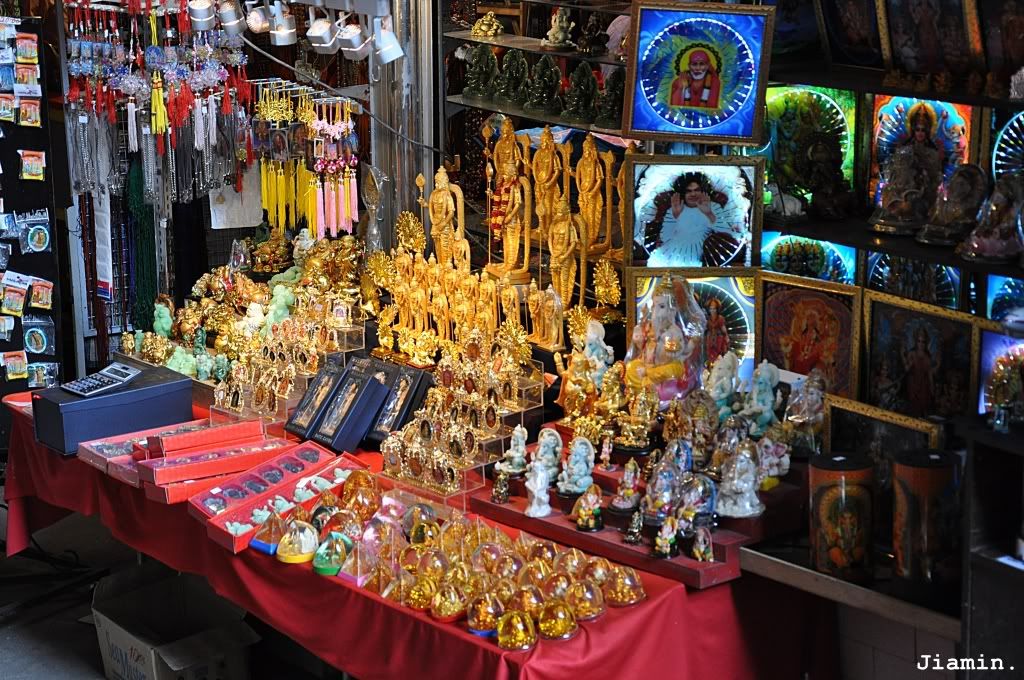 Upon arrival at the cave, namely Temple Cave or Cathedral Cave, you will not only be greeted by the stalactites. Stalls selling something related to Hinduism can as well be found in the cave itself.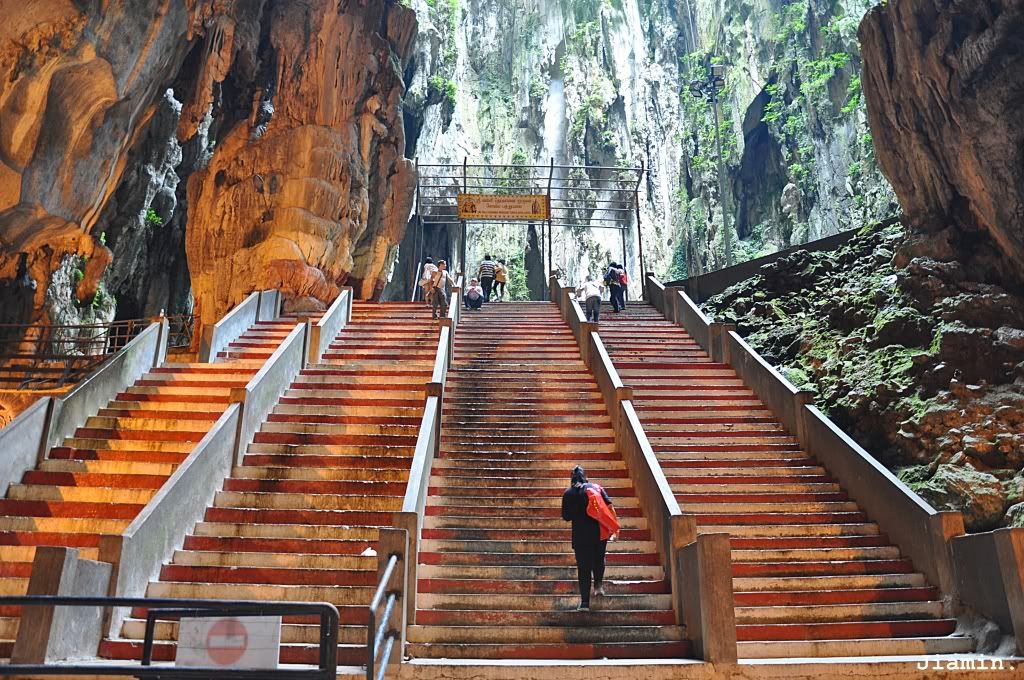 By walking further once you're in the cave, more staircases can be seen to the ending point. When I was walking on this staircase, a monkey passed by me and I got seriously frightened. Stupid old monkey! :(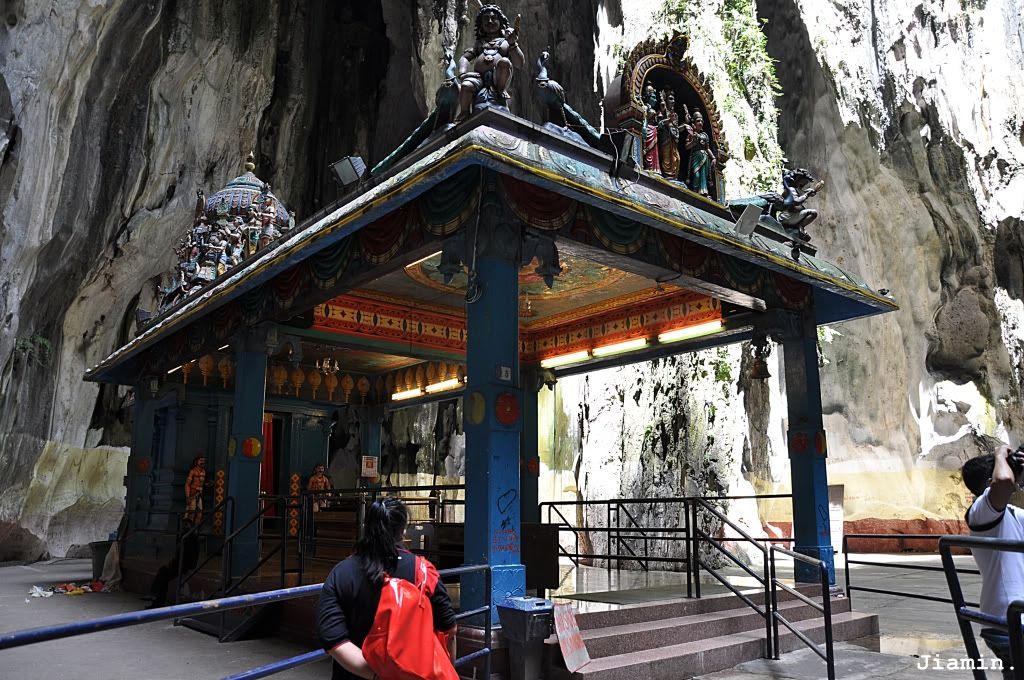 After climbing the staircase, this can be seen right in front of you and by the time I arrived, most of the visitors were taking photos around the place.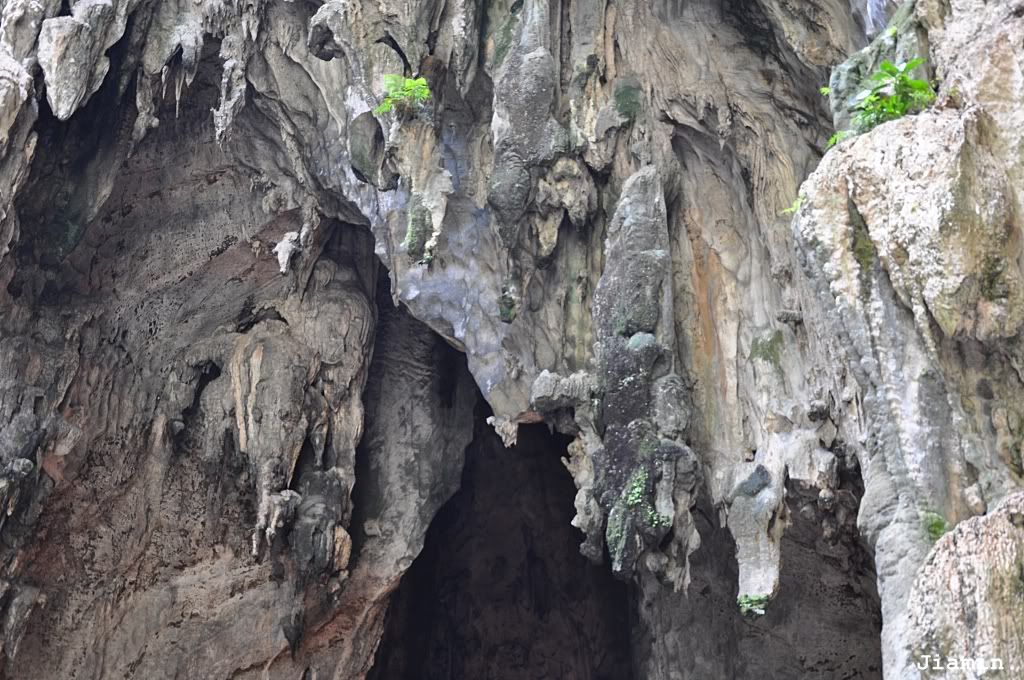 This is what you will see by walking further from the entrance. But this photo was taken at the ending point of the cave.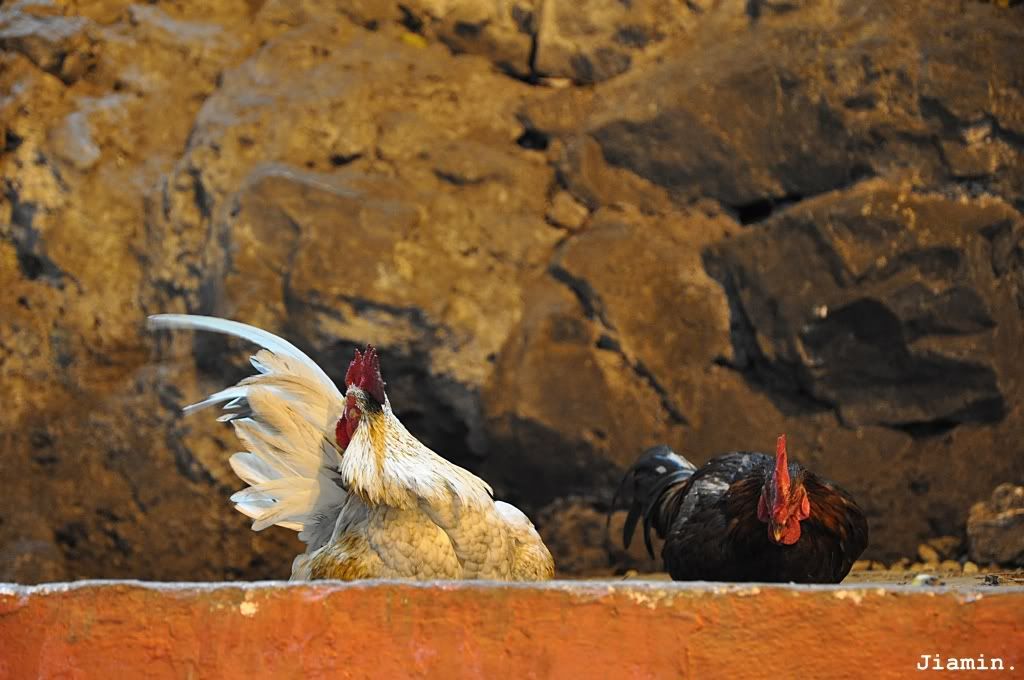 Surprisingly, there're chickens in the cave as well. I wondered how they actually survive together with the monkeys and perhaps, bats.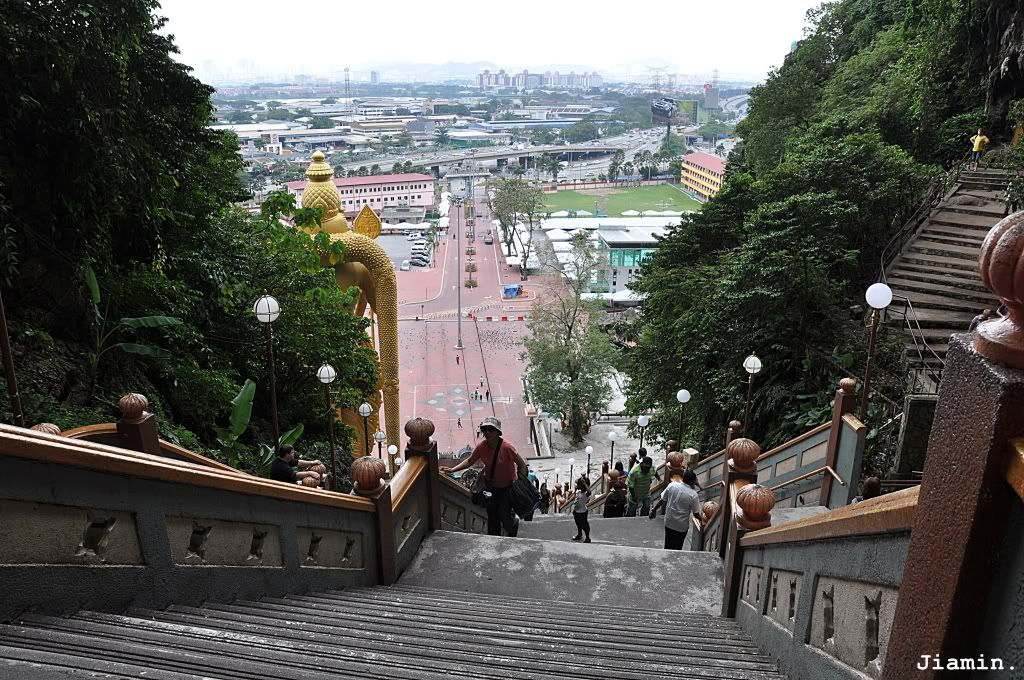 Look! It's the greatest evidence to show that I went through the 272 steps and reached the Temple Cave. :D
To not make my post load too slow, I have to take a short break before the other half of the photos are posted. So far, what do you think about Batu Caves? Do you feel like going? It's fun anyway, even though it might sound boring to go because of how many times you have passed by there. Without experiencing it all by you yourself, never say it is unnecessary to give it a try.
Are you ready? ;D
x.