Good day peeps! It's been almost one week that I haven't been updating about my current activities because it's my finals and I didn't have any extra time to spend on blogging. My blog traffic is getting lower and lower so it's time for me to get my readers back to my blog I guess, in the meantime of not being able to sleep because like I said, my days have gone completely upside-down throughout the preparation of finals, and now I'm trying my best to adjust it yet the time I woke up yesterday was around 4pm. No, it couldn't be; it is compulsory for me to turn my life into normal before I start my internship on 4th of April in
Holiday Tours and Travel
, Jalan Ipoh, which means I am moving out from the hostel pretty soon by next Monday, most probably. I am already starting to miss my friends especially the awesome ones!
This is actually a pretty late entry because it happened more than a week ago, which was last Tuesday on 15th of March, at night in MdcDonald's, SS15. But anyway, I force me myself to blog about it no matter how late it is because seriously, it was the first time ever I got such kind of huge surprise that I got no hint before the happening when some of them actually hinted me accidentally. I felt so stupid after all but it was yet another awesomely memorable night created by this bunch of people, those that I always call them as the awesome friends, especially
Farah
, the original planner.
Alia was the one who invited me to the so-called Wei Wei's birthday celebration since hers was earlier than mine. Look! She looked more like a birthday girl with the mask on. Hehe!
I'm so good enough to help to promote Shannie's BlueBerry BlackBerry with the cassette-like phone case on. So cute right! :D Okay, don't laugh; I seriously said BlueBerry in stead of BlackBerry the other day and Farah was laughing nonstop.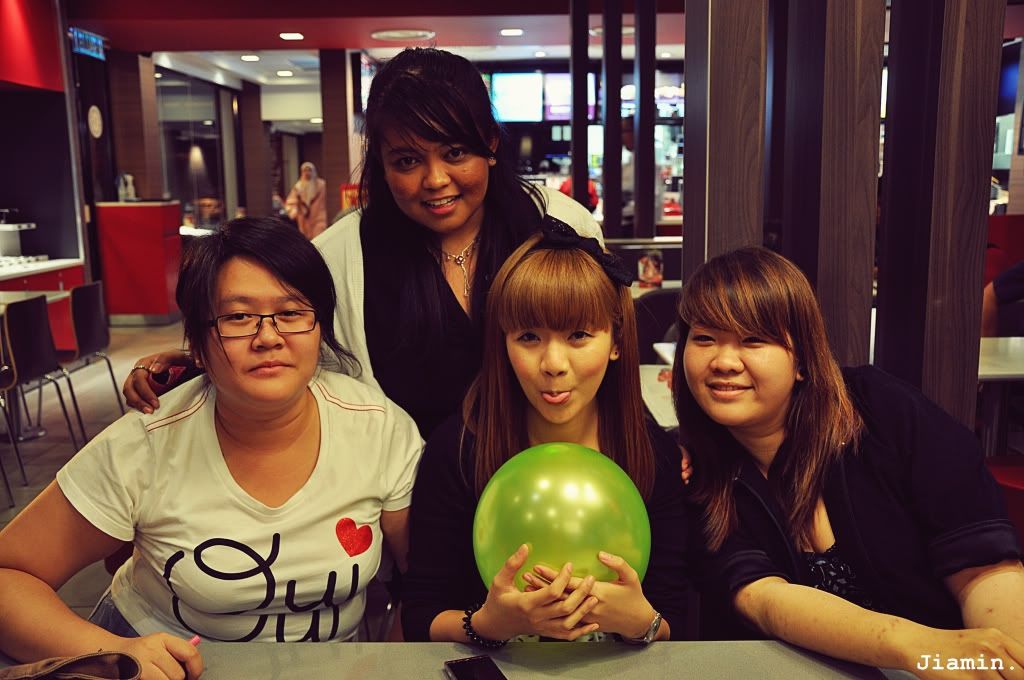 Kah Mun
the princess with a blurry face,
Alia
with the bow on top with a cute face,
Shannie
with the eyes that are always as small as mine wtf, and not to mention my bitchy girlfriend
Farah
who's standing at the back. ;)
These were just a few and stupid, I was waiting to see Wei Wei's shocking face when I was actually the one who would be shocked.
Here comes the dramatic scene. The Badman had been waiting outside of McDonald's for approximately 2 hours without me realizing it, and he ran into the McDonald's to close my eyes with his hands so tightly, immediately before I turn round to check who's coming. I was shocked for sure; in the meantime I was yelling "Who is this!" continuously while trying to grab the hands away. I thought someone was trying to fool me and when I finally got to see what was going on, everyone started singing birthday song to me with the Badman's voice behind. You can see how shocked and how touched I was in the photo above. :D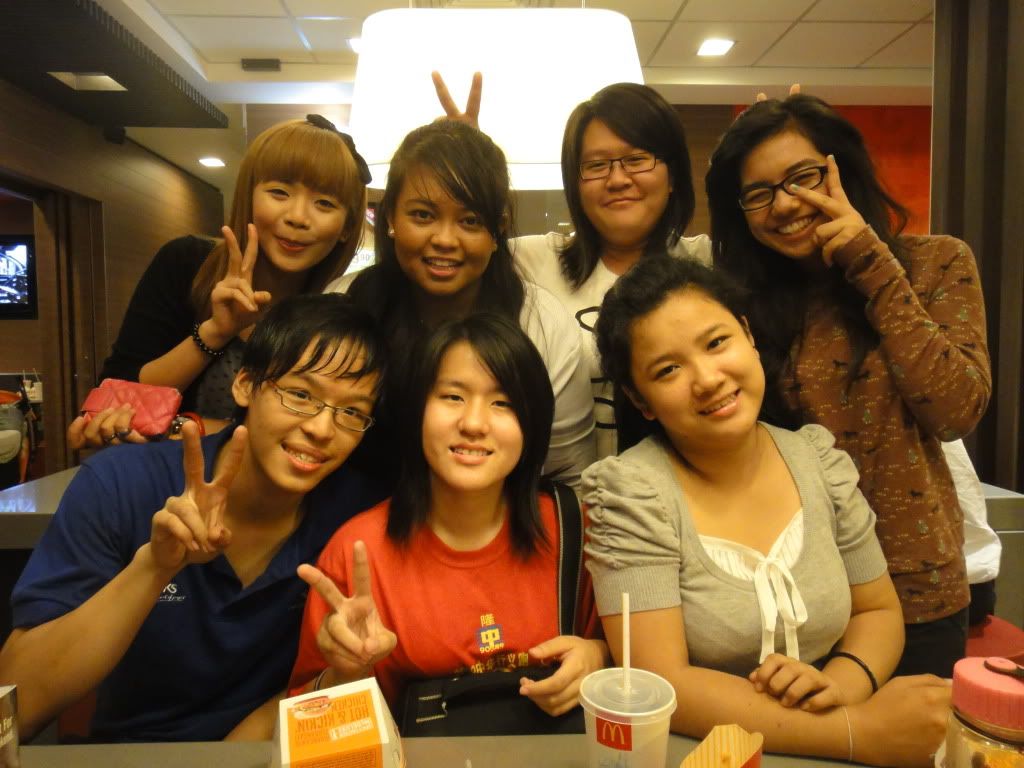 Some tiny little group photos were taken but none of them was with each and every one who attended.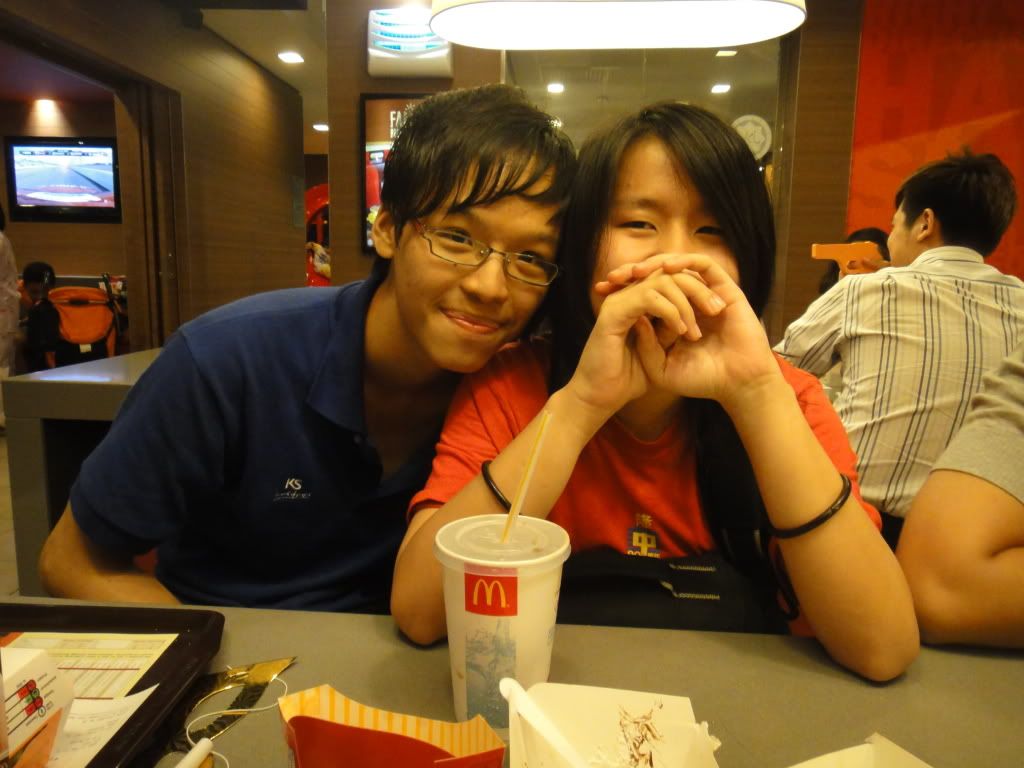 Here's a video taken by
Shannie
about how they forced us to kiss in the public and the people around were looking at us. Shy to the max!
Thanks to the
Badman
for rushing all the way to SS15 right after working and waiting for approximately 2 hours outside of McDonald's, which I know it's so tiring when he still has to wake up early to go to work on the next day; thanks
Helmy
, my bitchy girlfriend
Farah
, and
Alia
for planning everything for the day even though it's one week in advance due to finals; thanks
Maliewann
,
Kah Mun
,
Shannie
, and
Revy
for sparing your time on this birthday celebration. I really appreciate it a lot; moreover it's my first time having a real surprise birthday because those that happened previously were all expected, seriously. Whenever I think about it, I feel as if it just happened a few minutes ago because it's just like a dream that happened in real life. Thank you so much! I love you all
gao gao
! :D
♥
P/S: Some of the photos were taken with
Shannie
's digital camera. :)
x.