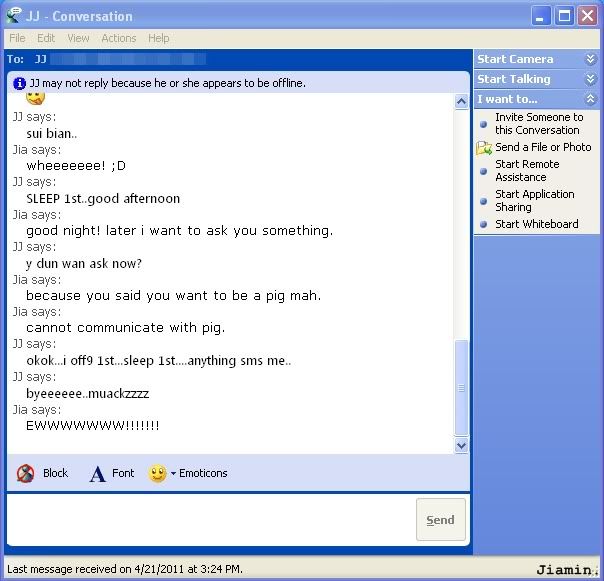 Dear readers, would you actually believe me if I tell you that I don't love my eldest brother? :D
Go ahead if you were to laugh at me for using Windows Messenger instead of the most up-to-date version. I dislike it either but that's the one and the only thing that's installed in the computer back in where I'm currently doing my internship at. Anyway, I'm sorry for not updating my blog frequently nowadays because my life has been filled up with workloads during working hours without the ability of getting any rest at any second besides lunch break. Happening has since been decreasing a lot because everyone whom I was so used to hang out with is as well having their internship at their most preferable event companies or travel agents. Exhausted is an undeniable feeling but to be frank, I enjoy working with this bunch of nice, friendly, helpful, and supportive colleagues and I have been learning a lot from them since then. Being busy seems to be something pretty common in this department because everything is about businesses, corporations, and huge amount of money but I'm starting to get use to how my colleagues "reserve" me on a first come first served basis wtf just to help them out on anything that they think I am able to handle.
Thanks to how I have been so use to be since I was young; according to my colleagues, due to how I'm able to handle things pretty well unless if I still don't get it, I'm allowed to go on a trip to Johor Bahru and Singapore together with the colleagues and some of the tour managers for approximately 5 days 4 nights for working purposes, and I'm definitely visiting Universal Studios Singapore as a photographer of this huge group that consists of more than 1000 participants from an insurance company. I hope you can sense my happiness! ;D
I will be back once there's something to be updated! Stay tuned! ;)
x.