This was supposed to be blogged a few days ago but procrastination explains exactly why I'm blogging it after approximately one week since the day after the happening. :P
As what stated as the topic, obviously, it was a day spent in
Sepang Goldcoast
with the awesome friends last Tuesday, which was on 17th of May. I doubt that you don't know where it is or perhaps you have never heard of the name before because it has been appearing so frequently in this world of blogging but it would be another different story if you never read the blogs. :) It was actually planned all of a sudden when some of them were having their seafood dinner in Klang on the night before the day; I was supposed to join them as well but transportation has always been the biggest problem that tells why I never join their activities at nights. :( I was one of the two drivers who spent almost 2 hours driving them all the way from Taylor's University to Sepang, and it was my virgin experience to be driving that way with such scary speed to be frank. :D
Let's proceed to what we have done throughout the afternoon in Sepang Goldcoast.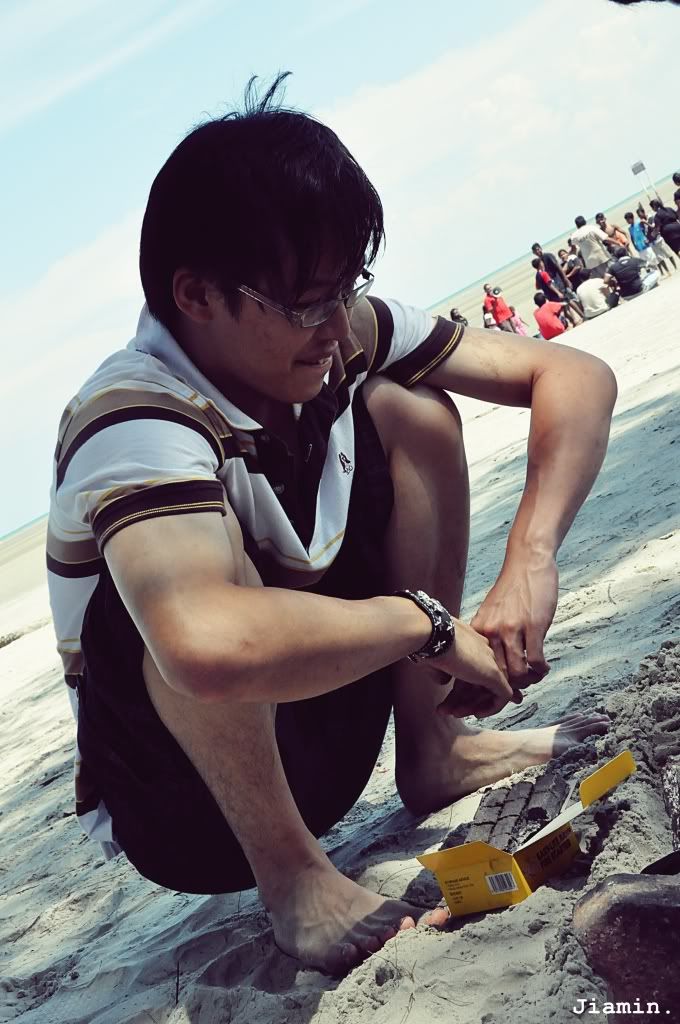 We did our own little cooking at the beach in the shade of a tree with mats on the sand. Since there were only two guys who went along, my Badman and Mahrad, they were apparently the ones who set up fire while the girls were enjoying the strong, sandy wind on the mats. :P Frankly speaking, Alia and Mahrad have bought something unnecessary that make the total price even higher I supposed. For example, the charcoals were too difficult to set up fire which indeed, the normal ones would have been even easier to make it; also, the lighter was actually meant for people who cook with stove but it's never a suitable thing for barbecuing Perhaps it's the both of them who have not have many experiences in barbecuing, or they have been so used to using such high-end materials for barbecue.
Look at the Badman with funny face expression; I'm not sure what he was doing at the moment but he somehow looks naughty in this photo I guess.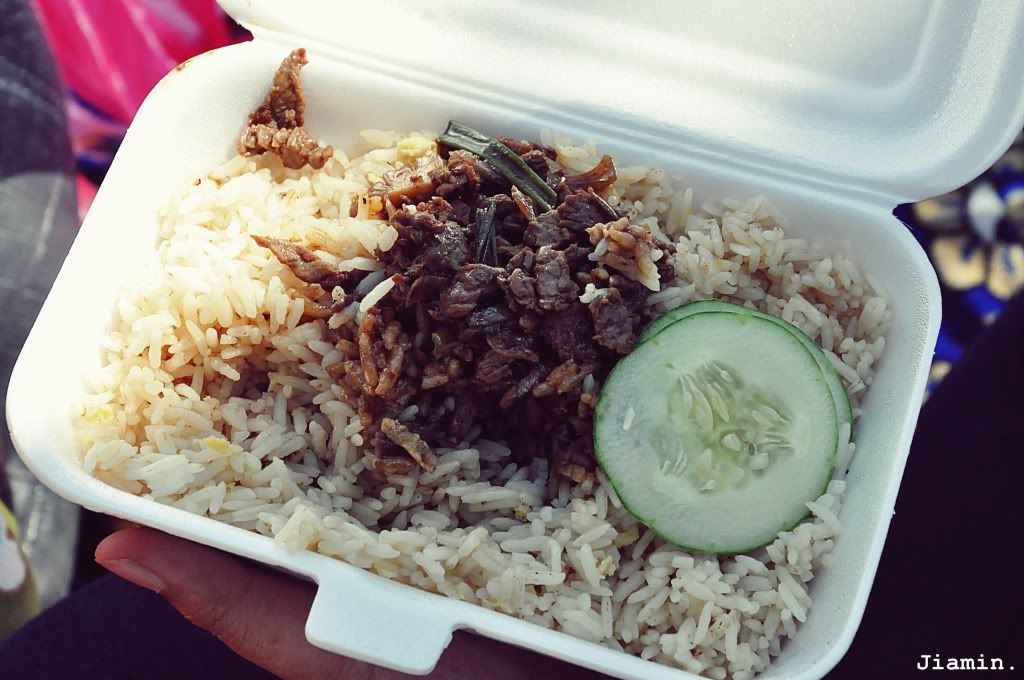 My bitchy girlfriend bought each and every one of us beef fried rice so that we wouldn't be suffering from hungriness while waiting for the food to be cooked. Unfortunately, I'm not allowed to eat beef due to something related to religion, and I don't eat beef either. I was slightly disappointed that my bitch has forgotten about this but well, it shouldn't be any matter since I have eaten before we met in Taylor's University. ;)
Spot what the crazy bitches were doing. They went to the very far end of the beach to simply embrace the sea to bits and came back with 2 incomplete little dead crabs and a tire. I actually ran away with my camera when I saw the crabs on my girlfriend's left hand because I thought she's going to fool me like what she did to me in Pulau Pangkor back then. Everyone including the strangers was laughing at me for being so afraid of two little dead crabs. :3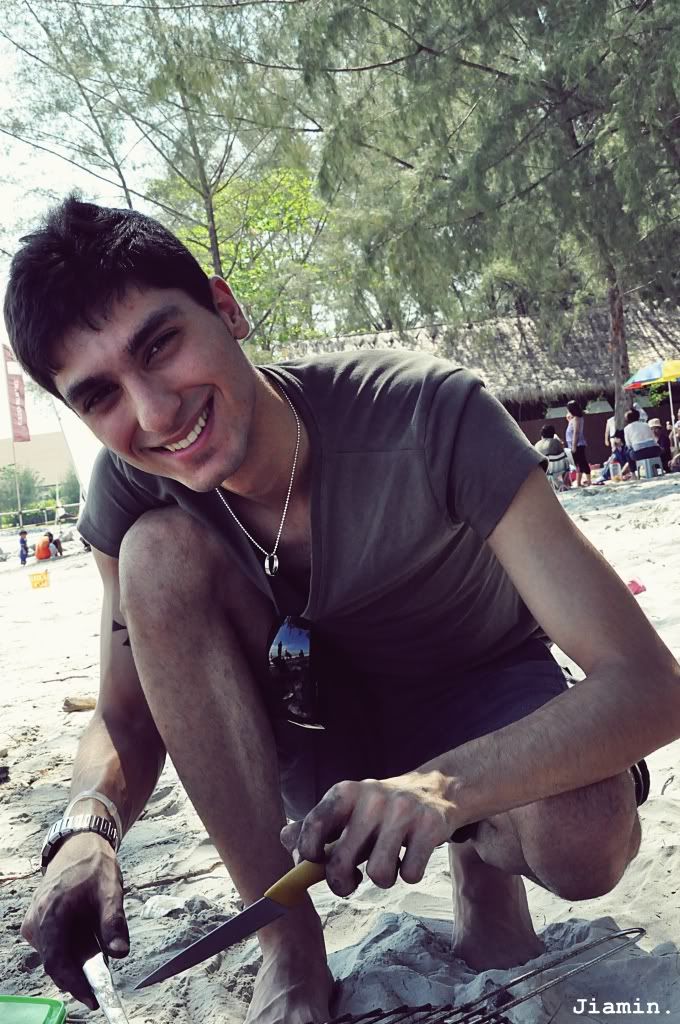 Meet the chef of the day with a charming smile! :) The reason why we didn't offer to help when he's cooking was that all of the girls are currently studying tourism management; my Badman is taking automotive technology; Mahrad is the only person who is studying hotel management that requires cooking. The answer is obvious now.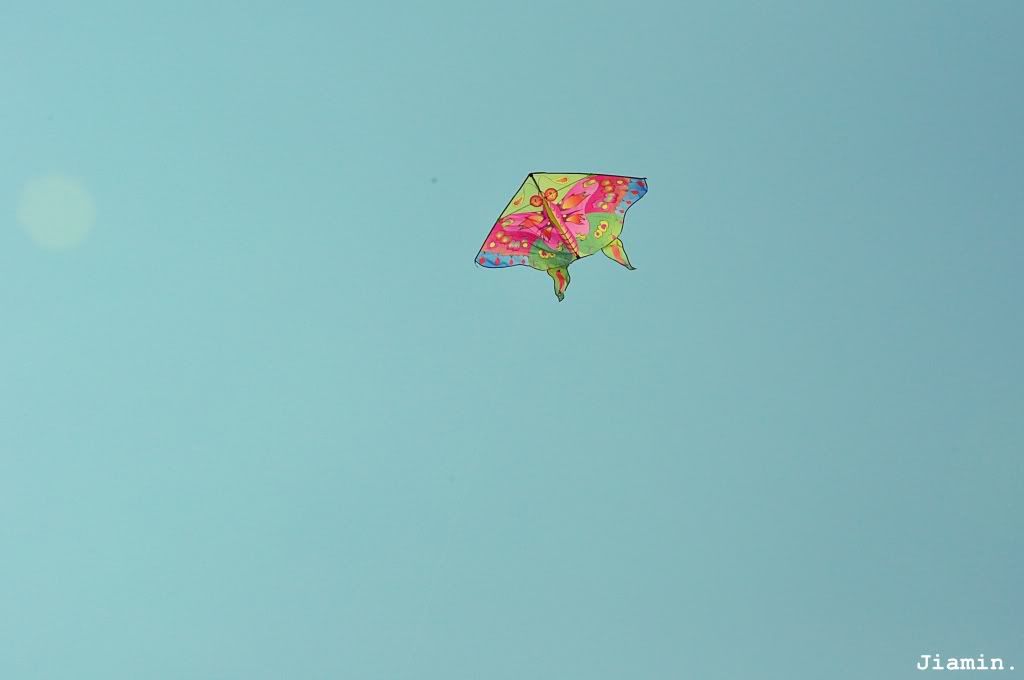 After enjoying our sandy meal, all of them got 3 kites in total with different patterns from a shop nearby and had fun under the sun while the Badman and I were chilling on the mats. The awesome weather and the strong wind were simply calming even though the sands just wouldn't stop coming to us as they're too soft that it could be easily blown away. We wasted a few ringgits on kayaking because it wasn't the real kayaking that we usually see; in fact it's more like a sampan for 2 persons to sit on it and roll it while being hit by the sea waves. The funniest part was that we saw a sampan with 3 persons and full of sea water in it, so imagine how difficult it was to control the sampan. As stupid as we were, the Badman and I thought that we're not going to join any of the provided activities so we didn't bring any extra clothes along, ended up we went to a shop nearby and spent around RM60 to get 2 sets of clothes excluding the inner clothes. Man, I drove with wet underwear on and it's seriously so uncomfortable! D:
Lesson learned; never ever refuse to bring any extra clothes when going out to seaside. :\
The overall journey was just so unexplainable-y awesome even though it was a little too tiring to me for driving that far for the first time ever in my life without any chance to take a rest.
Aaahhhhhhh
! I wish to go again and stay over in
Golden Palm Tree Resort
for at least one night to enjoy the luxurious room! Would you like to sponsor at least 10% of my trip excluding the petrol fees? :P
P/S: Some of the photos were taken by those who used my camera on that day itself.
x.