25th of June, 2011 was supposed to be my very last day of my first internship in
Holiday Tours and Travel Sdn. Bhd.
but due to the office hours that are originally set to be only on weekdays from 9am to 6pm, I ended one day earlier than some of my classmates who were as well doing their internships at different companies. I considered me myself as one of the luckiest persons among all the approximately 28 classmates because of the mostly good and friendly colleagues from every department especially Incentive Department where I had been working at throughout the three months, surrounded by such an awesome working environment. I would be pretty much a liar if I say it was stress-free with all the visa applications until I was known as the Visa Queen, flight bookings that I did some serious mistakes with penalties required, crosschecking and et cetera. This internship was when I started to realize handling a trip is never an easy task, especially when it comes to a big group like
the one to Johor Bahru and Universal Studios Singapore
back in May.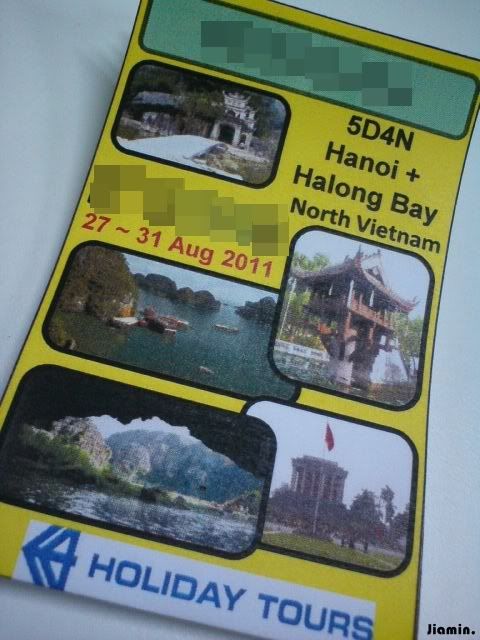 This was the very last luggage tag I've designed, printed, cut into pieces, and laminated for a particular company trip to Vietnam. I couldn't remember how many luggage tags I have designed throughout the three months, but great improvement in terms of designing could obviously be seen if you were to see all the luggage tags I was told to prepare for the clients. Boy, to a person who has never got good results in arts and crafts back in high school, designing is never easy but I would love to claim that I'm awesomely good when it comes to Microsoft PowerPoint that some of my colleagues were amazed about it, some even called me as a sifu. No kidding! :P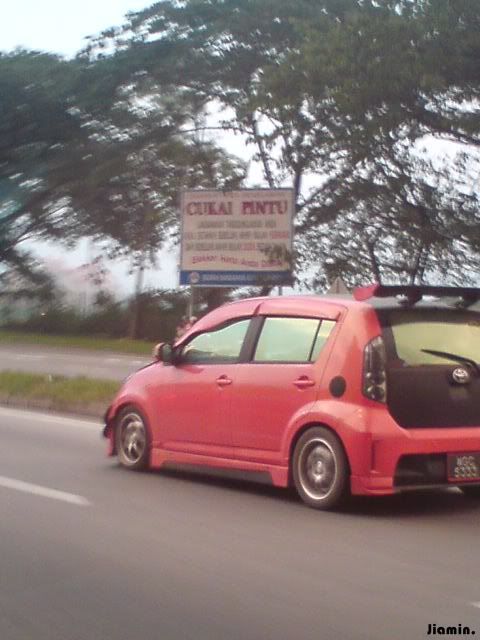 For those of you who've been my closest friends should have known how much trouble transportation has been causing me, and how much I have been complaining about not having cars to travel to places where transportations could hardly access to; it was never an exception when it came to travelling to Holiday Tours. Mummy and my eldest brother have been the ones who fetched me every early in the morning and evening because most of my colleagues were all from PJ areas. Hit me if you're wondering why they would rather travel such a long distance with traffic jam everywhere because that was what I've been thinking throughout the three months, without getting any answer at the end. Never ask, never know!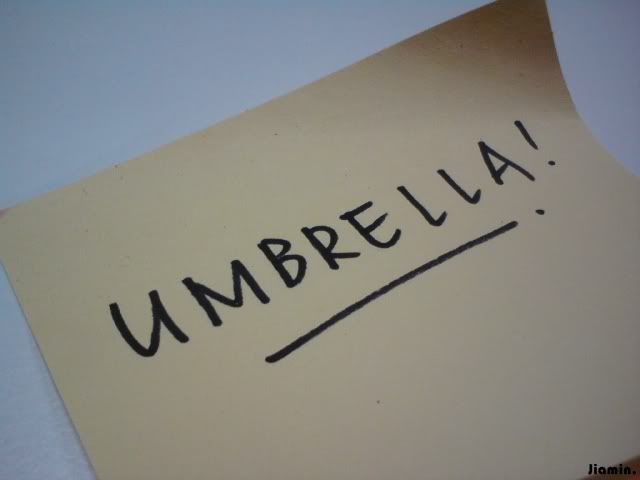 Sticky notes have always been something pretty useful just so you know, yet I never really appreciated them; no I never misused them but to only use them when I have nothing better to do. At times sitting in the office without being given one single work especially by the time we came back from Johor Bahru, you wouldn't want to know how boring it could be to be sitting on a chair for that 8 hours. I wrote something like "2 more luggage tags to be designed! Cheer!" and stuck it on my table, with cellophane tapes on the top and the bottom, yet I tore it off on the next day when I saw it just simply because I wasn't used to having something in different colour to be placed on a white table. Nevertheless, the one with the word "UMBRELLA!" written on it was stuck on my table for a few days as a reminder after a few weeks of leaving my umbrella in the office; I could be that awfully forgetful to be honest. Sometimes I actually wondered what my colleagues would think if they happened to pass by my place and see what was stuck on my table; would they smile or laugh at it, or they've never given any damn about those sticky notes?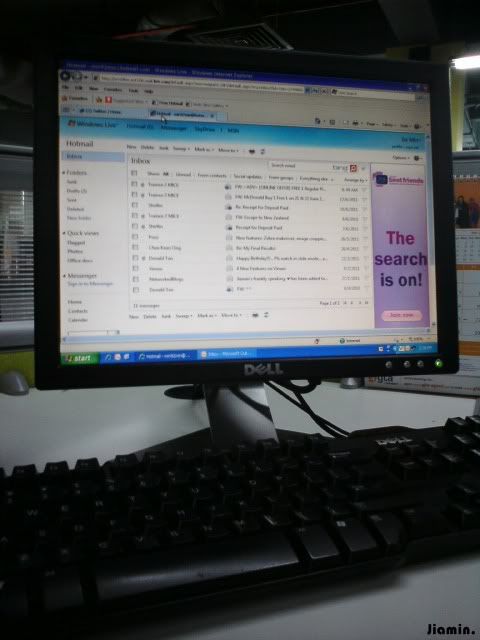 Man, I should have placed one of the desktops the others were using to show how small mine was and how I wasn't used to scrolling a webpage left and right; that sucks! If you happened to add me as a friend on Facebook or
follow me on Twitter
, you would've known how much I missed my laptop when I was back in the office just because of the size of the desktop I was using. The speed was so freaking slow, and it wasn't connected to the colour printer which I had to trouble my colleagues whenever it came to printing luggage tags; I was troubled as well. However, I still have to
forcefully
thank it for serving me throughout the 2 months plus (one of my colleagues used it in May because his laptop fell onto the floor and was broken), allowing me to avoid boredom by going through
Lowyat.net
,
Twitter
, and Hotmail. Imagine facing these three for approximately 8 hours; that's going to be killing.
Urgh
!
Those mentioned above were basically some craps about what I've done throughout the internship period in Holiday Tours, so what about my colleagues? Appreciation cards were given to all 7 of them including Doreen Wong (head of department of CIP2), Dyana Law, Agnes Ang, Seven Tan (the one and the only guy among all), Sandra Lee, Grace Chong, and May Tang on the last day during my mini farewell in Mo Mo Paradise, Bandar Menjalara; in case you misunderstand, I've never forgotten some of them from the same department but different division like Yuki who has been taking care of me when I was left alone in the office while the others were all on duty travel, Roger who graduated as a degree student in Taylor's University, considered as my senior, and has just joined Holiday Tours as a trainee a few weeks ago, Quen who had been trying so hard to pair me and Roger wtf ever since he came, Bobo who drove different cars each day, and many more whom I wasn't really close with. I sincerely thank the all of them for whatever they have done, including helping me out whenever I needed and entertaining me that sometimes they didn't realize they actually did cheer me up to bits. :)
Frankly, the entire internship being with each and every one of them in the office, all the tour managers who had been giving me advices during my duty travel in Johor Bahru and all the helpers from Reliance College in Johor Bahru whom I've known during the same trip was indeed a great memory despite all the unhappiness that happened in between due to some confusion. I've been telling certain people that I would definitely come back again if I couldn't find any other travel agents for my second internship in this coming October, not only because it's one of the nearest travel agents from my house, but I truly liked how the company was set up to be, especially the chilling room where we could have our own little entertainment or some little rest to release stress. Hehe! :D
Goodbye, my very first internship!
x.