Good day peeps! I hereby apologize for not updating my blog that often despite the plenty of time I have, due to the lack of happenings around me especially the day after the car crash. If you're one of those who concerned about it, I sincerely appreciate it a lot and for your information, I'm going through it pretty well without being bothered by nightmares anymore which I believe I'm succeeding it apart from the fact that I'm slightly traumatized. Anyway, if you're aware of what I'm up to for the very last two weeks of working as a trainee in this travel agent, you would have realized the last thing I mentioned about it was the trip to Johor Bahru and Singapore, including the entry about one of the youngest tour managers whom I've known during the period. However, if you hadn't realized, I've never mentioned anything about the trip, not to mention the oh-so-grand hotel that I've been staying for approximately 3 nights, even though I brought my camera along. Why? No interesting photos were taken due to the confusing position I was placed at. :(
Fortunately, my lovely lady boss told me to create a slideshow the other day with the photos taken by her own camera during their inspection around the hotels before the trip, and that I realized I could actually
steal
copy some of the photos of the hotel where I stayed, Puteri Pacific Hotel, to do a little review about it with the risk that I might be fired by the lady boss before I get to complete my first internship. Aha! I know it's not going to happen, and I'm not going to claim that the photos are all belong to me either, which in fact none of them is. Yes, I'm very honest like that! :P Just so you know there're some people out there who would always love to appropriate to themselves what rightfully belongs to another, hence the photos are copyrighted in my name but after all, they're all belong to my lady boss. So don't sue me okay!
Damn! Why so blur? This photo is copied from Google because no one actually took the photo of the entire building due to the lack of time we have.
I don't really know much about this hotel to be frank, but I personally think it was normal at the beginning of my stay even though according to my daddy, it's a luxurious hotel, until I got to move into a guest room on the second night, which was the best hotel room I have ever stayed in my life until I sort of refused to leave it before we departed from Johor Bahru.
Let's start off with the room that I stayed for the very first night in the hotel.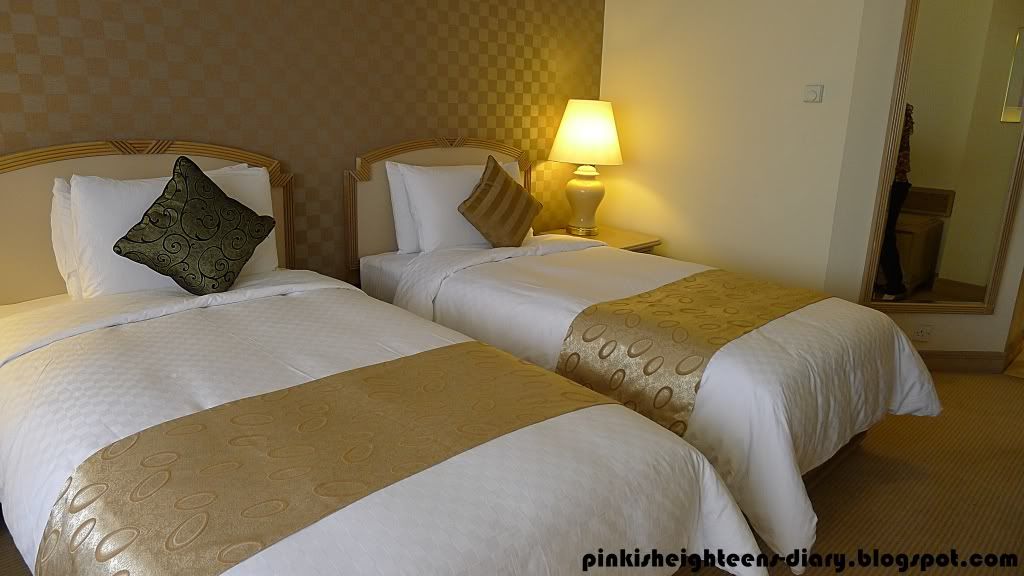 My room wasn't as superb as this but it was similar without the two baby little pillows and the golden thingy that makes it look even better and nicer. Don't you think so? With them all together, I guess the room rates would be different as compared to the lousy one that I stayed. Well, it wasn't really lousy but on the next early morning when I intended to take shower before I started off my job, damn I was about to freeze in the toilet that I seriously jumped from the bathtub (luckily I didn't slip) right after I cleaned the soap that was covering all over my body. I would usually brush my teeth and wash my face while taking shower but hell no, that's thrillingly cold. Dear icing cold water, thank you so much for your awesome service wtf!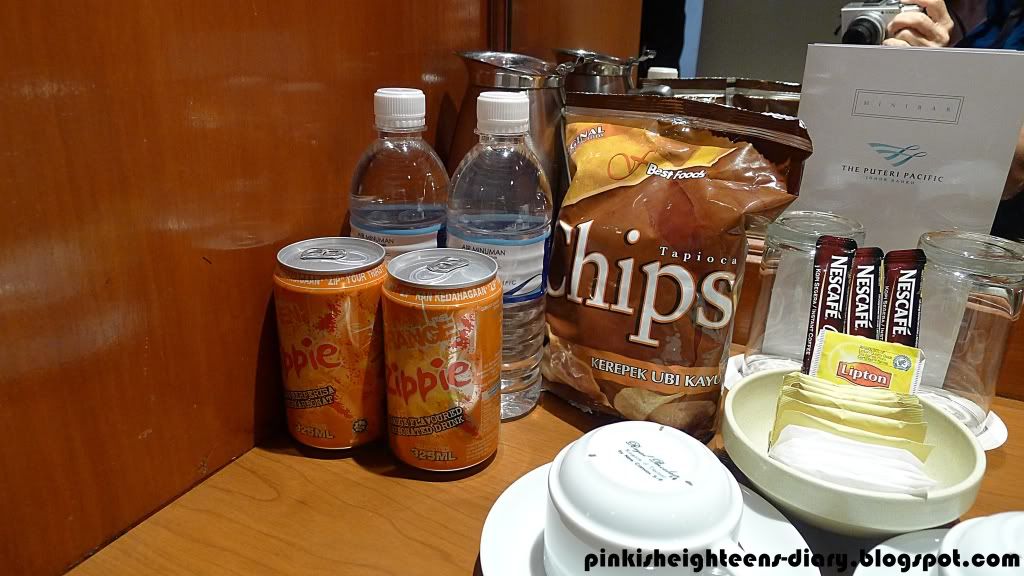 I'm not too sure whether were all the rooms well-equipped with can drinks, mineral water, cups, snacks, Nescafe and et cetera or not because it's just so impossible for me to check it room by room. Worst was, I wasn't even sure whether mine was equipped with all these or not as the room was basically just a place for me to clean myself and rest. I found 2 bottles of mineral water in the fridge, though. Only smart people would take it and drink it when you don't need to pay a single cent for your accommodation; unfortunately I wasn't as smart as you so I didn't until someone said yes I was allowed to do so.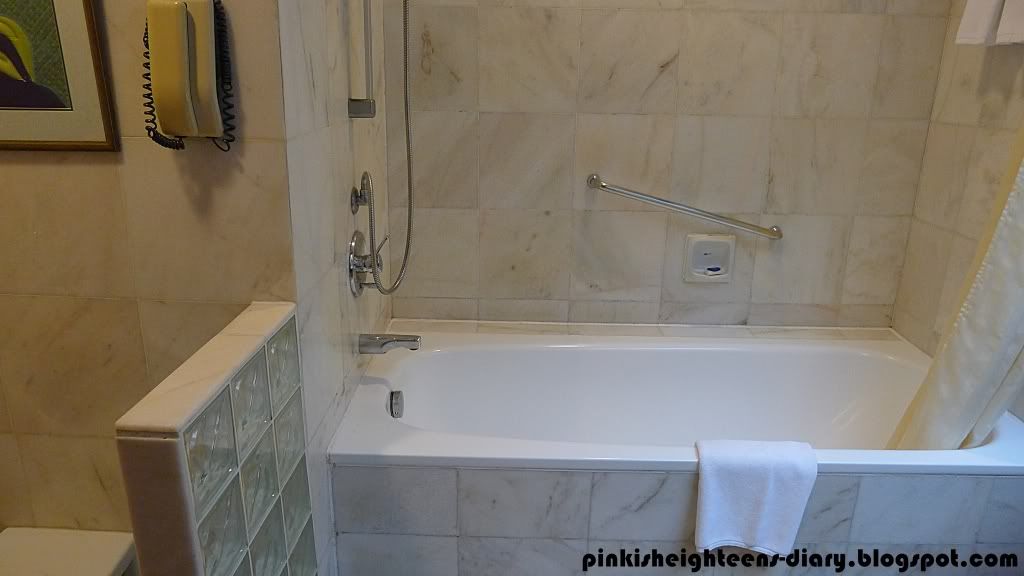 Awww! They have a bathtub! At the time when I found this I was crying for sadness and shouting for happiness at the same time, mentally. Even though the toilet was equipped with such a big bathtub, I knew that I wouldn't have any extra time to spend in it for hours like how the people usually enjoy it, due to the heavy workload separated to each and every one of us averagely.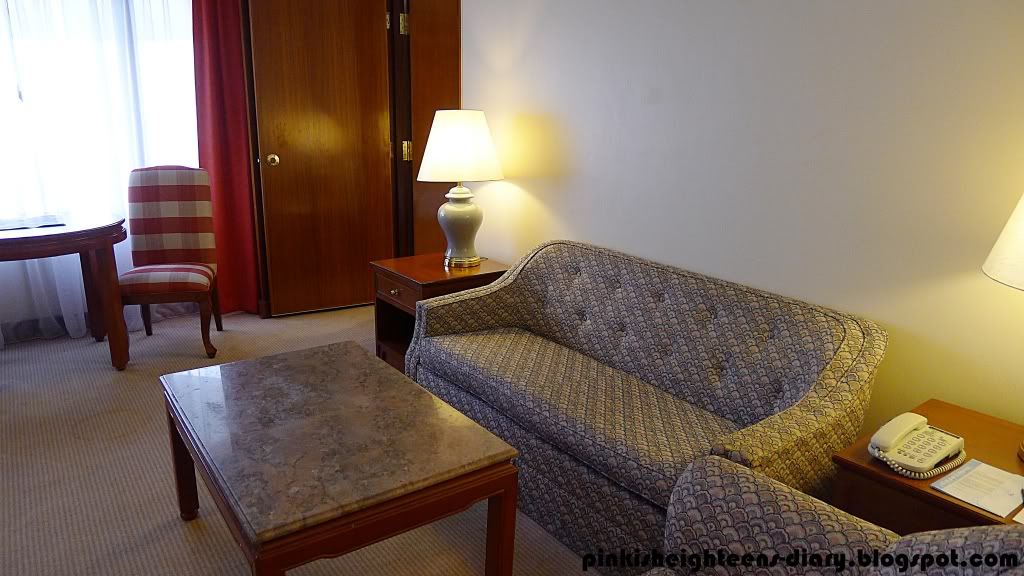 Dang dang dang dang! Thanks to the tour managers who refused to sleep on a king-sized bed together to avoid the gay-ish feeling, we moved to an upgraded guest room located on the 14th floor on the second night of our stay, where it's only accessible through an electronic key card system in the elevators as an extra precaution for their guests' safety, according to the hotel itself. The only problem I had was what happened to the key cards I had during my stay in this hotel, that I had to go to the reception center for a few times to get them reset the key cards for me during midnights wtf because it just wouldn't function well. I hope I didn't meet any wrong person; fingers crossed to that!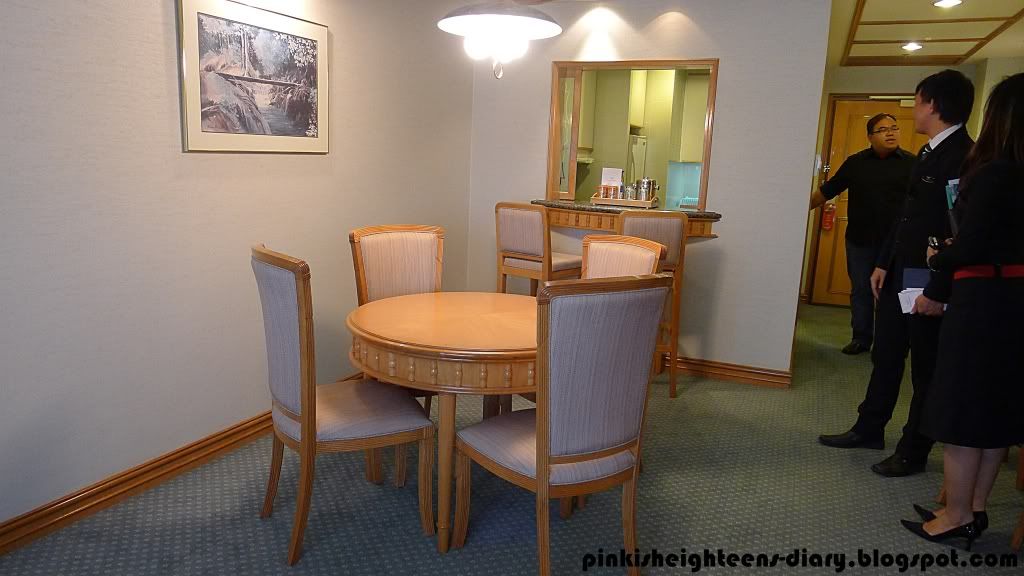 The guest room that we stayed was located at the corner where I could actually jump off the building from a window at the corridor outside of our room. Since I'm still blogging about it, you should have known that I didn't do what stupid people love to do. As you can see, here's our dining room and kitchen which to be frank, we only used this corner to hang our wet uniforms to be dried after washing them with my Dynamo. ;D For your information, this room was filled with facilities in the living room, kitchen, and the dining room only. Where's the bedroom then?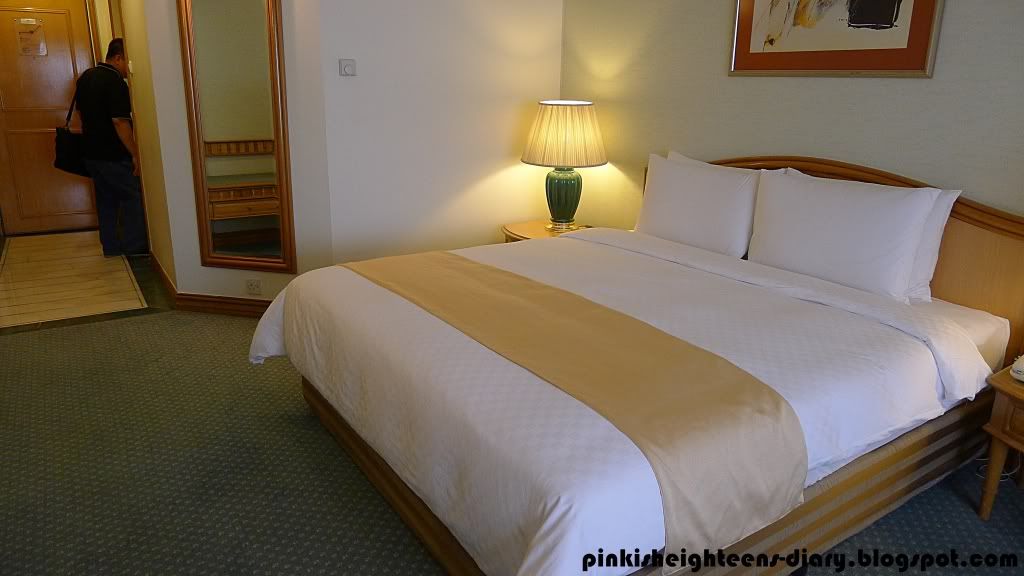 Here you go! ;) If you hadn't noticed, you could actually see a door wide-opened in the photo with the living room above, and that's where that was connected to the bedroom. The guest room was actually sort of like two connecting rooms because there're actually two room numbers for only this one guest room. Guess what; the king-sized bed was seriously, ultimately soft, not to mention the oh-so-thick blanket that the both of them formed some kind of comfortable feelings to me especially when I was in a freezing-cold room. Unfortunately, it was already approximately 3.15am when I had done taking shower and we're told to get ready at 5.30am, hence I slept with my uniform on for that less than 2 hours of sleep so that I could wake up only 15 minutes before that to get myself ready. The way I did has since become a laughingstock between my colleagues. :\ I enjoyed myself sleeping on the bed on the third night, though. :D
Oops! Robert was checking out the toilet!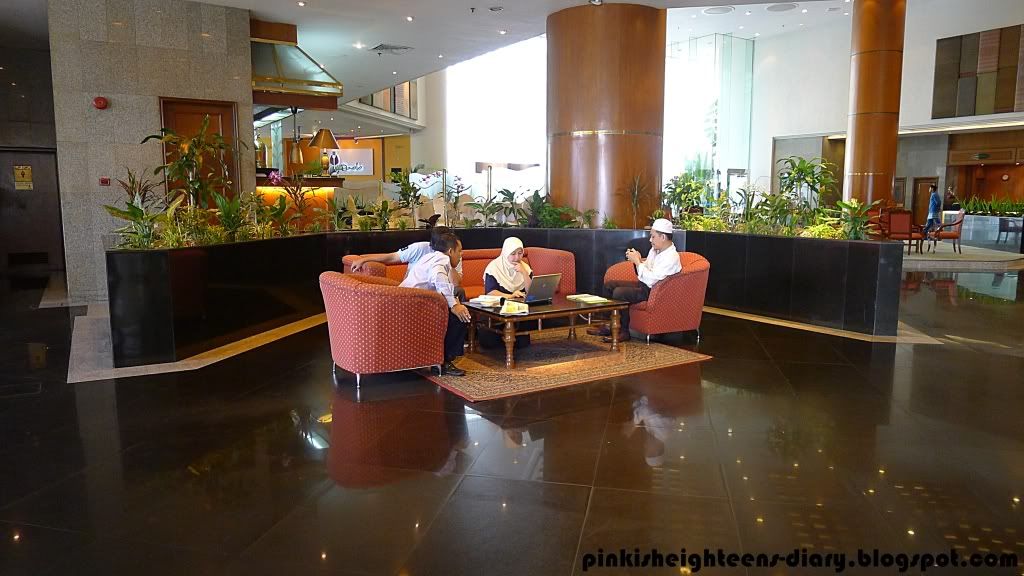 I couldn't really get any photos of the lobby but this is the best among all that were found in the memory card. They have places like bars, buffet restaurant, some mini shops, and of course reception counters with friendly staffs around that they're always willing to help us out whenever we needed. The place where these four people were sitting at was exactly where I hid myself and talked on the phone with the Badman whenever I had nothing much to do. In case you need it in the future if you're going to stay in the hotel, the toilet is located at the corner on the left hand side. Can you see the sign? :P
I guess that's basically how the hotel is like, except for the fact that I'm not really into all the facilities the hotel itself is equipped with. I don't want to get lost in the hotel and be another laughingstock of my company! However, one thing I'm not going to miss is that they have a swimming pool on the 2nd floor, located pretty near to some of their event / meeting rooms. What's more convenient to be staying in Puteri Pacific Hotel other than what that are stated above? Yes, there's a shopping mall that seems to be pretty famous in Johor Bahru, namely City Square, located about 5 minutes walk away from the hotel, not to forget the KFC located right at the opposite of the hotel too!
Talking about KFC, damn I'm so freaking sick of it already; imagine having so many pieces of fried chicken from exactly the same branch for two nights among three! Yucks!
Despite its location in the city center, the traffic was so, so, so much better as compared to how KL is every single day and to be honest, I didn't see any traffic problems in fact. So people, let's stay in Johor Bahru! Hehehe! :P
x.