No one has exactly any idea where all the stresses come from; assignments, projects, presentations, commentaries, and even looking at the calendar filled with what to do on which day could be one of the many that are causing the stress breakdown I just went through. Everyone wishes to escape from all the nonsense with anyway they could, yet we have nowhere to go except for quitting from the course. Shall I "shout" again? AAAHHHHHHH! D:
Like I promised, I'm here to update about my new room that has been as messy ever since I moved in because everything has not settled yet, and the landlady is too busy with her studies currently that I have only seen her once. My wardrobe arrived at my place on Tuesday but it has not been assembled because not only that I was packed by the heavy workload, I am never good when it comes to thing like this especially when there wasn't any suitable screwdriver at all at my place.
Whatever; let me bring you for a tour from my room, to the kitchen and everywhere in the unit. :)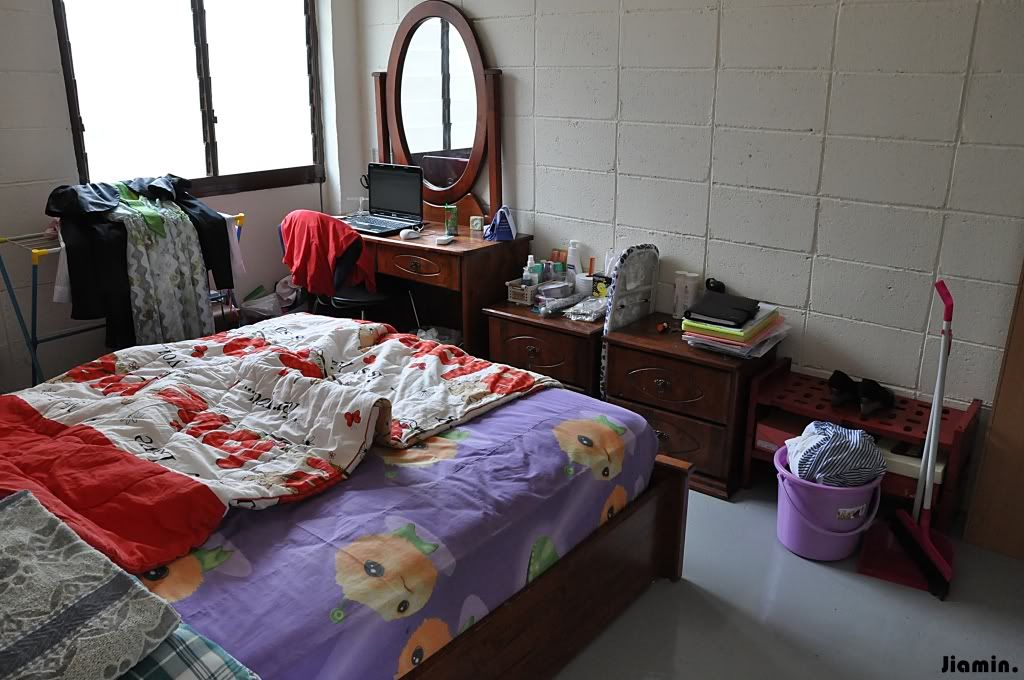 Make a comparison between this photo and the one I posted in the
previous post
, and observe what changes have been made in my room. By the way, the shoe rack was not included but I brought it myself.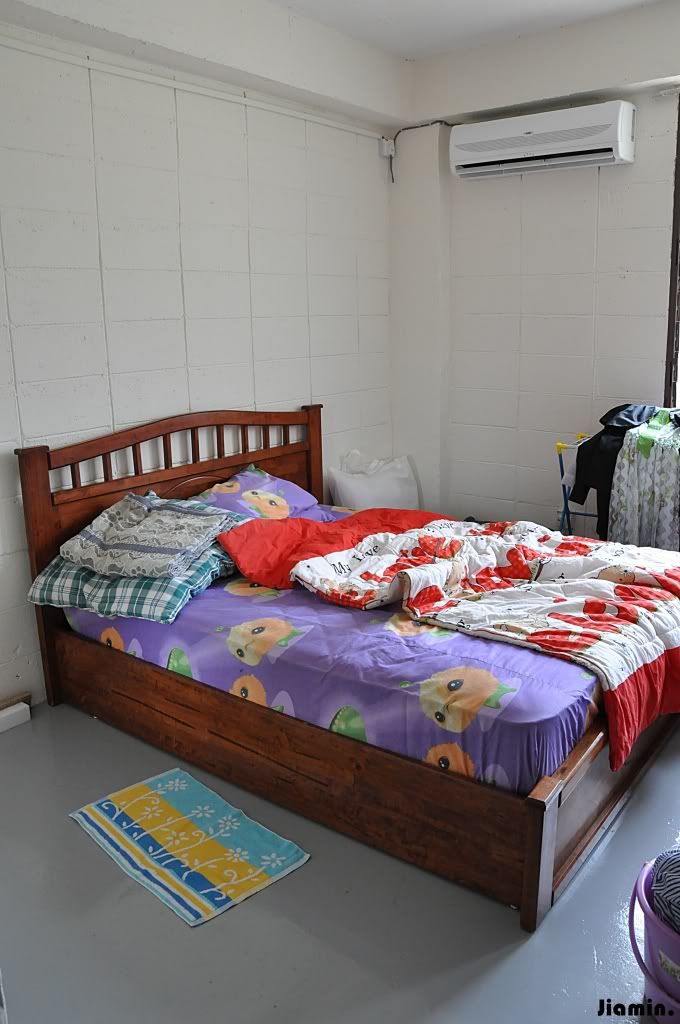 Here is another corner of my room. The bed was moved slightly to its left to create more space for the wardrobe, which then only I realized that wasn't necessary. As you can see, the room is air-conditioned without any fan, but I'm going to request for either a wall fan or a box fan from the landlady without any extra charge.
There are three other rooms without anyone moving in yet but they are not as big as mine with only a single bed and a slightly larger desk, unlike mine with a built-in mirror to be faced whenever I'm using my laptop or doing my homework. Don't ask me why there is a basin because I myself have no idea as well.
A kitchen is built at the back with a rice cooker, an induction cooker, an oven (on the floor), a water dispenser, and cups that I might not be using them at all provided. Certainly, cooking oil, salt, and anything related to cooking are all on own expenses.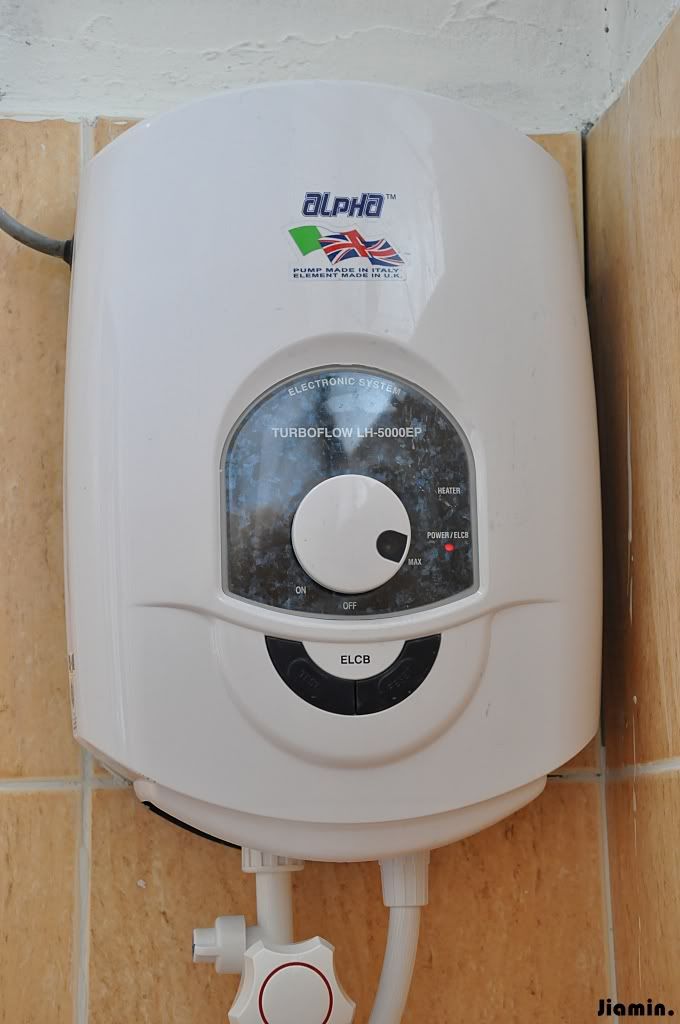 Water heater with unstable water temperature is provided in the toilet too! That safes me from freezing while taking shower early in the morning before going to classes. ;D
A brand new washing machine is provided right outside of the toilet! That helps to save a lot of money spend in a laundry that might cause you some unexpected problems.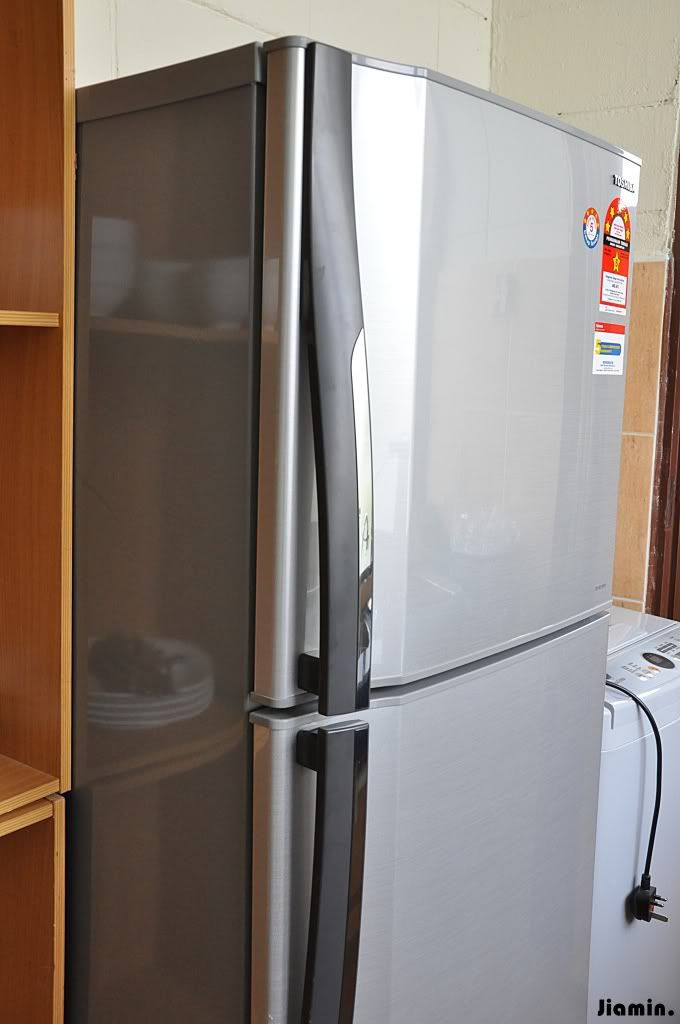 It's a big fridge! It's big to me because the one in Kah Mun's place that is also belongs to the same landlady is almost half of this.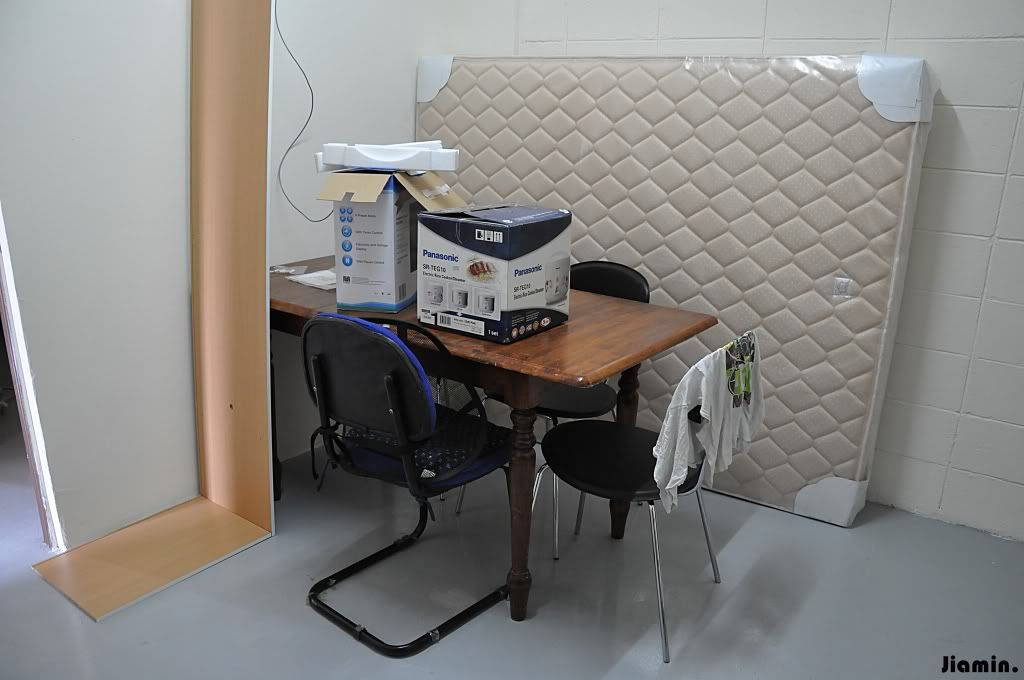 This is a so-called living room with only one table and four chairs. The bed is my new bed but they left it there, while the pieces of boards are part of my wardrobe that Kah Mun and I spent quite some minutes to assemble them due to the lacking in equipment we have, ended up we gave up instead because we sort of expected it to be done pretty late.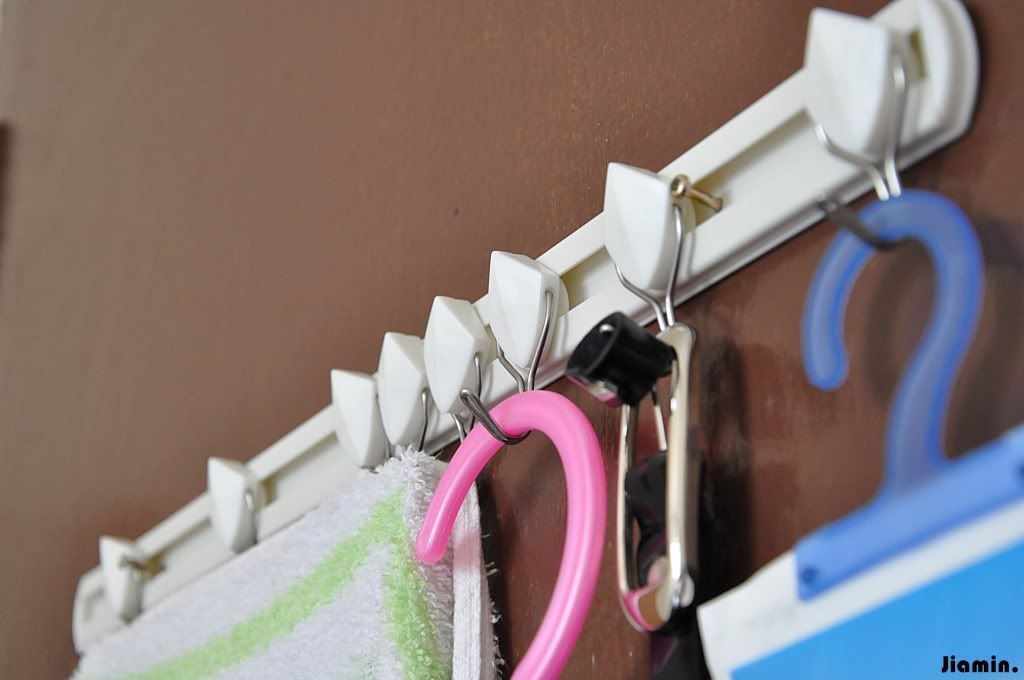 In case you are expecting to see something like this in any other 3 rooms, stop dreaming. My mum bought this from Jusco for your information. :|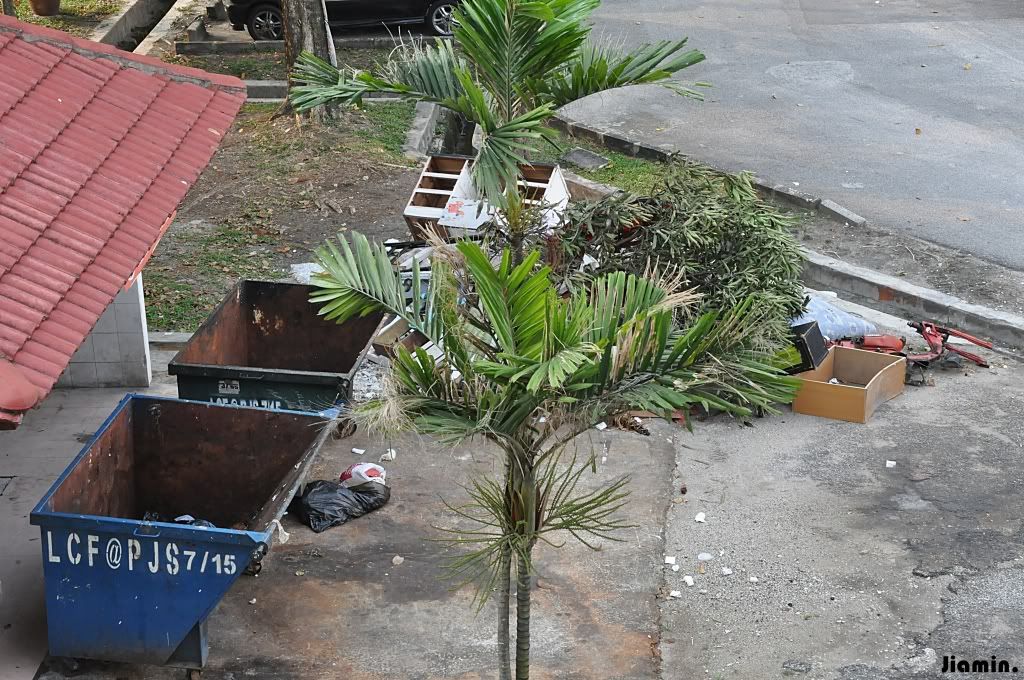 Despite the advantages that the entire unit is fully furnished and the convenience that it is just less than 5 minutes away from the university, there are still some disadvantages since there is a term, nothing is perfect. A waste yard is just located right outside of my room where I could always see it whenever I open my window. The odour doesn't affect my place but whenever there is a garbage truck to clear all the rubbishes thrown by the residents like how it happened yesterday, an unpleasant smell wafted to my room. That doesn't seem good, does it?
This is the view from my window. I thought I would never get to stay at this area but look, my parents agreed to let me stay due to transportation problem.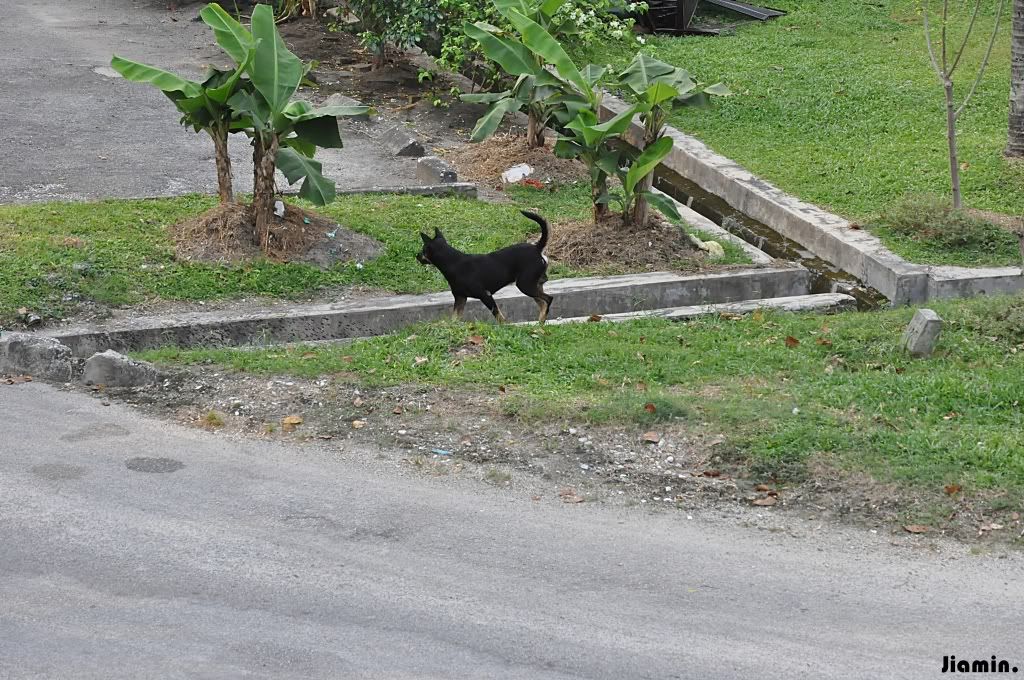 I've never been afraid of being here all alone even though I do be aware all the time, but the only things I'm afraid the most are the dogs around. They never attack anyone who passes by including motorcyclists, but I seriously couldn't stand having them around no matter where I go. Kah Mun just laughed at me today for bringing an umbrella as my weapon, not to attack the people, but the dogs.
My room's rental fee is RM600 per month but the only room without air-conditioner is slightly cheaper according to the landlord, but I don't know how much it is. One-year contract is needed to be signed with 2-month deposit, meaning the deposit I paid was RM1200. No individual bathroom is built because it is located on the second floor (starting from ground floor), hence the landlady decided to make it a female unit for her tenants' conveniences, which means only females are accepted in this particular unit. It is located just outside of Taylor's University; even though no security guard is provided, people who are staying around the unit are mostly workers from the university itself including security guards.
It is overall quite a good place to stay with so many conveniences around despite the food with expensive prices you could only get around the area. :D
P/S: One or two of the rooms are not taken yet, so be quick if you are interested!
Peace out!
x.