So as the day came, I was not being able to fall asleep less than an hour before the time that I planned to start preparing for departure. I left my place almost half an hour earlier with the
Badman
to pick up
Fahmi
from the campus and off we went to McDonald's to relieve stress. I lost my appetite with my mind filling with words related to Malaysia My Second Home, and that I only had a cup of hot Milo as my breakfast on that particular morning. I was stressed even though I've done memorizing my entire script, because I was afraid of forgetting my speech when it came to my turn; it was all about figures and abstractions instead of an object.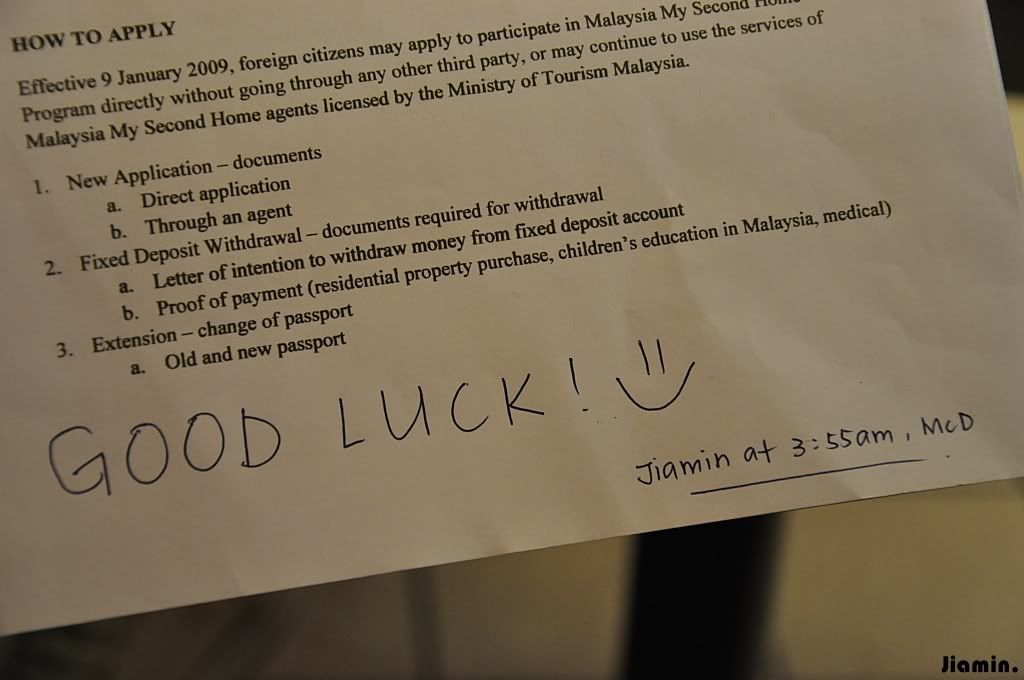 By writing a few cheerful words on my script, it helped to mentally support me to bits whenever I looked at it. ;)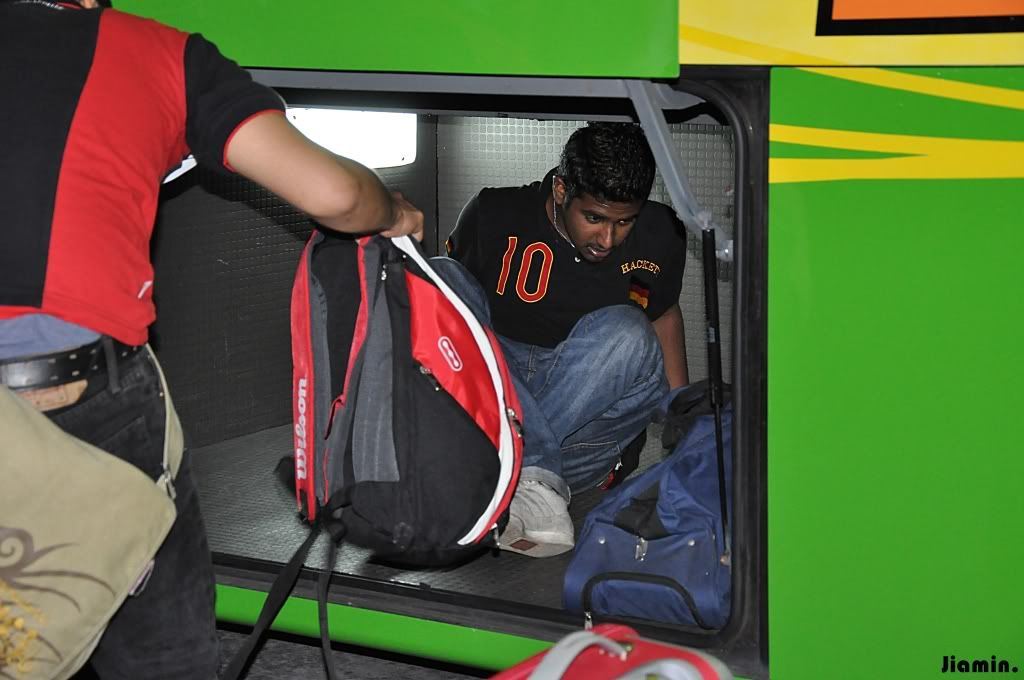 Being a transportation leader, Theeban had done really good job by arranging the luggage this way; this photo would never stop people from laughing themselves into convulsions. :P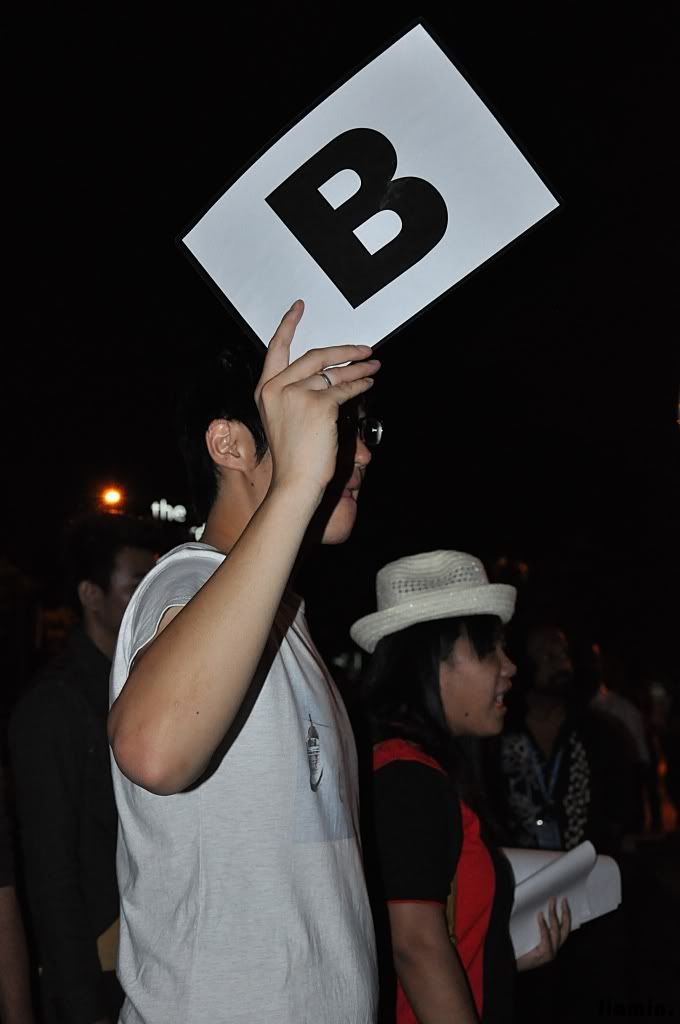 Before departure, the organizers were busy ushering the participants to board the buses, running around with name lists in hands, shouting as loud as possible without using any additional loudspeaker like some fools, and any other things that we ought to do. Being the only photographer of the trip, I was told to do whatever some of them needed me to help out before I could start my job.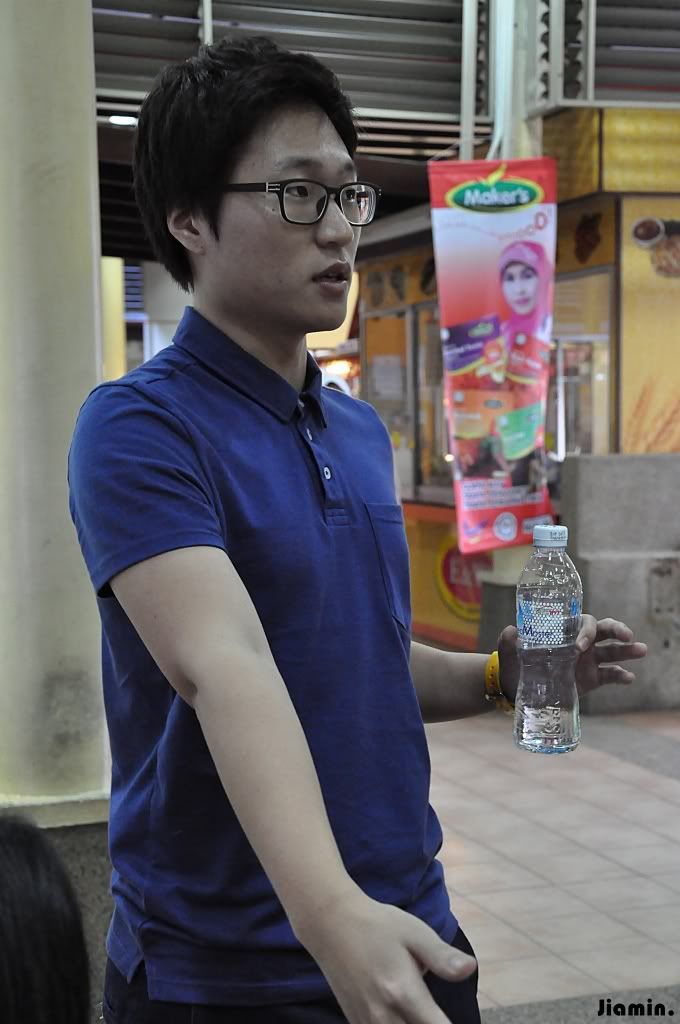 Once the bus started moving, the lecturer, Mr. Nantha, immediately started off the commentary practical exam with Krissie being the lucky number one. This had never been stopped from the beginning of the tour until the moment when we were about to reach our final destination. I was surprised that I actually fell asleep on the bus before it came to my turn due to the lack of sleep on the previous nights; fortunately I was still able to do it smoother than I expected.
By the way, before we arrived at Seremban Rest and Relaxation, I was attacked by carsickness which I rarely have it because I was sitting right behind the bus driver at the moment so that I could take photos of the people while they're doing their commentaries; again, that was what Mr. Nantha wanted a photographer to do on behalf of he himself.
Mr. Nantha had his reason why the seniors and the juniors were arranged to be in the same bus that had no entertainments at all throughout the journey from Taylor's University to Desaru. Pity the seniors; they were sleeping comfortably while we were panicking about the upcoming commentary.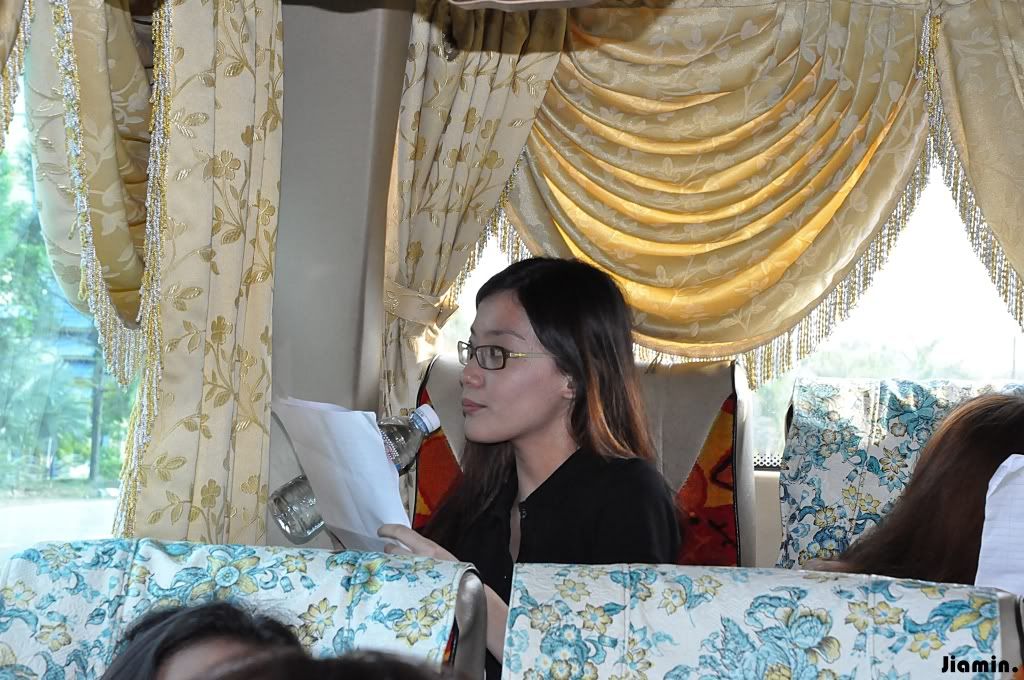 Aissa was spotted to have been talking to the window with a bottle of water in her hand for more than an hour, according to Mr. Nantha. :O He asked her, "Aissa, does the window talk to you ah? Hahahahahahaha!"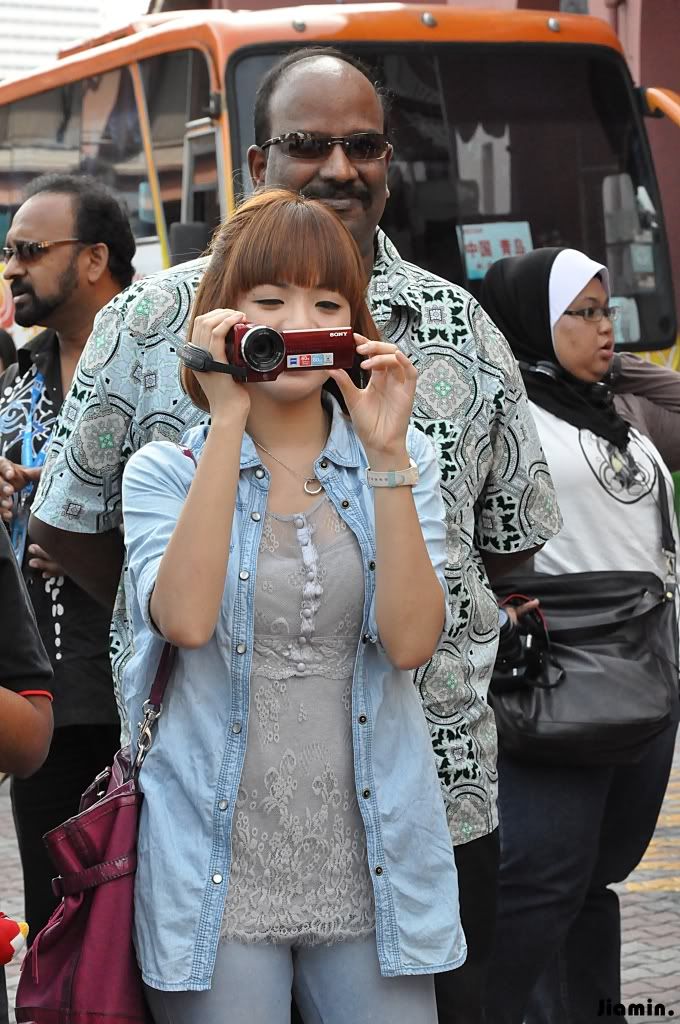 Here comes the videographer of the tour, Datin Alia! :P Please say hi to Mr. Nantha standing at the back and Malacca, the first destination of the tour.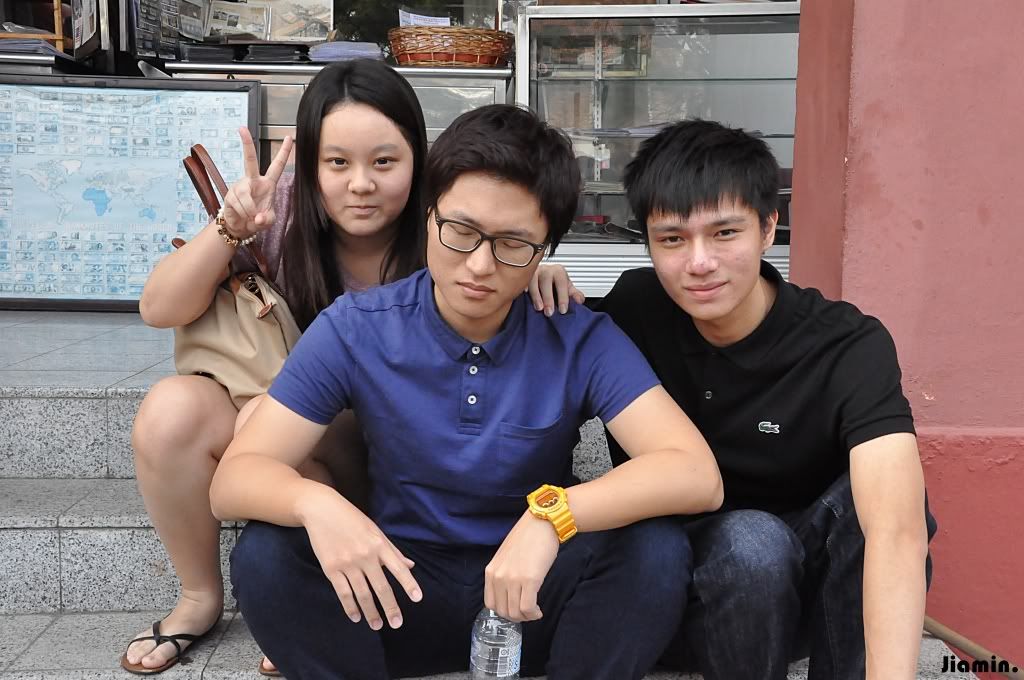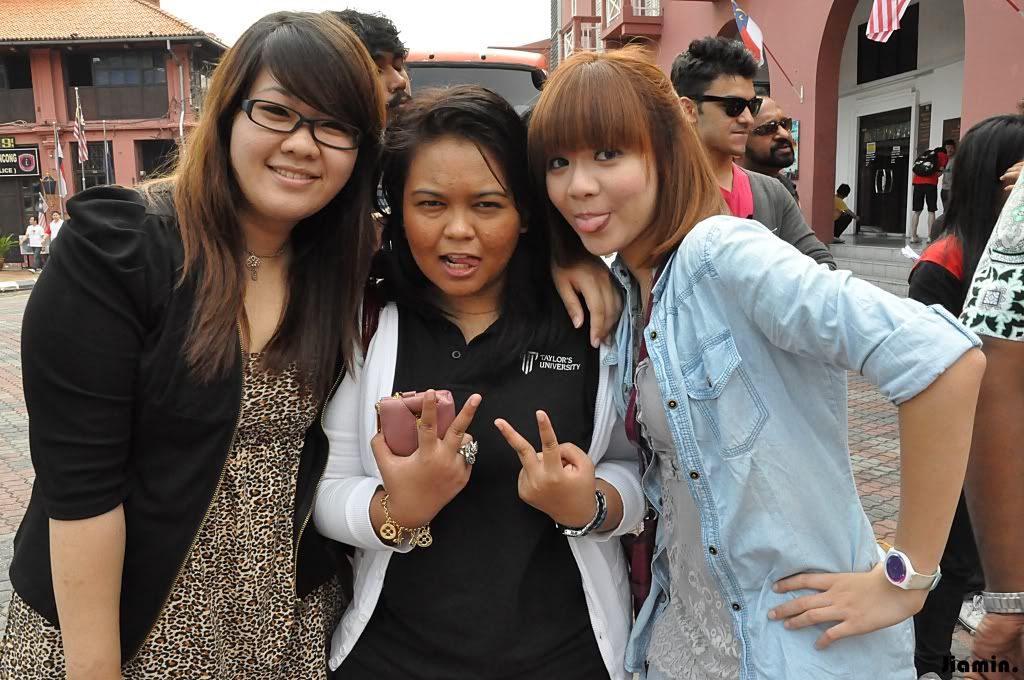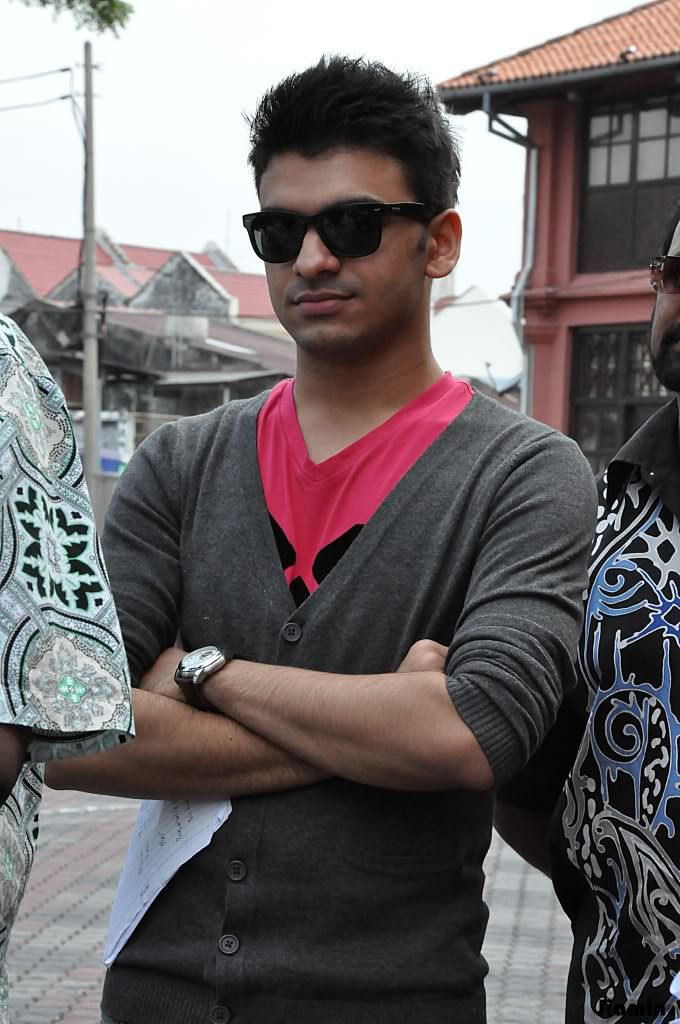 I personally think that this was indeed an epic due to the way he posed naturally without realizing I was taking photo of him. Everyone shouted whenever they saw this photo; now I'm proud to be his so-called daughter. Hahaha! :D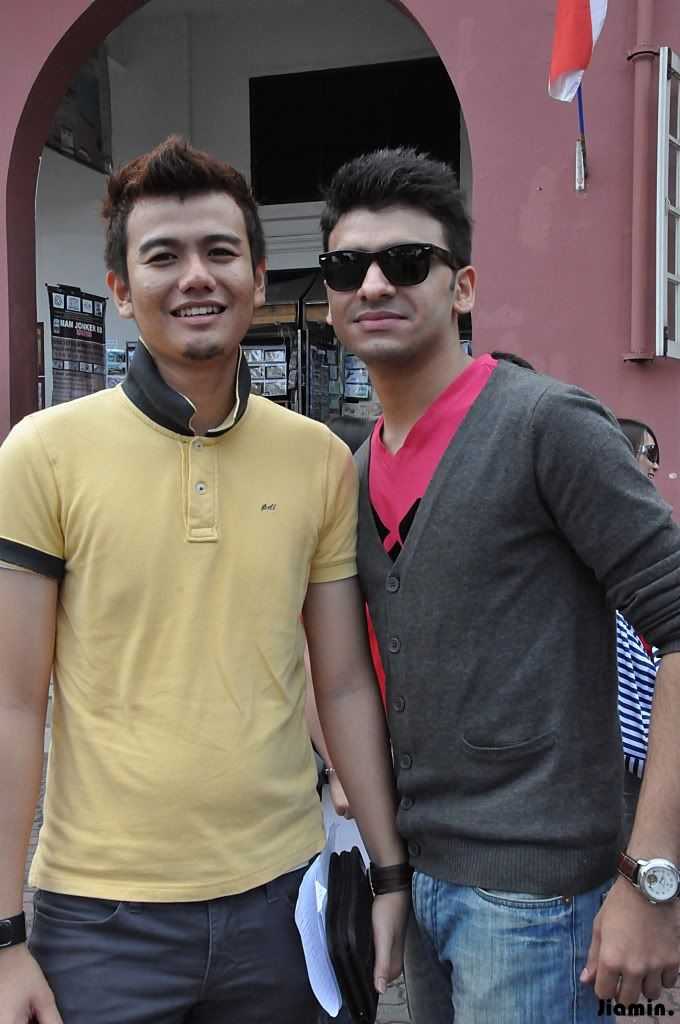 Tired or exhausted faces could actually be clearly seen in those photos above.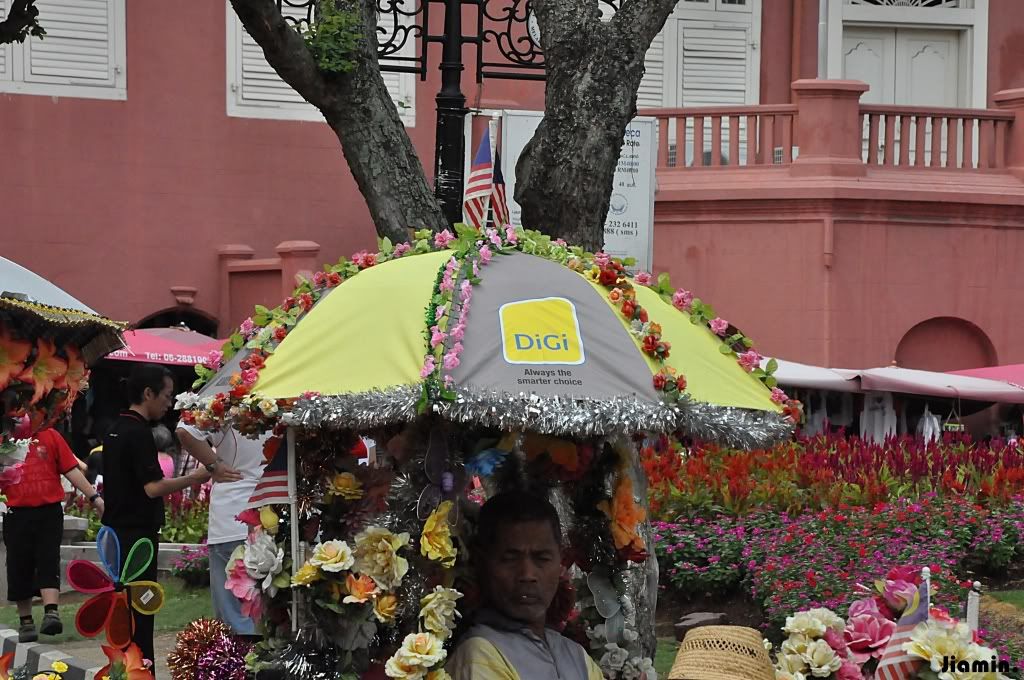 Was he doing some advertisement for DiGi? :P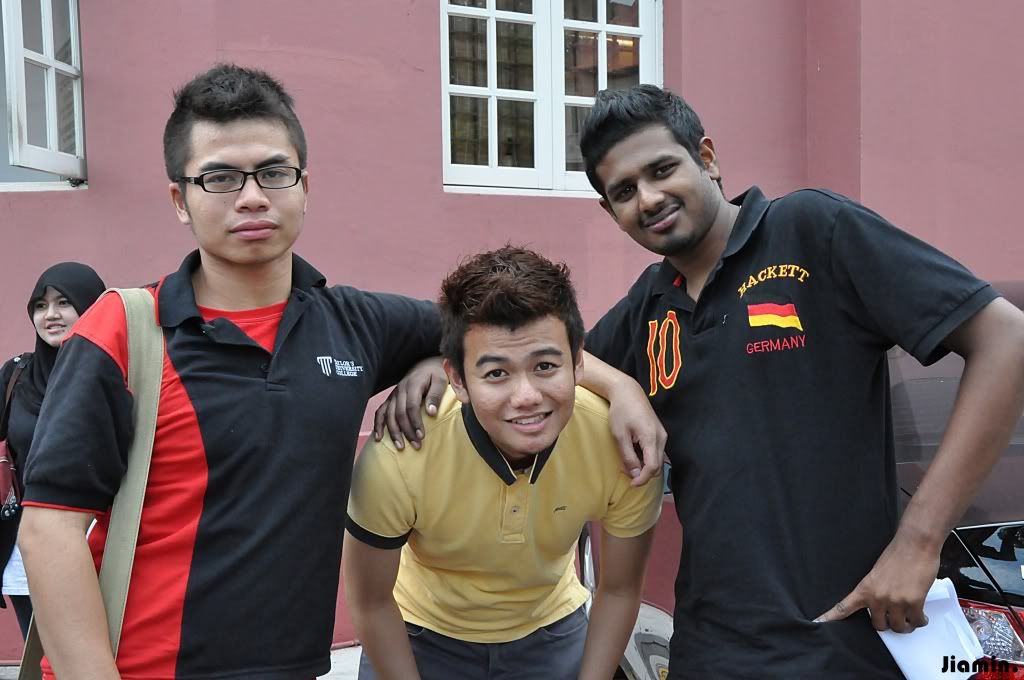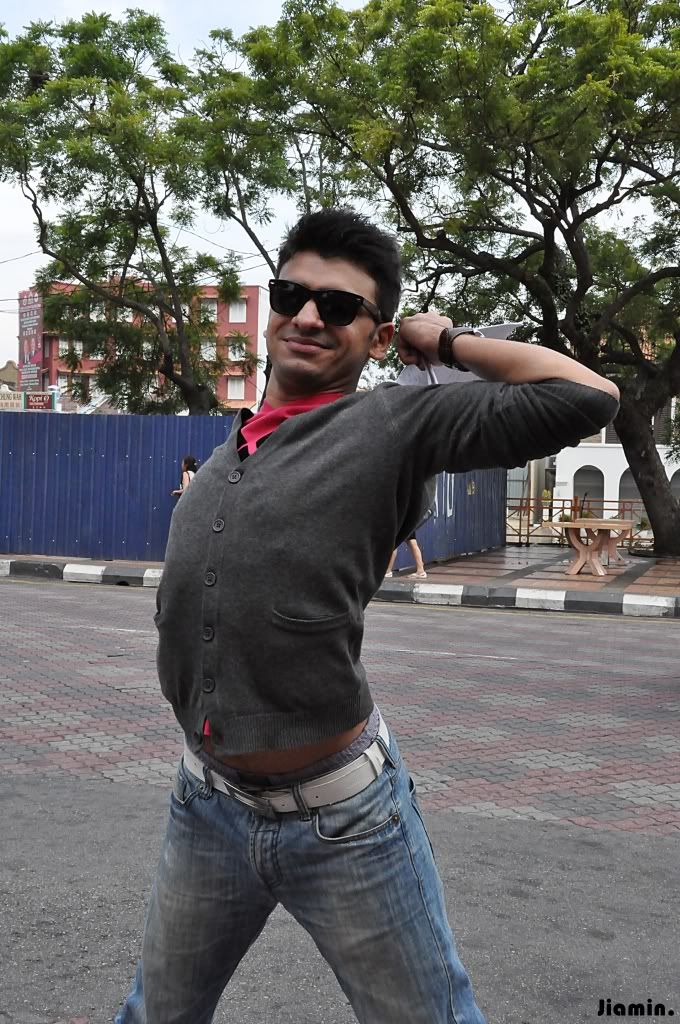 He claimed that he looks fat in this photo but I was the first person to strongly disagree with what he said.
Everyone started to move on from Christ Church to St. Paul's Hill for the rest commentaries. Have you ever realized why all the photos taken were all about my classmates only? In fact, the passengers from Bus B and Bus C had already started walking around the town upon arrival instead of waiting for us, except for the tour guides.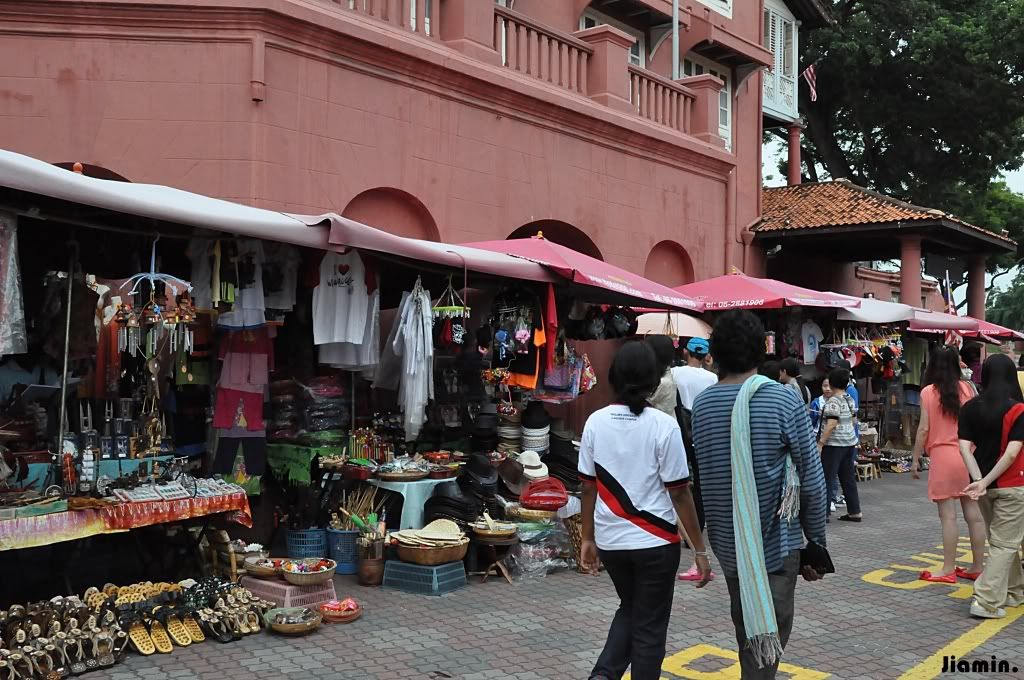 Stalls selling souvenirs could be seen along the way to St. Paul's Hill.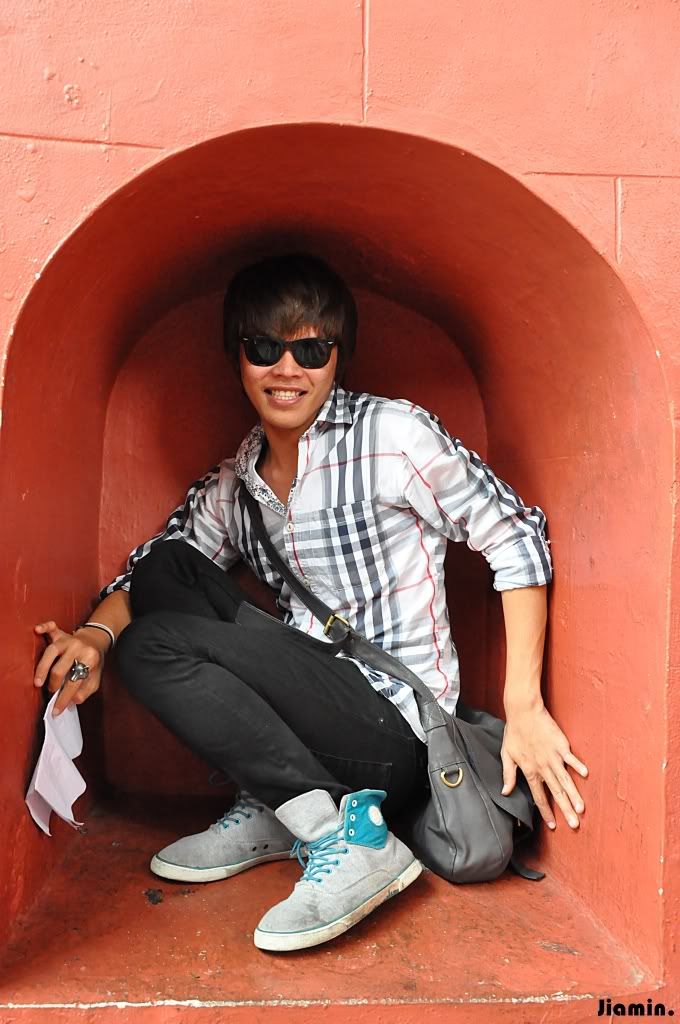 Robert urged me to take a photo of him because he was too shy to be laughed by the classmates who were passing by.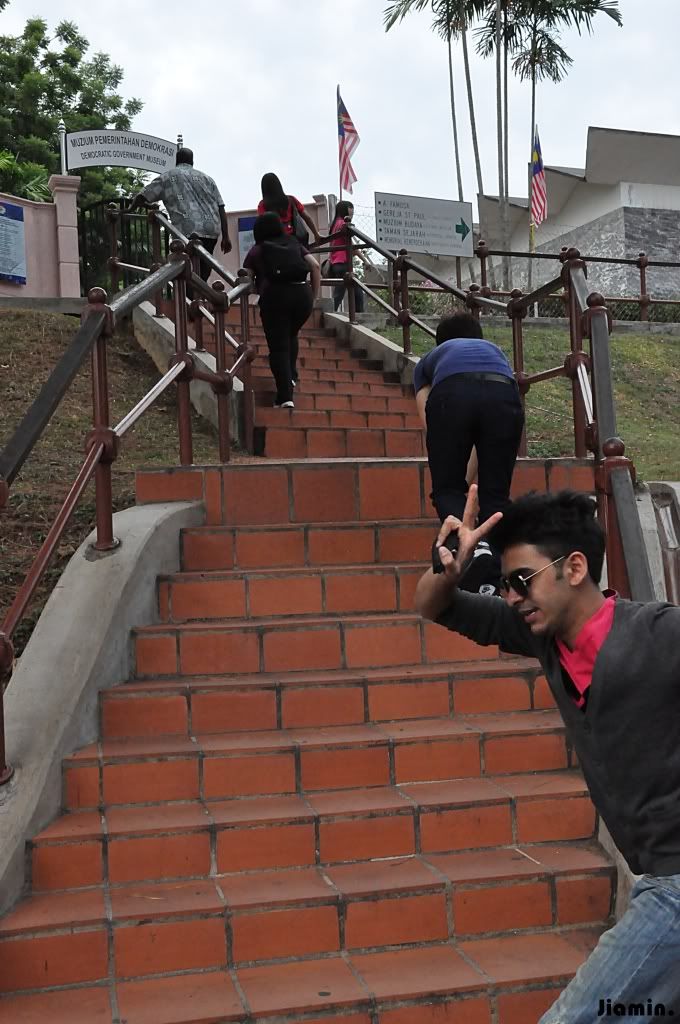 We're on the way climbing up to the hill. Sorry papa, you're too late but, nice pose. :P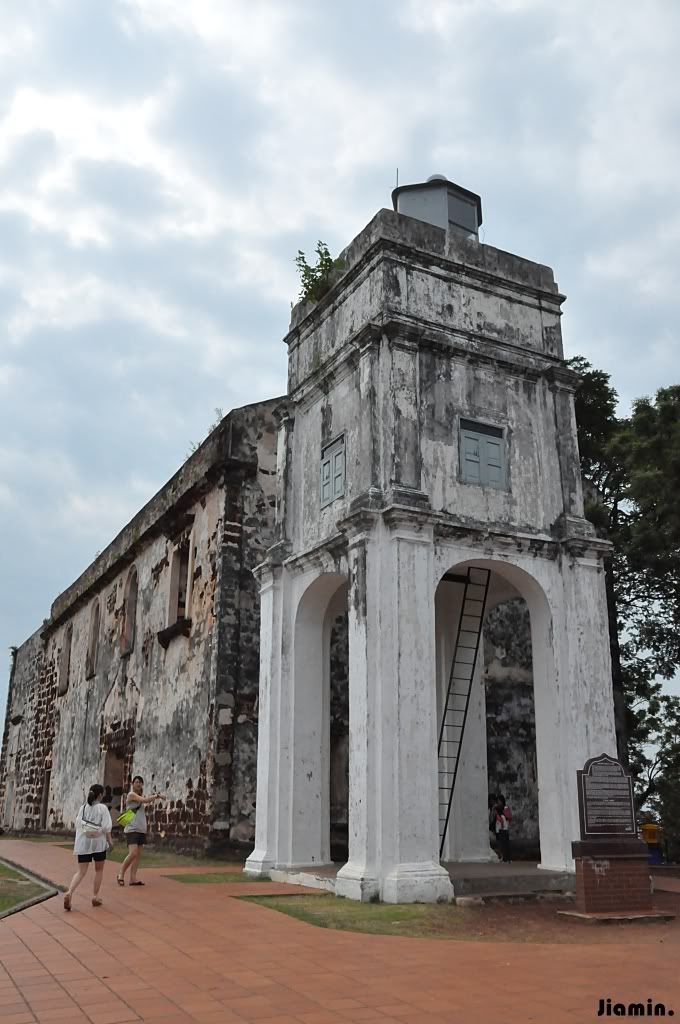 Everyone was panting for breath once we stepped on to the top of the hill and met St. Paul's Church.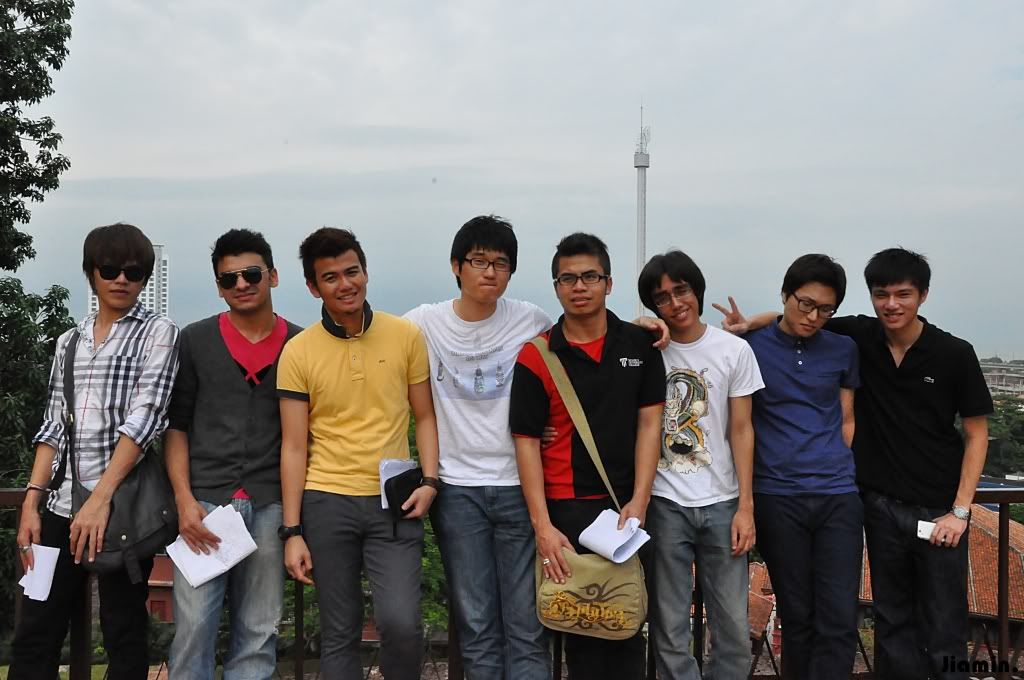 We're not anymore 1Malaysia; we're the world! From Indonesian to Singaporean, to Malaysian, to Korean, and to French, we all came from everywhere around the world. :D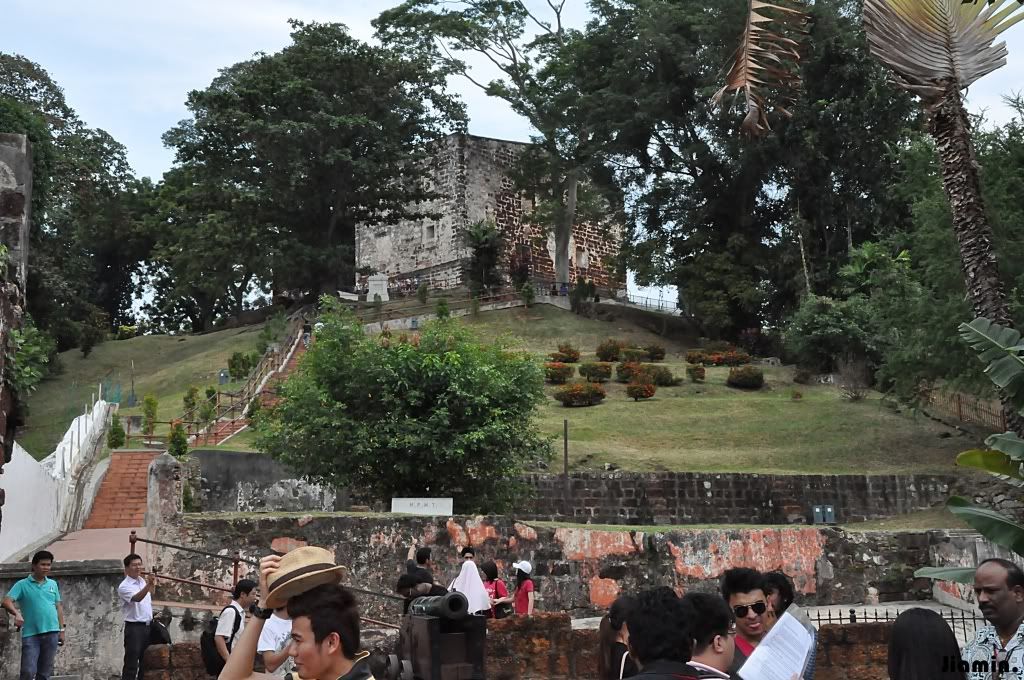 That was part of the St. Paul's Hill taken from the bottom where everyone was complaining about the scorching hot weather.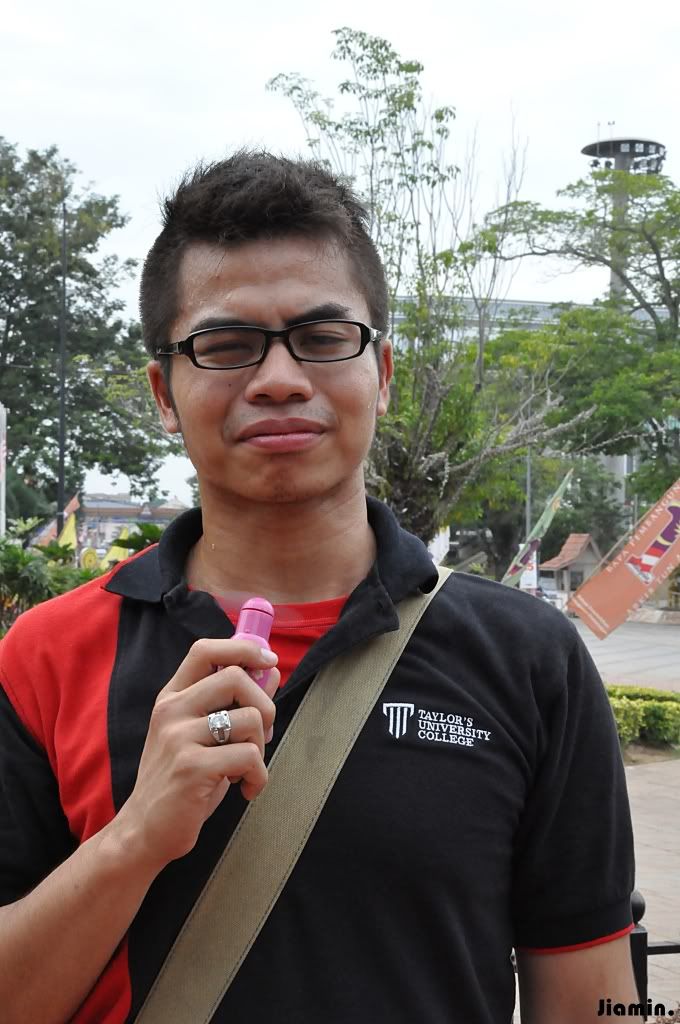 Judging from how Fahmi had been sweating throughout the journey in Malacca, you know what I meant. :O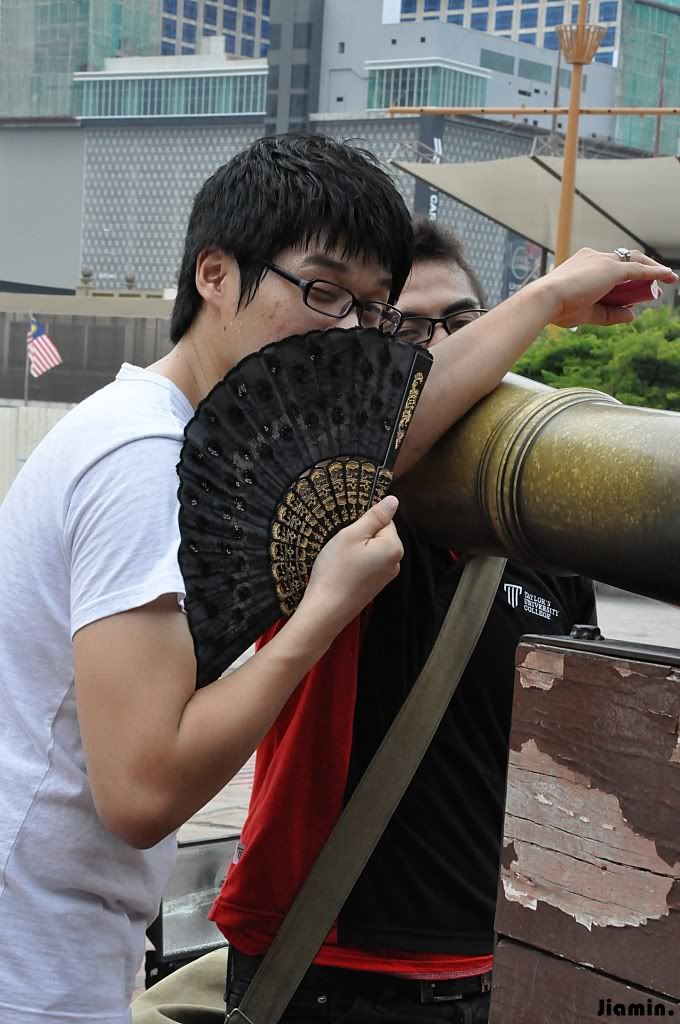 They loved the cannon so much. :|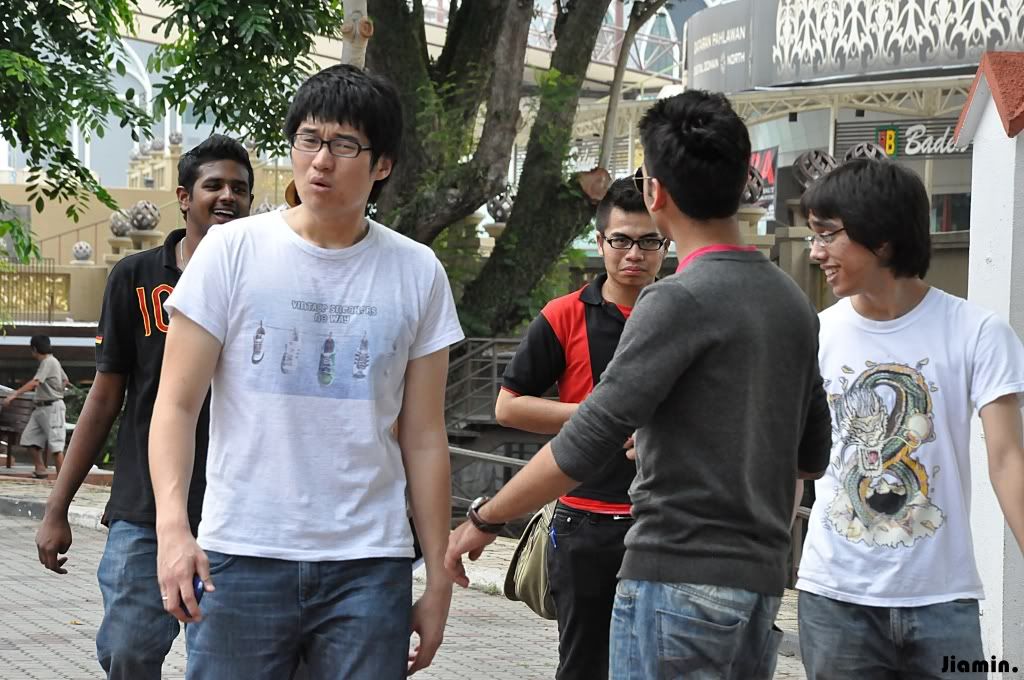 We were heading to the Jonker Street. I wonder how papa stood the heat with his sweater on until he passed it to me only after arriving at Sri Poyyatha Vinayaga Moorthy Temple located somewhere in the street.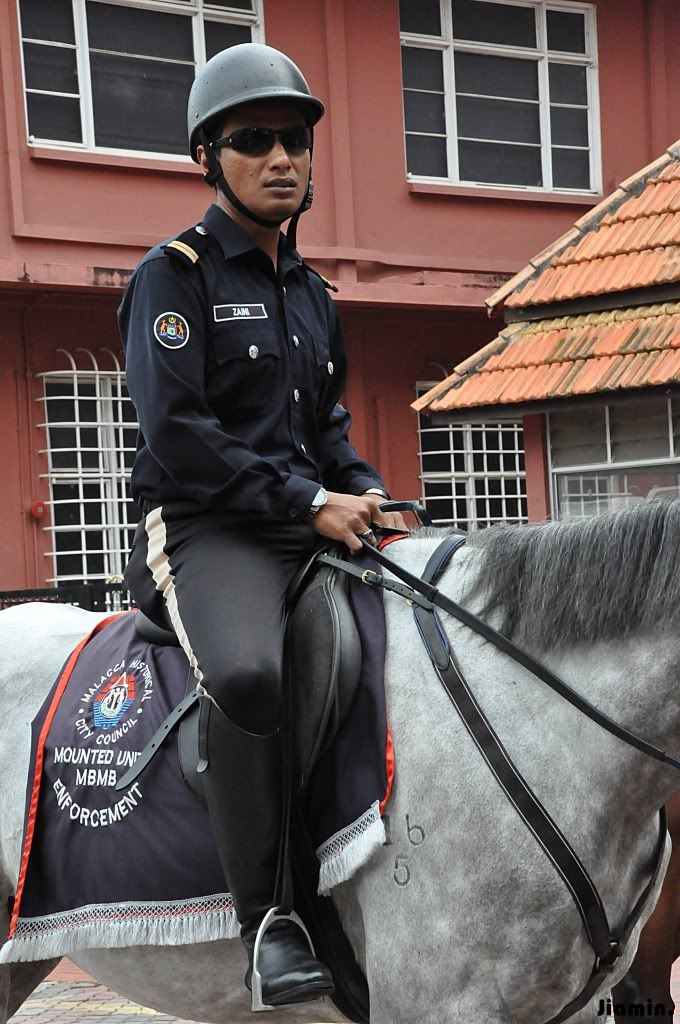 We met two patrolmen riding a white and a brown horse respectively while walking towards the Jonker Street, and they actually looked at my camera when I was taking photos of them. Hehe!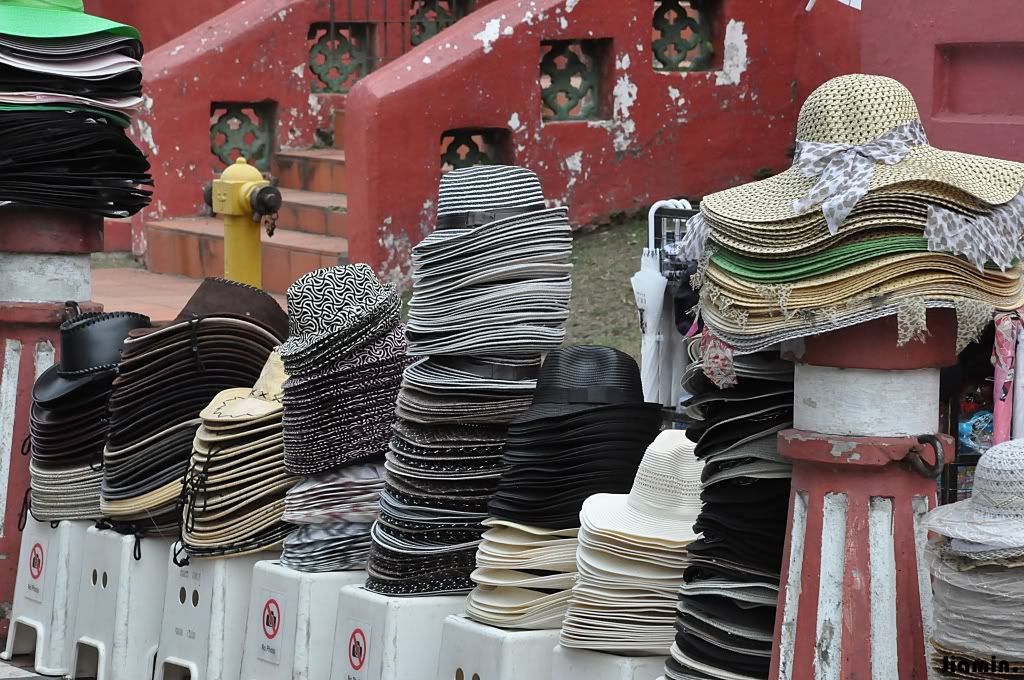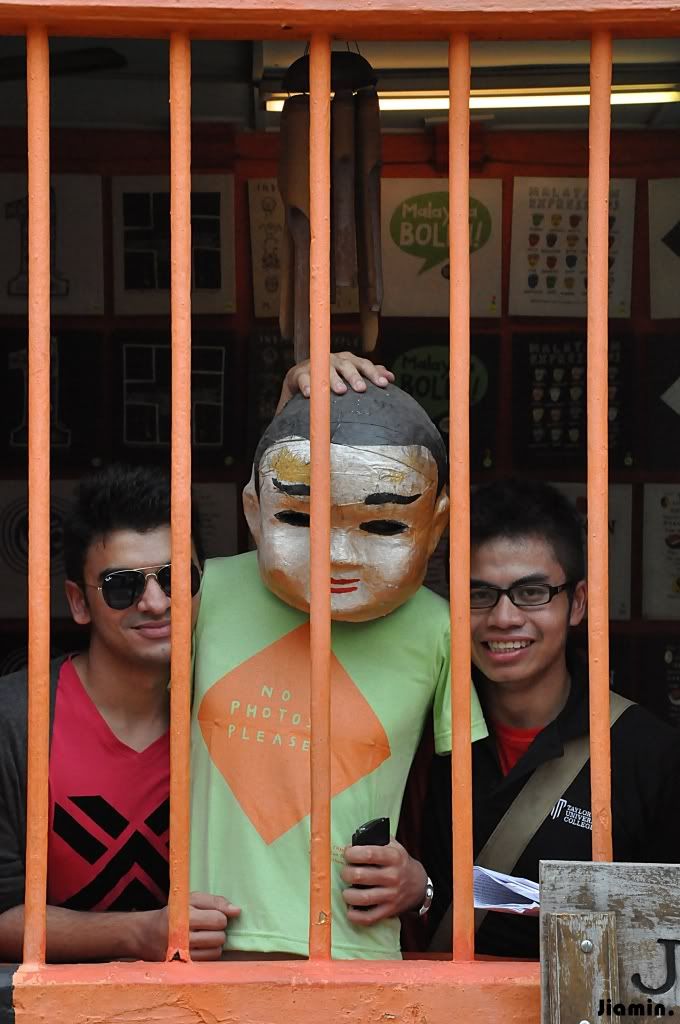 It's funny how these two guys immediately ran into the shop to take photo with the doll once they saw him. A much better photo should have been taken but due to the traffic around the area, the plan failed.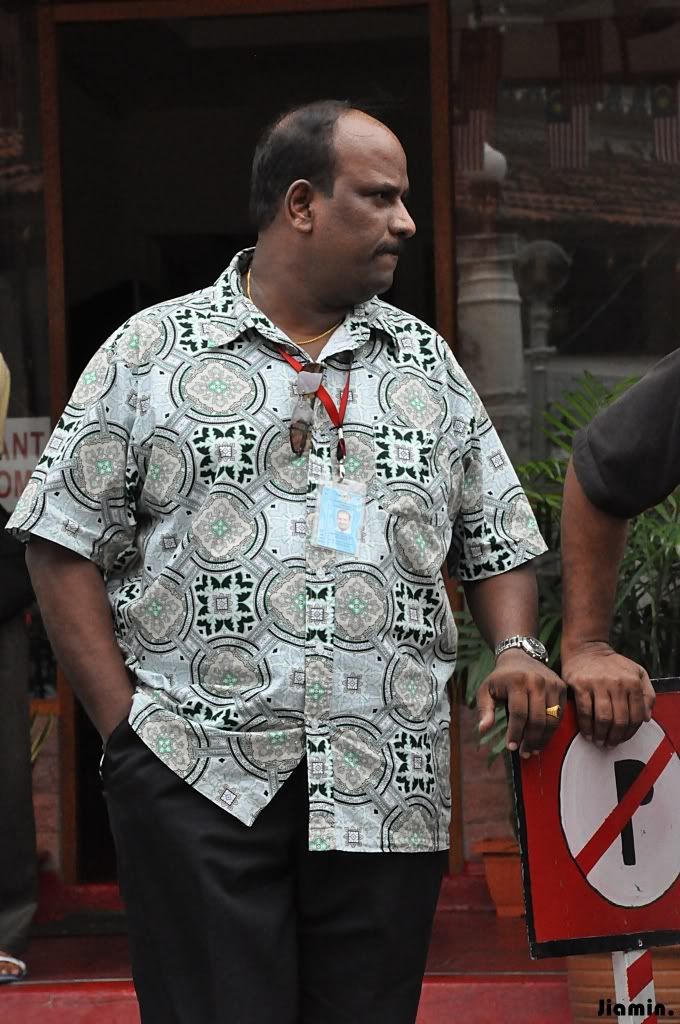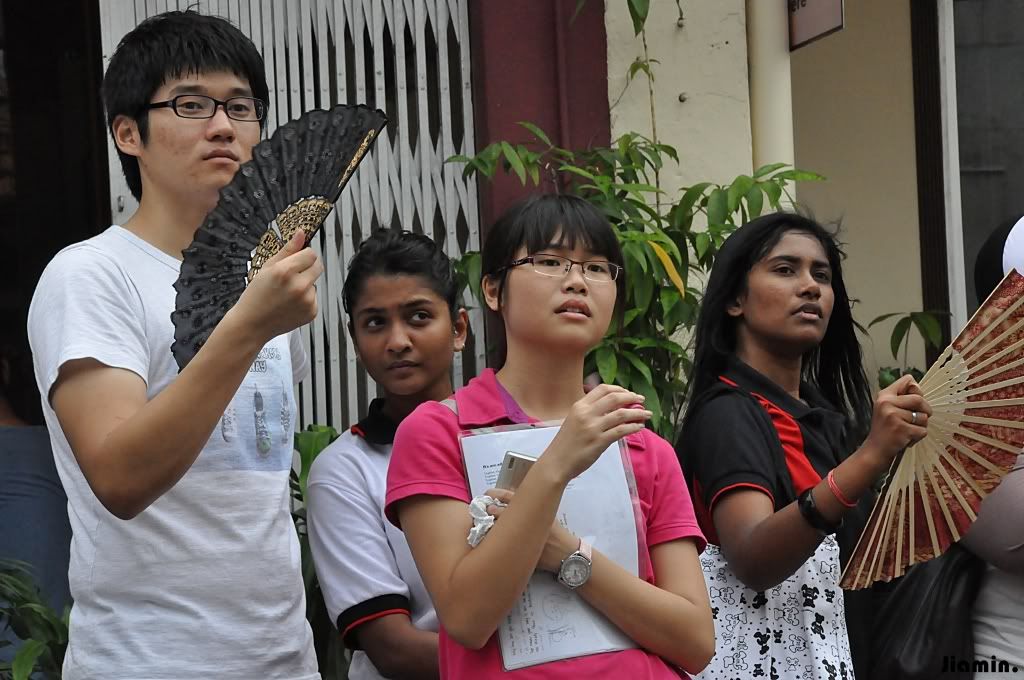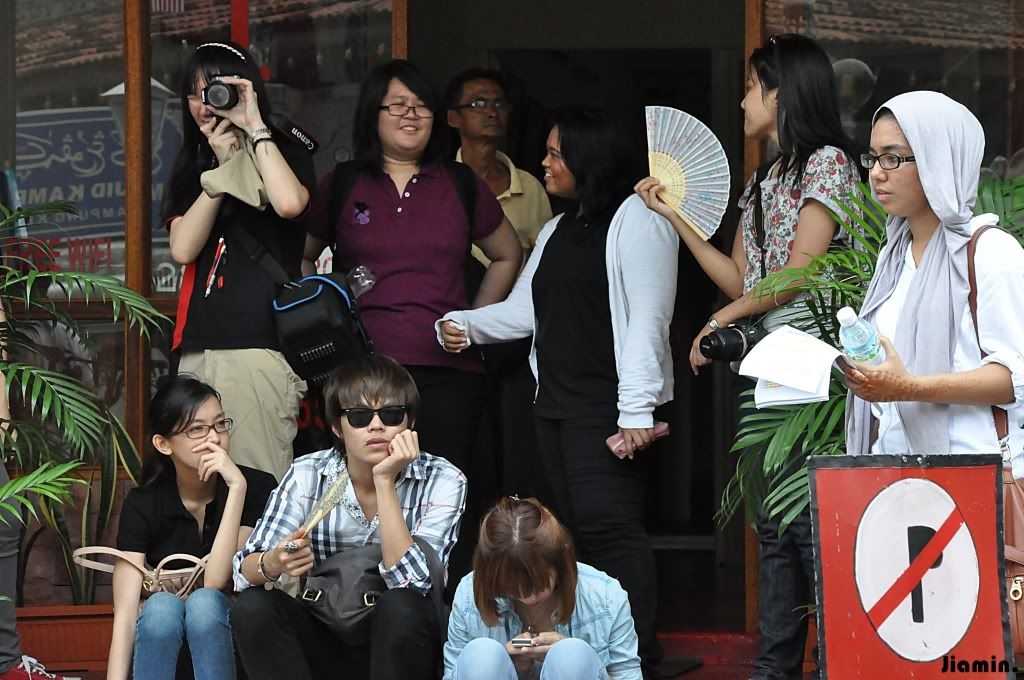 Please sense the weather condition of the day through the photos above. D:
When Steven was doing his commentary right in front of Sri Poyyatha Vinayaga Moorthy Temple, Theeban was fanning him because of how he sweated throughout the approximately 15 minutes. Haha!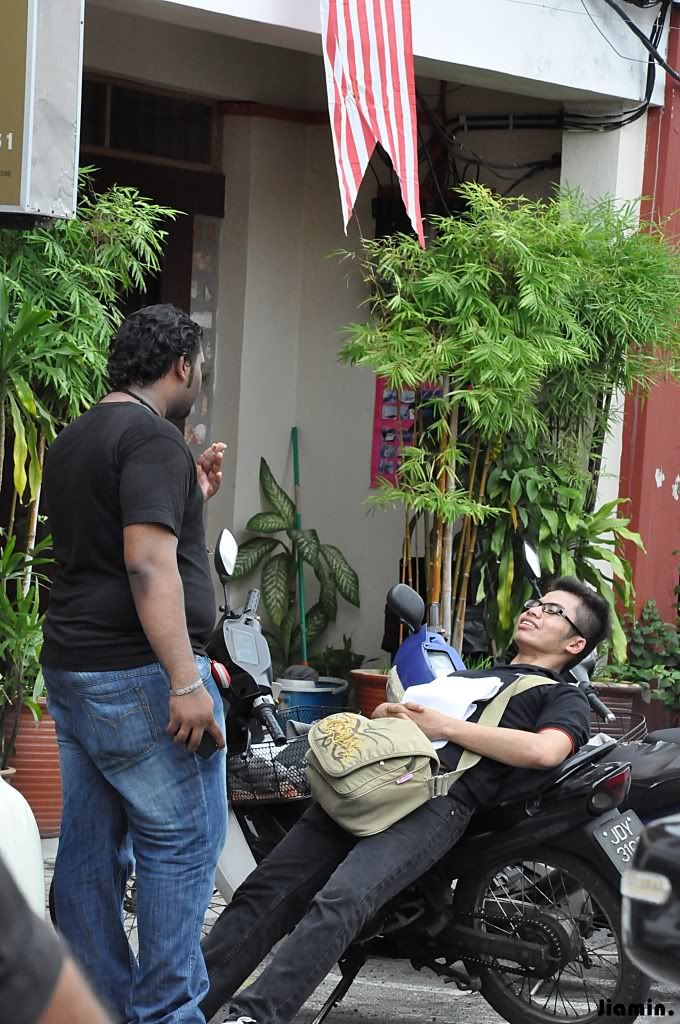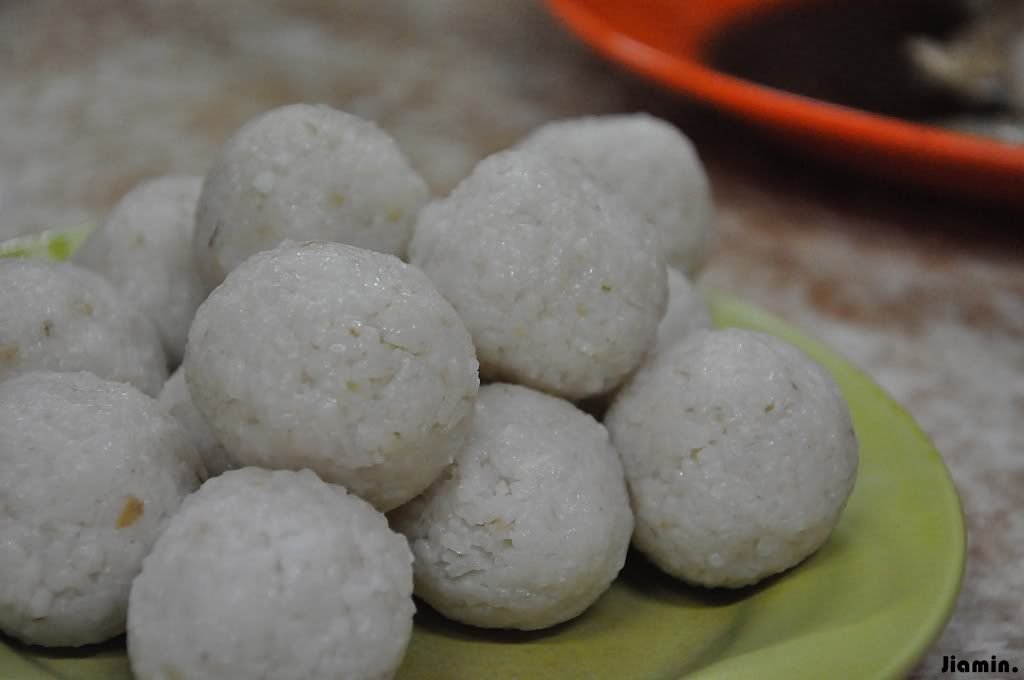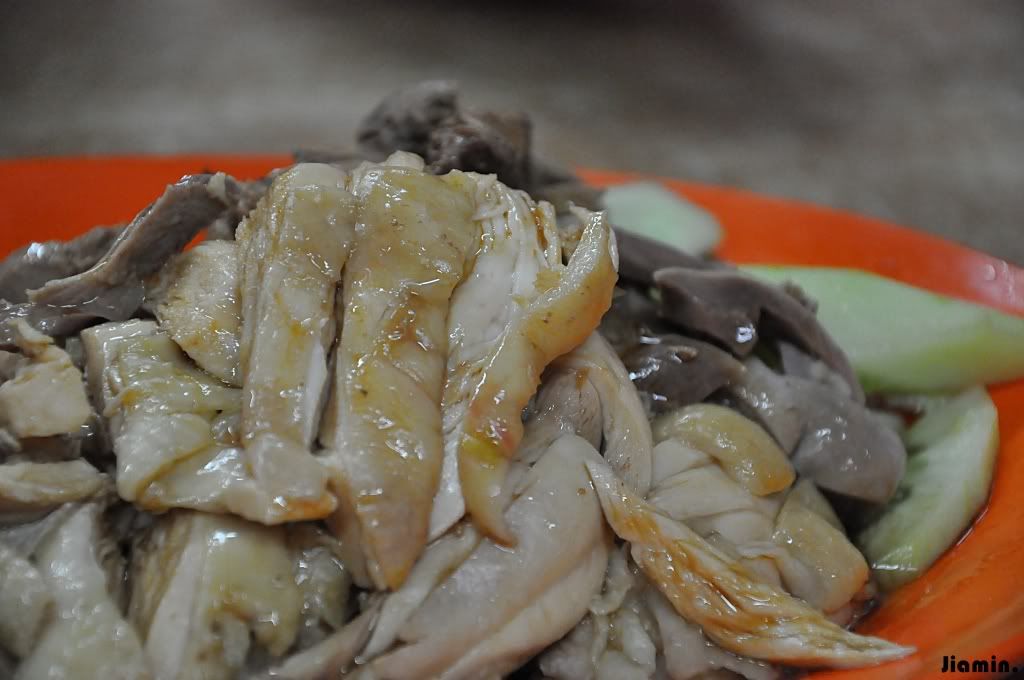 We were provided chicken rice balls and tender boiled chicken with soy sauce as our free lunch of the day in one of the restaurants along Jonker Street. Truth to be told, it was just like any ordinary chicken rice instead of something special.
People, meet the person who carried my laptop throughout the trip in Malacca and walked alone pitifully because his girlfriend was one of the organizers and was not allowed to leave the group.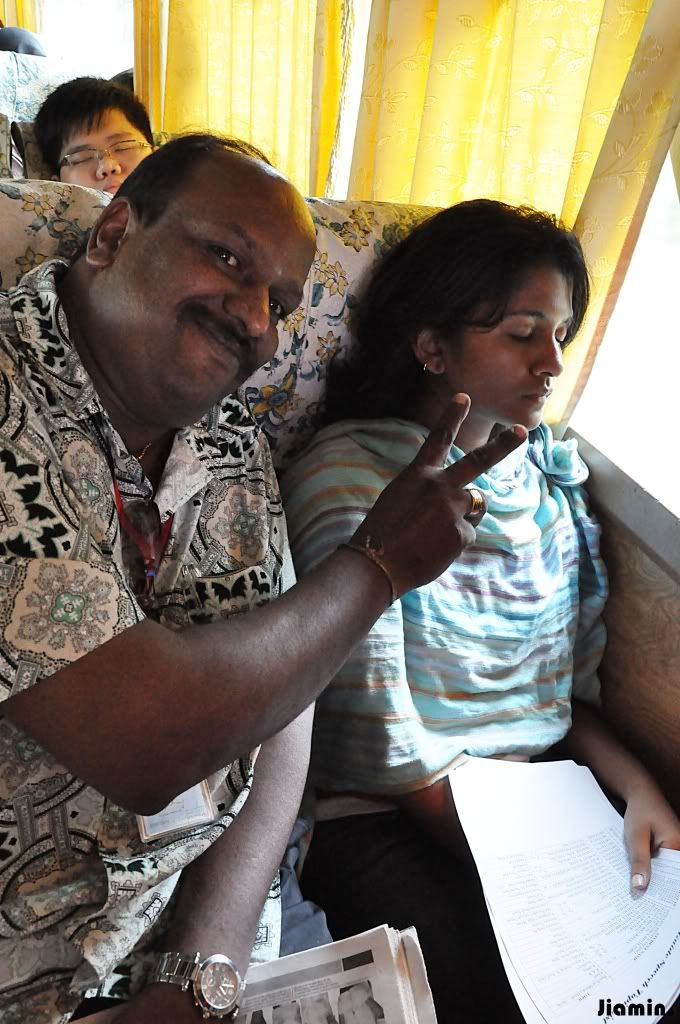 To gather all the passengers of two buses at an area with heavy traffic was a nightmare without any loudspeaker. I was forced to place the job aside and leave with Bus A because buses were not allowed to stop off at the area. Our journey continued with a few breaks in between, until we finally arrived at Lotus Desaru Beach Resort, Desaru. That was when our commentary ended, and when we organizers started to run around for the dinner of the amazing night.
Stay tuned! :)
x.