Good day folks! It was yet another ordinary weekend when I was told about Gong Gong a.k.a my grandpa's ninety-second birthday that we would be celebrating on 4th of December, 2011 in Mentakab, Pahang. Knowing that I could rarely meet my beloved old man of my life and the fact that he is advanced in years, I agreed to spend the wonderful Sunday together with my extended family with the Badman tagging along. Honestly, I was bored as usual almost throughout the entire afternoon before the celebration, that I decided to take a little nap before leaving back to home, I never regretted going back to meet everyone whom I missed very much especially the cousins.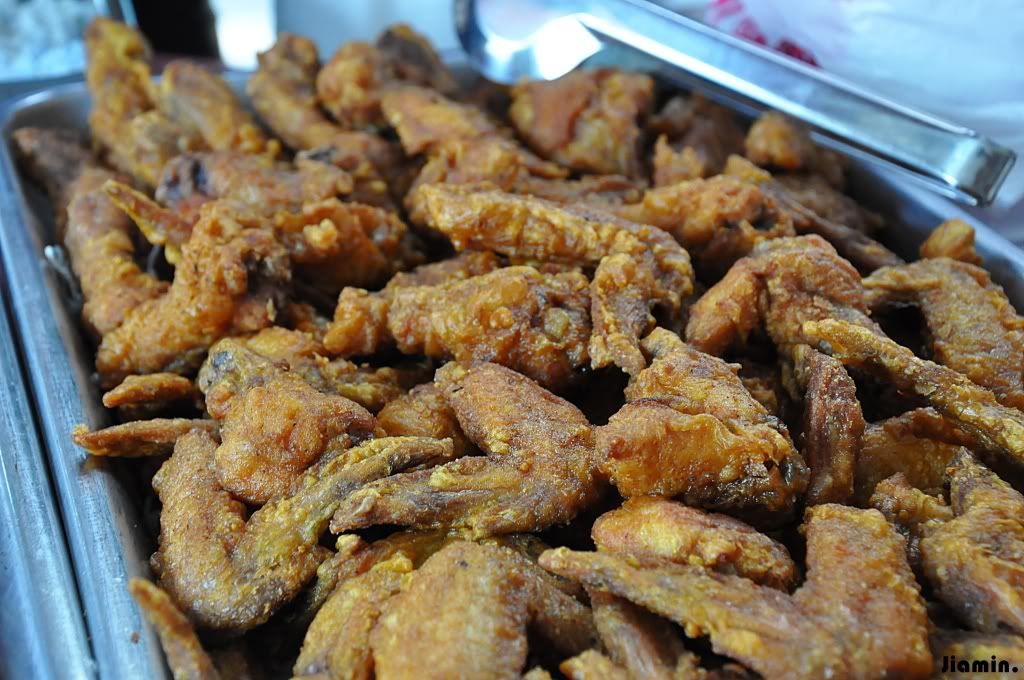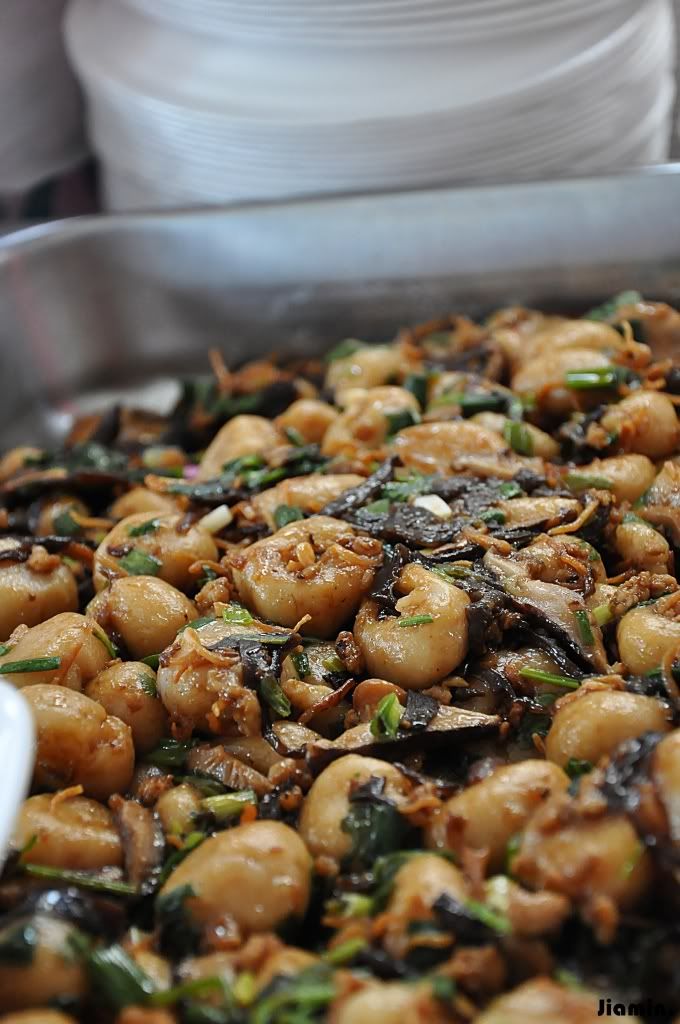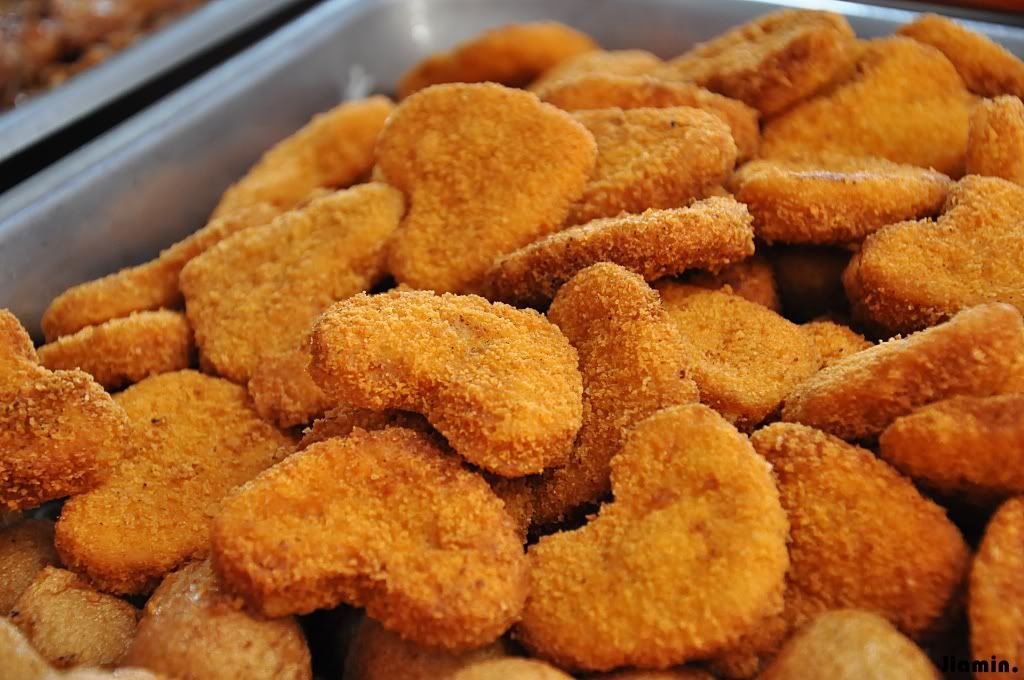 Unlike the previous celebrations when the housewives spent their noon in the kitchen preparing some delicious dishes, or when the younger people went out to buy buckets of fried chickens with some mashed potatoes and coleslaw from KFC, we ordered from outside to save the troubles. I'm not sure about which company or restaurant the elderly ordered from, compliments were given to most of the foods served despite the amount of plastics and polystyrene we had wasted.
That's my cousin brother being caught stealing a piece of chicken nugget by my younger cousin sister before anyone else started eating.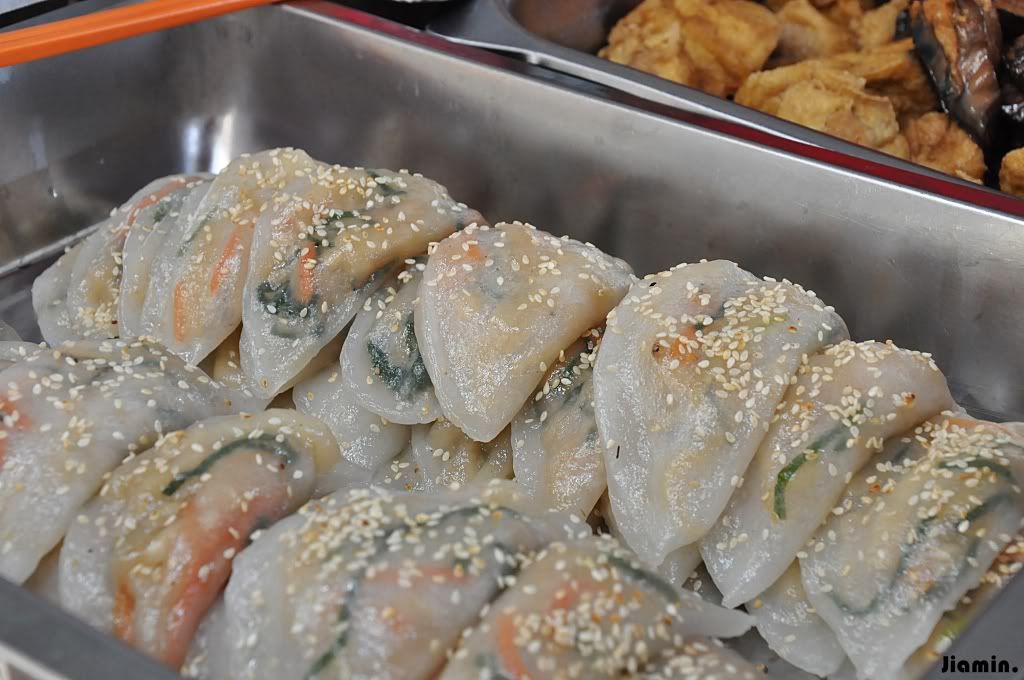 The curry chicken was one of the most awesome ones I have ever eaten in my life besides my mum's as one of the compulsory dishes during Chinese New Year, even though it was slightly too spicy. It was served together with some yellow ginger rice that was a little hard for the housewives' liking, yet it's still so tasty.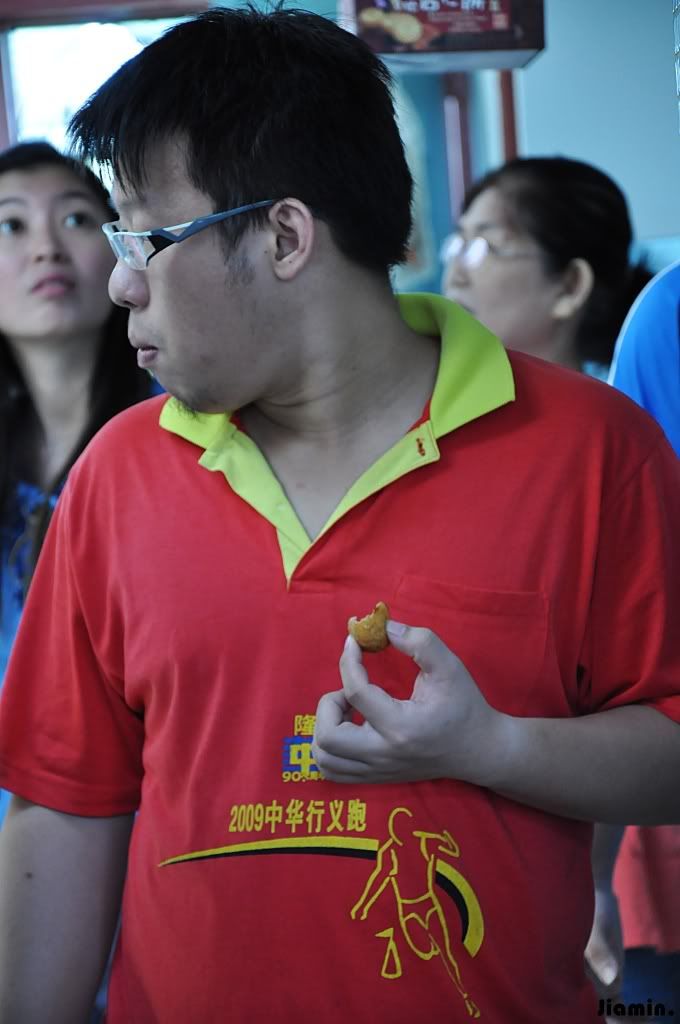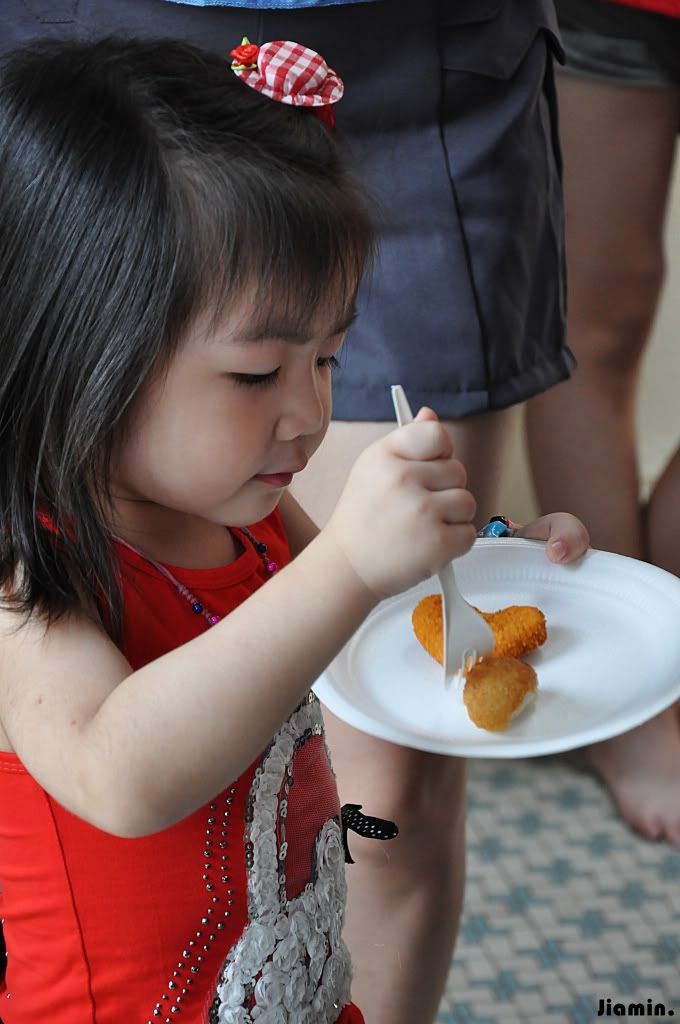 She's my niece, whom we used to call her a lotus rhizome while her younger sister was known as a pudding. :P
They're the main characters of the day, my beloved grandparents who are of 92 and 85 respectively, with around 10 children in total.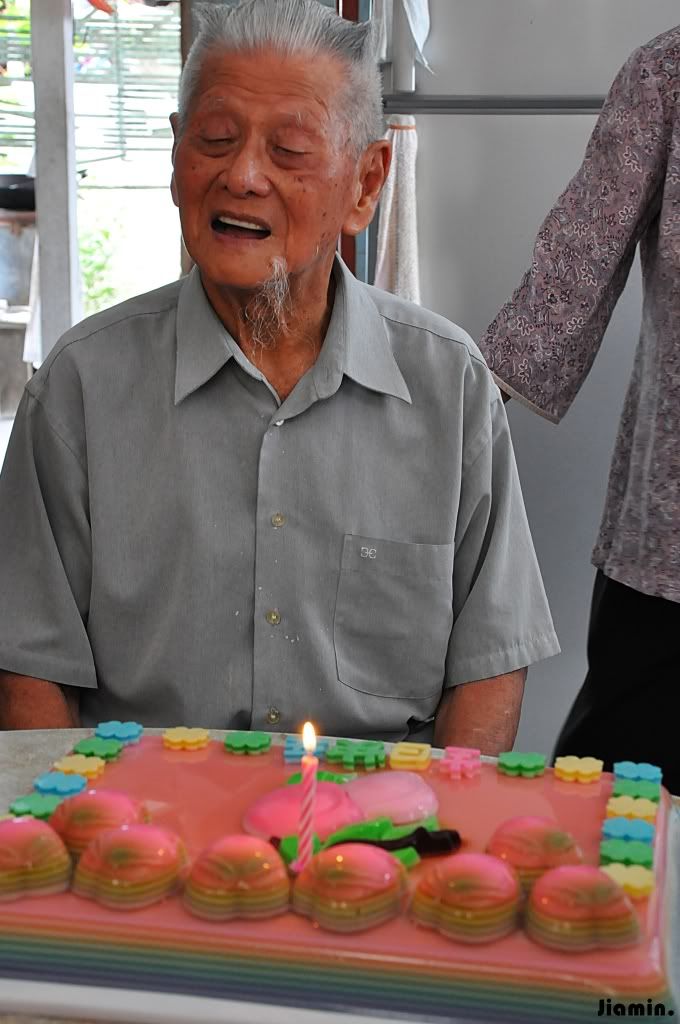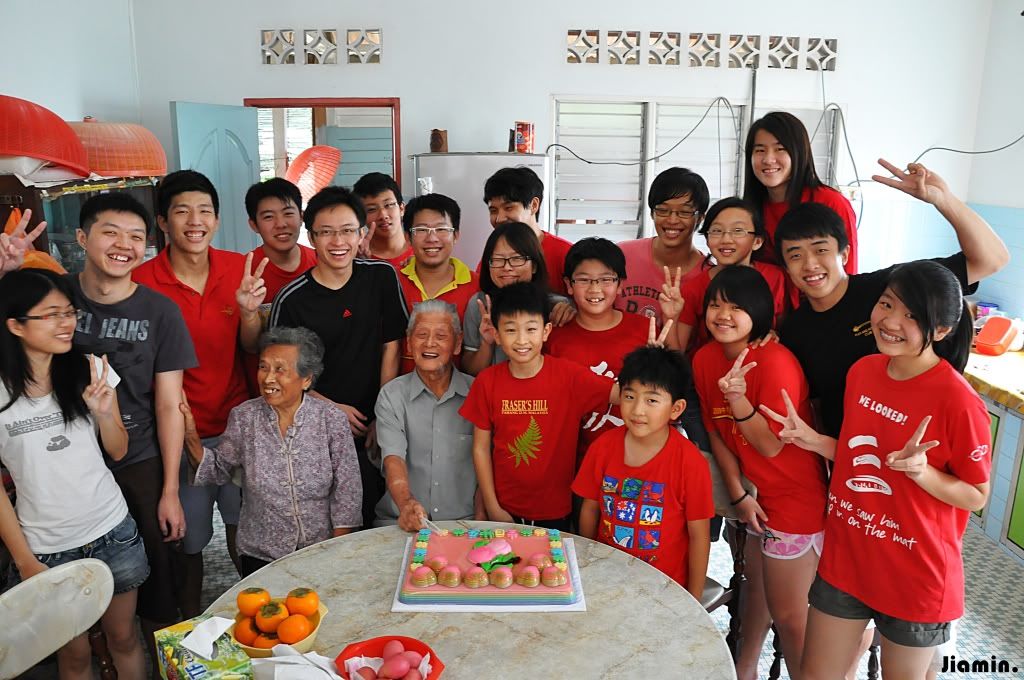 In case if you're wondering, there wasn't any theme announced but most of us were in red simply because it was such a special day; heck, how often do you get to find an elderly of above 90 nowadays with such a healthy body? Here's to present you the photo of the grandparents and the grandchildren, and the photo of the parents and the children and partners of lives. I really love looking at the happy faces in the photos which represent happiness. :D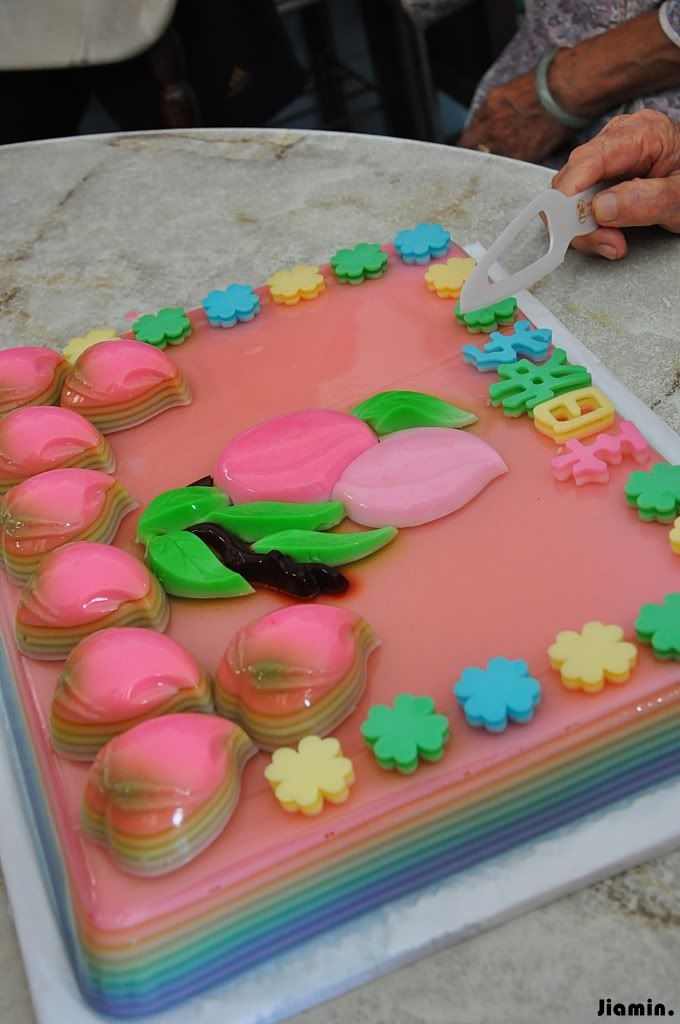 According to my youngest aunt, the jelly cake was specially designed and ordered online to celebrate the big day of my grandpa, which to be honest, it was so freaking delicious that I couldn't resist but to stand beside the table to grab as many as I could even though my tummy was already filled with the lunch I had previously. I was fortunate enough to still be able to have some durians as well after that.
Sense the growing fatness!
We stayed in the house to chill a bit before we started moving our asses off in the evening to arrive in Kuala Lumpur at night, and I spent that few hours lying on the
Badman
's laps for a good nap until half an hour before we're homed.
Despite the boredom without any internet in the house, not even any fun I could have around the area, I would never regret going back to my hometown just for the grandparents even though I used to complain a lot a few years back, which I found myself pretty childish at the moment. It's been quite a while after the celebration; I would still like to wish my grandpa to be as healthy as he always is, forever and ever.
I love you,
Gong Gong
! :D
♥
x.