HAPPY NEW YEAR! :D I intended to clear all my pending posts in 2011 initially; very much thanks to all the happening days and nights that I couldn't fulfill my wish at the end, which pretty well explains the procrastination beyond the year. Never would I want to give up proceeding though, to at least get things completed before my classes resume on the next coming week. Hopefully my dearest readers, if there is even any I suspect, are still being as supportive and stay together with my blog until no end. ;)
This trip to Singapore was planned as early as August 2011 but things just couldn't be decided that soon that we ended up making all the related reservations at the very last minutes, with only 5 persons including me myself joining at the end. Surely, problems occurred everywhere since the decisions were made, from transportation to hotel, and to fears of getting lost in the foreign country, we still managed to come back in one piece in two separate ways.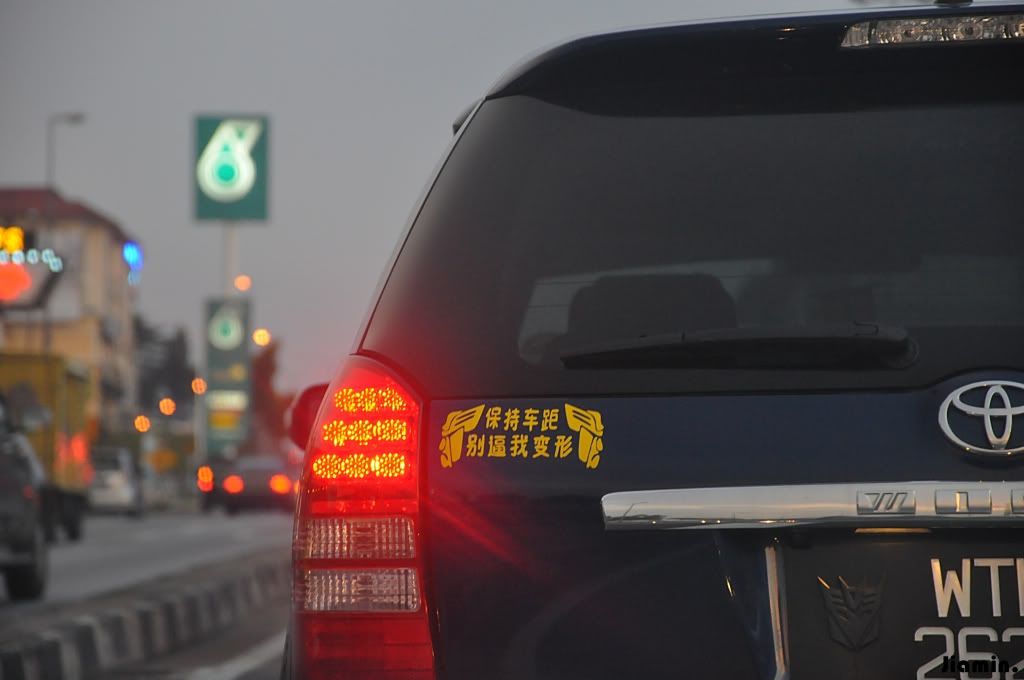 When we decided to depart on 9th of December, 2011, being like any other ordinary Fridays when the
Badman
had to attend classes, we decided to depart at night while
Shannie
,
Peily
and
Robert
were already enjoying themselves in Singapore. Our tickets were not purchased until the day before when we finally found the best bus schedule with the best fare, and we immediately booked online via
busonlineticket.com
.
We rushed all the way back to the Badman's house right after he finished his classes without getting any meals, for him to get prepared before his mum sent us to a nearby LRT station; it was known as one of the best ways to avoid traffic jam. Surprisingly and unbelievably, we took only less than 10 minutes to arrive at Terminal Bersepadu Selatan (TBS), with an extra one hour for us to wander around the building after dinner at KFC. Their Zinger Burger was so disappointing in my honest opinion, as if the piece of chicken shrunk.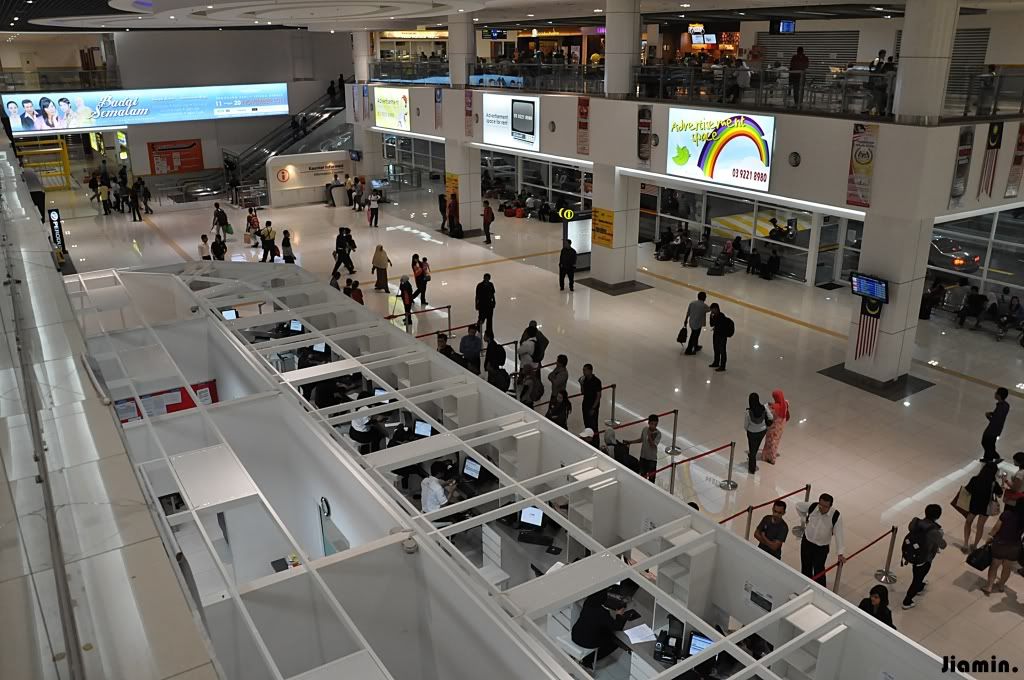 Being a weekend on the next two days followed by a public holiday on Monday, I expected the entire building to be packed with people who were struggling to be back to hometown, turning out it was almost unmanned instead. By the way, those compartments in white were the ticket counters that were of some random tickets without qualities guaranteed, while the ticket counters with companies stated were located almost at the far end of these counters.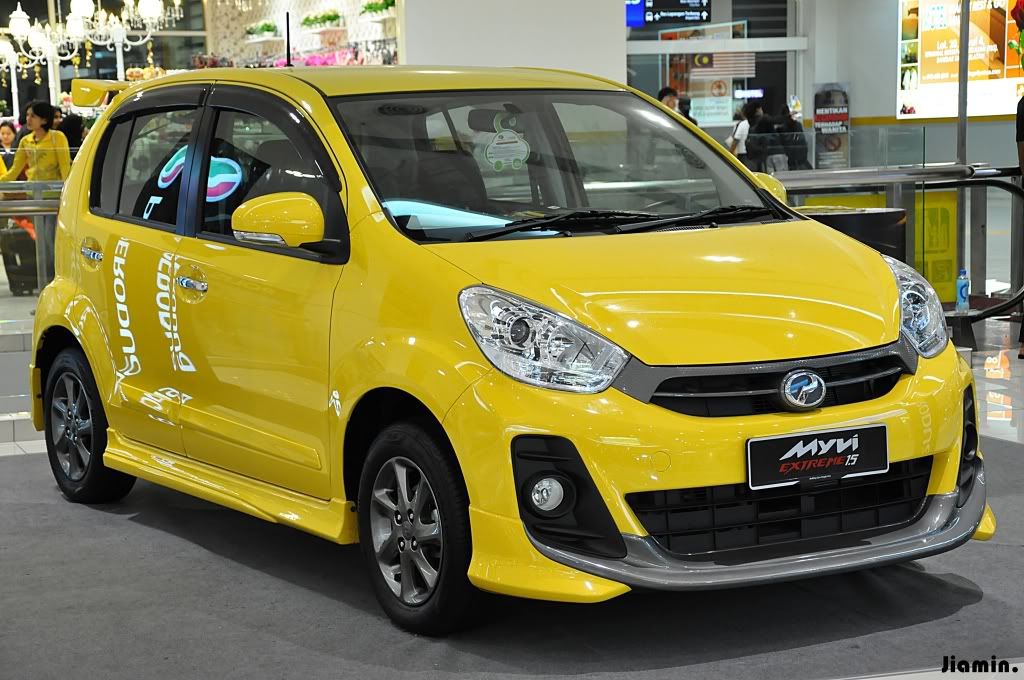 Aaawwwwwww! That's my bumblebee! :P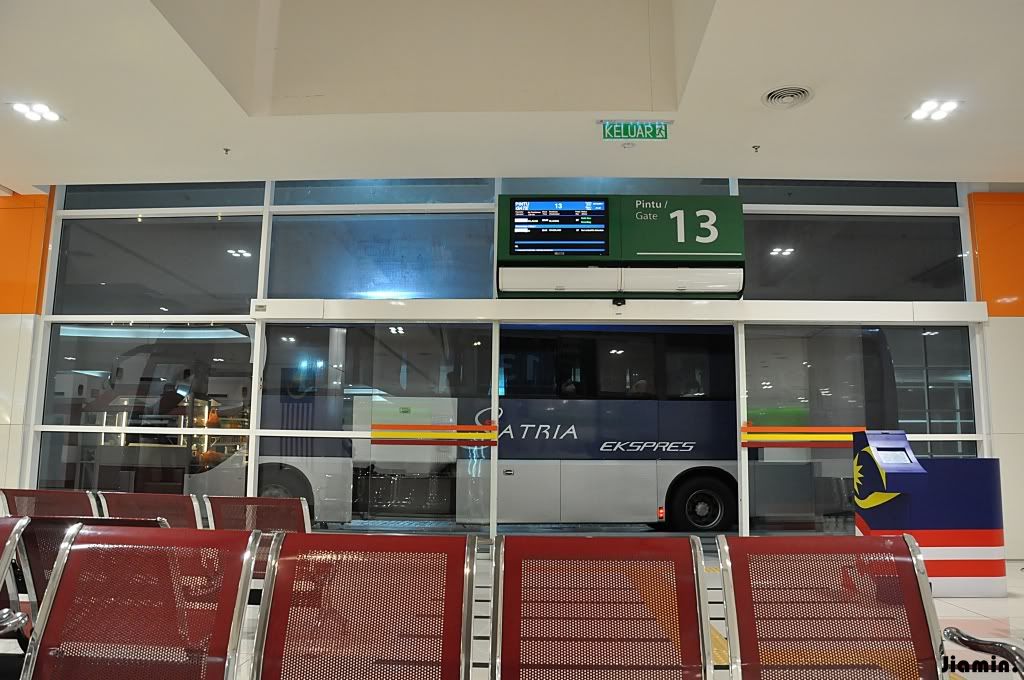 About 15 minutes prior to the departure time, we waited at the hall with fear that the bus was not going to show up or we would had been cheated by the bus company, as we, having less knowledge about all the intercity buses, had never heard of Starmart JB Express.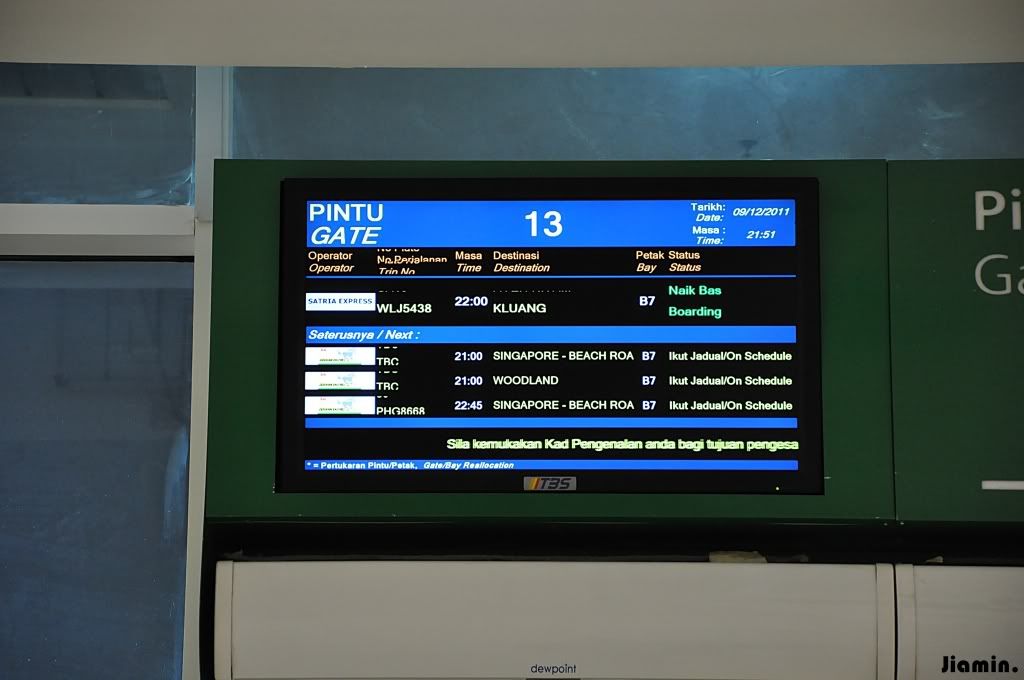 It was not even appeared on the screen that showed all the buses that would be arriving at different times.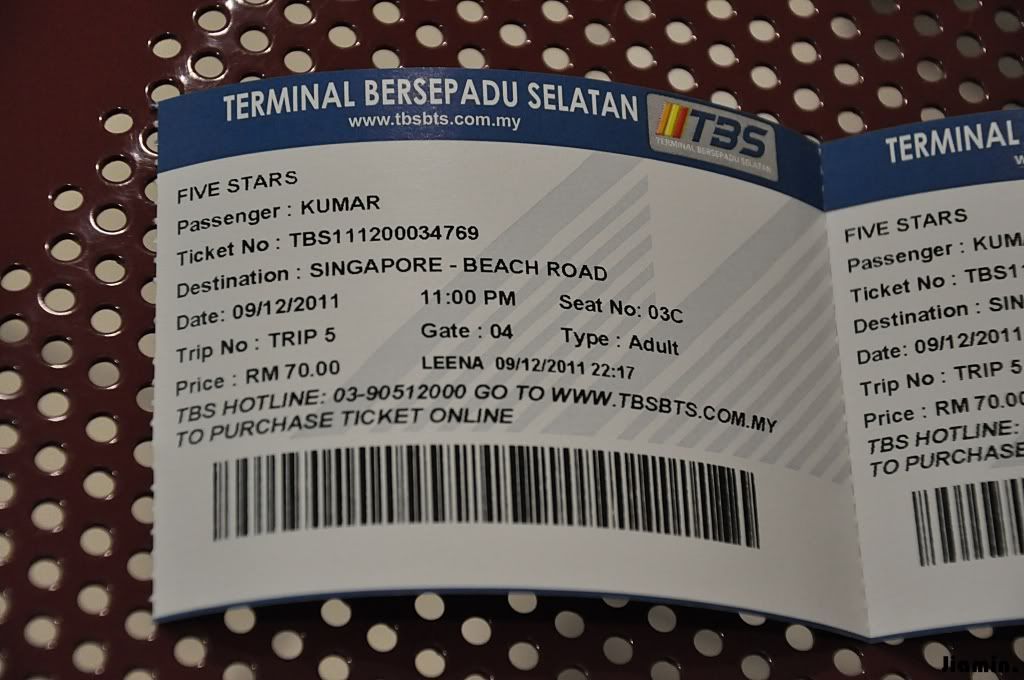 We thought it could had been delayed until a young Indian man approached us less than an hour later, telling us that the bus was delayed to as early as 12.30am and the person in charge would be getting us the other bus tickets that were as similar as which we had initially purchased. I ran all the way to the ticket counter just to confirm that it was true. It was not until when I got the other two tickets that were of Five Stars Tours with some discounts given for the inconvenience they had caused, that I realized that the young Indian man was one of the staffs as well.
The bad thing about this place was that the hall was almost empty with no staffs could be seen helping out those who're unfamiliar with anything related like us; even if there were, their attitudes weren't right. That was the Badman talking on the phone with Andrew from Johor who had been giving us quite some useful information the days before, because he thought that we were supposed to be in Yong Peng already at the moment.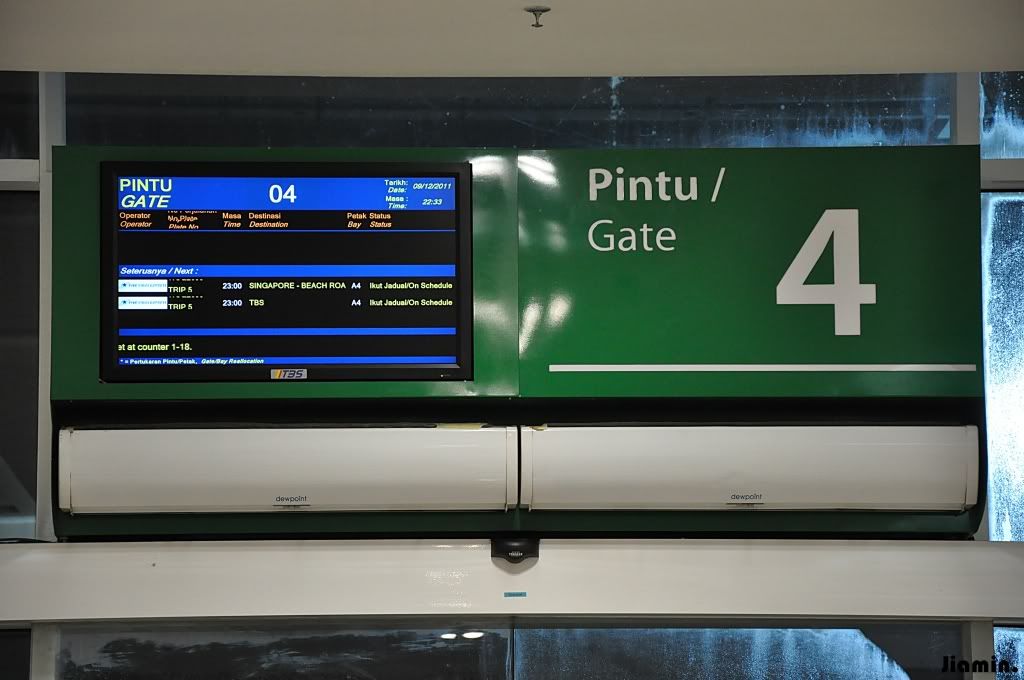 It was then finally on the screen that I felt a little relieved!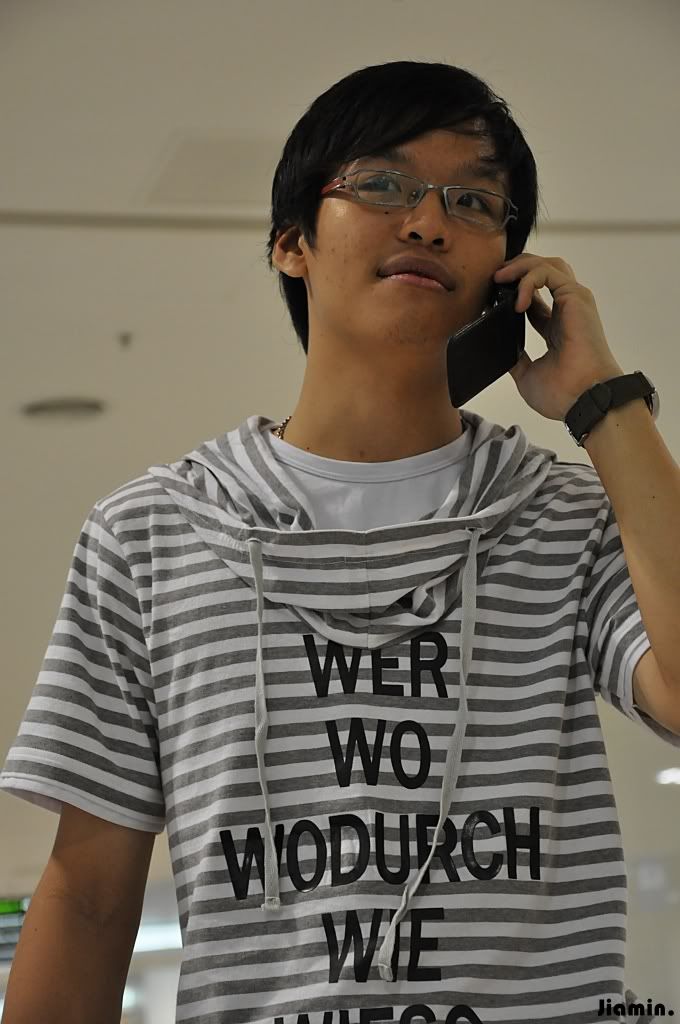 We called our respective parents to tell them a little about the incident before boarding the bus.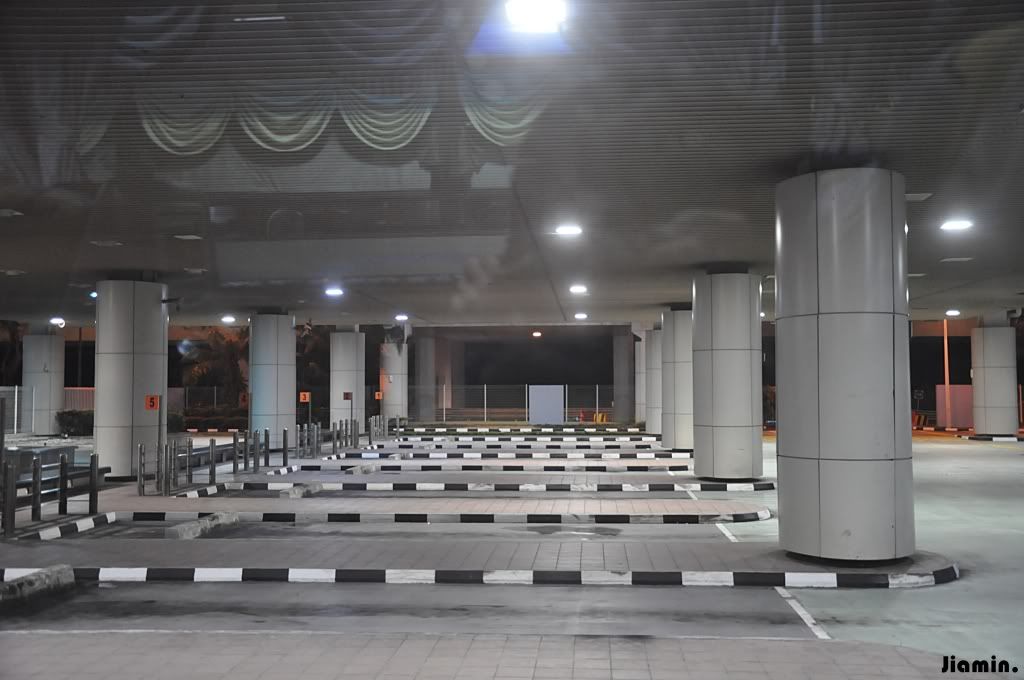 There we were, arriving at Johor Bahru Customs and Immigration Checkpoint about 4 hours later, with only less than an hour of sleep in the bus because we enjoyed watching some movies like Marley and Me, Fast and Furious 5 and some random Chinese movies with personal televisions behind each seat that you could choose your own favourite movies, throughout the journey. Honestly, I regretted not sleeping in the coach instead because then only I realized it was so freaking comfortable. Coaches under Five Stars Tours are already in my favourite list ever since! :D
Those were basically how we went through all the hassles we had faced during that memorable midnight, but problems didn't just stop there, still. It was our first time travelling to Singapore by purely public transportation, thus we were totally clueless about how to even get a taxi to our resort; to ask if they could send us to the destination, or to just sit inside the car and tell them where to go? Really, we stood in front of Golden Mile Complex as soon as we arrived from Kuala Lumpur and decided what to do next for a while. The worst thing was that we were not able to contact any of the three of them, not even
Naeem
who invited us to his country as I had lost all the contact numbers.
Nervousness attacked; we walked towards one of the queuing taxies and asked if he could send us to our resort. Unlike any other ordinary taxi drivers in Malaysia who would've showed us some annoyed faces, the kind taxi driver efficiently keyed in the name of the resort into his GPS and welcomed us into his car. With an awesomely clean car despite its old looking from the outside, and a taxi driver informing us which way he would be using to reach our resort even though we couldn't even understand, as well as trying not to make us feel bored throughout the way, we had a big shock and were comparing all these situations with what we're having here in Malaysia, as if we're some indigenous people.
What we had done upon arrival at the resort could have shocked you to bits; stay tuned!
x.