Good day folks! Tomorrow, the 1401st day of being together since 6th of January, 2008 according to my counter, is finally going to be our 4th anniversary, which reminds me the fact that we have been through things together for a total of four years and are heading to the fifth, sixth, seventh, to no end; hopefully it doesn't just end there. There are people who have faith in our long term relationship; there are people who look down their noses at it instead; this relationship has since been publicized through the internet and rumors that most of my extended family members have already known about it from the start, with nothing said. I'm looking forward to the special day, never about the celebration or the present he would be giving me though; it's the undying affection that keeps me excited. :)
To continue with my trip to Singapore, if you have read my
previous post
, I guess that either you're still guessing about what we had done upon arrival at the resort, you have given up guessing, or you never felt like playing the guessing game at all. Oh well, either one, I'm pretty sure your answer was wrong; instead of checking in to the resort immediately for an early nap, unbelievably, we stayed at the nearest McDonald's, slept on the chairs, shivered under the freezing cold air from the air-conditioner, had our first breakfast in Singapore, and waited until the reception counters opened at 10am. Heck, this post is to tell you how helpless we were to be in a foreign country, with no one to be contacted, and with no one helping us out in the middle of the night.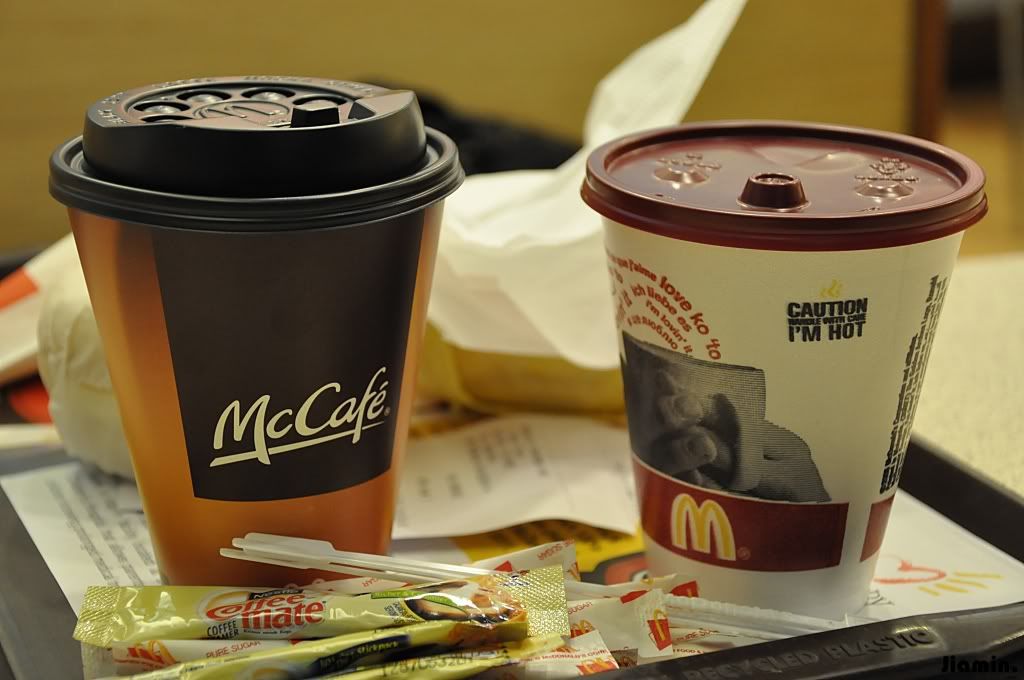 We ordered two breakfast sets that came with a cup of hot drink each to keep us warm before the sun rose.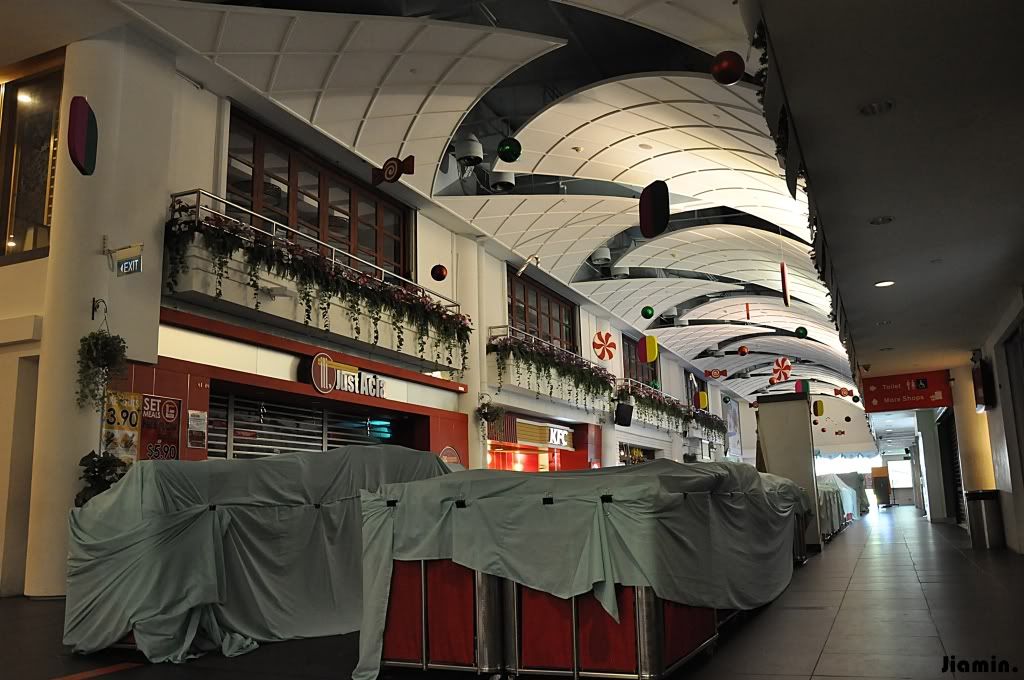 Our resort,
Costa Sands Resort Downtown East
, was located right beside a mall known as Downtown East, which was as similar as our Kepong Jusco with a little more interesting activities, facilities, shops, and restaurants. To avoid boredom and to kill time a bit, we walked around the mall together with our luggage along when none of the shops were opened besides 7-Eleven and KFC.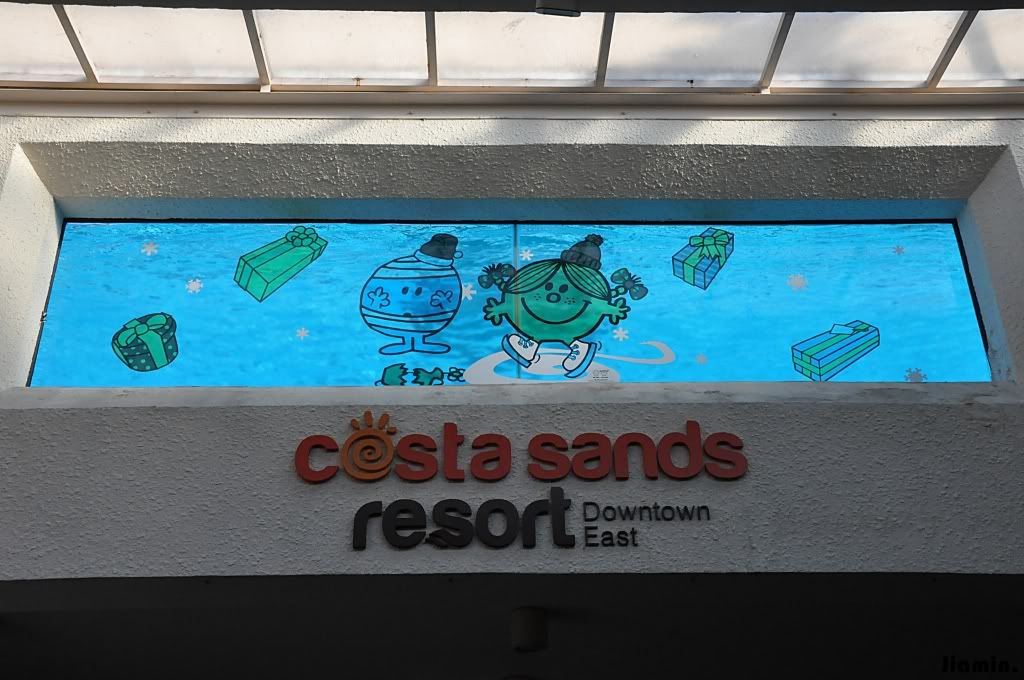 While walking around the area, time was the only thing I concerned the most because I was so eager to take a short nap on a bed comfortably. However, unfortunate incidents didn't just stop there; as soon as the reception counters were opened, I went to ask about where Shannie was staying with her full name given to the receptionist. For your information, knowing that we would only be arriving in Singapore on Saturday, I only booked for one night to save cost. Not sure if it was the system that had the problems or it was the other receptionists fault for not keying in the details correctly, Shannie's name was not found that I had to call Mr. Nantha, being the person who made reservation on behalf, to ask about everything. After some hassles that we went through in the morning, with a bit of waiting (we were allowed to stay in Shannie's room until check-in time), we finally checked in to our room at around 11am; thanks to the kind receptionist who helped us out despite the amount of works she had to go through just for us.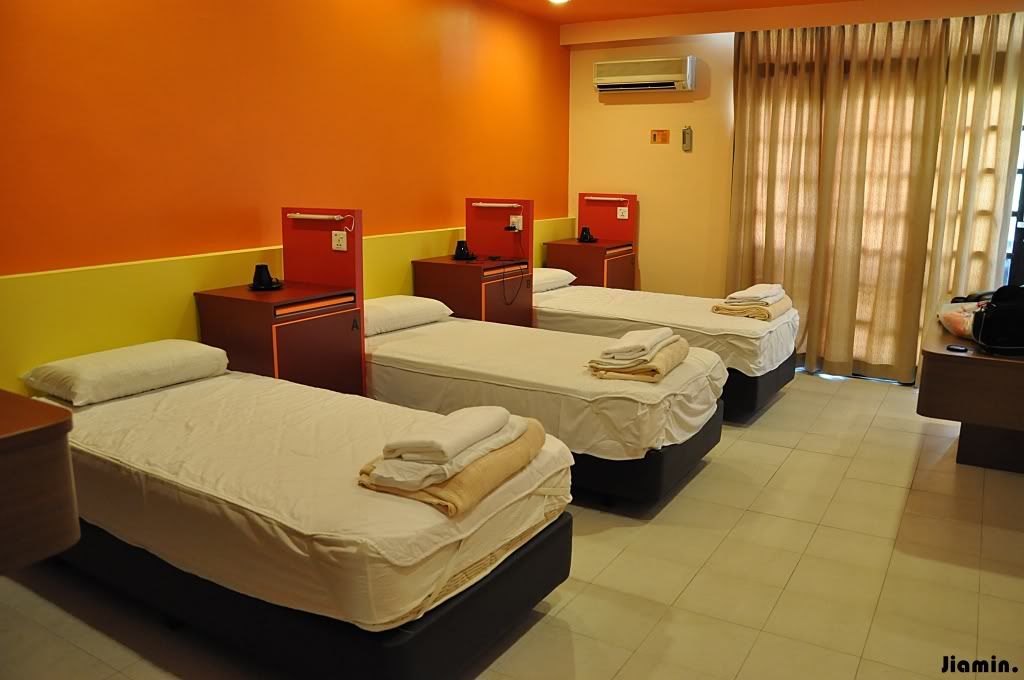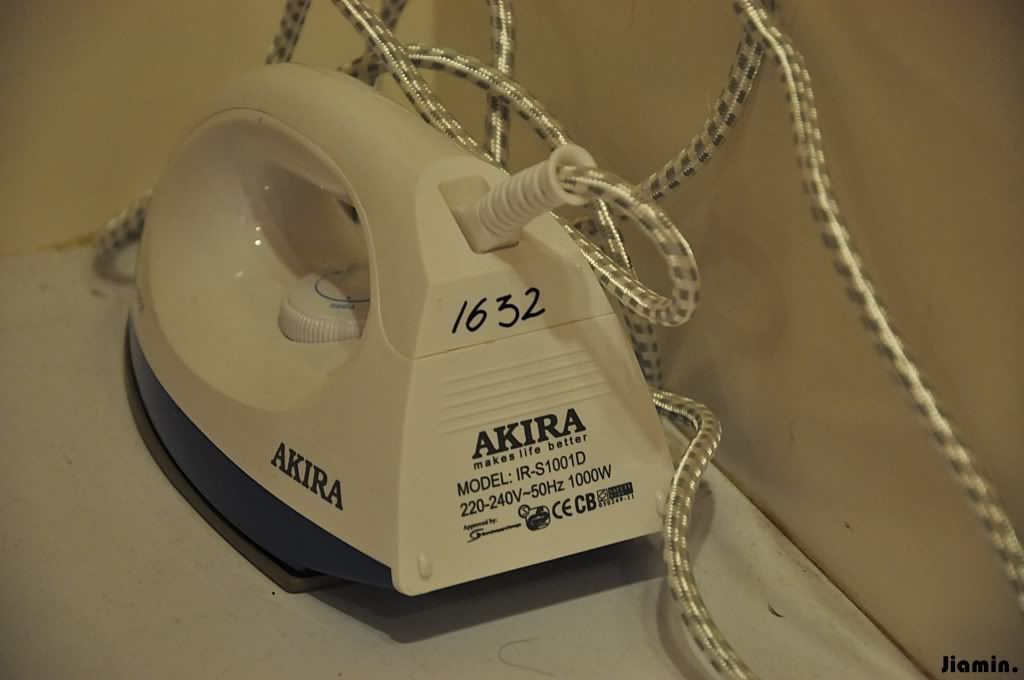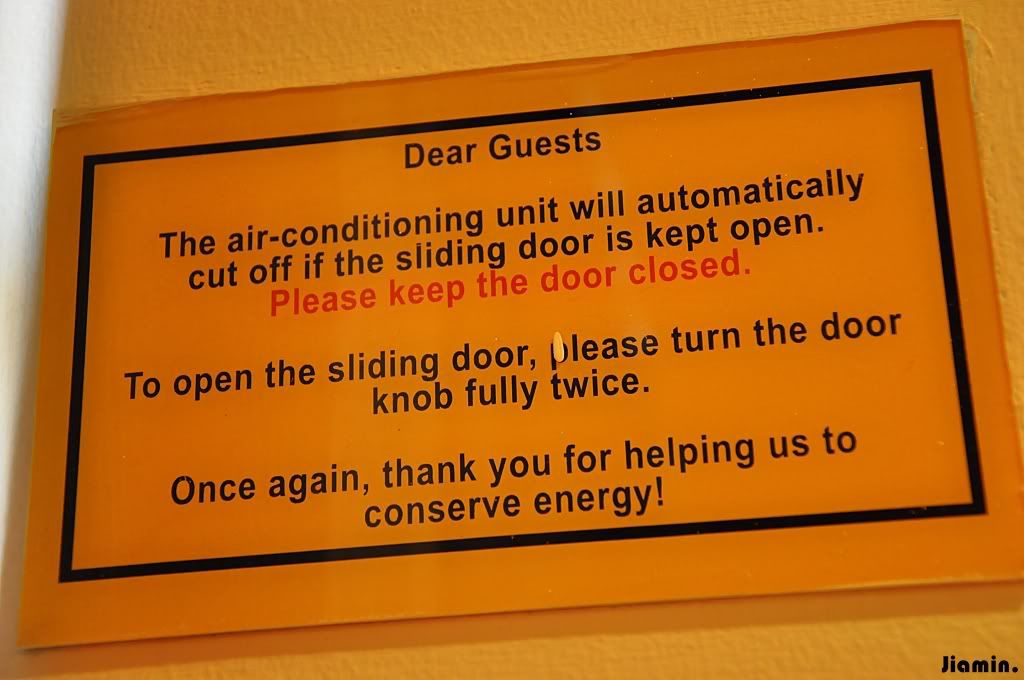 We initially requested for a double room while making reservation, but we ended up getting a triple room instead. We switched the cupboard and the bed to combine two beds together while leaving another bed empty. There wasn't any refrigerator or a mini bar in the room; only the usual facilities that could be found in any other ordinary hotels and a ceiling fan. Despite the scorching hot weather during the day, the entire room did a pretty good job in cooling us off.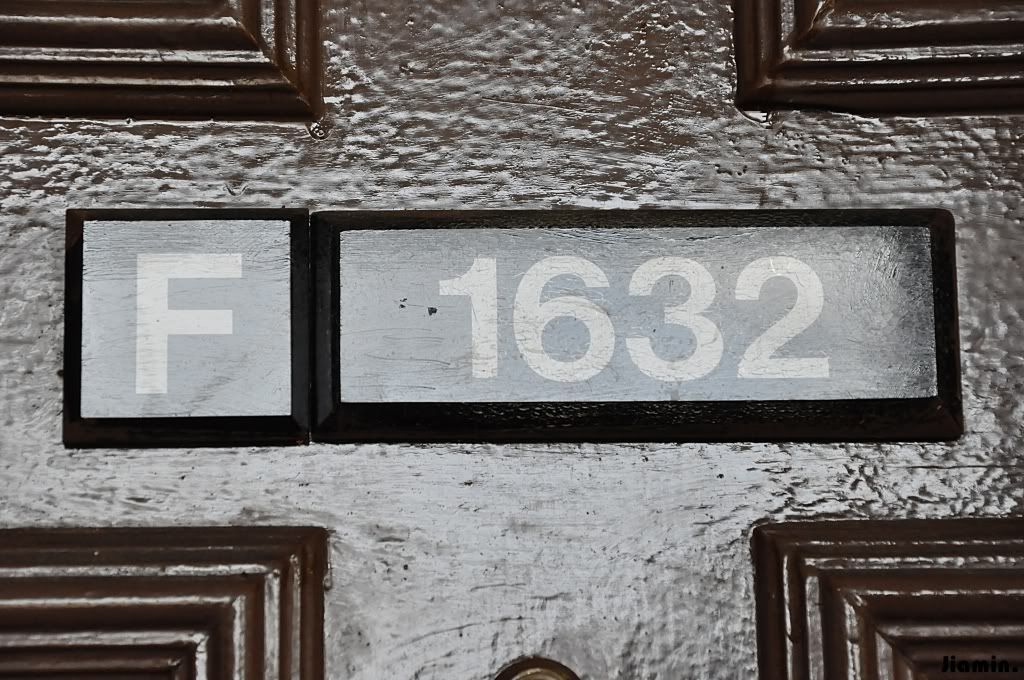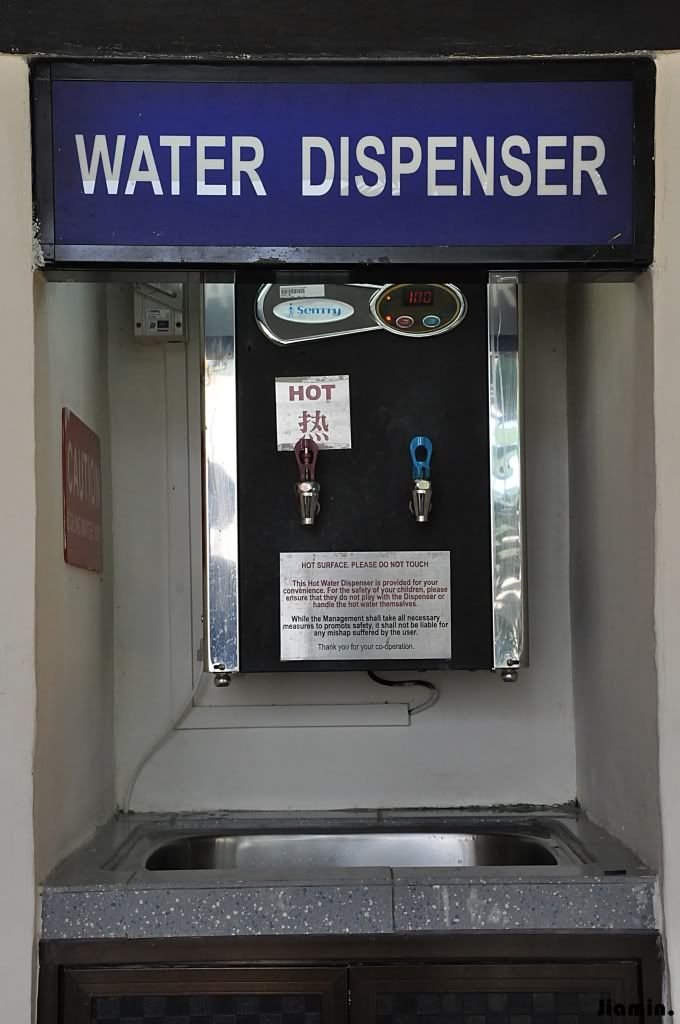 A water dispenser was provided right outside of our room as well for our convenience.
Poser! :P After resting for just a while, all five of us decided to leave the resort to explore around the city before heading to where Naeem's sister's wedding ceremony was held at; more walking was definitely required! It sort of killed me for being so exhausted since the early morning, but I played hard before I sacked out early at night. Honestly, it's really rare that I could fall asleep so deeply that early during a vacation but I made it during the trip which I thought it was a little wasted, while the others had fun in the city throughout the entire night.
Anyway, being in the city was truly an eye-opener about how life in Singapore was like, that most of us were shouting to move to Singapore even after we left. More to come on the next post; stay tuned! ;)
x.