It's been a few days since I came back from Singapore as I mentioned earlier, but I haven't have the chance to continue clearing my to-be-blogged list due to the lack of finer internet connection I have at my apartment. I miss the marvelous UniFi back in Kepong; otherwise I could only depend on the one in my workplace which is limited only between 8am to 6pm. Anyway, my trip was pretty much an adventurous one for two persons who had never been to Singapore without a private car, with none of my friends who were already in Singapore one day before holding a mobile phone with international roaming activated, without any contacts that allowed me to contact
Naeem
in Singapore, not even any beforehand researches before travelling. Despite being an almost entirely planned trip, we still had a lot of last minute decisions upon arrival in the country.
I was supposed to continue with my Penang trip followed by some other things that I would like to blog about; however, I find it necessary to blog about my encounter at Terminal Larkin Sentral, Johor Bahru before anything, which it ruined my mood on my return journey. This post is specially created to advise people to not get cheated easily by all the bastards out there who were earning money for the sake of their own damn benefits, and that I hope my fellow readers could spend a few seconds passing this around as a caution before anyone gets trapped like me again.
Below is an email sent by me to
Konsortium Bas Ekspress Semenanjung
to file a suit and I typed the entire incident that happened to me and the
Badman
on that day, detailed, with only our conversations changing from Malay to English. In order to get to know more about what happened before I move on, please spent some few minutes to read it.
P/S: Please click on the photos for enlargements.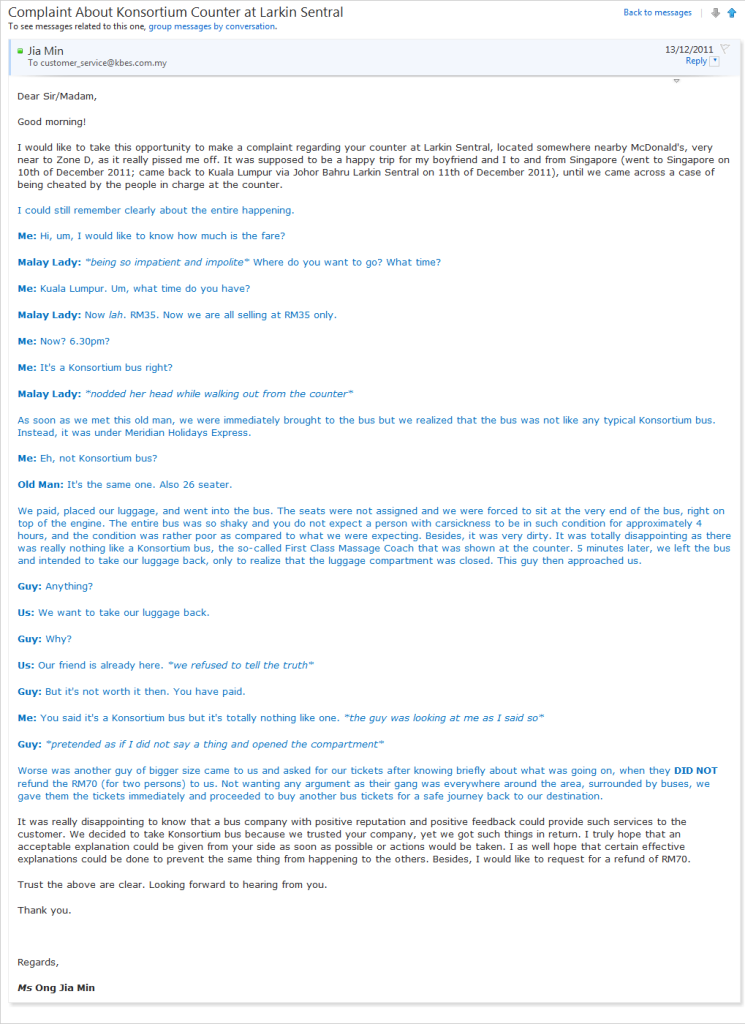 In case if you're wondering how I could type in such detailed form, well, I recalled the same thing over and over again right after we left the bus, got all upset throughout part of the journey for losing the total amount of RM70 for two persons when all this while we had been putting so much effort to save money for our future usages, ranted about it repeatedly as the memory came back to haunt me again; I have no way to not remember as clearly as mentioned in the email.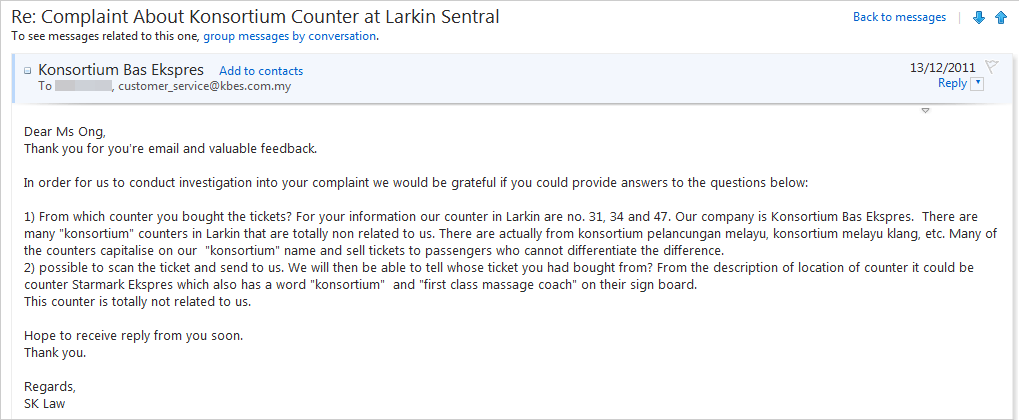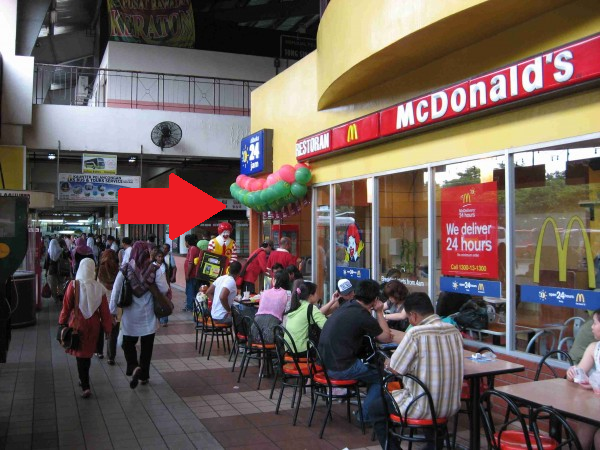 Honestly, I had been searching up and down on Google to see if I was lucky enough to get a photo of that counter, realizing I have no way to get it, I found this photo of the McDonald's nearby the counter from
Limsimi.com
to sort of provide the exact location to whom I was complaining to,
SK Law
. I regret so much that we returned the previous bus tickets to the gang of oily fat people due to their gangster looking faces; no one would like to create any more troubles under such situation even though I never meant to be a troublemaker.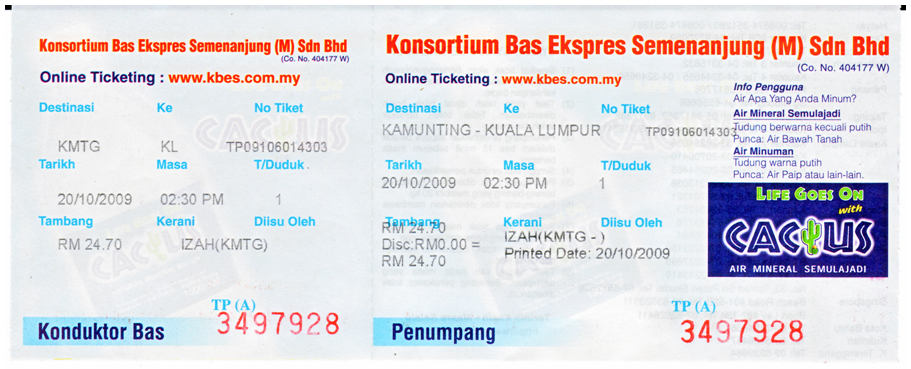 This SK Law was considerate enough to send me a sample of their ticket for my reference, before I create even more misunderstandings that were not supposed to exist. Not knowing what I should do to make further complaints to the related sides, I was speechless for a while before I could think of what to ask for some help.

With tickets returned to the liars, I have known earlier that I would never have any related evidences to file a suit with any of the related sides, not even the newspapers companies that I actually planned to do, despite that being such a minor issue. Go ahead for thoughts about me being overreacting; please bear in mind that once the complaint is published, the counter might have to be forced to close down, or their reputations would have gone completely. Without anything to be shown, blogging to spread the news is the only way I could do I guess.
By the way, we ended up purchasing a return ticket from
KKKL
, which was known to be travelling with only one stop or sometimes without one single stop, all the way from Johor Bahru to Kuala Lumpur Terminal Bersepadu Selatan. Thanks to
Andrew
for his recommendation, the
Badman
's friend who has been enjoying their services and finding them good.
Lesson learned; never ever purchase tickets that are of handwritten instead of computer printed no matter where you are travelling to, except for Genting buses where you could simply get a bus seat at Pekeliling Bus Station despite their scary driving skills. With a bus fare of RM35, I could purchase a return bus fare of a Double Decker under KKKL, with balance and much better conditions than that of which we were supposed to come back to Kuala Lumpur by. Despite being extra careful as soon as we arrived at Terminal Larkin Sentral, despite purchasing bus tickets from one of the counters, we still got cheated by those brainless bastards. If you happen to have to experience the similar incidents as mine, there are things you would have to be reminded of:
1. Request to check the bus before you pay one single cent, even if they assure you that the bus conditions are great and the bus companies are famous; those might just be some bullshit.

2. No matter which terminal you head to, never ever fully trust their big signboards because like my case, those signboards might be nothing but to attract more customers.
3. Make sure that the bus tickets are of computer printed because that is what most of the companies do nowadays.
4. If the similar incident happens to you one day, never ever return them your tickets even if they request for it because ladies and gentlemen, you paid for the tickets and you have every right to keep them as a memory.
5. Always take photos of the counters, the number plates of the related buses, ask for a photo with the related people if that's even possible to not get beaten up, if you happen to come across such issues; it always works better than you have nothing to show, and end up having to draw on a photo that is supposed to not be related. My mind only works better after all those shits; damn.
Those are the main five steps you would have to remember if you do not want to pay money for nothing; there should be more but my mind just goes blank whenever it comes to this point where I have to tell more than I do. I hope it helps, and I truly hope that you could as well share your experiences with me if you happen to come across such cases of being cheated by all the bastards.
I will be heading for a cruise inspection tomorrow together with my manager, Kak Nora, and I hope everything goes well. More updates are coming up soon! :)
x.