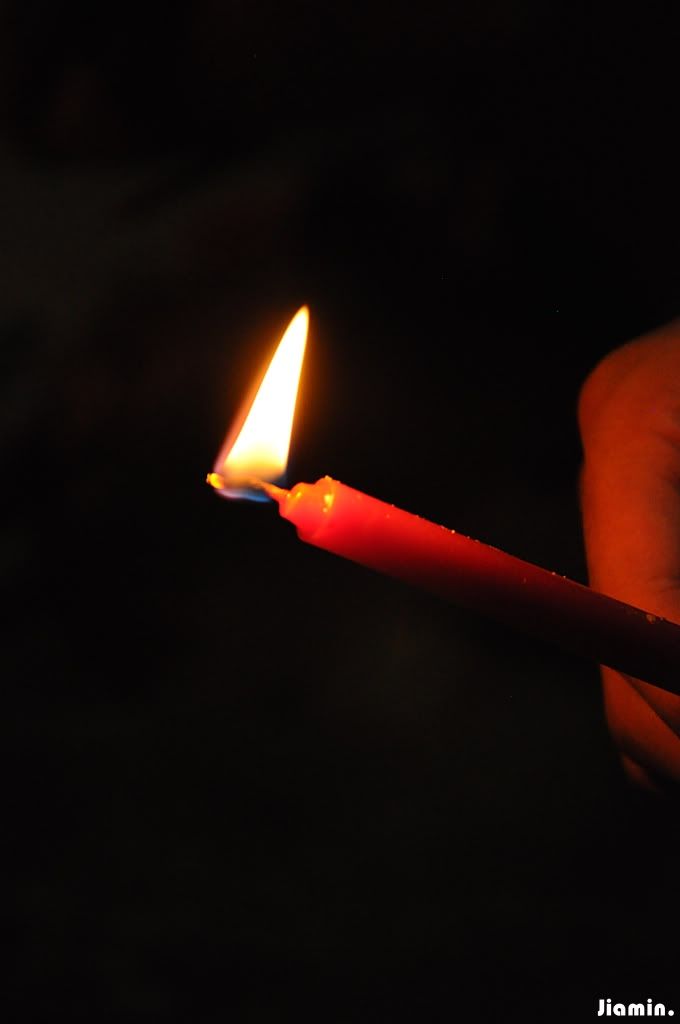 Life hasn't really been good recently with me realizing how I have been constantly taken advantages of only almost a year after working all together in groups. It makes me see clearly how a person could really strike an attitude of innocence as if they have never done anything hurtful; "Jiamin, why do you look so down?" "I think Farah and Jiamin have changed because they do not want to be in a group with me anymore," and these aren't all yet, followed by some really funny sentences.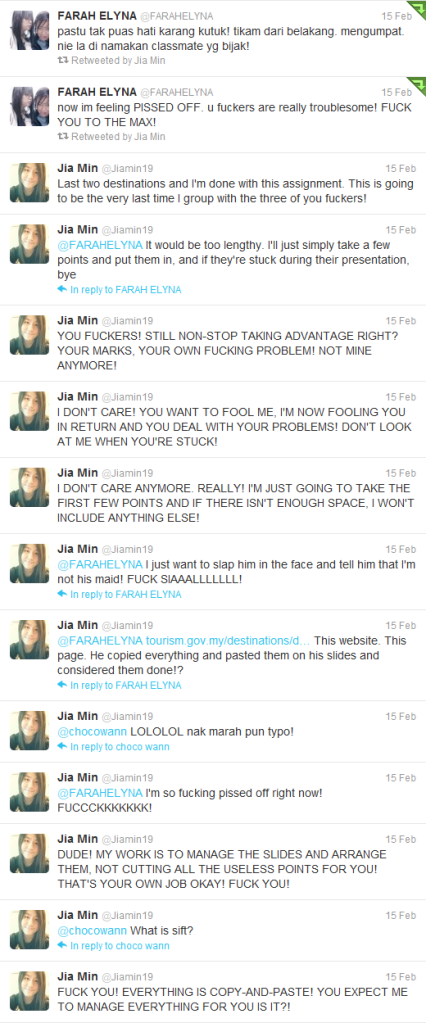 Read from the bottom to the top despite the vulgarisms applied; it shows exactly how I felt at that point in time when I was in the progress of coming out with the final presentation slides. If you happened to be one of my followers, and that if you're unhappy with my tweets, mind you; it's my account, and I never force anyone to follow
my Twitter
.
Nothing could be more disappointing than treating them as my true friends in the past few months when all they're doing was just to take advantages of me without appreciations done. In case if you're wondering, never have a crying baby like me ever cried for any of those bastards because I know it's worthless. Truth to be told, I am absolutely not that type of person who would give up being good to one person as long as they are categorized as friends, because it is never a good idea to bear anyone a grudge. When things have gotten beyond my limit, I always prefer being positive-minded that everything would eventually be fine. I had given them a second chance since the first argument we had back at the end of September 2011, when they bitched about things that I never did. "How could they do so if you never give them a chance to take advantages of you?" said Spunkberry. Well said; I would definitely be one of the stupidest persons on earth if I were to give them the third chance.
This entire happening alerts me to how I am not at any position to be annoyed. During the first argument we had earlier, they spread around telling how I thought I was so important to them that I must be the only person to be teaching them mathematical subjects, when in actual fact they were the only persons thinking in such a way while I never. However, things have now gotten pretty ridiculous that they are now coming back to me, wanting me to teach them without asking if I could or not, and telling how I refuse to teach them anymore. People, is this even a way to please?! If you were to say so, show me that you could score very well in your exams without my help! If you were to think in such a funny way, why coming back to me only after realizing that you know nothing about that particular subject?!
It truly gets on my nerves whenever I recall everything, especially when I get to know how they twist all the facts to make things sound as if they're the innocent party. I'm completely exhausted that I'm starting to refuse helping them out to show them that I am not as weak as they think I am. All I need right at the moment is to be given some time to manage and settle my complicated feelings, before something unimaginable occurs. That's it.
Life sucks, or life is good? You judge.
x.