UPDATE:
It's a mixture of sadness, depression, worry, hate, and all the affections. My friend, Steven Lim, whom we used to spend time together fooling around the places and studying for examinations, has gone missing since November 2012. It's published on social media, newspapers, and every possible places, yet nothing changed until recently when a murderer was caught for the crimes he had committed that Steven's wallet and identification card were found.
I don't know how I should feel about such shocking news anymore. I am merely looking forward to his return.
---------------------------------------------------------------------------------------------------------------------------------------------------------------
Braving the sweltering heat in an afternoon, Don and I grabbed the opportunity to finally travel all the way to Kota Damansara for a cup of Ipoh White Coffee. It was my idea to bring him for a good shot, after having been there with my mum and eldest brother for not more than five times.
Although my mum claims it to be similar to
Kedai Kopi Sin Yoon Loong
in Ipoh, I am not sure about the fact. No details of it could be found on the internet, or in the restaurant itself, including its business hours. Nevertheless, it is best to go for breakfast as they usually end their businesses in the early afternoon.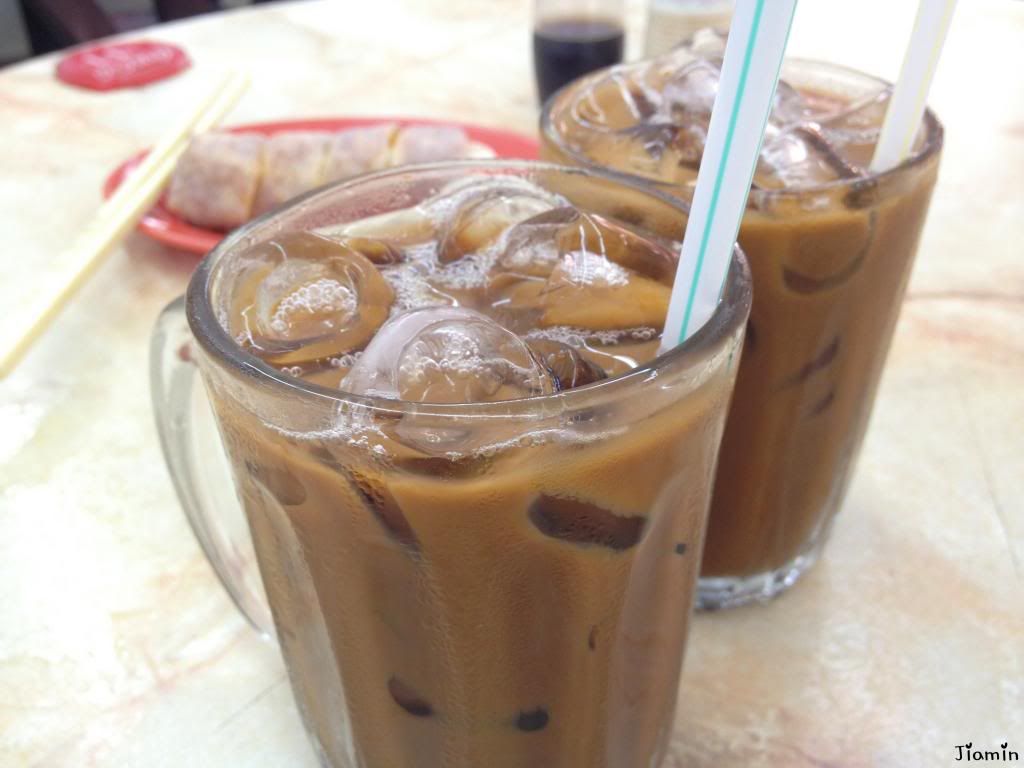 Their Iced Ipoh White Coffee may not be as thick as what
Kedai Kopi Sin Yoon Loong
has to offer, but it's definitely smooth and just fine to quench our thirst in the hot weather. Almost instantly, I felt as if the time tunnel had brought us back to our great moments in
Ipoh
.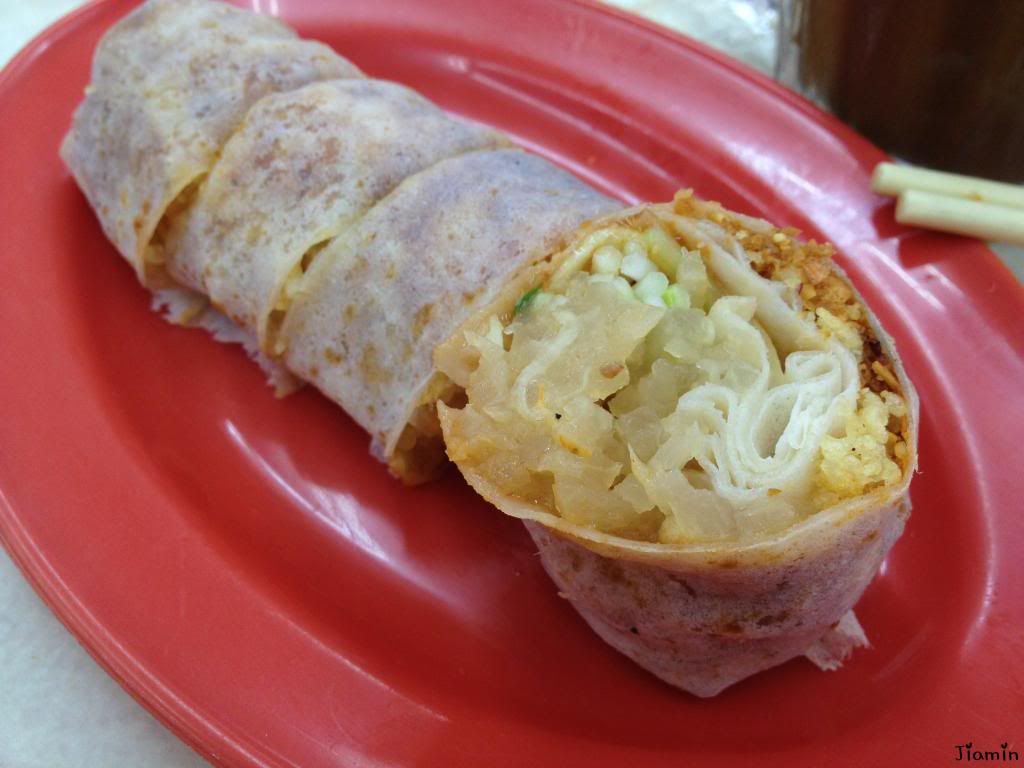 Since it was a lighter lunch for me, I ordered Crispy Popiah to share with my hungry man. Wrapped with a piece of soft, thin crepe, the Crispy Popiah was filled with different ingredients that I couldn't recognize any, with turnips acting as an important character in providing us with juicy texture of it. It is always best to be eaten entirely at one go!
By the way, the stall offers Seaweed Popiah as well.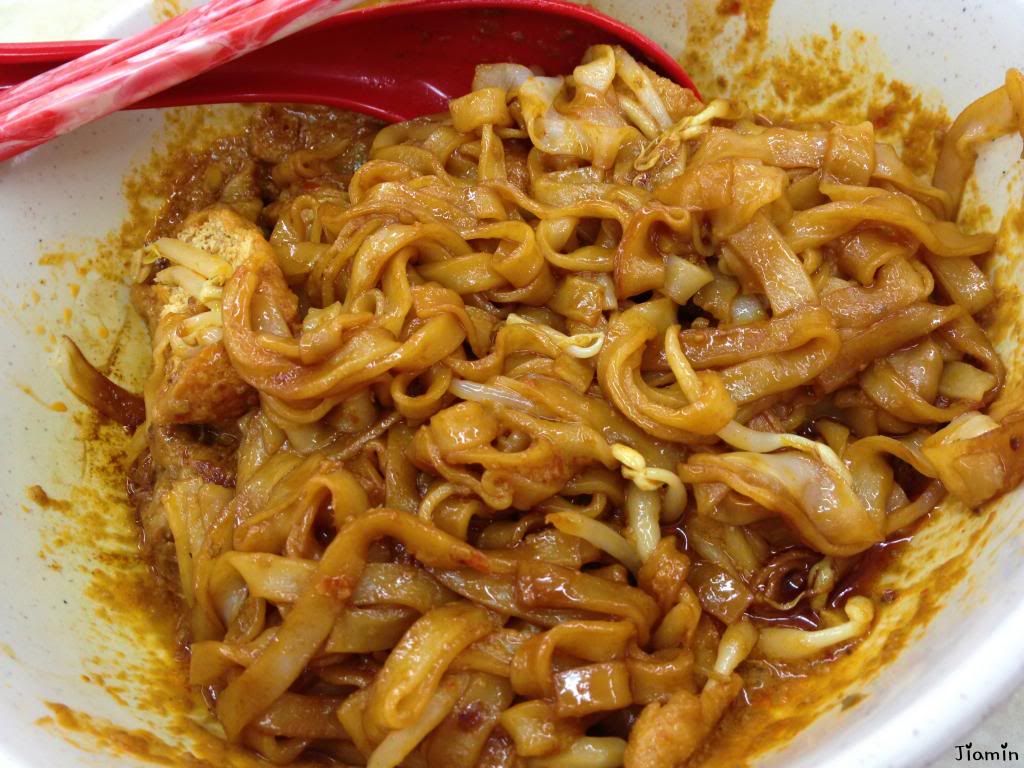 Don had a bowl of Noodles with Dry Chicken Curry. The noodles were literally soaked in curry with thick gravy. It was a little too spicy for my liking, but I am sure it would be almost or beyond perfect for any spicy food lovers. I guess it would be great to bring my dad for my next visit to SYL Ipoh White Coffee Restaurant, so as to introduce such delicacy to him.
It's known as SYL Ipoh White Coffee Restaurant for a reason! If Egg Toast is popular in
Kedai Kopi Sin Yoon Loong
, the one served at SYL Ipoh White Coffee Restaurant should never be missed. Poke the egg yolk with a fork, watch it flow on the toast, cut the toast into smaller pieces and eat it aggressively; are you drooling now?
I wouldn't say if SYL Ipoh White Coffee Restaurant could beat Kedai Kopi Sin Yoon Loong or vice versa. If you are hoping to try out Ipoh White Coffee, yet you have no ample time to travel hours away from home for a cup of it, then beyond doubt, SYL Ipoh White Coffee Restaurant would be the perfect place for your craving. Remember that it is best to visit this restaurant before noon!
SYL Ipoh White Coffee Restaurant
2A-1 & 2-1 (GF), Jalan PJU 5/7,
PJU 5, Dataran Sunway,
Kota Damansara,
47810 Petaling Jaya.
x.