UPDATE:
Recently, I've been attacked by sore throat, followed by bad cough and heavy flu, with my body temperature changing inconsistently at night. The number of times I walked to the toilet or kitchen to blow my nose was countless, until I finally had a tablet of Tripolidine HCL and Pseudoephedrine given by my cousin brother. The effect was simply divine! Even though my nose still gets stuck from time to time, I can now officially breathe!
---------------------------------------------------------------------------------------------------------------------------------------------------------------
Based on my personal observation, part of the non-vegetarian Malaysian Chinese who believe in Buddhism (and perhaps Taoism, if I'm not mistaken) tend to practice abstinence from meat on the first and the fifteenth day of each lunar month. I admit that I, as a Buddhist who rarely practices what they normally do, have almost zero knowledge about the actual reason. Instead, I go for vegetarian meals whenever I wish to consume lesser meats, save cost in a way, or put myself on a vegetable diet once in a while. Apart from
Fuguang Vegetarian Fast Food Restaurant
that serves mixed rice at RM2, San Sann Vegetarian Restaurant in Kuchai Lama is now another favorite vegetarian place of mine.
I can't possibly provide you with an introduction about San Sann Vegetarian Restaurant, but the food selection is huge with good quality, from vegetarian mixed rice, to the typical Chinese single serving rice that will only be served at night (I'm not sure if they do in the afternoon, but they don't serve any of them in the morning) or noodles, to Nasi Lemak and Roti Canai. Believe it or not; this is probably the only vegetarian restaurant that I would be more than willing to come seven times a week, I swear.
According to Don, the one who introduced this restaurant to me, some of the drinks served can be too sweet or tasteless from time to time, especially tea, coffee, and anything of such. Therefore, we often share a cup of Soya Bean without ice, and get a pack of Iced Coffee at another restaurant after meal.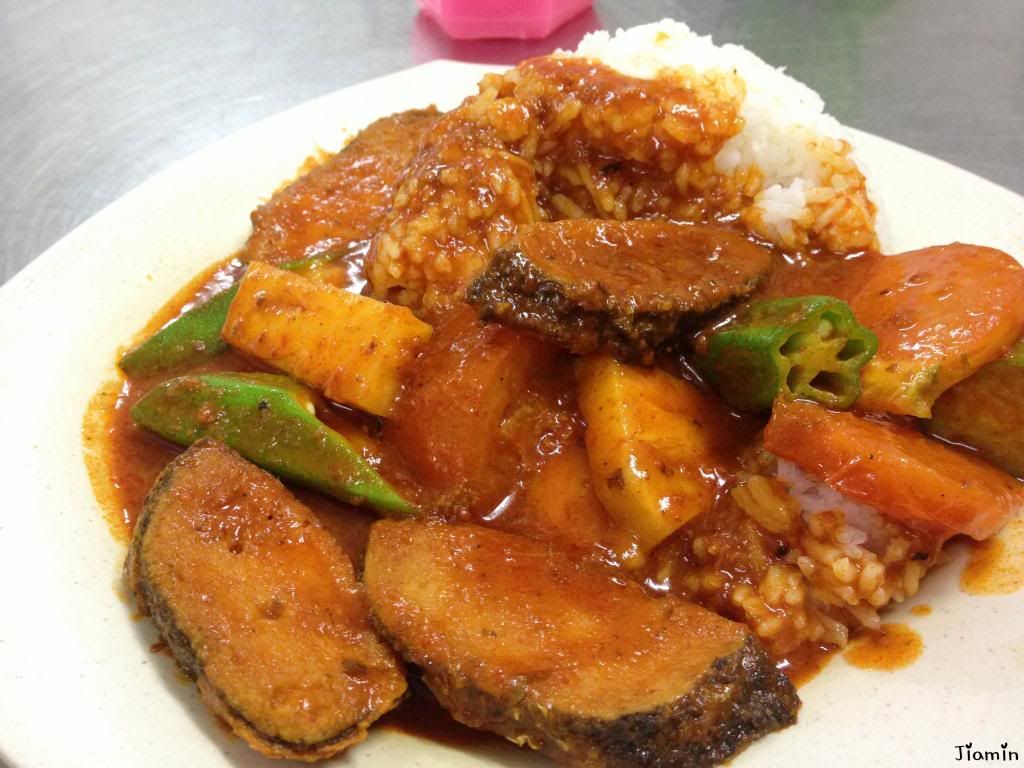 Assam Fish with Rice has always been one of Don's favorite dishes. Vegetarian fish fried together with okra, pineapples and tomatoes in Assam paste, it can sometimes be perfectly fine for a person who has a lower limit for spiciness like me, or overly hot and spicy. Nevertheless, our love for Assam Fish with Rice at San Sann Vegetarian Restaurant will never end, and the spicy food lovers should never miss this indeed.

To every vegetarian restaurant I go, I must try their Fried Oyster Mushrooms with Special Sweet and Sour Sauce for my crazy love towards oyster mushrooms. The one served at San Sann Vegetarian Restaurant, however, was slightly too sweet for my liking, which is why I decided not to order this over here ever since.

Besides, I would like to recommend their Vegetarian Nasi Lemak with finger licking good chicken, and extremely spicy sambal, a type of chili-based sauce popular in many of the Southeast Asian countries. Just a few days ago, when Don and I were at the restaurant, he mentioned that if it was my future mother-in-law who brought me here, she would highly recommend me their very own Roti Salad, which I'm still yet to try it out. It will happen soon, I guess!


San Sann Vegetarian Restaurant
No. 17, Jalan Kuchai Maju 8,
Kuchai Entrepreneurs Park,
Off Jalan Kuchai Lama,
58200 Kuchai Lama,
Kuala Lumpur.
Tel:
+603-7981 9544
x.