UPDATE:
Can I just be granted a long break already? Assignments have narrowed down my weekends to none!
---------------------------------------------------------------------------------------------------------------------------------------------------------------
I have been longing for a good, enjoyable meal at Plan B of any branches after looking at the photos and reviews posted online. Thanks to the girls, Kah Mun, Rou Han, and Ezy, we managed to finally make our way to Paradigm Mall in Kelana Jaya on a Friday evening to give it a shot.
This modern coffee shop prides itself in its specialist coffee blend and its seasonal selection of single origin beans, all roasted and ground fresh in-house daily. Apart from the usual styles, the cafe also offers alternative brewing methods such as siphon, French Press and Pour Over.
Plan B's modern "Aussie meets New York deli" menu boasts hearty breakfasts, contemporary salads, wholesome sandwiches made with freshly baked breads; pastas, and a variety of rustic cakes and desserts.
– Copied and edited from
Plan B by BIG
I am always tempted by their pouched eggs that come together with several dishes, and I was expecting to order something with a pouched egg to satisfy my craving, only to realize that they are only available until 6.00pm daily. Such a disappointment!

Somehow, I found myself being impressed by the fact that Plan B uses some of the appliances that are commonly found in a laboratory or a surgical suite, including trays and the glass bottles for plain water. Not knowing initially what it was, I had a little shock when our plain water was served. Personally, I thought it was a brilliant and economical idea without having to waste anything.

By the way, here at Plan B, refillable plain water is always served upon placing your orders.



Ezy, who was not planning to have a proper meal, ordered Almond Toffee Bar to be shared among us.

From the photo above, you could clearly see that the almond pieces were compressed to a certain extent and mixed with toffee. It was ridiculously sweet, to be frank, but as a person who never fancies nuts or almonds, it tasted extraordinarily good, so good that I am already planning to order it again during my next visit.


This is highly recommended! Out of curiosity and greediness, we ordered a Flourless Chocolate Fudge Cake. Its texture was so different from any other cakes. It was extremely soft and it wasn't too sweet for the girls who have very sensitive sense of taste. Really
flourless
, I would say!
Nevertheless, do not try to inhale as you eat it, because the chocolate powder topped on the cake might choke you accidentally.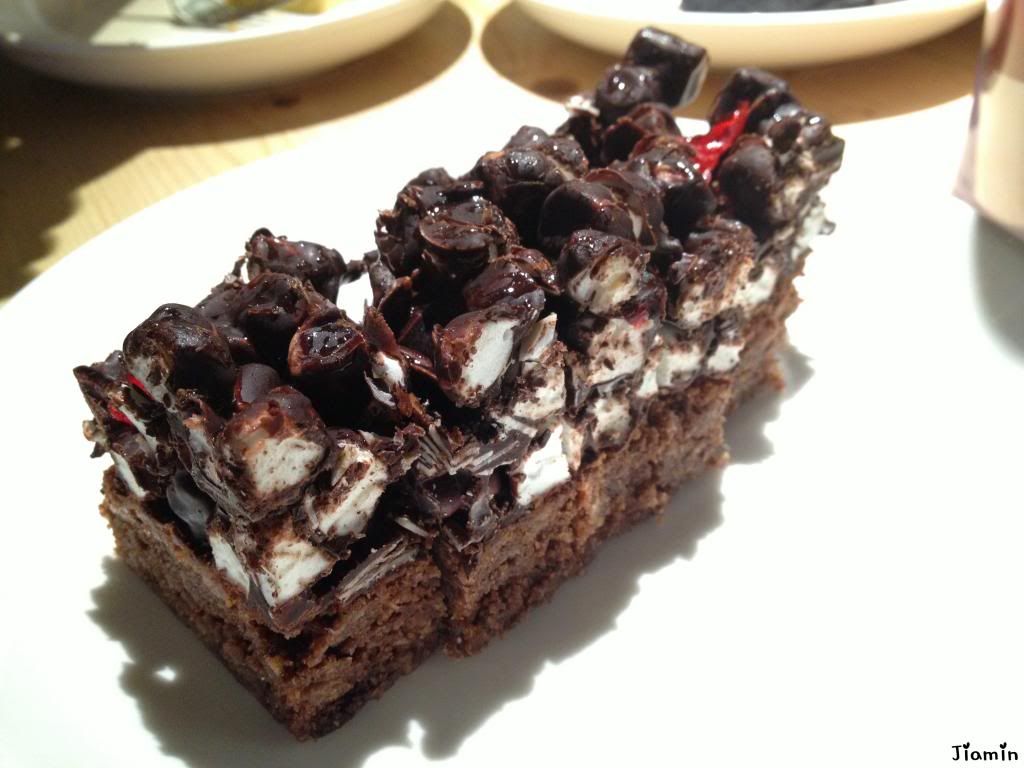 Kah Mun
ordered a Rocky Road Bar and sort of regretted it later on. The upper part was filled with marshmallows and chocolate, while the bottom part was merely a piece of chocolate cake, made of cereals, according to
Kah Mun
. I had one without marshmallows, and stopped eating the second piece of it ever since. Get it?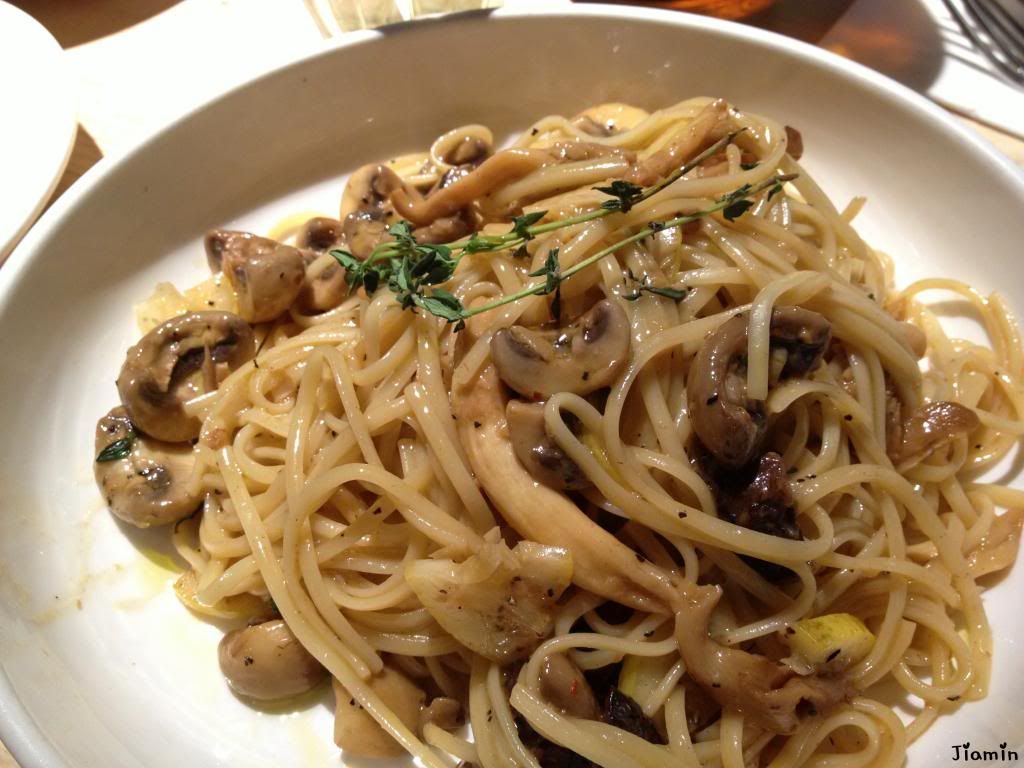 Here comes my meal of the night! I had Wild Mushrooms under the category of pastas. Using linguine, it was cooked together with different types of mushrooms and scented with truffle oil and thyme. I was surprised to see lemon in it, making it a unique kind of pasta. Despite so, the chef did not cook it well enough. The mushrooms hidden underneath were too salty to be eaten, although I ended up forcing myself to finish everything on my plate. If you are never afraid of the saltiness, then you should go for it.

Adding the two sandwiches ordered by Rou Han and Kah Mun, namely Rare Roast Beef Sandwich and The Loaded Club Sandwich, we had paid a total of RM99.75, which was equivalent to approximately RM24.94 per person. Considering the food quality and the environment provided, the money was certainly worth every penny. We were shooed though, merely because it was approaching their closing time, and we didn't quite like it because no one loves to be rushed. I will definitely visit the one at Publika one day, because of the positive comments I have been receiving all the while.

How about you?


Plan B by BIG
Lot CF09, Concourse Floor,
Paradigm Mall,
No. 1, Jalan SS7/26A,
Kelana Jaya,
47301 Petaling Jaya.
Tel:
+603-78864623
Website:
Plan B by BIG
Facebook:
The BIG Group
Business Hours:
10.00am to 10.00pm, daily
x.