UPDATE:
People who have worked together with me should have seen or felt how particular I could be whenever it comes to assignments and projects. You will be easily accepted if you are serious and hard-working, whereas you could be eliminated from the group if you aren't, unless you back out voluntarily. Still, some people simply love to go beyond my limit over and over again and neglect or even forget about their own responsibilities. To make things worse, it's merely the second week of the semester. Dafuq?!
---------------------------------------------------------------------------------------------------------------------------------------------------------------
It was the night after my actual birth date that my girlfriend,
Farah
, who just touched down in
Kuala Lumpur International Airport
in the beginning of March 2013 after approximately five months of being in Amsterdam, finally made it to meet me again at Berjaya Times Square. It was a simple yet meaningful dinner for my 21st birthday, with two of the most important humans in my life other than my family. Knowing that she craved badly for Korean food ever since she came back, the date was decided to be held at Dubu Dubu SEOUL Food.
Oftentimes, I would look at the price before I place an order, especially when I dine in at places normally meant for special occasions. The night was rather different than usual. I picked Iced Citron Tea that cost me freaking RM6.90 although I was very clear that I could make one of my own at home. If by any chance I could return to the place again one day, I would love to try out their Citron Dubu and Dubu Dubu Bingsu because desserts made with Korean tofu seem unique.
Iced Peach Tea at RM6.90? Their peach must be planted in somewhere special. Don and Farah claimed that it was good though.
At Dubu Dubu SEOUL Food, they serve toppokki, the Korean rice cakes, with a choice of spicy sauce or cheese. Typically, I would prefer the latter one because you could hardly find Cheese Toppokki being served at all Korean restaurants in Malaysia. Still, we ended up getting ourselves a plate of Spicy Toppokki to share instead, and I would leave the Cheese Toppokki for my next visit.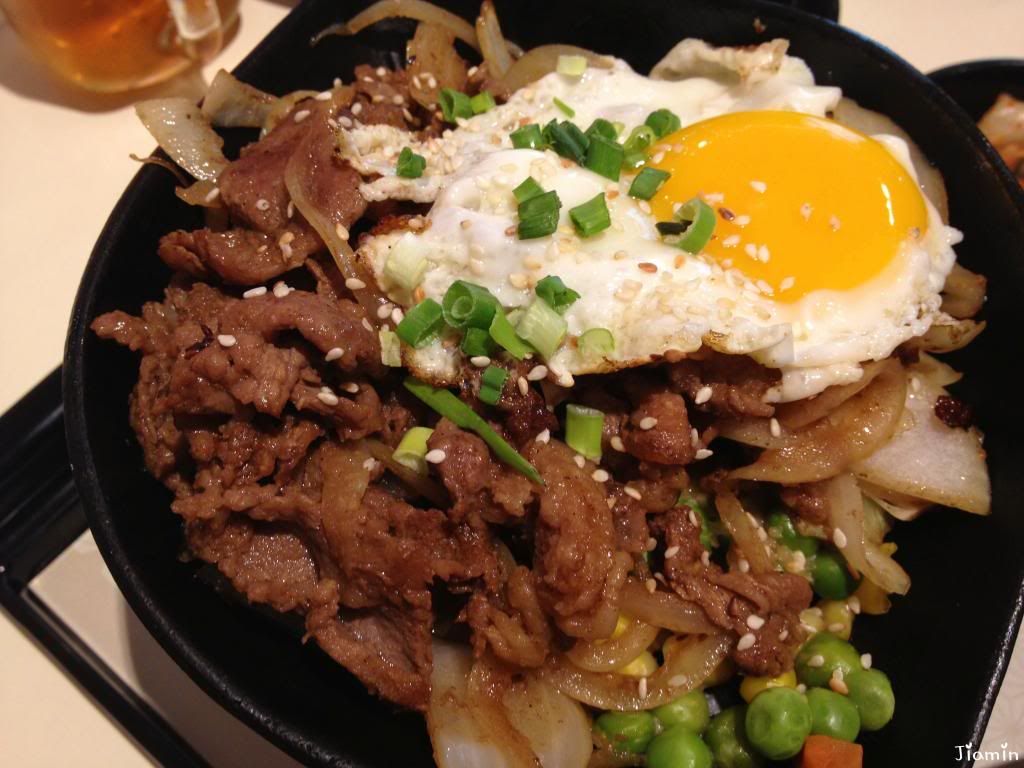 Don has always loved Korean marinated beef for the special sauce they commonly use. Thus, he had his Honey Garlic Bulgogi Beef Set, which the meat was grilled and infused with their Dubu Dubu honey garlic sauce, served together with a bowl of black rice and three side dishes, at RM20.90. You may always opt for chicken depending on your preference, and that's part of my plan!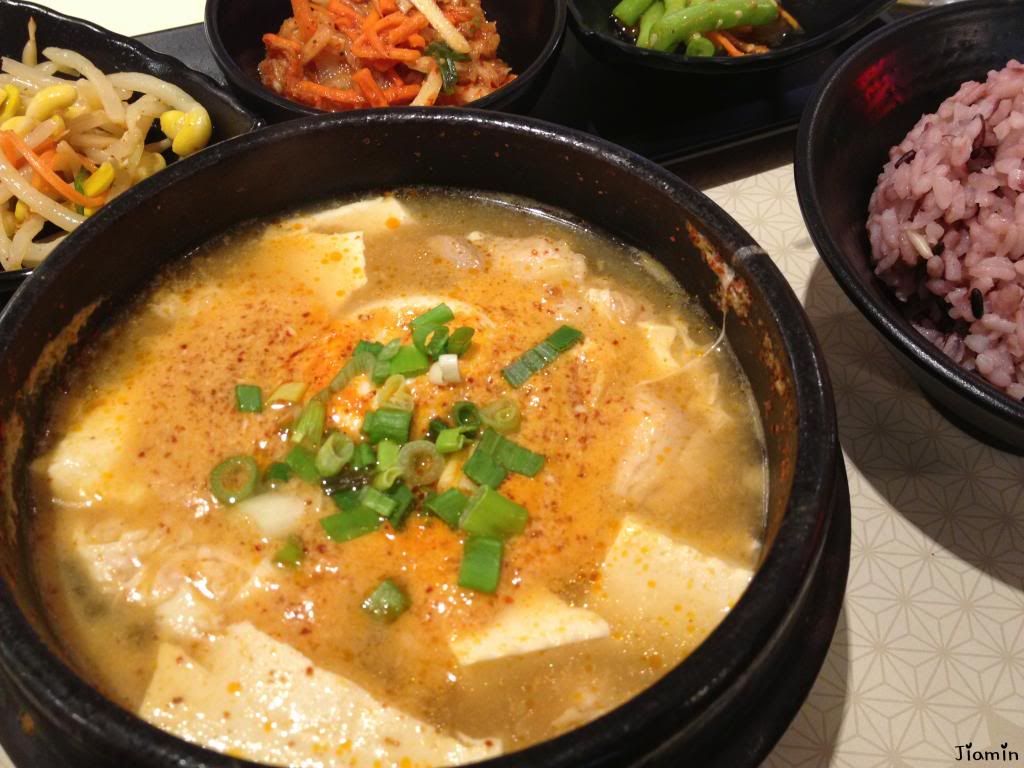 Farah
and I coincidently chose Soondubu Jigae Set with Chicken as our meal of the night, which it was literally a mixture of chicken and silky smooth tofu cooked in hearty broth to extract its wholesome flavors, served piping hot and steaming with fabulous aromas. Similarly, it came with a bowl of black rice and three side dishes. At RM15.90 per set, I thought it's still within the acceptable range.
Before any misunderstanding is arose, all the prices stated above are subject to 10% service charge and government service tax.
Meh
!
My overall dining experience with Dubu Dubu SEOUL Food was really good, except that the staffs should be more attentive to the guests and well-trained. It's quite ridiculous when the staff walked away right after we asked for bill, instead of informing us about what we should do, merely because we had to pay at the counter. Nonetheless, I will be sure to return to any outlets of Dubu Dubu SEOUL Food again for more interesting delicacies. Wait for me!
Dubu Dubu SEOUL Food
04-86 & 04-86A,
4th Floor, Berjaya Times Square,
No. 1, Jalan Imbi,
55100 Kuala Lumpur.
Tel:
+603-21104133
Fax:
+603-21104133
Website:
Dubu Dubu SEOUL Food
x.