UPDATE:
I just landed in Kuala Lumpur International Airport (KLIA) from Vietnam last Thursday. My mission should have been accomplished after all the tough, hectic weeks full of anger and tears, only to be informed to submit a post tour report to the Deputy Dean despite the heavy workload I am currently filled with.

Anyway, stories about my trip will be updated later on! Stay tuned!
---------------------------------------------------------------------------------------------------------------------------------------------------------------
That night,
Don
and I had a strong craving for a meal filled with pork, so we took a short drive to Kuchai Lama to finally visit Tery Pork, only to realize that it has been closed down for unknown reason. Disappointed, we were left with no choice but to wander around the nearby area to generate feelings for a restaurant that fit our then mood perfectly, and we decided to stop at K3K Benta Kaya.
Basically, K3K is an abbreviation of Kwai Sam Kee, literally translated as K3K Kopitiam. "
Sam
" means three in Cantonese, by the way. The idea of setting up K3K Benta Kaya came from
Ho Kwai Sam
, a man who used to tap rubber and operate a grocery to earn a living. It was inspired by the strenuous efforts of the rubber tappers in getting a good cuppa and bread to go with before work. After 50 years of history at Benta, Kuala Lipis, Pahang, K3K Benta Kaya opened its first branch in Damansara Perdana, and expanded its business to Subang Jaya, Bukit Tinggi, Klang, Kuchai Lama, and etc. – Edited from
K3K Benta Kaya, Malaysia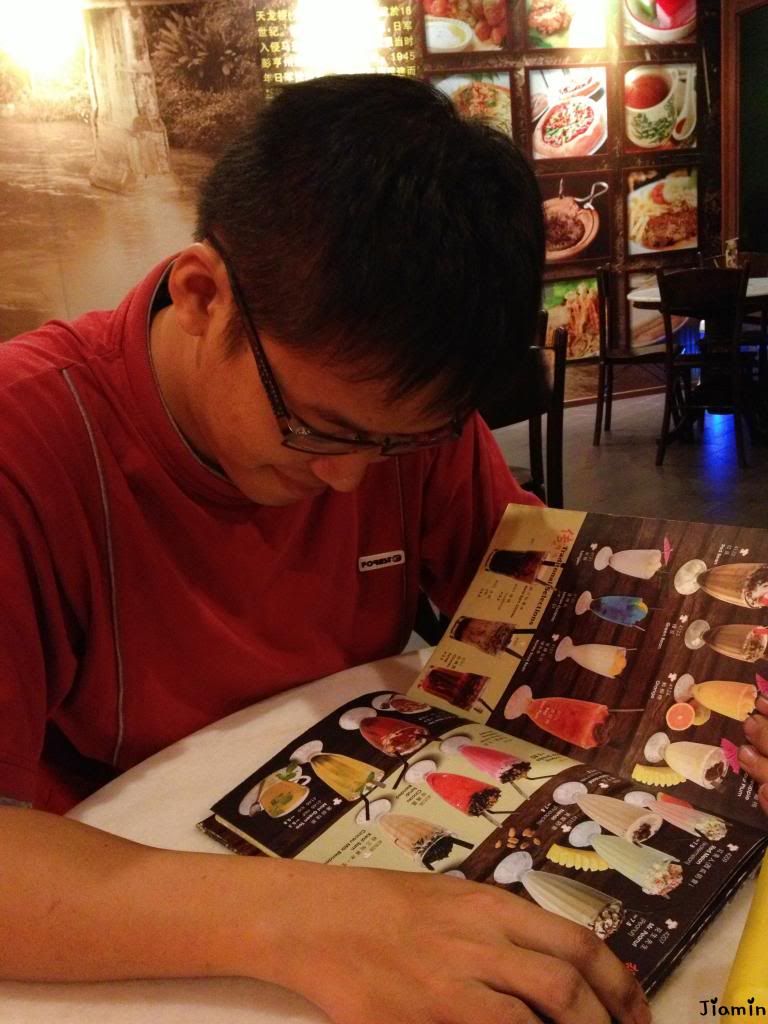 I don't usually do this. I was completely insane to order a cup of Hot Soya Honey Ginger with extra sugar. Needless to say, I regretted. It tasted so bitter that I had to mix almost every mouthful of it with some kaya in my mouth before I swallowed.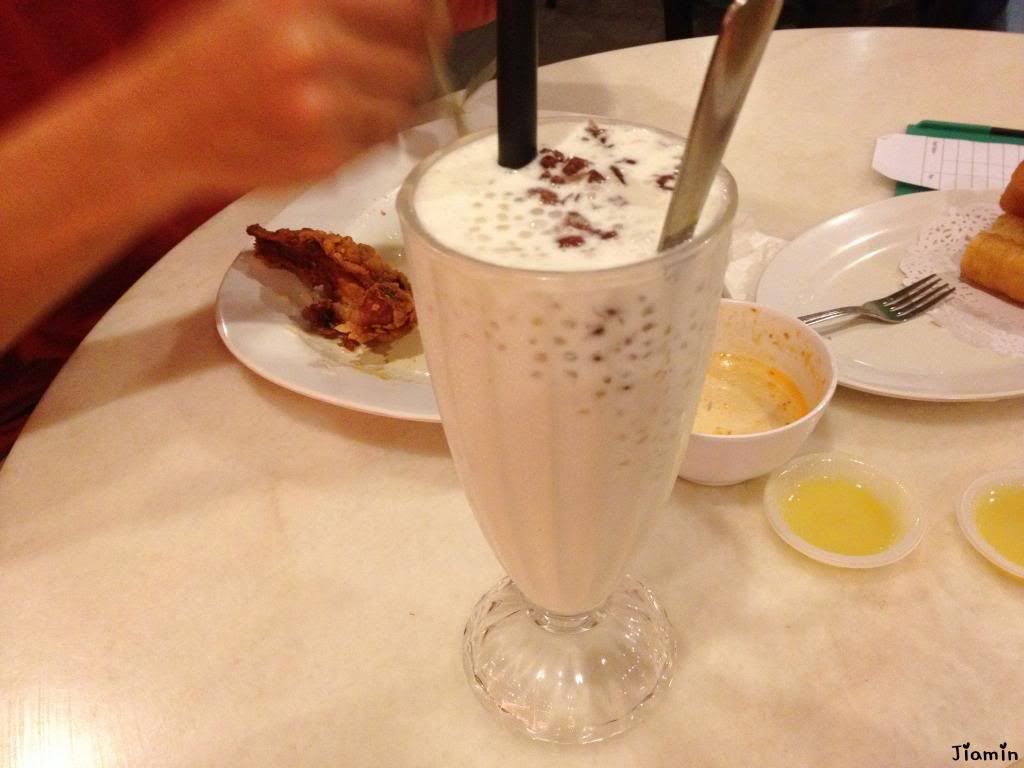 Halfway through our dinner,
Don
decided to order another cup of drink consisting of coconut milk, sago, and red beans if I am not mistaken. Both of us couldn't quite remember its name, and it was nowhere to be found on the worldwide web. I guess it was good, or at least better than Hot Soya Honey Ginger, judging from my recall of intention to jokingly exchange our drinks.
I am an awesome girlfriend. :D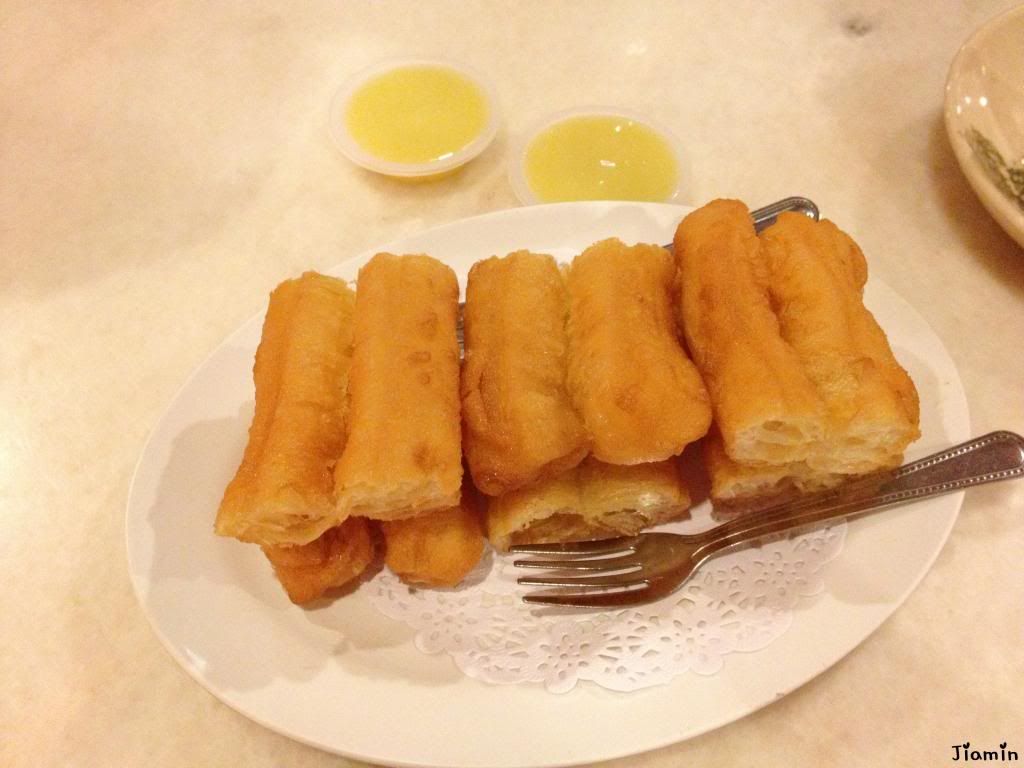 Kaya Char Kuih! Just by looking at the picture shown on the menu, we pretty much drooled. Prepared and tasted similarly to our traditional
You Tiao
, K3K Benta Kaya served it together with their homemade
kaya
. Although the combination of sweetness and saltiness may be weird, I thought it was unique, and it could have been perfect if the amount of sugar used for their
kaya
could be reduced.
Apparently, Penghulu Fried Chicken with Rice was listed as one of the chef recommendations on the menu, and I have seen plenty of positive comments from several bloggers as I went through the internet for more information. Fried to perfection, the fried chicken was crunchy on the outside, and tender on the inside. Dip it into the bowl of curry that was not spicy with strong taste of coconut milk, and it will be perfect.
It is, nevertheless, not advisable for people who concern about weight and health.
My Curry Chicken Rice was very ordinary, to be frank. Still, I loved how K3K Benta Kaya served their meals with a small bunch of Mamak Style Fried Cabbage each to sort of balance the nutrition.
I know I will definitely return one day, perhaps another brunch, because I have yet to try their side dishes that tempted me so badly during my visit. Price wise, it's similar to other cafes like PappaRich, In House Cafe, and etc. Be sure to give it a try!
K3K Benta Kaya
No. 1, Jalan Kuchai Maju 8,
Off Jalan Kuchai Lama,
58200 Kuala Lumpur.
Tel:
+603-79805333
Website:
K3k Benta Kaya, Malaysia
x.