Part 1:
Flying to Bali, Indonesia, the heavenly island.
Part 2:
Exploring around our hotel in Bali.
Part 3:
First night in Bali.
Part 4:
Barong Dance at Barong Dance Umadewi Stage, Bali.
Part 5:
Visiting the Elephant Cave Temple, Bali.
As much as I love being sort of a Grammar Nazi, despite not entirely, I've been getting disgusted with people changing proper words unnecessarily to something nonexistent or that they constantly misuse certain words for god's sake. Few of the most common mistakes done by the whole world include "they are", "their" and "there", "are" and "our", as well as "you are" and "your". It gets on my nerves when people, especially Malaysians, annoyingly change words into something that the pronunciations differ from the origins, for instance, "office" and "
opis
", "check" and "
cek
", "morning" and "
monink
", and et cetera. Whether you're typing, writing, or speaking, it certainly wouldn't waste your valuable seconds to do it correctly. Get them right!
It didn't get too long for us to arrive at Tirtha Empul Temple from the Elephane Cave Temple. Established since the 11th century during the golden age of Bali, Tirtha Empul Temple is a Hindu temple located at Tampaksiring, famous for its holy water where religious people go for purification. To be frank, before we decided to travel to Bali, the amazing group of photos of this temple showed by Revy during her presentation was the reason why Bali was my first choice.
The Tirta Empul Temple includes the traditional Balinese split gate along with shrines to Shiva, Vishnu, Braham, Mt. Batur, and Indra. There is also a large open pavilion in the main courtyard, useful for relaxing in the shade.
But the main attraction here is a long rectangular pool carved of stone, filled with koi and fed by the sacred spring via 12 fountains. Worshippers first make an offering at the temple, then climb into the main pool to bathe and pray. Many collect the holy water in bottles to take home. Nearby there are two smaller pools fed by the spring.
Overlooking the temple on a hill above is a surprisingly modern building: the Government Palace, built in 1954. Originally a residence for Dutch officials, it was later used by former President Soekarno during his frequent trips to Bali.
Pura Tirta Empul is located in the village of Tampak Siring, accessible by public transportation from Ubud. The souvenir stands outside the temple specialize in the local craft, carved bone jewelry.
–
Pura Tirta Empul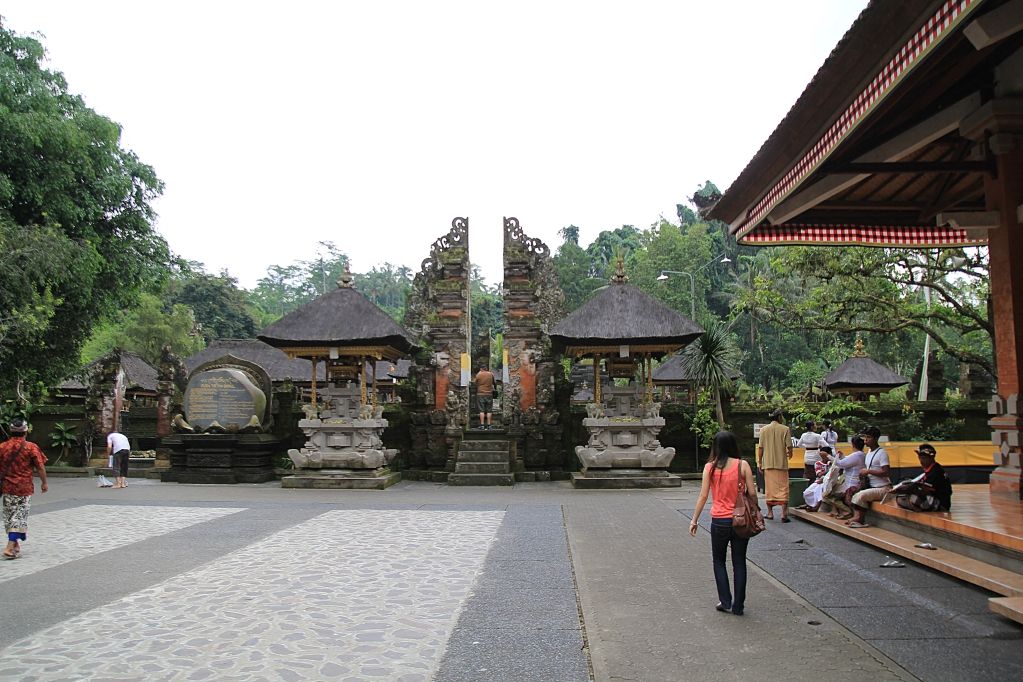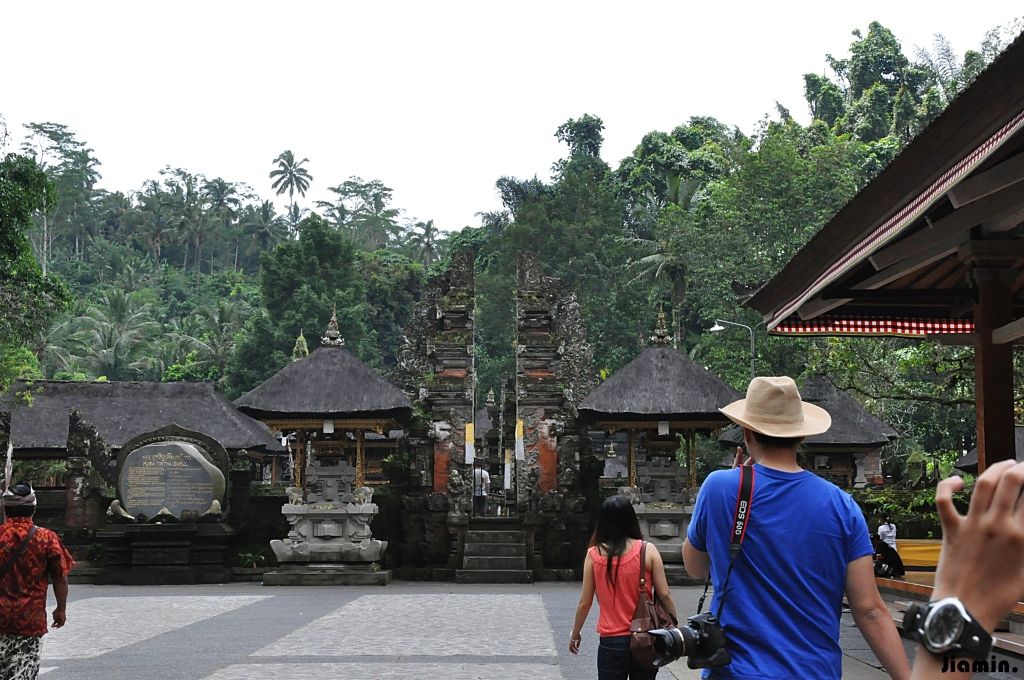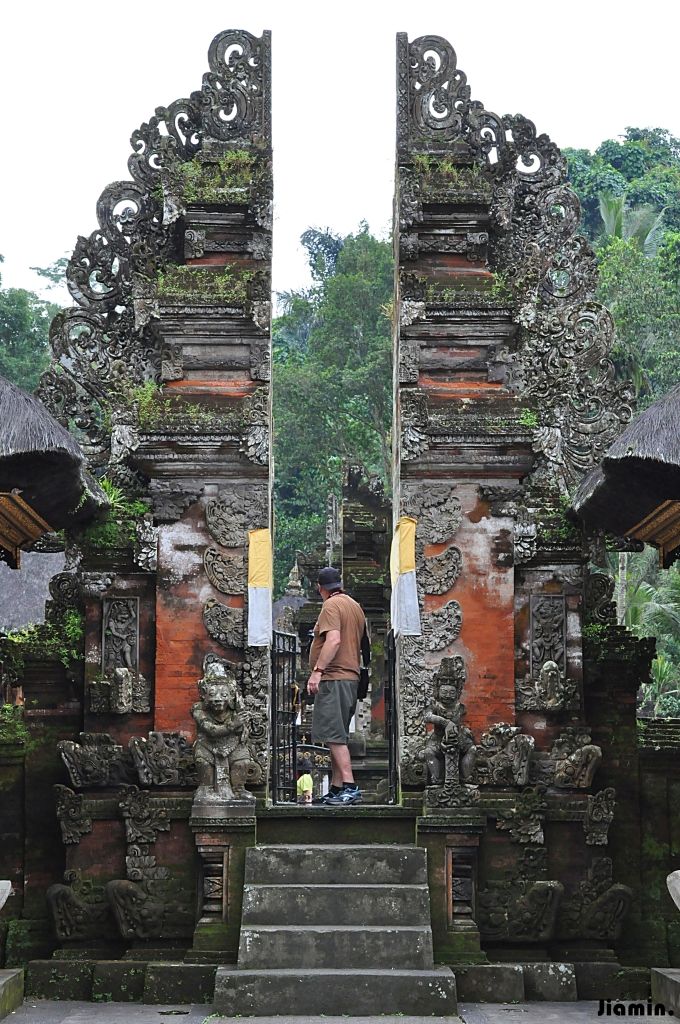 In order to reach the purifying pool of the temple, we had to walk through several gates until we arrived at a place where it felt so chilling and comfortable because of its surrounding.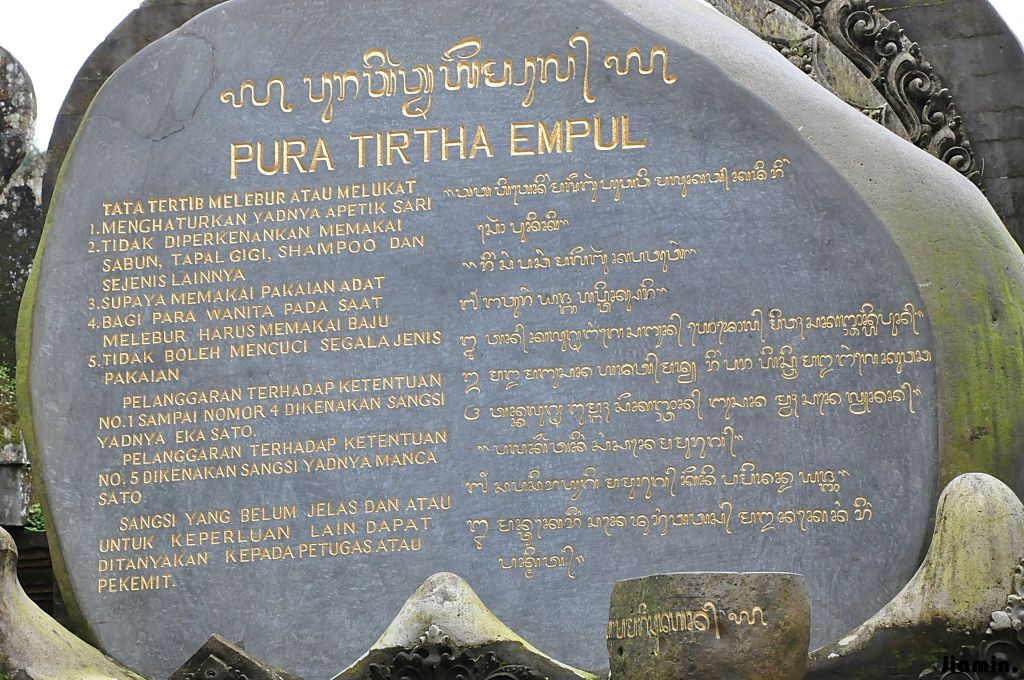 Before we entered the temple, I stopped by to read through its rules and regulations. I couldn't really read Indonesian nor could I understand the symbols carved on the stone, but the Malay words were still recognizable. Soap, toothpaste, shampoo and anything similar are not allowed in the pool, as well as washing clothes. Women mustn't be naked too, which is considered pretty common for the religious people.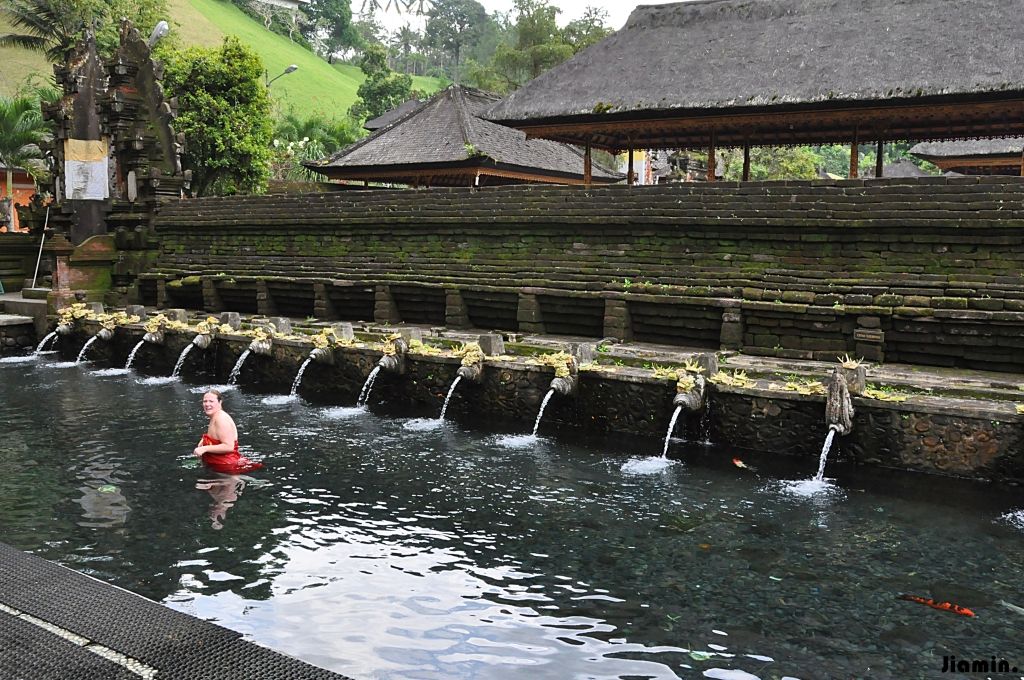 There we were, arriving at the purifying pool to watch the fountains and the crystal clear water with carps swimming in it. Beyond all doubts, the lady covered with a cloth was bathing relaxingly in the pool. Again, if only there weren't any carps swimming around, I would've swum inside as well if I were to be given extra time.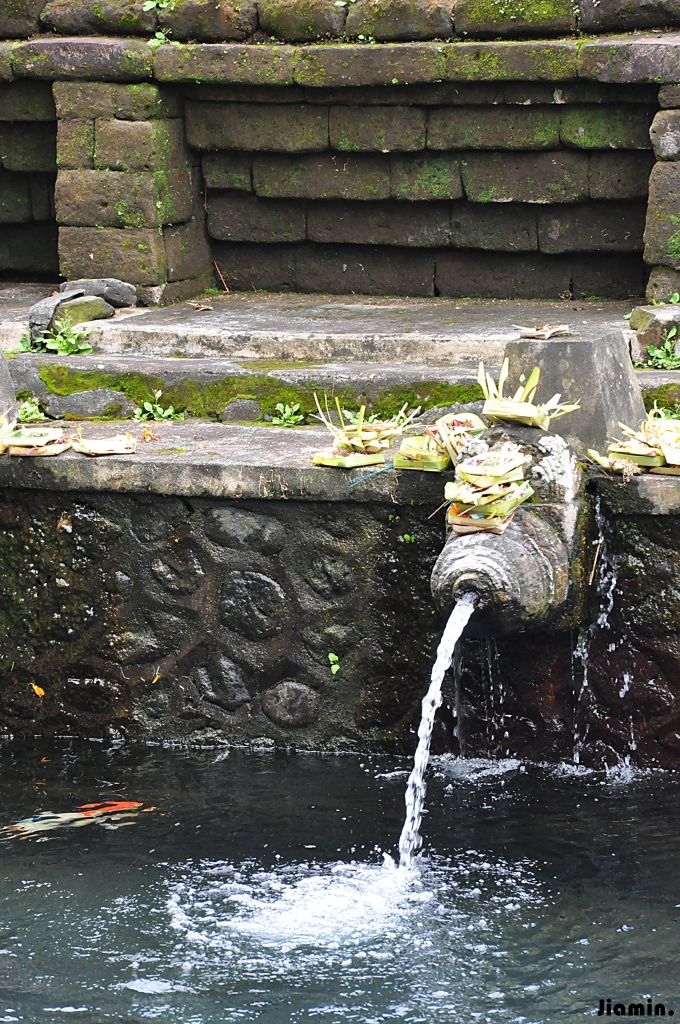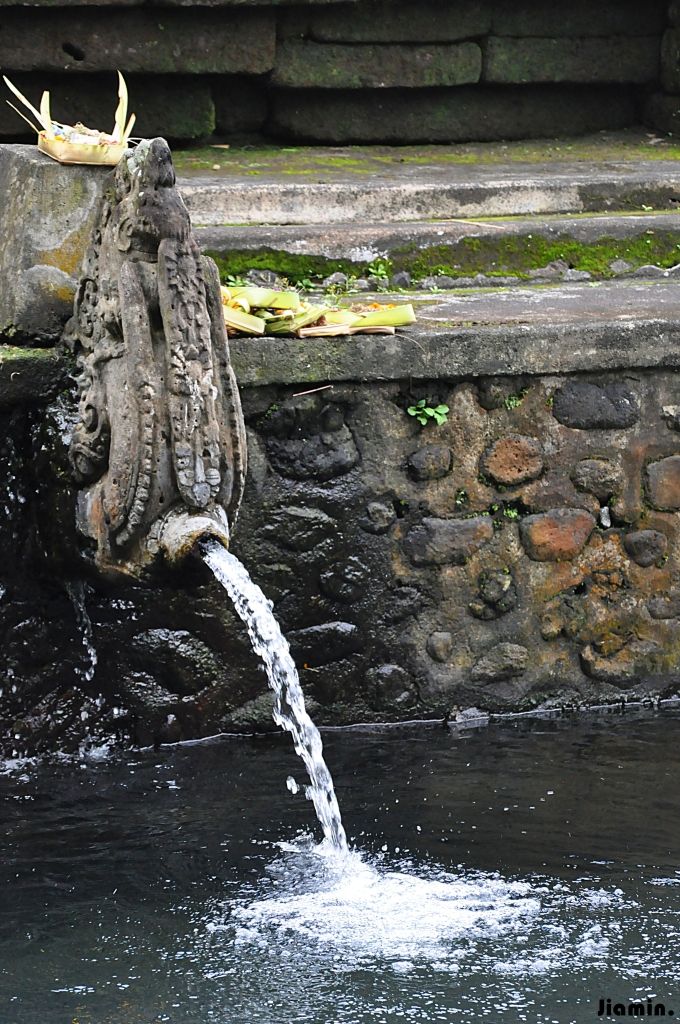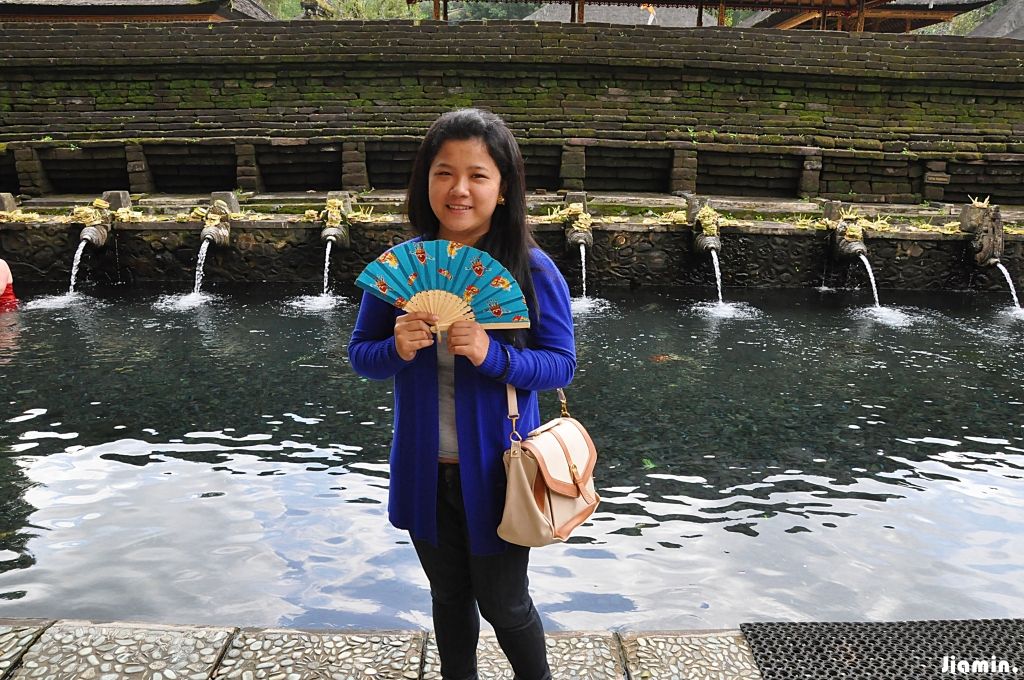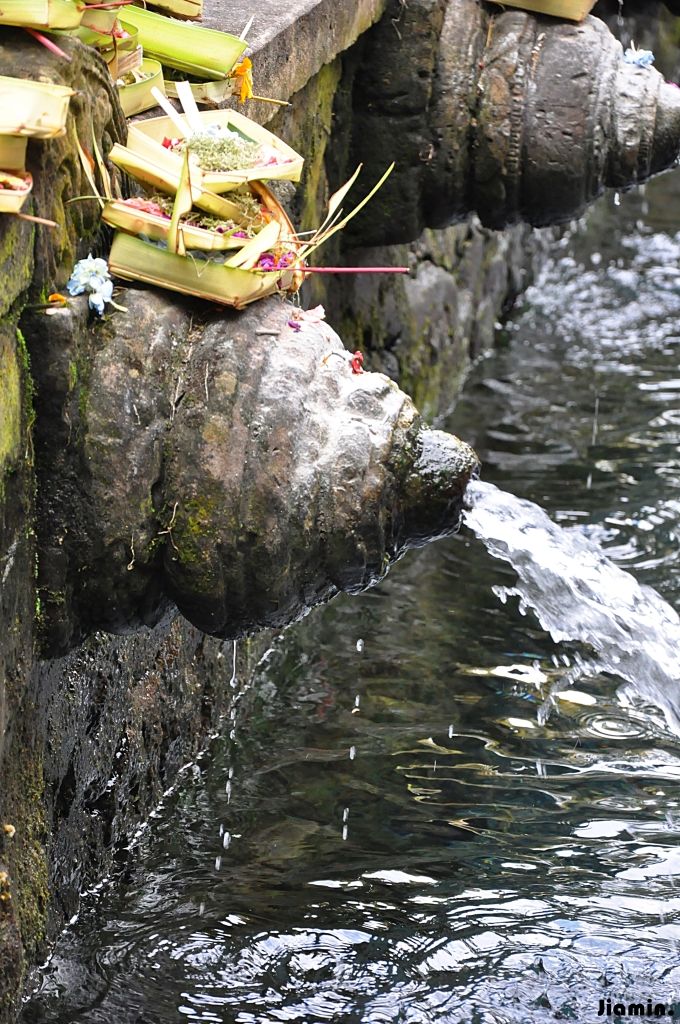 The countless of offerings were placed right on top of each fountain, which I thought if they would fall into the pool and cause pollution. The pool was, however, too unbelievably clean during our visitation. Perhaps the locals are equipped with special skills that could by any means prevent the offerings from falling without natural causes; I'm not sure myself.
We didn't spend a very long time around the purifying pool due to the very limited time we were given. We proceeded to an open area surrounded by pavilions decorated with stone sculptures. Being some typical students, we definitely did not know how to appreciate the arts but we merely passed through the place instead.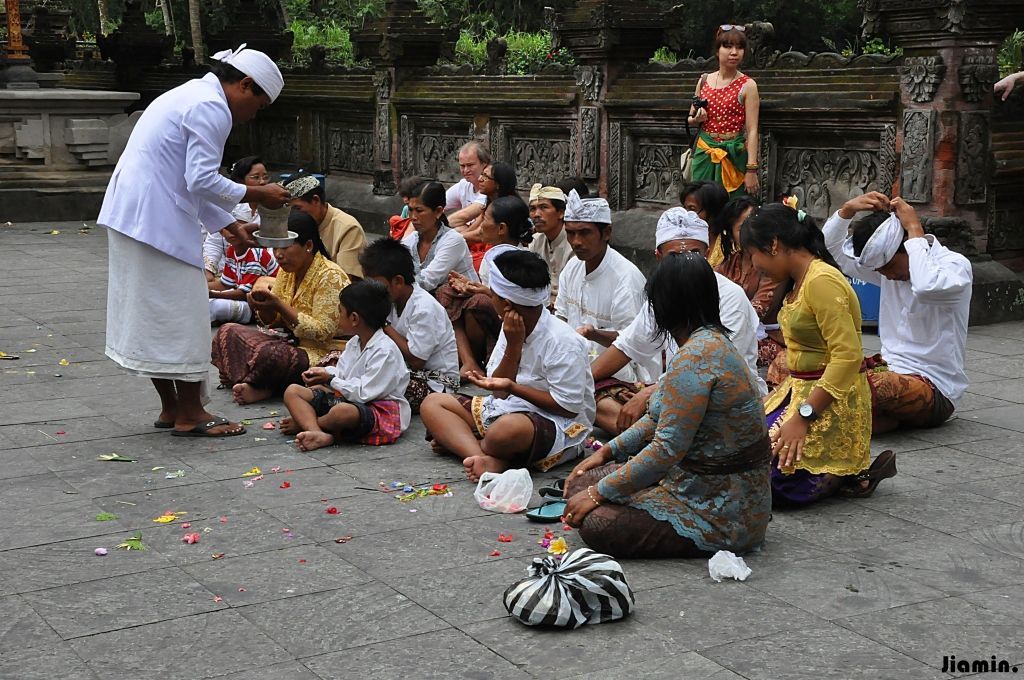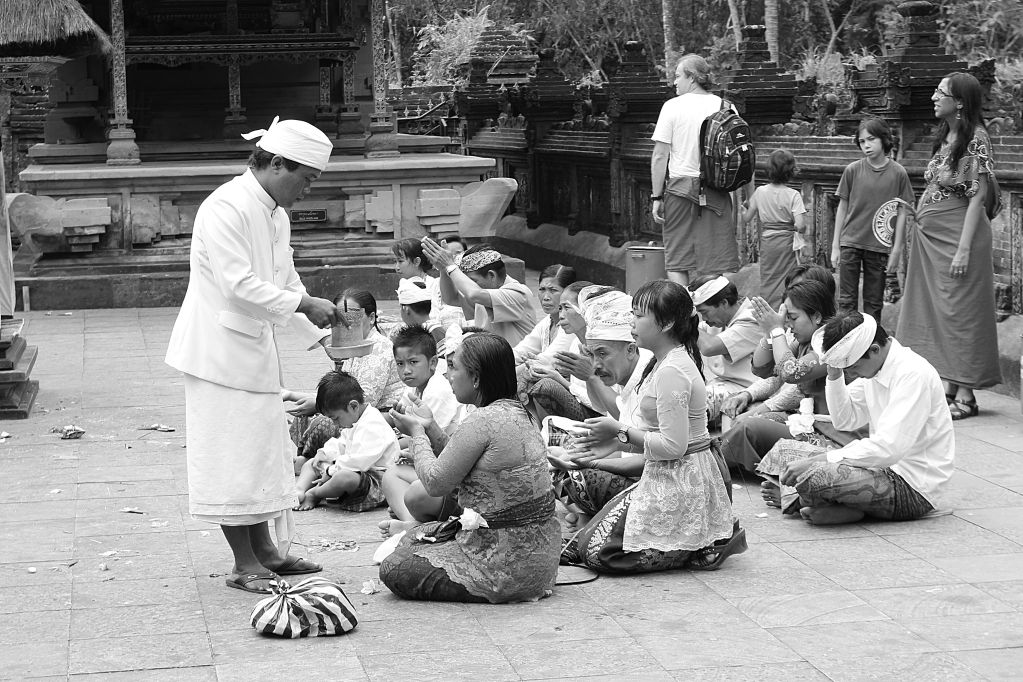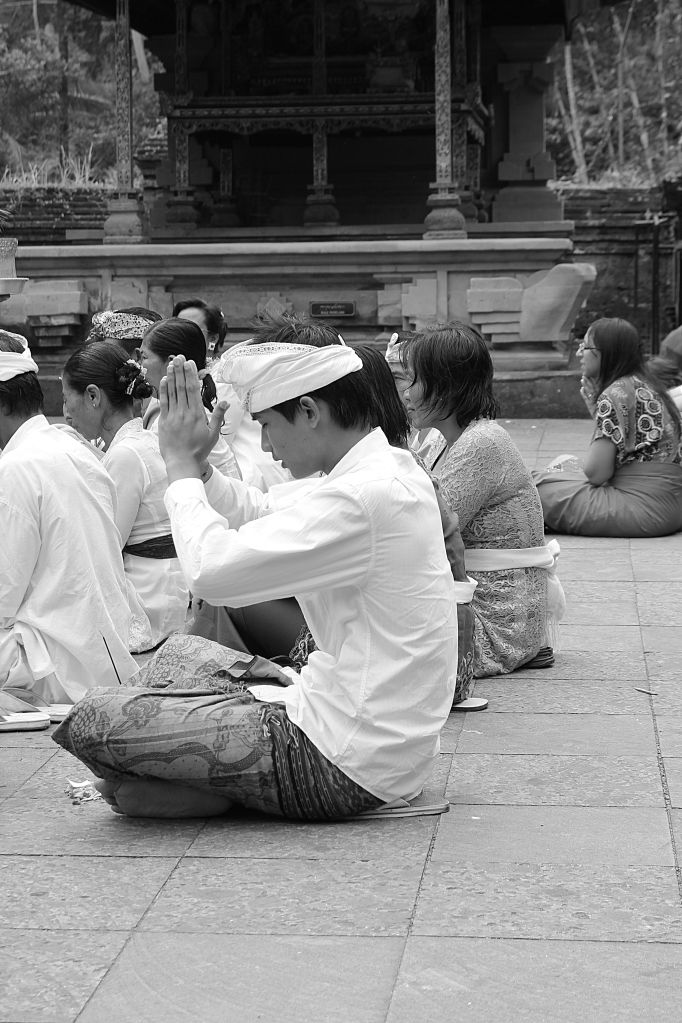 Some ceremony was going on at the moment, right before we left the area. Most of the prayers were believed to be locals, while the foreigners were standing around to witness the process. It seemed as if putting rice on their respective foreheads is one of the compulsory steps to be done as they pray, thus you are advised not to be surprised when you see one walking along the street with rice sticking on the forehead. You wouldn't want a foreigner to laugh at your culture, would you?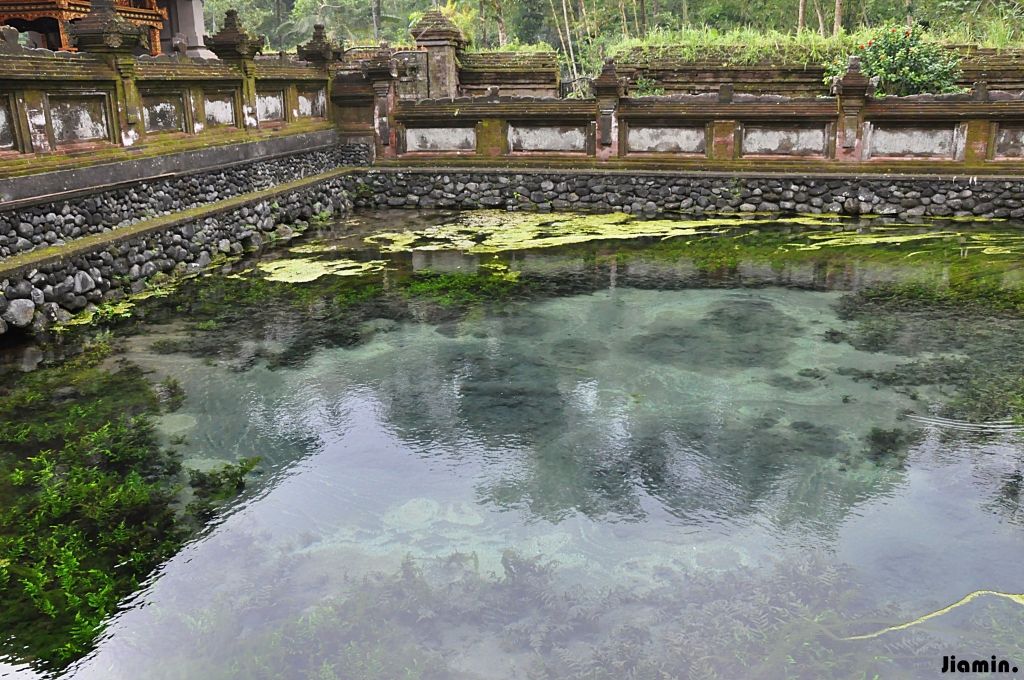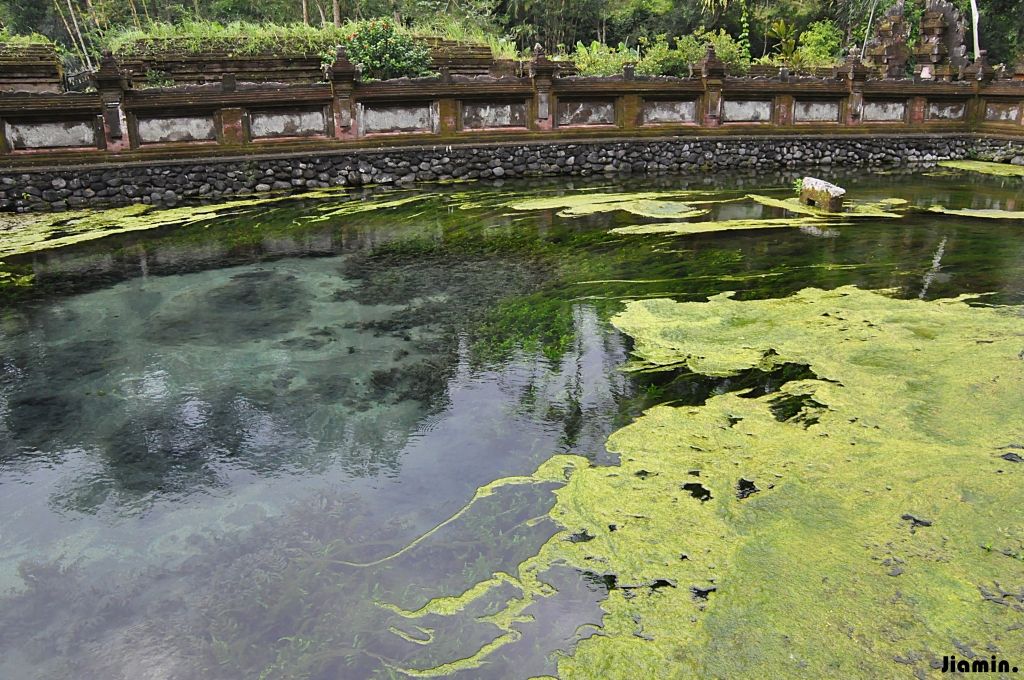 This huge pool full of moss is said to be where the holy water springs from. I'm not sure if it was the rainwater that fills this place, though. For your information, Pak Buddha, our tour guide whom I've mentioned about him previously, could only speak simple English despite being an English tour guide. Hence, we unfortunately didn't get much information through his guide during the tour.
It started to rain heavily when we decided to leave the temple for the next destination. The local females including youngsters came up and offered us huge umbrellas without saying anything. Thinking it was free of charge as no payment was mentioned, Steven and Maliewann accepted their kind offer, whereas on second thought, Farah and I decided to stay for a while. We ran all the way to the bus instead. It was later on that we were told that "service fee" was charged at a rather higher rate. Beware!
By the way, the guy was captured because Steven thought Shannie, who loves Caucasians a lot, might admire him, and she did. Haha!
Stay tuned for the next post about a relatively cooler place. :D
x.